As a commuter who uses his motorcycle for commuting to work, traveling to the grocery store, or just going out on a Saturday night, I've always needed motorcycle boots I can walk around in.
I've spent hours researching the major brands and their latest innovations and then hit the market in search of the boots that meet my requirements for both safety and comfort.
This year I found six whose features met or exceeded my expectations.
I've included them along with a buyer's guide detailing the specific features I looked for.
Best Overall
TCX X-Blend WP Boots
A long history of quality and safety
These boots have extra safety features while still being comfortable and waterproof.
Best for Style
REV'IT! Marshall Boots
Stylish and flexible cafe racer design
The many safety features protect your feet without compromising on fashion or comfort.
Best Motorcycle Boots for Walking Reviewed
---
TCX X-Blend WP Boots
TCX is an Italian company totally devoted to motorcycle boots and an industry leader thanks to their many safety innovations like the Torsion Control System.
In the case of the X-Blend, they've made a crossover with a walking boot, but with their brand's history, you can trust they haven't compromised on safety. This is why these boots earned my top spot.
Primary safety features include a full-grain leather upper, a reinforced heel and toe, and a gear-shift protection pad.
Most uniquely, though, I love the extra bubble of protection around the malleolus, the bulge of bone on the outside of your ankle. This isn't something I see on boots often, but it makes a big difference, and not just for accidents either. I regularly bump my ankle on my bike—or just around the house for that matter—and it isn't fun.
My main complaint is the style. The X-Blend boots have a similar military-style to others on our list, but for me, it looks a little artificial. You can, however, choose from either black or brown, which allows you to fit in with more formal clothing in case you're commuting to work.
Finally, don't forget the waterproofing. The inside lining goes all the way to the top of the boot, which, while not super high, will at least keep water out of your shoes in rough conditions.
Pros:
Brand renowned for safety
Full-grain leather upper
Reinforced heel and toe
Gear-shift protection pad
Extra malleolus protection
Waterproof lining
Cons:
---
REV'IT! Marshall Boots
Style-wise, these are my absolute favorites. The waxed leather finish and military design evoke my nostalgia for the WWII-era motorcycle look.
That same leather is flexible, meaning the boots break in easily and are comfortable even when walking long distances. The only exception to this is the heavily armored heel, which can be a little hard on the back of your foot until you adjust.
This armor is a real plus as far as protection, though, since many people slam their heels down in emergency situations.
There's also a heel reflector, reinforced toe, and gear-shift protector pad. All around, the style of this boot doesn't detract at all from its safety and security.
The main downside is the low ankle, so make sure you wear long socks and pants with a relatively tight ankle. This is extra important because there's no lace strap to keep your laces from catching on something.
As for the elements, the Marshall Boots are "water repellent" but not necessarily waterproof if you're riding through a thunderstorm. They are, however, warm thanks to a polyester lining, so I'd recommend them for colder environments. The breathability will still keep them comfortable in the summer.
Pros:
Stylish leather, military design
Comfortable and easy to break in
A lot of safety features
Water repellant
Warm polyester lining
Cons:
Hard heel
No lace strap
Low ankle
Price range
---
Stylmartin Rocket Boots
I like this boot because it provides heavy-duty protection while being stylish enough to wear on most occasions.
It has a full-grain leather design making it more resistant to just everyday wear and tear, not to mention protective if you have an accident. This design also includes leather gear-shift protection on the toes that decreases wear, lengthens the life of the boot, and is more comfortable for your toes.
Similarly, a leather strap at the top of the boot covers our laces, a significant safety bonus. Getting your laces caught in your bike's gears or machinery is very dangerous.
The Rocket Boots come in either a black or worn leather style. I prefer the leather, but some people don't like that fake aged look, in which case black is a good option.
Perhaps a more immediate concern, though, is the waterproofing. There's a waterproof gaiter inside the boot that comes up to your ankle, though it doesn't go all the way up to the top of the boot.
This means it's probably fine for handling light rain and wet streets, but in a serious downpour (looking at you, Florida), water could enter through the tongue in the front.
Lastly, these boots have soles that are good for slick streets. They're anti-slip and even oil-resistant. Again, this makes them a good choice for commuters in the city where they'll have to stop at regular intersections as well as walk on the street. Walking isn't a problem because the same soles are supportive even for long periods.
Pros:
Tough full-grain leather
Gear-shift protection pad
Leather lace strap
Stylish military design
Waterproof gaiter
Anti-slip soles that are also supportive
Cons:
Gaiter doesn't go all the way up
Price range
Worn leather look a turn off for some
---
Harley-Davidson Men's Scout
If you've got a Harley, why not get the boots to match? At the very least, you know you're buying from a company that focuses on and knows motorcycles.
The best thing about these boots is the combined buckle-zipper design that's conducive to riding and arguably even more conducive to everyday wear. To put on the boots, you loosen the top buckle and unzip the side zipper, which loosens the shoe. Then you can insert your foot and tighten it back up.
I think Harley mainly did this for safety since laces can get easily caught on things and be an annoyance or even safety hazard. But, at least for me, tying up the laces on my boots is the thing I dread most about getting ready in the morning, and eliminating that step is a big plus.
Besides that, these boots make a great budget option. They don't have any special features like extra insulation or waterproofing, but if you live in a moderate climate, you can avoid paying for those extras.
Pros:
Buckle-and-zipper design
Harley-Davidson brand
Great value
Black and brown leather options
Cons:
Leather is thing
No extra insulation
No waterproof lining
---
Alpinestars Roam 2 WP Boots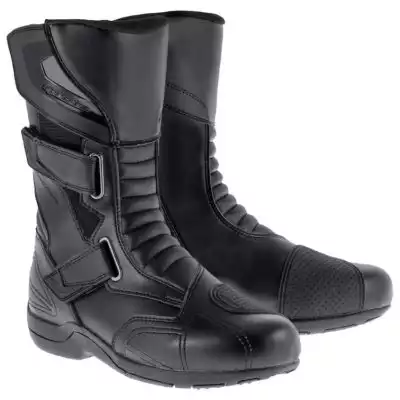 Of all the boots on this list, these are arguably the ones with the most specific motorcycle boot aesthetic. Due to armor, the top of the ankle flares considerably and could look a bit strange with formal wear. Nevertheless, if you cover the ankles with your pant leg, the design is still suitable for most work or casual occasions.
The appearance aside, the safety features of the Alpinestars Roam 2 make it an excellent touring or commuting boot, and the comfortable design makes it good for walking around.
It has heel and toe reinforcement like many boots but also rigid shin armor and dual-density ankle cups for added impact protection. There's even a rear reflector.
Additionally, velcro straps mean no laces to catch on your bike, and foam padding protects your foot but also makes the boot more comfortable.
The biggest aspect that adds to comfort, though, is simply the shape. The wide and rounded sole more easily conforms to your foot, especially over long journeys. This along with the waterproof lining makes it a good choice for touring.
Pros:
High-grade safety and protection
Rigid armor
Velcro straps
Foam padding
Well-shaped
Waterproof
Cons:
Synthetic material rather than leather
Motorcycle boot look doesn't work for all occasions
Unique shaping makes sizing difficult
---
Durango Men's 11-Inch Harness Boot
Durango harness boots are an inexpensive and convenient pair of pull-on boots that look good with anything. Maybe I'm not the most fashionable guy out there, but I'd even wear them with a suit. They come in either black or brown leather that looks sleek.
I like a good pull-on boot because, aside from avoiding the danger of loose laces, they're always ready to go. If you use your bike for regular commuting, you may need it just to run to the grocery store or bank, so being able to just slip your boots on is really nice.
Don't worry about protection, though. The upper is 100% leather, and the sole is thick rubber—about half an inch to be specific. The heel is even bigger at 1-¾ inches. This is great especially if you play it fast and loose with sliding your feet on the asphalt when you stop, but it also provides extra support just for walking around.
Pros:
Convenient pull-on design
Stylish aesthetic
100% leather
Thick rubber soles and heels
Great value
Cons:
No special safety features
Not waterproof
Run both small and narrow
---
Buyer's Guide
Here are the specific features I looked for when choosing motorcycle boots that are also good for walking.
Materials
Motorcycle boots have to be tough, so they're usually made of leather. You may also find some made of durable synthetic material as well.
Either is fine, but leather is of course more stylish. It's also more comfortable because it breaks in more quickly and breathes more easily. Synthetic material, on the other hand, is less expensive.
Weight
Weight isn't something we think a lot about when it comes to footwear. It can make a difference when riding a motorcycle, though, because you have to move your foot so much to break, change gears, balance the bike at stops, etc. Heavier boots can make walking more strenuous as well.
That said, you will usually adapt quickly to the new weight of a pair of boots. Just keep it in mind if you're switching from light to heavy boots or vice versa.
Tread/Grip
The sole of your boot makes a difference for both riding and walking. Ideally, you want a thick rubber sole that protects the boot when your foot comes off your bike and gives you support when walking.
The thickness of your heel is a matter of taste, but many motorcyclists prefer a high, thick heel because it gives stability on the footrests.
Style
If you also want your boots for walking around town, you probably want them to be fashionable, unlike a lot of specific motorcycle boots that can look awkward or stand out off the bike.
Read our guide to the best motorcycle shoes.
These days, military-style, antique cafe racer boots seem to be the most popular. They manage to satisfy all the practical needs of a rider while being comfortable to walk in.
And they look good with just about any casual wear.
Classic leather motorcycle boots like those from Harley-Davidson are another go-to. They're designed for riding but comfortable for walking, and since they look a bit more like cowboy boots you can wear them with just about anything—even formal wear if you live in Texas.
If you ride sports bikes and want something a little bit more modern, there are sleek motorcycle boots designed to be walking crossovers. These keep that sleek motorcycle aesthetic but with a design more conducive to walking.
Don't Forget About Safety
You want boots that look good and are comfortable for other uses, but they still need to serve their primary purpose: protecting your feet. At the very least, they should be made of a tough leather or synthetic material that will hold up against the asphalt in the case of an accident.
Boots may have other safety features too like reinforced heels and toes, armor, extra padding, etc. These are great things to look for. More than anything else, just make sure the manufacturer hasn't compromised on safety in order to make a stylish boot.
Final Thoughts
Motorcycle boots don't have to be single-faceted. They can serve the purpose of protecting your feet while still being comfortable and stylish for walking around town or going to work.
There are many good choices on the market, but my favorite is definitely the TCX X-Blend boot. If you're really into fashion and want a sleek boot that looks good, I'm also a big fan of the REV'IT! Marshall boots.