Production dates – 2008 to 2016
In October 2008, BMW introduced the K1300S. This bike was produced to replace the K1200S with an extra 136cc engine capacity.
The K1200S had been in production since 2004 and performed as direct competition for the Japanese hypersport tourers.
The K1300S would resume this role, battling bikes like the VFR1200 and Concours 14 for the King of Sports Tourers title.
Let's dig into this German sports tourer.
BMW K1300S Review
Following on from the K1200S, BMW knew they had to update their sports tourer in more ways than just boosting the capacity slightly.
The design team returned to the K1200S blueprint and made a load of small changes to make the new K1300S a much better bike.
Engine and Transmission
The key to any successful sports tourer is to balance performance with practicality. You need power and speed but also expect good fuel efficiency and smooth power delivery in all the right places.
Read our roundup of the fastest touring motorcycles.
BMW is very good at finding this balance, and for the K1300S, they did this with the utmost precision and care.
Top speed is impressive at just over 170 mph, but the power delivery kicks in earlier than the K1200S in the low-mid range where most road-riding takes place. The engine tears away from a standstill thanks to the masses of torque produced by the 1,293cc engine and the 175 horsepower.
Also read our guide to the fastest BMW motorcycles.
Essentially BMW built a missile on wheels with brakes to control it. At just 3,000rpm, 70% of the peak torque is on tap, so it doesn't matter what gear you are in; you know you can power forward when needed.
Once you are up to 6,000-8,000rpm, the motor pulls hard enough all the way to the red line to form a lump in your throat and for you to begin questioning your sanity. Safe to say, the bike can comfortably sit above any legal road limit for hours on end, begging you for more, and then will be ready to do it all again the following day.
Maintenance is relatively fuss-free with the use of shaft drive, which made the K1300S unique in its class. However, the true benefit is the smoothness of the engine and gear shifts. The K1300S at the time had no competition for the smooth nature of its gearbox and power delivery.
The bike offers excellent traction to match the sporty dynamics of the engine for reassurance that you can unleash the power freely. For those more interested in the sports side than touring, you can choose to fit an automatic shifter; you no longer need to use the clutch, just shift into gear.
Aside from the excellent performance of the six-cylinder engine, the most significant achievement is fuel and emissions efficiency. At 49 mpg, the K1300S is more akin to a middleweight street bike than a hypersport, and for touring purposes, this is a massive positive.
BMW can't take all the credit for the engine improvements as the motor had been handed over to Ricardo, who had previously designed the gearbox for the Bugatti Veyron. This was the first time BMW worked with Ricardo on one of their motorcycle designs.
Chassis, Suspension, Brakes
Housing the impressive engine is an equally impressive chassis that best aligns performance with rider comfort and stability.
The aluminum frame is long and uses the engine as part of its construction for load-bearing. This is paired with an aluminum single-sided swingarm. Using aluminum in the construction keeps things very lightweight, but rigidity and stability are ever-present for excellent straight-line riding.
BMW implemented their Duolever/Paralever suspension system, which ensures the perfect balance between the front and rear. It is controlled by the Electronic Suspension Adjustment (ESA II) system, which has 9 settings to cover all riding scenarios, from solo riding and sports to riding fully loaded with a passenger and luggage.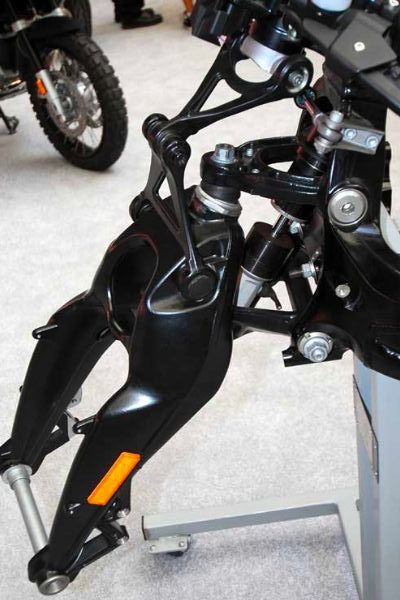 The front offers adequate feedback from the road for good precision steering and stability. Pressing a button to adjust and synchronize your suspension settings is a true blessing and was a revelation at the time of release (it has become pretty standard these days).
ABS came as standard, with Automatic Stability Control as an additional extra. Braking is as good as the acceleration, and 3 discs are more than up to the task of slowing you down to a stop with no issues.
Handling, Comfort, Styling
So, we have a performance engine in a stable, competent chassis with good brakes and top suspension; how does the K1300S handle?
The bike feels stable, solid, and bulky, but the suspension does an excellent job of hiding the bike's weight when moving.
In a straight line, you feel like you are sitting in a rocket, confident and sturdy. In the bends, the long wheelbase and somewhat lazy steering can cause you to lose some of that composure.

The K1300S can tackle the twisties, but you must be confident. Imagine wrestling with the hulk. However, a twist on the throttle soon gets you out of the bends and back upright.
The adjustable suspension means you can pinpoint the handling down to your needs, which is a big bonus, but stronger, taller riders will find things easier than those smaller in stature.
It does mean that you have to play around with the settings and test them in different environments so you can do things right before you set out on a serious adventure.
Despite being heavy, the bike has a low center of gravity and feels well-balanced, which will eliminate some of the fears around dropping the bike during slow-speed riding and at stops.
Ergonomically you are in more of a sports riding position than other sports tourers of the time, which probably isn't a bad thing as it means you have the most control over the high-performing engine.
The rider has a lot of room to move around, but you will be reaching over for the bars, and this isn't necessarily the most comfortable option for a touring motorcycle. Think relaxed but active, probably good for a long day ride, but maybe not a cross-country trip.
Being a BMW, plenty of accessories are available, including luggage and tech options.
In terms of styling, the K1300S appeared more muscular, sculpted, and aggressive than the K1200S.
Specs
Engine and Transmission
Engine – Four-stroke, transverse four-cylinder, DOHC, 4 valves per cylinder
Capacity – 1,298cc
Bore x Stroke – 80 x 64.2 mm
Compression Ratio – 13.0:1
Cooling System – Liquid-cooled
Starting – Electric
Induction – Electronic fuel injection
Transmission – 6 speed
Final Drive – Shaft
Clutch – Wet multi-plate (read best wet clutch oil)
Max Power – 175 horsepower
Max Torque – 140 Nm
Top Speed – 171 mph
0-60 mph – 3.3 seconds
Chassis and Dimensions
Frame – Aluminium bridge frame with load-bearing engine
Front Suspension – BMW Duolever
Rear Suspension – Cast aluminum single swing arm, with spring pre-tension and hydraulic adjustment
Front Brakes – 2 x 320mm discs, 4 piston caliper
Rear Brakes – Single 265mm disc, 2 piston caliper
Wheelbase – 1,585mm/62.4"
Length – 2,182mm/85.9"
Height – 1,221mm/48"
Width – 905mm/35.6"
Seat Height – 820mm/32.3"
Dry Weight – 228 kg
Wet Weight – 254 kg
Fuel Capacity – 19 litres/5 Gal.
Buying One – What To Look Out For?
Discontinued in 2016, there are still plenty of good examples on the used market, with prices averaging between $9,000 and $14,000.
The price difference is accounted for with mileage, age, accessories, and condition.
There are some vital things you need to look out for when buying a used K1300S:
There was a worldwide recall of BMW R and K models built between Nov 2003-April 2011. This was to do with a rear wheel flange. If buying a model built within this timeframe, check if it was a recall model and if the work was done.
The electronics are complicated, so ensure everything is in working order and the active suspension works. This can be a costly repair if things aren't right, and you will want to account for it in your purchase price.
Do proper checks for oil leaks, rust, corrosion, etc. Quite often, with shaft-drive motorcycles, people overlook basic maintenance, thinking they don't have to do anything.
Buying privately is likely cheaper, but a dealer may offer you some sort of warranty, so weigh up your options and be sure to ask for as much service history and paperwork as possible in both scenarios so you know what you are getting.
You need to remember that the K1300S is a BMW, and they always come at a premium. Parts won't be cheap, nor will any work that needs doing.
Fortunately, the K1300S is known to be very reliable and solid, so you shouldn't have many issues. It is valued higher on the used market than similar Japanese models, but you are getting all the premium features of a BMW motorcycle.
Final Thoughts
Overall, the K1300S is an excellent motorcycle, a powerful performance machine in a slightly more relaxed package for longer rides.
It will suit anyone who appreciates a high-performance engine regardless of whether you want to ride on the weekend, commute, or strike out on some fast tours across state lines.
Image Credits
Stephen Burns from Los Gatos, CA, USA, CC BY 2.0, via Wikimedia Commons
The original uploader was Jeff dean at English Wikipedia., Attribution, via Wikimedia Commons
Matt from Crowthorne, United Kingdom, CC BY-SA 2.0, via Wikimedia Commons