Good boots are an essential part of your safety gear. Having seen the results of someone crashing while only wearing sneakers, I always wear boots.
The problem is that they can be expensive. But if you look around, there are some bargains to be had.
We've researched some of the best budget boots available for under $150 and here's what we found.
Top Pick
Tour Master Solution 3.0 WP Boots
The Tour Master Solution Boots, either the WP 3.0 or the Air 2.0 version, are hard to beat for overall value. They give you the choice of a fully waterproof boot for all-round riding or a completely breathable boot for hot weather. Choose which boot depending on when you ride and where.
Recommended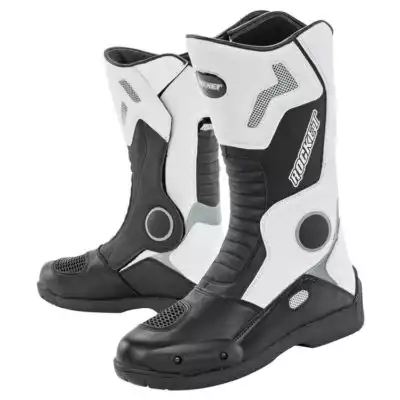 Joe Rocket Ballistic Tour Boots
An honorary mention goes to the Joe Rocket Ballistic Boots, giving excellent value and a boot with a mildly sporting look if the Tour Master boots are too plain.
Best Budget Motorcycle Boots Reviewed
---
Tour Master Solution 3.0 WP Boots
The Tour Master Solution 3.0 boots are the latest update to a popular, inexpensive all-round boot. For all-day riding, in any weather, they provide a dry and comfortable environment for your feet. Rubberized padding and plastic heel and toe guards increase the boot's safety should the worst happen.
Inside, you'll find a layer of Hipora waterproof and breathable material and a breathable mesh liner. A removable orthopedic insole is included for added comfort, and the stretch panels front and back allow your foot and ankle to move easily.
Pros:
Water repellant upper
Waterproof, breathable layer
Breathable mesh liner
Heel, ankle, and toe protection
Flexible panels, front and back
Cons:
Tight fit if you have wide feet
---
Joe Rocket Ballistic Tour Boots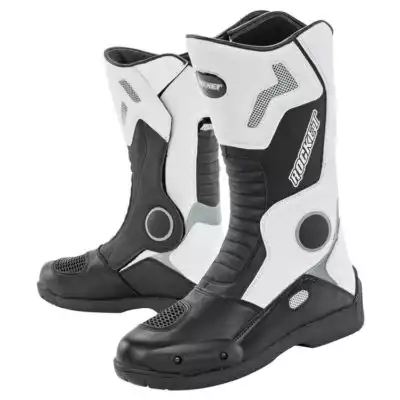 Joe Rocket has built a reputation for good quality products at reasonable prices, and the Ballistic Tour Boots are no exception. They are priced under $125, look stylish, and would suit almost any rider.
Manufactured in synthetic leather, they are water resistant rather than waterproof but offer good crash protection. Double stitching in all stress areas, toe armor, and toe sliders, plus reinforcement in all impact areas, add to the safety of these boots.
The articulated ankle is a nice touch at this price point, making the boots far more comfortable to walk in.
Pros:
Double stitching
Toe armor
Toe sliders
Reinforced impact areas
Cons:
Synthetic leather material
Only water resistant
---
BILT Dexter Shoes
The BILT Dexter Shoes are made from a synthetic textile designed to offer a little more protection than basic sneakers while keeping a low price.
The reinforced gear change patch is a welcome addition, as this area can quickly wear through on standard sneakers. Reflective piping around the heel gives you better visibility at night, and the side entry zip is a nice touch to avoid having to do the laces every time you put them on or off.
For town riding, the BILTs give better protection than sneakers, without the bulk of a full motorcycle boot, and they are casual enough for all-day wear.
Pros:
Great price
Gear change pad
Reflective heel piping
Also available in women's fit
Cons:
No armor or reinforcement
Not waterproof
---
TCX Street Ace Air Shoes
These are another casual style boot, but with a host of features aimed at bikers. For enhanced safety, there is reinforcement in the malleolus bone areas of your foot, plus reinforced toe and heel areas.
For comfort, the leather panels are perforated to keep your feet cool, plus a replaceable insole. The boots feature TCX's Comfort Fit System (CFS), which uses low heat to mold the boot liner to your exact foot shape. This is a common practice on ski boots, but the first time I've seen it used on motorcycle gear.
Pros:
Leather construction
Ventilated uppers
Reinforced areas for added protection
CFS – the inners can be molded around your feet for a perfect fit
Cons:
Lace-up only
Not waterproof
---
TCX Rush WP Boots
Shorter ankle-style motorcycle boots have become very popular. They are light and comfortable but don't offer any shin protection.
The TCX Rush WP boots have a sporty look and are similar in style to the boots worn by car racing drivers. With the added protection around the heel, toe, and ankle areas, the Rush boots offer good protection at a reasonable price.
Pros:
Heel, toe, and ankle protection
Waterproof liner
Cooling air intakes around the ankle
Replaceable insole
TCX's Comfort Fit System
Cons:
Lace-up, so slow to get on and off
---
Joe Rocket Mercury Boots
The Mercury Boots from Joe Rocket is a leather, half-length boot, midway between an ankle boot and the full length of traditional motorcycle boots. This has the advantage of keeping you cooler and less constrained by the boot, with the trade-off being less protection for your shins.
Protection is good with double stitching throughout, heel, ankle, and toe reinforcement, plus a plastic shin pad. The boot is easy to get on thanks to the large aperture and comfortable thanks to the front and rear flex panels. However, one big issue is the poor sizing.
The boots are very small; in most cases, you will need to order two sizes up for them to fit.
Pros:
Leather construction
Double stitching for added strength
Plastic shin pad
Reinforced impact areas
Cons:
Only water resistant
Boot sizing is incorrect – order two sizes up
---
Fly Racing Street Milepost Boots
These Fly Racing Street Milepost Boots are exceptional value for money. Not only are they of leather construction, but they are waterproof, windproof, and breathable.
The heel, shin, and toe areas have reinforcement panels with an additional external plastic ankle protector. Reflective panels add safety and the breathable mesh liner keeps your feet comfortable even during warmer weather.
It's hard to fault these boots, but if I was being picky, there is no provision for toe sliders, but most riders buying these boots won't miss them, I suspect.
Pros:
Leather construction
Weatherproof lining
Breathable
Ankle, shin, and toe protection
Cons:
The top of the boot pushes against your shin – you need to wear long boot socks
No sliders or mounting points
---
O'Neal Rider Women's Boots
O'Neal's Rider Women's boot is rugged and robust, primarily designed for off-road use, but they also look the part if you ride an adventure bike on the road. They offer exceptional protection, with plastic impact protectors, steel toe guards, and reinforced heel and toe protection.
Internally, a mesh liner provides ventilation, and you get a cushioned insole. Big boots like this can be hard to get on, but O'Neal's have fitted a rear pull tab to make it easier.
These are an excellent choice for solid protection but will probably be too warm for summer use if you are not going off-road.
Pros:
Rugged off-road style
Solid protection
Plastic plate shin impact protection
Steel toe guard
Easy buckle closure system
Cons:
Clunky unless you are going off-road
Not waterproof
---
Tour Master Solution 2.0 Air Boots
Based around the same boot as the Tour Master Solution 3.0, this version is aimed at dry-weather riders who value keeping their feet cool over waterproofing. I live in Cyprus, where summers are long and hot. This boot helps keep me cool, even on the hottest day.
Gone is the waterproof Hipora liner of the Solution 3.0 boot, replaced by a breathable mesh liner and multiple breathable panels to allow cool air into the boot. You still get the heel, ankle, and toe protection and the flexible panels front and rear for comfort.
The Solution 2.0 boots are excellent for hot, dry riding conditions.
Pros:
Excellent ventilation
Heel, ankle, and toe protection
Shifter guard on both boots
Flexible panels front and back
Cons:
---
Alpinestars Roam 2 WP Boots
The Alpinestars are good value and have a distinctive look, while the velcro closures and the flex panel on the front make getting the boot on and off a cinch.
Inside is ankle padding, reinforced heel and toe protection, and a 100% waterproof liner. The synthetic textile and microfibre construction make the boots warm and ideal for commuting in all weathers.
These boots are great value and perfect for multi-season use.
Pros:
100% waterproof
CE certified
Adjustable velcro closing system
Ankle, heel, and toe protection
Cons:
Styling a little is a little plain
---
Final Thoughts
The Tour Master Solution 2.0 Air or 3.0 WP are our Top Picks for several reasons; they give you good protection, offer excellent value for money, and you can choose the version that suits your type of riding.
If you prefer a more sports look, go for our second recommendation, the Joe Rocket Ballistic Tour Boots.