Motorcycling touring in a pack has become increasingly popular over the years, but it naturally comes with a few obstacles.
Most importantly, how do you coordinate and organize with riders that inevitably spread out over long distances?
The solution is a Bluetooth intercom system specifically designed for touring groups, and the Cardo Packtalk is one of our favorites.
Check Prices
Cardo PACKTALK Bold
Game Changing Tech
With Dynamic Mesh Communication technology and a simple, included mounting system, Cardo Packtalk makes group touring fun and convenient. For the social rider looking for a ready-to-go intercom device, it's a solid choice.
What's in the box?
---
NOTE: The dual pack is generally cheaper than buying two single units. It could be worth splitting the cost with your buddy if you usually ride in a pair.
Single Pack Price | Dual Pack Price
---
Although your box's contents will vary slightly depending on whether you get the Slim or Bold model, both have everything you need to get started. First and foremost, you'll find the Packtalk device itself, or in the case of the duo pack, two devices.
Additionally, the accessory box includes the features you need to properly use Packtalk. This includes:
A mounting kit for attaching the device to your helmet
Two JBL 40 mm speakers
A hybrid boom mic for open-face helmets
A wired mic for full-face helmets
USB cable
Wall charger plug-in
Four velcro stickers (two square, two rectangular)
Glue plate
Two alcohol pads
Replacement microphone sponges
A set of speaker booster pads
The Slim model will also include a separate battery pack.
We really like the attention to detail Cardo had when packing the Packtalk box. For example, the extra mic sponges are a nice touch, we know how easy they are to lose!
You get several different Velcro and glue plates meaning the device can be secured on a wide range of helmets. And of course, an extensive instruction guide (that is actually easy to follow) is included as well.
Installation and mounting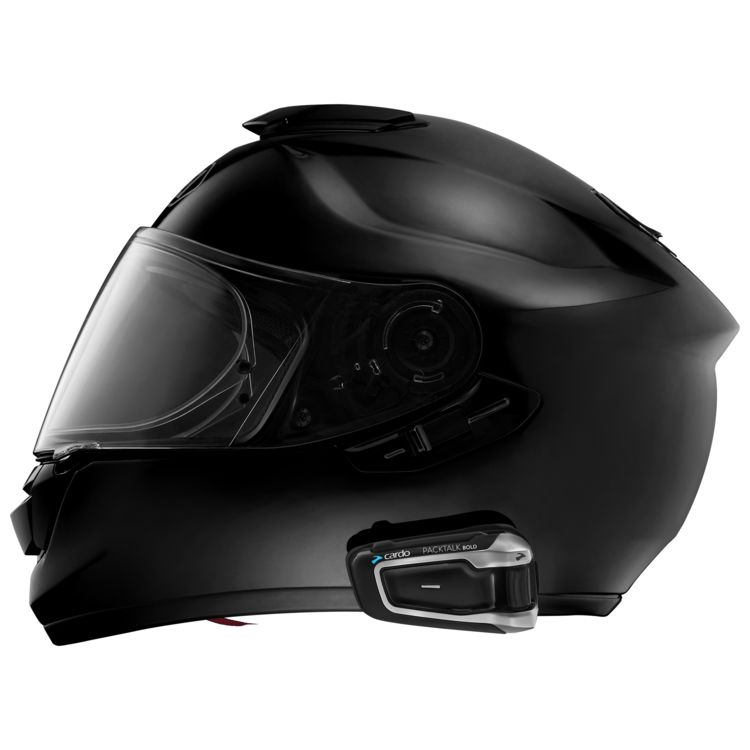 Installation takes a bit of fiddling, especially if you have a full-face helmet.
Luckily, Cardo includes the velcro pads and glue plates necessary to facilitate this. The most comfortable position for the mic and speakers will depend on the shape of your head and personal tastes, so this flexibility is appreciated.
A newer helmet might make it even easier since so many include spots for speakers nowadays. With an open-face helmet, installation is even simpler thanks to the boom mic.
Mounting the device itself is a breeze and one of the Packtalk's biggest strengths.
You can use the clip which slides into the outer shell of your helmet, or if that doesn't work, you can use the glue plate.
Altogether, the Packtalk and mounting are lightweight and sleek. The Bold weighs just two ounces and the Slim even less, making them less likely to get in the way or cause discomfort on long rides.
This is especially true with the Slim. Just keep in mind that with this model, you'll have a separate battery pack to attach to your clothes or somewhere else.
Voice Control
Voice control is an essential feature of an intercom system. You need your hands elsewhere.
Packtalk makes this both simple and convenient with intuitive commands like "Hey Cardo, music on" or "Hey Cardo, call intercom." The entire list of commands is included in the instruction manual, and you can also use "Hey Siri" and "OK Google" to access further commands through your phone.
Overall, Packtalk's voice control is adequately sensitive, avoiding a lot of the frustration that happens when your commands aren't understood.
Of course, this depends a lot on your helmet and the background noise it produces, so you might end up having to fiddle with your positioning to make sure the device consistently hears you correctly.
Besides the voice controls, there's also a roller-wheel interface and a simple control panel. What's really nice about these controls is that they're still easy to use with gloves on. This minimizes the time you have to spend fiddling with the device; convenient and safer too.
Bluetooth, Mesh Comms and pairing
The Bluetooth connection on the Packtalk is pretty standard and allows you to connect to your phone to use Spotify or GPS as well as talk one-on-one with a specific rider in your group, toggling with up to 9.
Unfortunately, Packtalk is still based on the older 4.1 Bluetooth version and not 5.0. It's still a strong connection and mostly functions well even at long distances, but it is more susceptible to interference.
Dynamic Mesh Communication
The Dynamic Mesh Communication system is where the Packtalk really shines and allows you to connect with up to 15 riders.
With a standard Bluetooth connection, losing one rider can break up the entire group and force you to repair. However, with DMC riders can come and go from the "mesh" network with no problem.
In theory, you can even connect with non-Cardo devices, although this takes a little bit of trial and error and is more prone to malfunction.
DMC pairing
Cardo made pairing easy with a consistent process facilitated by LED indicators. When the indicator flashes green, it's in DMC mode and ready to pair. Then you just push the intercom button on each device until you hear three beeps and all are flashing green.
Push the intercom button again on any device to make it the group admin and wait for the Packtalk devices to vocally acknowledge their connection.
The device then remembers this pairing, even when it's shut off, and will pair again automatically the next time the two devices are in range of each other.
Adding new riders
You can also add new devices to your group, whether they're Cardo or not, DMC or not, with basically the same procedure. All the details can be found in the instruction manual and are fairly intuitive.
Range
The Packtalk's range depends on the model, with the Bold reaching up to a mile thanks to an extendable antenna (1.6 km), and the Slim a little over half a mile (1 km).
Because the DMC connection can leapfrog users, your group can span nearly five miles in total and maintain connection.
Of course, this range depends on ideal conditions that never happen in the real world. Natural features, buildings, elevation and weather can all decrease range.
As a result, in real-world situations, both Packtalk models seem to start having problems with interference at about half their maximum theoretical range. However, this still means you can form groups spanning several miles, allowing you to spread out and move at a comfortable pace.
Sound quality
Due to the JBL speakers, Cardo Packtalk has some of the best sound quality on the market. This is especially true with the Packtalk Black model, which features 45 mm speakers.
The 40 mm speakers are still high-quality. You just have to make sure they're positioned correctly over your ears. This is true with any headset and again, easier with Packtalk thanks to flexible installation.
Battery life and charging
For a Bluetooth device, the Packtalk's battery life is pretty impressive. Advertised at 13 hours of talk time or a week of standby time, the actual practical life is a bit less, but not much. You'll probably be able to get over 12 hours of talk time, though DMC draws more power, especially with a lot of riders.
Of course, battery life will decrease more if you use other features. For example, connecting to your phone for GPS will draw battery as well as playing music over the speakers. High volume will need more power.
Overall, the battery will be adequate for most people's purposes, since you most likely won't want to ride any longer than that.
Reaching a full charge takes about four hours with the wall charger or a little longer if you plug it directly into a computer with the USB cable. The charging cable is a micro-USB which is fairly common, so you can replace it if you ever need to and use it with other devices.
Waterproofing
Cardo designed the Packtalk to be fully waterproof, which is a great benefit because you never know when you're going to get caught in a downpour.
It's rated for immersion up to a meter, but you should probably avoid absolute immersion if you can.
Additional features
One thing we really like is the browser-based update system. You do have to plug the device into your computer to update it, but you don't have to download a special program like you often do with Bluetooth devices. This avoids a lot of headaches.
Other cool features include:
FM radio access
Self-adjusting volume based on outside noise
Customizable speed dial
Music streaming can overlay DMC talk allowing riders to share their tunes
So Many Features in a Compact Package
Overall, the Cardo Packtalk is a versatile device whose many uses make it well worth its price.
We recommend it as a group intercom system, even for only two riders, in which case you should consider the duo pack.
The quality speakers and easy smartphone Bluetooth pairing mean you can get your money's worth even when you're not riding in a pack by listening to music, making phone calls, and using the GPS.
With all this on top of its compact, comfortable design and a two-year warranty you can lead your pack on unforgettable journeys for seasons to come.
Check Prices
Cardo PACKTALK Bold
Game Changing Tech
With Dynamic Mesh Communication technology and a simple, included mounting system, Cardo Packtalk makes group touring fun and convenient. For the social rider looking for a ready-to-go intercom device, it's a solid choice.
Related