Supermoto got its start in the 1980s as a racing event, with flat-trackers and road and dirt racers all competing in the same events. Today, Supermoto continues to combine both street and dirt riding.
It encourages the inner hooligan rider in all of us, with its raw style of riding that requires an equally wild motorcycle.
The problem is Supermoto bikes can be quite expensive. The fact is, once you are in it, motorcycling can be an expensive hobby. Fortunately, with bikes like the Kawasaki KLX 230SM, getting into Supermoto riding can still be financially accessible.
So, we have pulled together the cheapest Supermotos on the market to help take the pressure off your bank balance.
Let's get started.
Kawasaki KLX 230SM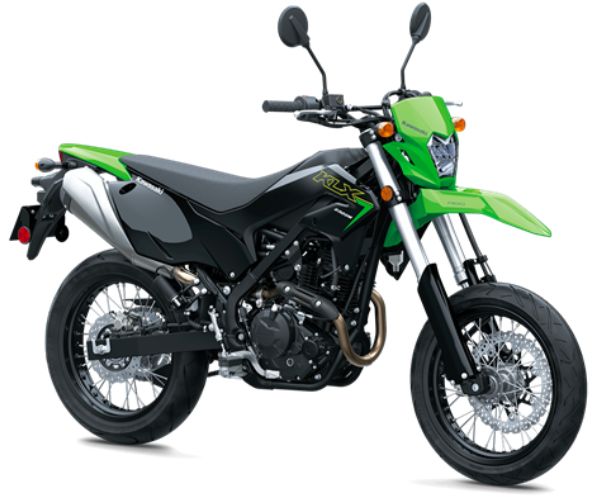 Specs:
Engine: 233cc, single-cylinder
Max power: 18.7 horsepower
Max torque: 19.8 Nm
Seat height: 33.3"
Curb weight: 295.5 lbs
MSRP: $5,299
The KLX 230 SM is the smallest Supermoto option from Kawasaki, but it has a big attitude.
With long-travel, Supermoto-tuned suspension and 17" wheels (front and rear) fitted with road tires, the bike is ready for some serious riding.
If you're more focused on street riding, you can add ABS, which brings the MSRP to $5,599.
It is a simple, no-frills, single-cylinder four-stroke that packs more torque than horsepower, so you can really exercise your wheelie skills and smash through the trails if you like.
---
Kawasaki KLX 300SM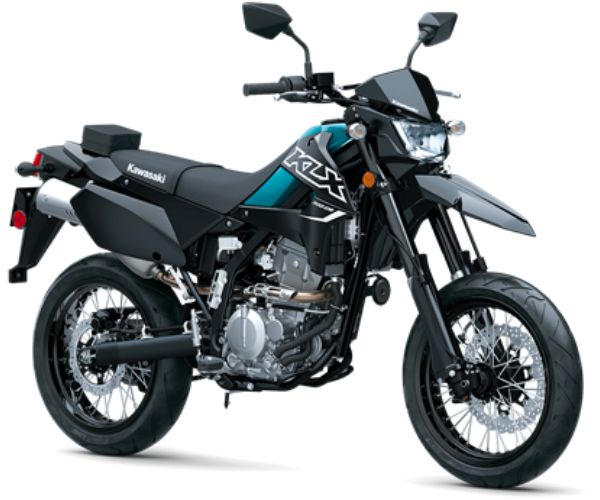 Specs:
Engine: 292cc, single-cylinder
Max power: 23.9 horsepower
Max torque: 20 Nm
Seat height: 33.9"
Curb weight: 304.3 lbs
MSRP: $6,299
If you want to take your Supermoto skills to the next level within the Kawasaki brand, then the KLX 300SM might be just what you are looking for.
The suspension, wheels, and brakes have been optimized specifically for Supermoto. It is a lightweight machine with a quick-accelerating engine and plenty of torque to utilize.
Aggressively styled and much more intimidating than the smaller 230SM, the 300SM is intended to be a serious Supermoto warrior.
But it's the smaller capacity, light weight, and reasonable price point that attract new riders into the world of motorcycles and/or Supermoto.
---
Suzuki DR-Z400SM
Specs:
Engine: 398cc, single-cylinder
Max power: 39 horsepower
Max torque: 39 Nm
Seat height: 35"
Dry weight: 302 lbs
MSRP: $7,799
Suzuki's DR-Z400 has been in production as a dual-sport motorcycle for over 20 years.
It's only more recently that we have been gifted a specific Supermoto version, likely because Suzuki realized riders were doing Supermoto conversions themselves to their DRZs.
The 400SM features Renthal bars, Showa inverted forks, wide-spoke wheels, and a 300mm front-floating brake rotor. This setup makes the DR-Z400 ready for sports-bike-style riding in an off-road-style package. The perfect Supermoto setup?
It is a lightweight, narrow, agile motorcycle loaded with power and built to suit all riding scenarios, and at $7,799, it is competitively priced.
---
SWM SM500R
Specs:
Engine: 501cc, single-cylinder
Max power: 26 horsepower
Max torque: 31 Nm
Seat height: 36.2"
Curb weight: 293 lbs (no fuel)
MSRP: $8,999
SWM USA imports the latest SM500R strictly as a closed-circuit motorcycle—it is not street legal.
The bike is intended as a serious competitive Supermoto for track-day use. It features a 320mm front brake disc with switchable ABS, 17" wheels, KYB suspension with 9.8" of travel, and a simple digital dash for all your essential information.
Race styling completes the package. The SM500R is an old-school-style Supermoto boasting big power with dirt-bike handling and agility.
---
Ducati Hypermotard 950
Specs:
Engine: 937cc, Testastretta
Max power: 114 horsepower
Max torque: 96 Nm
Seat height: 34.2"
Dry weight: 392 lbs
MSRP: $14,995
Okay, so $14,995 isn't cheap, at least not by conventional standards.
However, the base Hypermotard 950 is the cheapest Hypermotard option and you can't really talk about Supermotos in any world without mentioning Ducati's beast.
One point to make in the Hypermotard's favor is that it actually is quite cheap for a Ducati motorcycle, so it has that going for it.
It also boasts 114 hp and 96 Nm of torque and weighs in at only 392 lbs, which is all very impressive and looks incredible.
The original Hypermotard 1100 is one of my favorite motorcycles of all time, and the 950 emulates that original wild spirit and raw ride that Pierre Terblance first created back in 2006.
---
Used Cheap Supermoto Options
Since new Supermotos generally aren't very cheap, you could buy a used bike instead and save some money. Cycle Trader is one of my go-to websites for used bikes because there's a good mix of private and dealer adverts.
If you want the best money can buy, look for a used Hypermotard and save yourself a significant amount of cash.
Other manufacturers to look for on the used market would be KTM, Husqvarna, and Aprilia. The two 2023 Husqvarna supermotos are priced at $11,999 and $12,999, respectively, but you can find used older Husqvarna models starting from $6,000.
Here is an idea of the best used supermotos to look for and their average used prices:
Ducati Hypermotard: $7,000–$12,000
SWM SM500R: $5,000–$7,000
Husqvarna 701: $10,000
Aprilia Dorsoduro: $4,500–$8,500
KTM Supermoto (various capacities): $5,000–$9,000
As you can see, Supermotos hold their value well. They are sought after bikes with high performance specs and so unlike other types of motorcycles, they don't depreciate as fast. This is also down to the fact the current era of Supermotos is still relatively new, so the market is not flooded with options.
Remember that a Supermoto is built to be ridden fast and hard, so be sure to check out any used Supermoto properly before purchasing. Do all your basic checks and ask for any paperwork, such as any service history that the previous owner/dealer might have.
Dirt-Bike Conversions
Many riders have also been known to convert their dirt bikes into Supermoto-style bikes, which can be a cheaper way of doing things, too, since dual-sports and motocross bikes tend to be cheaper from the onset.
It has been said, after all, that a Supermoto is simply a dirt bike with slick tires and inverted forks. Manufacturers that specifically produce supermotos would probably argue that a lot more goes into it.
I sit somewhere in between. If you're planning to compete directly in Supermoto events, you'll want a specific Supermoto motorcycle. If you just love the dirt-bike style but do a lot of road riding or road racing, then potentially converting your dirt bike is a pretty solid option. 
Read more about supermotos vs dual sports.
Back in the 80s, Supermoto existed because of riders who converted whatever they had to compete in crazy races, so there is no reason that can't still be a thing today.
The important thing you need to note is that converting a motocross bike is a more complicated process if you plan on riding your bike on the street. Motocross bikes generally are not street legal.
Motocross bikes are generally cheaper to purchase new and used, than dual-sports. However, the best bikes to convert if you plan to use your converted Supermoto for street riding are dual-sports that are already road legal.
The physical conversions cost about the same, but you have to factor in the process and cost of getting the paperwork approved to certify your bike as street legal.
Good dual-sport options for conversion:
Yamaha XT250
Honda CRF300/450
Kawasaki KLX 230/300
Any Honda XR series
Any Suzuki DR-Z series
If you aren't planning on riding your converted bike on the street or are happy to go through the process to get the bike street legal, then good motocross options include:
KTM 450 SX-F
Yamaha WR450F
Honda CRF450X
Husqvarna FC350
So, you have selected your bike and are ready to do a Supermoto conversion. There are some very basic changes you need to make and then you can go on to fine-tune the bike to perfection for serious supermoto fun.
Fundamentals of a Supermoto Conversion
The wheels should be 17" front and rear and equipped with street tires.
You might need to adjust your chain/swingarm with spacers if the tires you fit are too wide on the rear. A 3.5" width on the front and 4"–5" on the rear are the most common choices.
Change your front brakes! You need more braking power on the front, particularly, so you will need to upgrade. The easiest way is to use a bigger rotor.
Upgrade both your front and rear suspension where you can. Supermotos tend to have long-travel inverted forks.
After the basics, you can get into changing your gearing, your chain, your battery, etc., but those four fundamental steps are where you should start.
Remember, there are a host of things you need to do if you need to make your bike street legal, and this can vary by state, so be sure to check your state's regulations.
Final Thoughts
Supermotos are the most fun you can have on two wheels, and it doesn't need to cost you the earth to get into. Whether you opt for a brand new Kawasaki KLX, choose to buy a used bike or indeed do a supermoto conversion, there are options for everyone to be able to get into supermoto riding on the cheap.