Cruisers are one of the biggest and oldest categories of motorcycles; they embody the spirit of what motorcycling is all about, the open road, wind in your face, cruising into the sunset. Freedom.
Of course, cruisers also have a particular style, whether downright moody, mean, and blacked out, or flashy paint schemes with loads of chrome. They are cool-looking bikes that turn heads.
Therefore, what you need is a helmet that carries those same traits.
We have compiled the 10 best helmets for cruiser riders, followed by a short guide, so you know what to look for.
Here are our top 10 cruiser motorcycle helmets.
Best Overall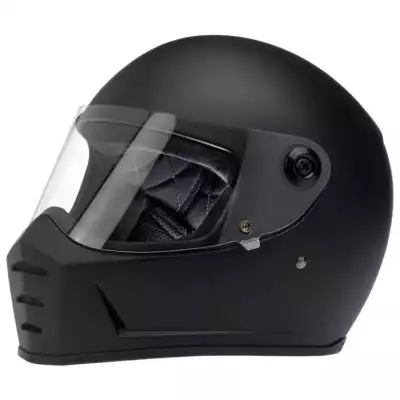 Biltwell Lane Splitter Helmet
Aggressive Style, Full Protection, Quality Construction
A full-face helmet with bags of style. Great functionality and quality construction.
Best Premium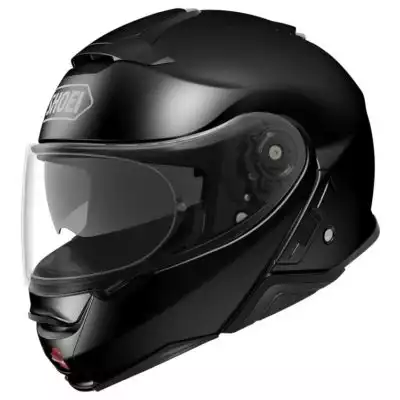 Shoei Neotec 2 Helmet
Exceptional Quality, Feature Packed, Comfortable
A brilliant modular helmet with Shoei quality standards and manufacturing.
Best Cruiser Motorcycle Helmets Reviewed
---
Biltwell Lane Splitter Helmet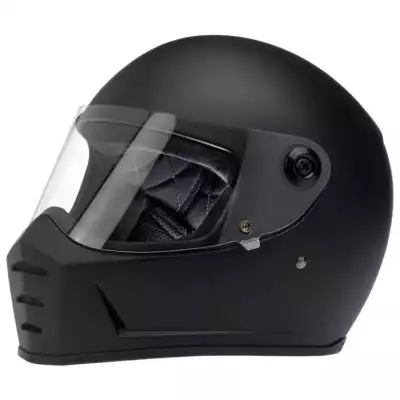 The Biltwell Lane Splitter is one of the best-looking retro-styled full-face helmets on the market, and it will go hand in hand with any classic or modern cruiser.
A no-frills lid that will appeal to riders who want to keep things simple with just the bare necessities.
The visibility port is big, so you have excellent visibility when riding.
The front vents sit within the chin piece and allow a lot of air to flow through the helmet to keep you cool and give the impression that you are wearing an open-face helmet.
Biltwell has built recesses into the side of the helmet as speaker pockets, so you can easily fit an intercom system if wanted, but that is about as fancy as this lid gets.
The helmet will most suit somebody with a round oval-shaped head, and it is worth noting that compared to the size guide measurements, some riders find the helmet comes up a bit tight.
Pros:
Awesome retro styling
Good visibility
Speaker pockets
Good value
Great ventilation
Cons:
---
Shoei Neotec 2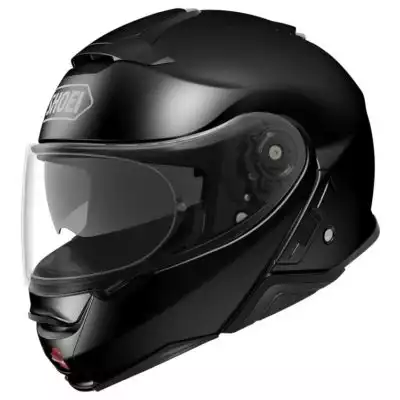 If the Lane Splitter is the minimalist, then the Neotec 2 is the Swiss Army Knife of motorcycle helmets.
For the cruiser rider that gets some serious miles racked up, then it could very well be the perfect investment, and it is an investment because Shoei doesn't make cheap helmets.
The Neotec 2 is Shoei's modular helmet, and it can be used in either the open-face or full-face position when riding, although, at speed, the drag in the open-face position isn't very fun or recommended.
It is handy at a gas station or a stop, though, to be able to just flip the front up rather than having to take the helmet off.
It comes with an internal sun visor and a Pinlock to keep you riding fog-free. The helmet has also been specifically designed to accommodate the Sena SRL communication system internally.
This is cool as it keeps your helmet low profile without a bulging intercom attached to the side.
The ventilation system is brilliant and adjustable to allow the rider to meet their needs as they go. It has been fitted with noise isolator cheek pads, which deflect the wind, reducing the noise.
Shoei has gone all out with the Neotec 2, and it is a helmet well worth considering if you plan on some long riding trips across State lines.
Pros:
Modular design
Excellent technical ventilation system
Internal sun visor
Quiet lid design
Pinlock visor included
Designed to accommodate the Sena SRL system into the helmet
Cons:
---
Biltwell Gringo S
The Biltwell Gringo S is another superb-looking, timelessly styled helmet that draws on the past while keeping modern functionality and protection.
If the Lane Splitter is a bit too out there for you, then the Gringo S is a simpler, low-profile design drawing on designs from the 70s. Although, it does come in a wider range of color schemes that allow you to add a more personal style if you like.
The construction and materials used are very similar to the Lane Splitter, with the same diamond-stitched quilted padding and the same simple locking mechanism for the visor.
The only thing the Gringo S lacks compared to the Lane Splitter is vents which may make it more suitable for cooler weather but could be an issue for summer riding.
Although some riders will opt to remove the visor and ride with goggles to give a true throwback edge to their style.
Pros:
Timeless styling
Simple design
Comfortable
Well made
Cons:
---
Simpson Outlaw Bandit
Who said full-face helmets aren't cool? We have proved that premise wrong already, but the Outlaw Bandit from Simpson simply banishes it from being considered ever again.
With a protruding chin piece, the lid is similar to the Lane Splitter, but the big vents are on either side of the chin bar instead of directly on the front.
The helmet is also best suited to those with an intermediate oval head shape, so it is less bulbous than the Biltwell.
You get a great wide visor for excellent visibility, and the Outlaw Bandit shell has been designed for aerodynamics; if you want to test the Sport in your Low Rider S, you know your lid will cut through the air like a knife.
The helmet doesn't do much to negate wind noise or other road noise, so it won't suit riders who prefer a quieter ride unless earplugs are an option.
Pros:
Excellent ventilation
Wide field of view
Improved aerodynamics
Awesome retro-aggressive styling
Cons:
Not a quiet helmet
Pricey for what it is
---
HJC i90
The last full-face/modular helmet to add to the list is the HJC i90.
A practical modular helmet that packs a punch in terms of value for money, its features far exceed other helmets in the same price bracket.
If you are looking for a cruiser lid to do some serious miles with but don't want to pay Shoei money, then the i90 is worth a look.
You get a flip-up chin bar, an internal sun visor, a technical ventilation system, glasses grooves, a moisture-wicking liner, and adjustable speaker pockets for an intercom headset. The helmet also is ready to accept the HJC 10B or 20B Bluetooth comms kits.
Overall the design is simple and understated, allowing your bike to make the impression as opposed to your helmet.
Pros:
Value for money
Loaded with features
Simple, understated styling
Cons:
Feels quite heavy due to the design
---
Biltwell Bonanza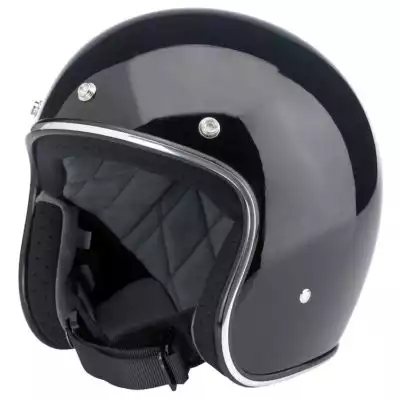 Next, we move on to our open-face helmet selections, and the first pick is another from Biltwell. They know how to make great helmets with a cruiser aesthetic.
The Bonanza is a ¾ shell with a low profile that comes in various colorways. If your bike is blacked out, you have a choice of gloss or matt black lids to match, but if you have something a bit colorful like a custom chopper, then the 'Metallic SeaWeed' or 'Copper' might be the one for you.
Biltwell uses the same quilted padding in the Bonanza in their full-face helmets, so you can expect the same level of quality and comfort.
You have 3 poppers on the top of the helmet that you can use to attach accessories like visors or peaks too.
It is a lightweight, low-profile open-face helmet with traditional styling and modern comfort.
Pros:
Classic open-face style
Comfortable
Lightweight
Can fit visors and peaks
Cons:
---
Scorpion EXO Covert X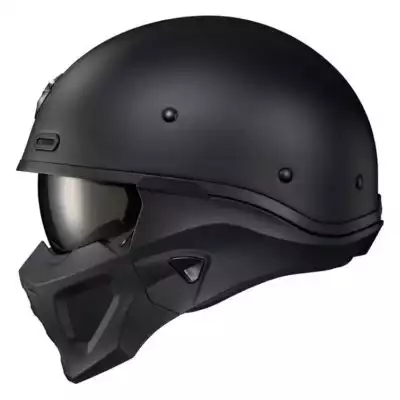 Next up is the EXO Covert X, a motorcycle helmet that looks like it has come straight from a Call of Duty game.
Scorpion have made one of the meanest-looking helmets on the market. It is classed as an open-face helmet but has a removable chin piece (front mask).
The mask is held on by strong magnets on either side of the jaw and is handy if you need more protection from the elements when you are out riding.
There are two visors, including a dark smoke and clear; these can be swapped out depending on the riding conditions, and the visor drops down internally.
There are 3 ways to wear the Covert X. The first is with the front mask attached, giving the appearance of a full-face helmet
Secondly, if you remove the chin piece, you are left with an almost ¾ sized shell with ear protection pads and pockets for Bluetooth speakers.
Thirdly you can remove the ear protection, leaving you with a very simple ½ shell lid.
It is an adaptable helmet that you can strip down depending on your wants and needs; at each stage, it looks as good as the last.
Just remember it is an open-face helmet and has been tested as such. The removable chin piece will offer no protection in an accident.
Pros:
3 different styles in 1
Cold weather ear protection with speaker pockets
Removable front mask
Aggressive styling
Dark and clear visors included
Cons:
Can be a bit tricky to put all the pieces back together when you have it stripped down
---
Bell Rogue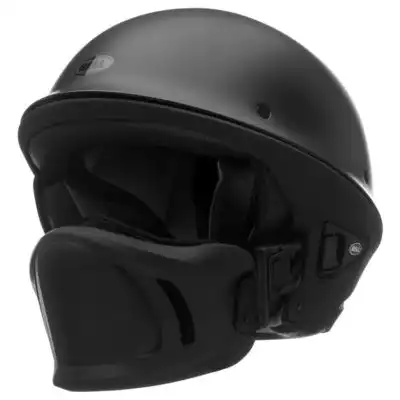 The Bell Rogue follows suit from the Scorpion; it is a mean ¾ shell lid but looks like a ½ shell.
It is a mean, aggressive, almost military-inspired helmet that lets everyone on the road know that you are there, twist the throttle and let your pipes roar.
The removable muzzle easily attaches by magnets on each side by the earpieces, so you can opt to have it on for some wind protection or off for complete freedom.
There is adequate ear protection with built-in recesses for speakers. The liner is of usual Bell quality; it is comfortable, moisture-wicking, and removable for washing.
This is a helmet for those who don't mind the attention.
Pros:
Mean impressive styling
Comfortable
Ear protection and speaker pockets
½ shell looks with ¾ shell protection
Cons:
Pricey for an open-face helmet
---
Bell Pit Boss
The Bell Pit Boss is a more traditional open-face helmet that shies away from the attention that the Rogue seeks.
The Pit Boss features an internal sun shield, a small peak, and a removable neck curtain, which aids cold weather riding.
There is a speed dial adjustable fit system that you can tighten up or loosen for the perfect fit each time you ride.
It is a very traditional open face that doesn't try to be anything more than what it is, and for classic cruiser riders, this is likely exactly what you could be looking for.
Pros:
Internal sun visor with 100% UV protection
Small peak fitted
Removable neck curtain
Comfort liner
Traditional styling
Cons:
It is just a ½ shell lid, so protection is limited
---
GMax GM65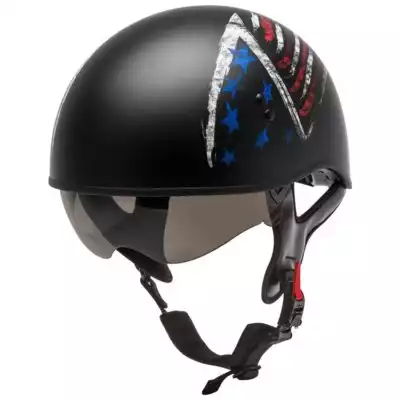 Lastly, we have the GMax GM65, an open face to suit those on a budget. It comes in various paint schemes, from plain black to crazy designs. There will be one to suit every personality.
The helmet is a simple ½ shell lid fitted with an internal drop-down tinted visor. You also get a removable neck curtain.
The liner is DuPont Coolmax for comfort; this is removable and washable.
There is little more to say about the GM65, except it offers good quality for the money if you are in the market for a ½ shell open-face helmet.
Pros:
Value for money
Internal sun visor
Removable neck curtain
Range of colors and designs
Cons:
Comes up small
½ shell design – limited protection
---
Buyers Guide
Care, considerations, and cost
---
There are some essential things to consider before buying any motorcycle helmet, such as how protective it is and whether it fits properly.
After that, you can start thinking more specifically about the style and does it fit in with the cruiser aesthetic and riding needs.
Fortunately, we have done the work for you and have put a short guide together to help you find the answers before you make your purchase.
Here are my top tips for buying a cruiser helmet:
Protection
First things first, as with any helmet, the most important thing to consider is its protective properties and whether it is fit for purpose in the event of an accident.
The starting point is to ensure the helmet you buy is DOT approved. All legal helmets in the US need to have DOT approval.
All that means is that the manufacturer has sent the helmet off for testing by the Department of Transport.
If the helmet passes all the required tests to a suitable standard, it will be deemed protective and receive DOT approval.
Full-face vs. open face
The biggest debate regarding motorcycle helmets is whether to go for a full-face or open-face helmet.
Full-face and modular helmets have a full chin bar to protect your face. Open-face helmets (whether ¾ shells or ½ shell helmets) have no protection for your face. (See modular vs full-face helmets)
Therefore from a safety point of view, there is no dispute that a full-face helmet offers more protection for the entire head and face than an open-face.
Some open-face helmets will have a visor which will at least keep road debris from hitting your face as you ride. However, any visors or decorative chin pieces on an open-face helmet should not be relied upon to offer substantial protection in an accident.
Consider thinking about your riding style and the roads you ride on when deciding whether to go for a full-face or open-face helmet.
If you plan on many highway miles on long trips, then a full face might be most suitable, but cruising around town and back roads, your open-face helmet may do the job.
The style of helmet you go for is a personal preference, and as long the helmet has DOT approval, you will know that it will offer the minimal level of protection required.
Sizing and Fit
The most important thing to consider when buying a motorcycle helmet is to get the right size and ensure it fits your head correctly.
The correct fit is more important than anything else, including the style of the helmet, its features, and even the helmet's construction.
If your helmet fits properly, it can protect you to the best of its ability in an accident, whereas if it is too loose or too tight, the helmet can fail to perform properly when needed most.
Taking a soft tape measure and measuring around the crown of your head will give you a measurement to use as a guide to compare against the manufacturers sizing charts.
After that, you need to try the helmet on to ensure it is a snug fit, but there are no pressure points anywhere (usually on your forehead or around your temple area).
Your cheek pads should be pushed up almost like a chipmunk to the point that you couldn't chew a piece of gum if you tried. After around 20 minutes of wearing the helmet, you should know whether it is suitable or will become uncomfortable.
Comfort
Comfort is king when it comes to a motorcycle helmet.
Riders spend a long time wearing their helmets, and the last thing you want is to be uncomfortable. The correct fit is key to making sure you are comfortable, but things like the materials used for the helmet liners all make a significant difference.
Some manufacturers like Shoei and Arai offer a tailored fit service, swapping out cheek pads that will make the helmet slightly tighter or looser, depending on your needs.
Features like tinted visors, vents, internal sun visors, etc., are also great at increasing a rider's comfort depending on their needs.
If you are cruising through the Badlands, South Dakota, in the summer, then excellent ventilation and a built-in sun visor could make all the difference between a fun or miserable ride.
Read: Best airflow motorcycle helmet
Conclusion
We have covered everything you need to think about to buy your next cruiser-style helmet and have given you 10 of the very best helmets currently available to get your search started.
I love my Biltwell Lane Splitter. It just oozes attitude; the big vents are perfect for summer cruising.
However, if you are looking for a comfortable helmet that will suit your riding all year long, then the Shoei Neotec 2 would be the one I'd go for.
Related