I know how hard it can be to find the right dual sport helmet. Of course you want to stay safe, but you also want to maximize the performance, stability, and handling of your bike.
I've spent a long time searching for the models that do just that. These are the five best dual sport helmets I found.
Best Dual Sport Helmet Overall
Arai XD-4 Helmet
On top of being one of the few dual sport helmets safe enough to get Snell M2020 certification, the Arai XD-4 improves your performance with a lightweight, aerodynamic design.
Best Budget Dual Sport Helmet
Bell MX-9 Adventure Mips Helmet
Despite the affordable price, the Bell MX-9 has innovative MIPS technology to keep you safe in the unique situations you encounter while adventure riding.
Reviews of the Best Dual Sport Helmets
---
Arai XD-4
The Arai XD-4 is my top pick for one primary reason: it's safe. One of the few dual sport helmets with the Snell M2020 certification, it gives you plenty of protection while doing dangerous activities. At the same time, it has a number of features that increase comfort and performance while adventure riding.
For example, the temperature regulation is top-notch. A large part of this is the ventilation that involves multiple intake and exhaust vents and keeps air circulating within the helmet.
Additionally, the interior's Dry-Cool technology wicks sweat to cool you down when you're overheating. Plus, if you're riding in cooler weather, the sweat doesn't get cold when you stop riding. In other words, it's a great helmet year-round.
As for fit, Arai designed the interior with "facial contour support." The cheek pads rapidly adapt to the shape of your face for a snug but unobtrusive fit. It's all removable and washable, too, so you can keep it soft and fresh for every ride.
Of course, you're probably looking for a dual sport helmet that improves your speed and agility on the bike. The XD-4 is definitely one of the best in that regard thanks to an advanced and innovative aerodynamic design that decreases buffeting and helps your stability.
Pros:
Snell M2020 safety rating
Extensive ventilation
Dry-Cool moisture-wicking technology
Cheek pads with facial contouring
Removable and washable interior
Aerodynamic shape
Cons:
Not great for rain
Limited color options
---
Bell MX-9 Adventure MIPS
Bell always impresses me with the quality and features it packs into affordable helmets.
The MX-9 is no exception and even has MIPS technology that's hard to find on other motorcycle helmets. MIPS stands for "Multi-Directional Impact Protection System" and helps protect your head from impacts at various angles by displacing rotation energy.
The biggest problem with this helmet is the visor. It's removable for riding at highway speeds, which is great, but the attachment isn't super secure, so it rattles quite a bit.
In fact, the helmet is a bit loud overall, though part of this is due to the extensive ventilation system that really helps keep you cool if you're riding in hot weather.
For a budget model, I was also impressed that the MX-9 has three shell sizes for a more precise fit. The liner is also comfortable, especially since it's removable and washable, which allows you to remove dirt and grime to keep it fluffy and soft.
Pros:
Great value
MIPS technology
Removable visor
Extensive ventilation
Removable and washable liner
Cons:
Loud
Flimsy visor attachment
Limited color options
---
Shoei Hornet X2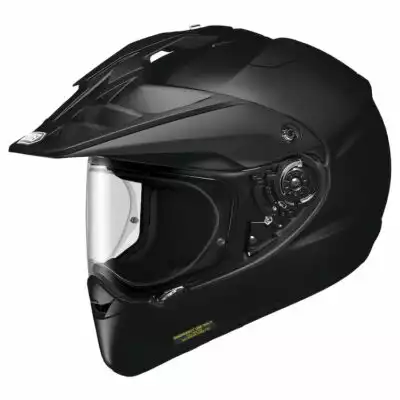 The Hornet X2 is another of the few Snell-rated helmets on the market. I like that it has an emergency quick-release system that allows paramedics to remove the helmet without moving your neck in case of an accident.
Combine all this with a particularly wide field of vision and you have an especially safe helmet for dangerous adventure riding.
Now, the X2 is a bit heavier than the Arai XD-4 and narrower, as well, so if you have a rounder head shape, it may feel tight. However, with the right head shape, the interior contours and adapts to the shape of your face, which helps remove pinch points.
I'm also a big fan of the ventilation system on this model. It has an upper intake vent that pulls air over the top of your head where heat builds up, and several other intake and exhaust vents.
This works well with the moisture-wicking Max-Dry interior to keep you at a comfortable temperature during maximum exertion.
Finally, take a look at the V-460 visor. Its unique wedge shape offers protection in case of a crash and improves airflow over the top of the helmet. In other words, it's more aerodynamic for top performance while adventure riding.
Pros:
Snell M2015 safety rating
Emergency quick-release system
Wide field of vision
3D interior adapts to face
Great temperature regulation
V-460 aerodynamic visor
Cons:
Slightly heavy
Narrow fit
Limited color options
---
Scorpion EXO-AT950
Aside from the style, which I love, I chose the EXO-AT950 for my list because of its versatility. It has a modular chin bar, great for popping open to take a breather or cool off, and the visor is removable for regular commuting or highway riding.
Nevertheless, it's a great helmet for adventure riding. It's safe but lightweight thanks to the polycarbonate shell, and you have a wide field of vision so you can keep better track of your surroundings.
I will say that the EXO-AT950 doesn't have the same extensive ventilation as other top-shelf models, but there are intake vents on the tops combined with rear exhaust vents.
What's better is the KwikWick II antimicrobial liner that removes sweat and moisture from inside the helmet for temperature regulation. Plus, it cuts down on odor, which always makes for a more pleasant ride.
Pros:
Modular chin bar
Removable visor
Wide field of vision
KwikWick II antimicrobial liner
Stylish design
Cons:
Runs small
Less ventilation
---
AFX FX-41 DS
The FX-41 DS is one of the best dual sport helmets for summer riding. That's because it has some of the most extensive ventilation on the market with 17 points, so air passes over your whole face.
On top of that, the liner is antimicrobial, removable, and washable, and you get an internal sun shield that's UV resistant.
It's not just comfortable, though, it's also safe and designed from a composite poly-alloy that absorbs the energy of an impact. Though a bit on the heavy side, it's designed in a particularly aerodynamic shape that helps reduce wind resistance, so you perform better on your bike.
Pros:
17 points of ventilation
Removable and washable antimicrobial liner
Internal UV-resistant sun shield
Aerodynamic shape
Cons:
Heavy
Only two shell sizes
Limited color options
---
Buyer's Guide
Care, Cosiderations and Cost
---
Safety Features
Adventure riding can be particularly dangerous, so while you want a helmet that increases your performance, you also need to pay attention to specific safety features.
Safety Standards
You should at least look for a dual sport helmet that meets DOT (Department of Transportation) standards. In many states and jurisdictions, this is actually a legal requirement when riding a motorcycle on public roads.
Additionally, you can check for a Snell rating. Issued by the Snell Foundation, helmets must undergo rigorous testing to get the certification, the most recent being the M2020 rating.
Fit and Sizing
To adequately protect your head, a dual sport helmet needs to fit well. If it doesn't, it may move too much in a crash and not properly absorb the impact.
Since there's no industry standard, the first thing you should do is check the manufacturer's sizing guide. Measure the circumference of your head and match it to the size of that specific helmet. 
Additionally, check the head shape. Helmets are usually rated for one of three head shapes: round oval, intermediate oval, and long oval. Intermediate oval is the most common, so most helmets are made for this head shape. If you have one of the other two, you may have to do a little more digging to find the proper helmet.
Field of Vision
Safety while adventure riding requires being able to see what's around you. This means you need a face shield with a wide field of vision that allows you to see on either side.
Visor
The primary feature that separates dual sport helmets from other types of helmets is the peak visor that sticks out from the top front. The visor serves a number of purposes, such as shielding your eyes from the sun and keeping the face shield clear of mud and debris.
The downside of a visor is that it's not especially aerodynamic, especially at high speeds.
As a result, many manufacturers make the visor removable so you can use the helmet on the highway. Just check the quality of the attachment because a flimsy visor attachment could mean a lot of rattling and motion.
Temperature Regulation
Most adventure riding involves a considerable amount of physical exertion, so you're likely to sweat even if it's cold outside. To help with this, you want good ventilation and a moisture-wicking interior. By cutting down on sweat, you're more likely to stay comfortable regardless of the weather.
Aerodynamic Shape
To perform better while riding, you want your dual sport helmet to be particularly aerodynamic. Try to pick out a design that minimizes wind resistance, both on the front of the helmet and over the visor. This will improve your speed and acceleration as well as your stability on the bike and therefore your handling.
Final Thoughts
Dual sport helmets need particular features to keep you safe while riding and improve your performance. That's why I highly recommend the Arai XD-4 with its Snell M2020 rating and aerodynamic design.
If your budget is tight, I also suggest checking out the Bell MX-9 Adventure MIPS, which offers innovative protective technology at a low price.