Ducati has a long history of producing fast motorcycles; they are one of the best at doing so. Not only are they fast they have bags of style that have become synonymous with the Italian brand.
From the 750 Imola Desmo to the 500cc Pantah and the later iconic 916. Whether on the racetrack or road, Ducati's performance motorcycles have always stood out among the pack, and their current lineup is no different.
We have gathered the fastest current Ducati's listed in order starting with their fastest model, the Superleggera V4. Let's have a look.
Ducati Superleggera V4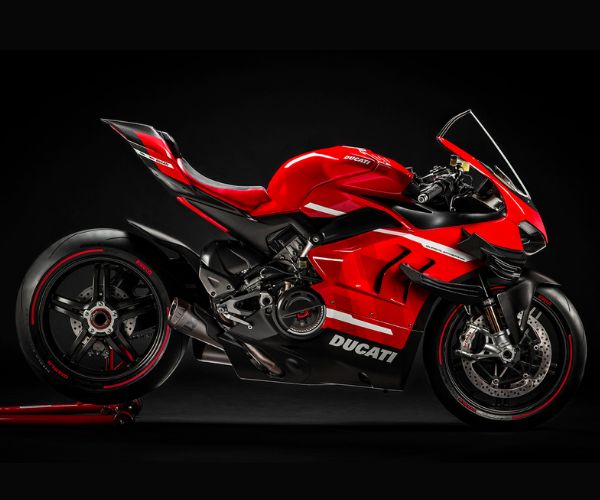 The Superleggera V4 takes the Panigale V4 framework, strips it back, makes it lighter, and utilizes more premium components to make it even better and faster.
Only 500 units of the Superleggera have been produced, which makes this model the most exclusive Ducati to date.
The bike's most significant weight saving has been using a carbon fiber frame, swingarm, and rims. It is the only motorcycle approved for road use with such a chassis. The power-to-weight ratio as a result of the build equals 1.54hp to every kg.
You can add on a racing kit that exploits even more power out of the engine and the Aeropack that ensures you get the most out of the bike when accelerating and braking.
The TFT display is set up with a Race GP interface so that you can get all the information you need when on the track to beat your lap records and check your performance.
The Superleggera is a seriously exclusive premium motorcycle focused on performance and giving the rider the full Ducati experience.
Specs 2022 Model:
Engine – 998cc V4, Desmodromic timing, 4 valves per cylinder, liquid-cooled
Max Power – 234 horsepower
Max Torque – 119 Nm
Top Speed – 200mph
Weight Dry – 350lbs or 355lbs with Racing Kit
Current MSRP – Around $100,000
---
Ducati Panigale V4
There are three variants of the Panigale V4, the base model, the V4 S, and the track-only V4 SP2.
The V4 S builds on the V4 with a sportier-focused design. The most significant difference is the use of Ohlins electronically adjustable suspension. The S also gets lighter Marchesini forged aluminum wheels and a lithium-ion battery.
Despite the differences, all 3 models produce the same power, torque, and top speed. The power is delivered slightly differently with the SP2 to make it much more race ready.
The handling of each also differs slightly due to subtle changes such as the suspension setup. The SP2 is the lightest of the bunch thanks to new parts like carbon 5-spoke wheels.
Whether you are looking for a speed demon to hit the streets or a track bike that outshines all others, the Panigale V4 is an excellent choice.
The bikes are equipped with the latest tech, including different riding modes, traction, slide, wheelie and engine braking controls, and a power launch system.
Specs 2022 Model:
Engine – 1,103cc, Liquid-cooled, Desmosedici Stradale 90° V4, counter-rotating crankshaft, 4 Desmodromic timing, 4 valves per cylinder
Max Power – 210 horsepower
Max Torque – 122.8 Nm
Top Speed – 186mph
Dry Weight – 386lbs
Current MSRP – $23,895
---
Ducati Streetfighter V4
It should be no surprise that the Streetfighter V4 follows on from its fully faired sibling as one of Ducati's fastest motorcycles. After all, it shares the same engine.
As with the Panigale, there are several options, including the base model, S, SP, and my current favorite, the Streetfighter x Lamborghini limited edition model.
The base Streetfighter differs from the S with electronic adjustable Ohlins suspension front and rear on the S as opposed to Showa forks and Sachs rear shock on the base model. Marchesini wheels are also used on the S.
The SP model is even more sports-focused, with carbon wheels, Brembo Stylema R front brake calipers, and an SBK dry clutch.
The SP is there for riders who want to hit the track on a naked motorcycle; it is an insane bike.
If you are a fan of Italian cars and motorcycles, then the Lamborghini partnership is one you don't want to miss out on.
The Streetfighter V4 has received a Huracàn STO-based makeover, and only 630 total units will be produced, plus a further 63 for Lamborghini customers who want to match their bike to their car.
It will be out of reach for most of us with limited numbers and a price tag of $68,000, but it is an awesome-looking motorcycle and a great collaboration.
Specs 2022 Model:
Engine – 1,103cc, Liquid-cooled, Desmosedici Stradale 90° V4, counter-rotating crankshaft, 4 Desmodromic timing, 4 valves per cylinder
Max Power – 208 horsepower
Max Torque – 123Nm
Top Speed – 185mph (limited electronically)
Dry Weight – 397lbs
Current MSRP – $19,995
---
Ducati Diavel 1260
Beating the slightly smaller Panigale V2 is the Diavel 1260 with 157 horsepower and 128 Nm of torque.
This powerhouse muscular monster has carved its place into the market, and the all-new Diavel is better than ever.
The bike has incredible acceleration paired with a flat and consistent torque curve which makes for responsible but easy handling.
The ergonomics of the Diavel have been reviewed to be more comfortable while retaining its sporty features. Higher handlebars, lower seat, and central footpegs all make a comfy riding position that is also versatile and encourages sporty riding.
As with other S variants, the Diavel S gets Ohlins suspension and other upgrades such as Daytime Running Lights.
The Diavel 1260 styling is incredible, it could be argued the bike is a work of art more than a motorcycle; it was presented in 2019 at the Milan Design Week.
Specs 2022 Model:
Engine – Twin cylinder, 1262 cc, desmodromic Ducati Testastretta DVT
Max Power – 157 horsepower
Max Torque – 128 Nm
Top Speed – 167mph
Dry Weight – 481lbs
Current MSRP – $21,795
---
Ducati Panigale V2
Following the new Diavel is the Panigale V2, which utilizes the Superquadro 955cc engine.
Admittedly the V2 has a top speed of 176mph versus the 167mph of the Diavel, but the Diavel produces slightly more power and torque.
The big difference between the V2 and V4 Panigale is the engine, a twin cylinder, versus four cylinders in the V4.
The Panigale V2 is a very competent road and track bike loaded with features, such as Cornering ABS, Wheelie Control, Traction Control, Engine Brake Control, Riding Modes, and GP style data analysis.
There is a V2 Bayliss edition that celebrates Troy Bayliss, a legendary racer. The livery on the bike is inspired by Bayliss's livery on his 996 R, on which he won his first World Championship Title in 2001.
Alongside the Panigale, a Streetfighter V2 version pushes out 153 horsepower, 101.4 Nm of torque, and a top speed of 170mph. If the naked version is what you are after, the MSRP is $17,295.
Read more about the best streetfighter motorcycles.
Specs 2022 Model:
Engine – 955 cc, Superquadro: L-twin cylinder, 4 valves per cylinder, Desmodromic, liquid-cooled
Max Power – 155 horsepower
Max Torque – 104 Nm
Top Speed – 176mph
Dry Weight – 388lbs
Current MSRP – $17,795
---
Ducati Multistrada V4
If adventure riding is more your thing, don't worry because Ducati has you covered here, too, with an equally fast addition to the adventure segment in the form of the Multistrada V4.
The Multistrada boasts the new Granturismo engine that is claimed to be the smoothest engine ever from Ducati. It also has a 37,300-mile service interval, putting quite a few bikes to shame.
The Multistrada V4 S comes standard with the Travel & Radar package, which includes Rigid Side Panniers, Blind Spot Detection, and Adaptive Cruise Control.
This is a bike that is built for adventures and sporty ones at that. It is suited to low speeds around town before twisting the throttle and chasing the red line on the flat straights.
Just because you have an adventure bike doesn't mean the ride needs to be dull, slow, or practical. The new Multistrada pushes the boundaries of what an adventure bike is capable of; the 170hp engine may have you trying to get your knee down if you're not careful.
Specs 2022 Model:
Engine – V4 Granturismo Engine
Max Power – 170 horsepower
Max Torque – 124 Nm
Top Speed – 155mph
Weight Dry – 480lbs
Current MSRP – $26,895
---
Ducati XDiavel S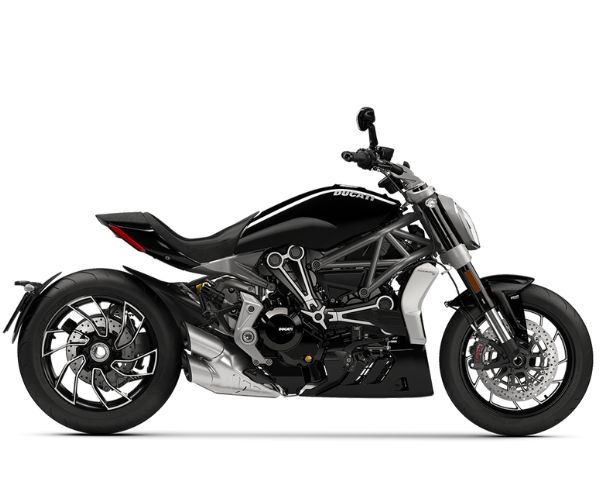 Another addition to Ducati's fast motorcycles is the XDiavel S.
This model is a more cruiser-orientated, extreme version of the Diavel with a belt final drive instead of a chain.
Read about the fastest cruiser motorcycles.
Around 80% of the bike's torque is immediately available at 2,100rpm, so this thing will pull you along like a freight train and won't stop until you hit its limit at around 150mph.
Your feet are firmly forward in typical cruiser fashion, and there is a huge rear tire giving the bike a drag-style look, backed by drag-style performance too, so Ducati has implemented a launch control system to keep things under control when you set off.
It is quite a stripped-back model, as all the best cruisers are, so riders can put their own stamp on the bike and tailor it to their needs.
Specs 2022 Model:
Engine – 1262cc, Testastretta DVT V2 engine
Max Power – 152 horsepower
Max Torque – 126 Nm
Top Speed – 150mph
Weight Dry – 492lbs
Current MSRP – $26,395
---
Related
Also see:
Image Credits
All images via Ducati.