KTM has four key brand values: purity, performance, adventure, and extreme.
Producing motorcycles based around these four key values has equated to some really great models with the "Ready to Race" mentality.
KTM states that it is the "world's most successful motorcycle manufacturer," with 333 FIM World Championship titles. Its racing success spans MotoGP, Motocross, Enduro, and Rally races.
We have gathered the best of the bunch together for you to read through and compare.
Let's take a look at some of the fastest KTM motorcycles.
Fastest Production Model KTM Motorcycles
Power, torque, and top-speed figures obtained from the manufacturer where possible. Otherwise we have used various hands-on reviews of the bike as our source.
Many manufacturers share engines across various models and KTM is no exception.
The Super Duke R Evo shares the same engine with the Super Duke R, Super Duke GT, and the Super Duke Adventure R and S. These models all produce similar performance figures.
The LC8c engine can be found in the 890 Duke R, RC 8C, 890 Adventure, and Adventure R models.
Interestingly, the 889cc LC8c engine is spread across several models, but because it is tuned differently and equipped in different chassis, the power outputs are significantly different.
Now let's look at the top five fastest KTM motorcycles in more depth.
1290 Super Duke R Evo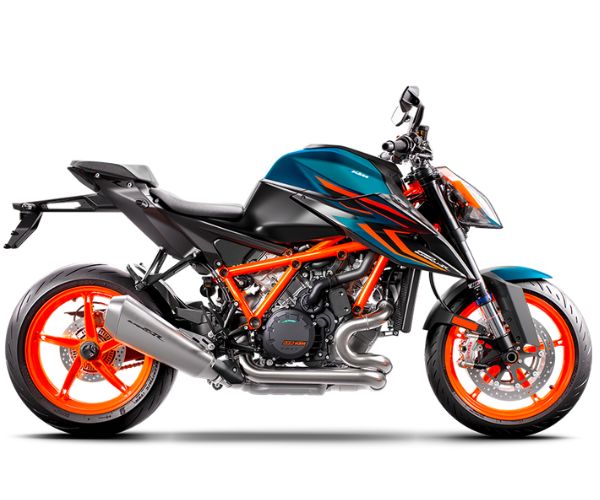 The Super Duke R Evo heads up the Super Duke model range and it really is a beast.
The 1301cc V-Twin is a powerful monster full of raw power that has been revised for the latest generation to be lighter with thinner casings and improved oil delivery via aluminum oil lines.
With an impressive top speed of 186 mph, the Super Duke R Evo is a breathtaking ride. The 180 hp and 140 Nm of torque ensure that you have an abundance of power to play with all the way through to the red line.
To help harness all that immense power, KTM has constructed a strong, rigid frame that, for the latest model, is three times stiffer than the last. The lightweight frame connects to a lightweight composite subframe and swingarm.
WP semi-active technology (SAT) suspension allows for a wide range of adjustability options, whether dialed in for the track or the street. On the front WP Apex, forks are electronically adjustable. They provide lots of feedback and feel for maximum confidence and control.
You can ride the Super Duke R Evo as a street bike, embracing the upright riding position and street style ergonomics, or you can treat it like the supersport that it truly is at heart—minus the fairings.
Specs:
Engine: 1301cc, LC8, V-Twin
Seat height: 32.8"
Curb weight: 466 lbs
Current MSRP: $20,399
---
RC 8C
The RC 8C is one of the most exciting bikes to come out of KTM's factory in recent years. The track weapon was limited to just 200 units, all of which were sold before the bikes even hit dealers.
Everything about the model is top shelf, race-spec. It really is ready to race right from the factory. KTM has also ensured that everything necessary is adjustable to fit riders of every size and preference.
With 132 horsepower and an estimated top speed of 174 mph, the RC 8C is more than ready to put up a fight on the track for lap records.
The bike is equipped with a 5" TFT display that has all the necessary data-logging features you could possibly need connected to the AIM Race Studio. Track speed, lap times, and engine data are all recorded and accessible for studying after the fact.
The aerodynamics are second to none, the carbon Kevlar-lined fairings are lightweight but provide the sturdiness you need at speed, and the winglets add extra downforce and stability.
Aside from the premium components and advanced technology, the RC 8C looks spectacular. It is a mean and aggressive, serious race bike.
Specs:
Engine: 889cc, LC8c, parallel twin
Seat height: 32.2"
Dry weight: 308 lbs
Current MSRP: TBC
---
890 Duke R
KTM's 890 Duke R is a step up from the 790 Duke, building on an already solid foundation.
This is a middleweight naked bike with bags of power and torque, making it perfectly punchy on the back roads or on the track.
The parallel twin produces 115 horsepower and a top speed of around 150 mph, which is more than enough for any street bike. The 890 Duke R will have you wondering why you would ever need to consider anything bigger at all.
From a styling perspective, there are parallels with the bigger 1290 Super Duke, with aggressive angles, sharp lines, and bold highlights, but the 890 is more compact, tighter, and sleeker with less bulk.
You sit upright with nice wide bars and neutral footpegs for the utmost control over the bike. The WP suspension setup, front and back, is fully adjustable and can be tailored to the road conditions and riders' preferences.
The chassis is nice and light for excellent agility and precise handling. It is a great choice for battling through city traffic before escaping onto the open road.
Equipped with cornering ABS and Supermoto mode, the 890 Duke R is ready to be pushed to the limit and encourages the hooligan in all riders.
Specs:
Engine: 889cc, LC8c, parallel twin
Seat height: 32.8"
Curb weight: 405 lbs
Current MSRP: $12,949
---
790 Duke
With the 890 Duke now involved in the Duke range, the 790 Duke might seem a little out of place or unnecessary now. I challenge that very notion, though, because the 790 Duke is still an excellent, agile, light, fast, sporty-natured naked bike that has plenty to offer.
It has the most compact engine in its class packed into a compact super-light frame, resulting in one of the best handling and most agile setups currently available.
Everything about the 790 Duke screams agility and speed. It looks like it's ready to carve up the road and nothing on the bike is unnecessary. It is as stripped-back as it can be, leaving just the bare bones on display.
The electronics package is impressive, with features like Track Mode, Traction Control, Anti-Wheelie Mode, Launch Control, and three different throttle modes.
If you want a middleweight street bike that can do it all while you get to play with 103 hp and 86 Nm of torque, then the 790 Duke could be the one for you.
A top speed of 140 mph isn't bad either for a middleweight street bike.
Specs:
Engine: 799cc, LC8c, parallel twin
Seat height: 32.4"
Curb weight: 414 lbs
Current MSRP: $9,199
---
890 Adventure R
Sharing the same engine as the 890 Duke, it's no surprise that the 890 Adventure R follows closely behind with good performance stats.
The engine of the Adventure R, however, is tuned differently to ensure there is plenty of low and mid-range grunt, which is necessary for off-road terrain. This comes at the sacrifice of top-end power and a slightly lower top speed of 130 mph.
The 890 Adventure R offers an alternative to riders who don't want to opt for the bigger 1290 Adventure, which is significantly heavier and, for some, harder to handle.
The bike has a long wheelbase for maximum stability and the bodywork has been sculpted to allow for maximum rider movement when tackling difficult terrain.
The suspension is adjustable, front and back, so you can tailor the ride, whether traveling across the tarmac or dirt, for the optimum riding experience.
KTM has also loaded the bike up with a load of rider tech, such as Off-Road ABS, rider modes, including Rally and Off-Road Mode, Cruise Control, and Smartphone Connectivity.
Specs:
Engine: 889cc, LC8c, parallel twin
Seat height: 34.6"
Curb weight: 464 lbs
Current MSRP: $15,199
---
Other Notable Fast KTM Motorcycles
Fast motorcycles are part of KTM's DNA, from its Supersports and Supermotos to its MX and Enduro bikes. 
Smaller capacity KTMs
One area that KTM really thrives is in its smaller-capacity bikes.
KTM leads the pack in the 300/400cc market, and for many years, the 125 Duke was the fastest 125cc bike overseas, only recently superseded by the MT-125.
The RC 390 has a top speed of 112 mph. It is explosive off the mark, with rapid acceleration. The 390 Duke has similar performance, although the fairings on the RC aid better aerodynamics for a better top speed.
The 200 Duke is also pretty quick off the mark, with a top speed of 87 mph.
Off-Road KTMs
We have focused our list of the fastest KTMs on road-going/track bikes, but it's worth mentioning that KTM produces some of the fastest off-roaders on the market.
KTM's racing pedigree isn't just restricted to MotoGP. It's common to see KTM riders on MX, Enduro, and Rally podiums too. They don't get there on slow bikes—fast engines in premium frames is the winning formula.
Examples of fast KTM dirt bikes include:
KTM 450 SX-F: Top speed 123 mph
The smaller 350 SX-F: Top speed 98 mph.
Read: Motorcycle vs dirt bike
The Fastest KTM of All Time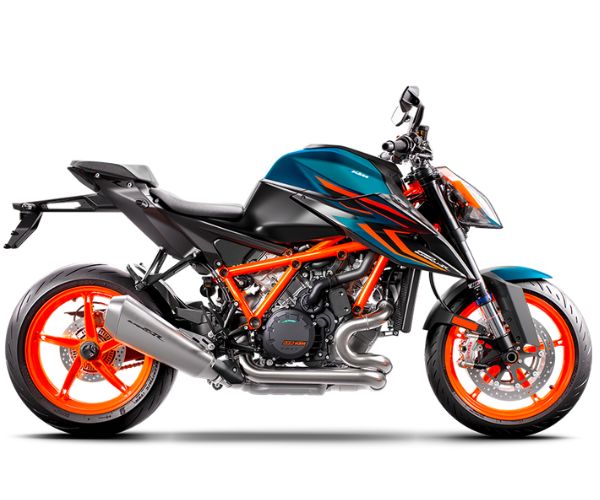 The fastest KTM of all time stands with the 1290 Super Duke R Evo.
The bike has a top speed of 186 mph, 180 horsepower, and 140 Nm of torque. It also has an impressive 0–60 mph time of 3.1 seconds, although it's arguable that it has an even better time of under 3 seconds.
Despite being the ultimate street bike, the Super Duke R Evo is an unconventional but solid choice for those who enjoy heading to the track.
Image credits
All images via KTM