When it gets hot, no amount of ventilation can substitute for the cool and freeing feeling of the open road's wind on your face.
In the summer, I often don a half helmet for both long and short rides, but I also want to make sure that comfort is combined with safety.
That's why I've taken so much time to consider the available options and find the five best half helmets.
Best Half Helmet Overall
Bell Pit Boss Helmet
Not only is it lightweight and ventilated for great airflow, the Bell Pit Boss has a Kevlar-blend shell and adjustable fit that make it one the safest half-helmet options.
Best Convertible Half Helmet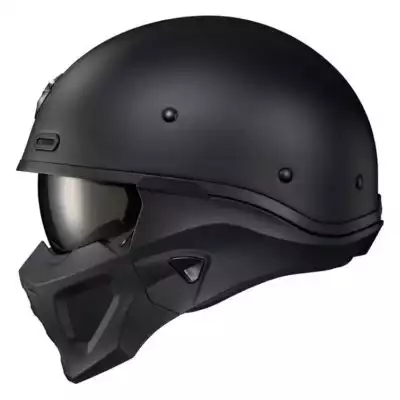 Scorpion EXO Covert X Helmet
The Scorpion EXO Covert X can be converted between a half helmet, three-quarter helmet, and full-face helmet, giving you numerous options and versatility to make the most of your ride, regardless of the weather or climate.
Reviews of the Best Motorcycle Half Helmets
---
Bell Pit Boss
You probably like half helmets because they're lightweight, comfortable, and unobtrusive. That's why the Pit Boss helmet is my top recommendation. Made of a Kevlar/carbon/fiberglass blend, it's especially lightweight and doesn't weigh you down or overheat in the summer.
Speaking of overheating, it also features an adjustable ventilation system, something usually reserved for full-face helmets. You can adjust the airflow over your scalp to avoid that sweaty hair you still often get with half helmets.
On the other hand, if it's a little chilly, you can use the neck curtain. It's removable, making the Pit Boss versatile for various weather conditions.
Finally, you still want as much protection as possible, even with a half helmet.
In addition to the tough Kevlar shell, the Pit Boss has a unique safety feature: the speed dial adjustment system. Like a construction helmet, this lets you adjust its fit to be comfortable but less likely to come off your head in case of an accident.
Pros:
Lightweight Kevlar/carbon/fiberglass shell
Adjustable ventilation
Removable neck curtain
Drop-down sun shade
Speed-dial fit adjustment
Cons:
Sun shield incompatible with glasses
---
Scorpion EXO Covert X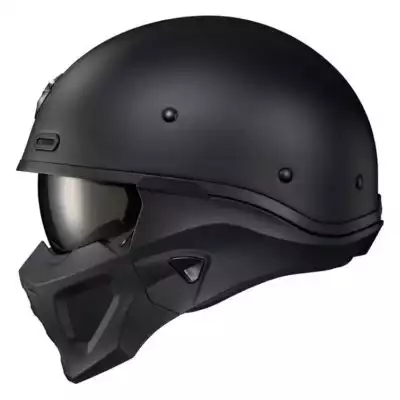 I wanted to include a convertible option, and I believe the Covert X is the best in that regard. You can use it as a full-face, three-quarter, or half-helmet. Although, in full disclosure, it doesn't provide the same safety as a dedicated full-face or three-quarter helmet.
However, conversion between the three is pretty easy, and the half helmet consists of a multi-layered fiberglass shell that's DOT approved.
I really like the aero-tuned ventilation on this model as well. It helps keep you cool whether you have it set as a full-face or half-helmet. Combine this with the antimicrobial liner and the dark smoke sun shield, and you get a helmet that's a great choice for hot climates and summer weather.
At the same time, it's great for the winter too. Not only are ear covers included, with pockets for speakers, but the sun shield also has an anti-fog coating.
Pros:
Convertible helmet
Safe fiberglass shell
Aero-tuned ventilation
Antimicrobial liner
Anti-fog sun shield
Ear covers with speaker pockets
Cons:
Heavy
Loud even in full-face mode
---
HJC IS-Cruiser
I wear an HJC i90 regularly and am a big fan of the brand. I had to include the IS-Cruiser on this list because it has a low, affordable price while still being one of the sleeker and more stylish half helmets on the market, especially if you want that low-profile look. Oh, it also has numerous color choices.
Now, I will admit the IS-Cruiser is slightly heavier than, say, the Bell Pit Boss—"slightly" meaning a mere three ounces. Still, it has a great intermediate-oval fit that's comfortable on most riders' heads and even includes a removable and washable liner. By washing it, you can keep it fluffy and soft for increased comfort, in addition to cutting down on odor.
One unique feature of this helmet is the sun shield that deploys via an exposed tab rather than a switch or level. This is a lot more convenient and safer since it decreases the amount of time you have to fiddle with the helmet.
Read our full HJC i90 review.
Pros:
Great value
Low profile
Multiple color options
Comfortable fit
Removable and washable liner
Easy-to-deploy sun shield
Cons:
Slightly heavier than other half helmets
No ventilation
---
Scorpion EXO-C110
The EXO-C110 is one of the larger half-helmets on the list. I'd still qualify it as low profile, but it pokes up slightly higher than other models. Plus, it has full ear flaps that extend down to the chin strap. As a result, you get a bit more safety from the polycarbonate shell combined with the same comfort and airflow of a standard half helmet.
In fact, this is one of the best helmets when it comes to temperature regulation. There's an effective ventilation system, and the liner is even made of KwikWick2 antimicrobial fabric. In other words, if you do get sweaty, the liner cuts down on odor.
The lower bottom edge has some benefits too. First of all, you get removable ear pads that snap onto the ear flaps, great for chillier weather. And there are pockets for communication systems, a big bonus for a tourer who wants a half helmet to keep cool.
Pros:
Safe design
Aero-tuned ventilation
Antimicrobial liner
Snap-on ear pads
Pockets for comms systems
Cons:
Slightly higher profile
Runs small
---
LS2 Rebellion 1812
The LS2 Rebellion 1812 is pretty similar to the EXO-C110. Despite a minimalist design and low profile, it has a drop-down sun shield, important for riding during the hot summer months, and low ear flaps that help cut down on noise, one of the biggest problems of half helmets.
As for comfort, there's extra ventilation with a top vent that helps air flow over your scalp, which tends to heat up in a half helmet. What I really like is that the inner liner is removable and washable. This way you can keep it fresh and odorless even when you use it repeatedly.
Finally, when it comes to safety, the Rebellion 1812 has a multi-density EPS that meets DOT standards. I also like the extended visor that can potentially protect your face in an accident since it contacts the ground first.
Pros:
Drop-down sun shield
Top ventilation
Removable and washable inner liner
Protective multi-density EPS
Extended visor
Cons:
---
Buyer's Guide
Care, Considerations and Cost
---
Safety Features
The truth is that half-helmets simply aren't as safe as full-face helmets. After all, they cover less of your head. Nonetheless, even though you're sacrificing a bit of safety for comfort, you should look for important features that help you maximize both.
Safety Standards
You should look for a half helmet that meets DOT (Department of Transportation) standards. In fact, in many states and jurisdictions, this is a legal requirement when riding a motorcycle.
Shell Material
The best and safest materials for motorcycle helmets are carbon fiber and Kevlar, which you may recognize as the material normally used in bulletproof vests. These absorb impact well but are still lightweight.
There are other good materials that will keep you safe, such as polycarbonate and fiberglass. Just make sure they pass those safety standards!
Fit and Sizing
A half helmet also needs to fit well to be safe. Otherwise, you risk it coming off or sliding into an inappropriate position in an accident.
The most important thing about fit is checking the manufacturer's sizing guide. Additionally, check the head shape. There are three head shapes helmets are typically rated for:
Round oval
Intermediate oval
Long oval
Since intermediate oval is the most common, most helmets are made for this head shape, so if you have one of the other two, you may want to look for that fit specifically.
Secure Chin Strap
To stay safe, you also want a chin strap that keeps the helmet snug and secure on your head without digging into your throat. This means it should be adjustable and easy to buckle and unbuckle.
Ventilation
Half helmets tend to have less ventilation compared to full-face helmets. Still, I recommend looking for helmets that have at least a few vents to help keep the top of your head cool and comfortable on long rides—especially since you're probably looking for a half helmet to maximize airflow during hot weather anyway.
Read our guide to helmets with good airflow.
Weight
Half helmets are generally lightweight, but they may differ by a few ounces. Lighter weight means more comfort and less overheating, though other factors are likely to affect these things more on a half helmet.
Sun Shield
Some half helmets come with a sun shield to protect your eyes from the sun and wind. I recommend one that can be deployed and retracted for maximum versatility. Plus, not all sun shields are compatible with glasses or goggles, so if it's drop-down, that helps a lot.
Read our guide to helmets for glasses wearers.
Final Thoughts
A half helmet is a good way to get more airflow during hot weather while still keeping safe.
I recommend the Bell Pit Boss for its tough shell and comfortable fit. I also suggest taking a look at the Scorpion EXO Covert X if you'd like the option of converting your half helmet to a full-face design when needed.