For mini-motorcycle enthusiasts, deciding between the Honda Monkey and Honda Grom can be tricky. Both have a four-stroke, liquid-cooled, fuel-injected engine with a manual transmission. They are both lightweight and have identical exhaust and brake systems.
It's safe to say that the differences between the two models in terms of their performance and features are barely noticeable. But some aspects of the Honda Grom set it apart from the Honda Monkey to make it our favorite.
In this article, we will dive deep into all the details and nuances that both these bikes have to offer. We'll also talk about which bike we recommend depending on your needs.
Honda Grom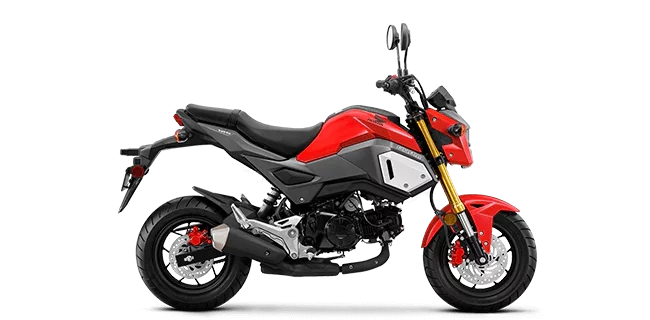 Honda has been selling around 10,000 Groms per year in the US since its arrival, proving its popularity. The first Honda Grom hit the market in 2014 and was later upgraded in 2017.
While it looks like a cross between a scooter and a sports bike, it offers more than you might expect. Here are some features of the Honda Grom that make it our top choice:
Read our full Honda Grom review.
Honda Monkey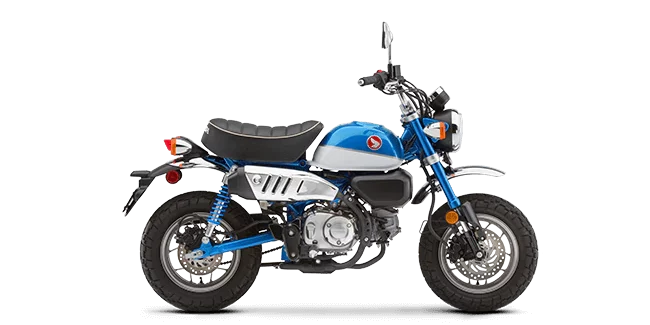 The first Honda Monkey was released in 1961, and the original model only had a 50cc motor with no rear suspension.
Sixty years later, it retains its classic look but comes with modern features like anti-lock brakes and front suspension. Here are some of the key characteristics of the Honda Monkey:
Honda Grom Vs. Honda: Monkey Head to Head
Even though both Honda Grom and Monkey share quite a lot of features, this section will walk you through all the factors that set them apart to help you make the best choice.
Comfort
Winner: Honda Monkey
Riding the Honda Grom compared with the Monkey is a bit more challenging. This is mainly to do with the seat, as it is about 2 inches deeper compared to the Monkey.
This will cause you to pull your weight forward, making long-distance riding a little uncomfortable. On the other hand, the softer and cushier seat on the Monkey, along with the higher handlebars, allow for riding in a more upright position.
Looks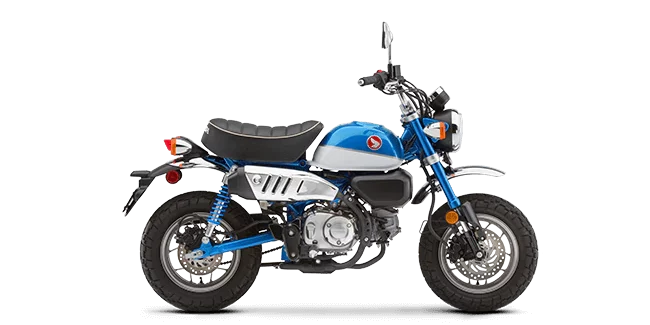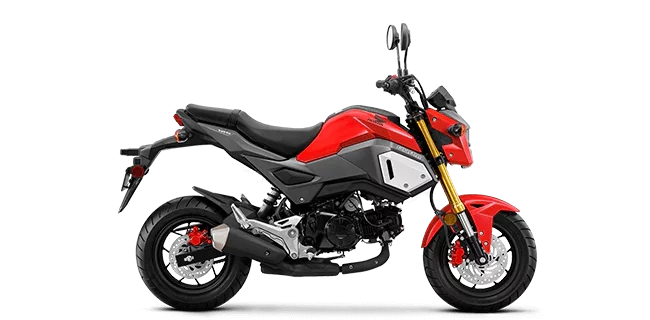 Winner: Both
Whether you go for the Honda Grom or the Honda Monkey, both are sure to invite a lot of attention on the road, thanks to their vintage design.
The Honda Monkey has a more classic retro look, whereas the Grom will provide you with a more sports bike feel. The Honda Grom is also available in four color options: Cherry Red, Blue Raspberry, Halloween Orange, and Incredible Green. Meanwhile, the Monkey comes in Pearl Nebula Red and Pearl Glittering Blue.
Price
Winner: Honda Grom
The Honda Grom comes at three different price points, all of which are less than the price of the Honda Monkey, which is set at $4,200 with a standard ABS.
While the features are almost identical, the higher price of the Monkey can be attributed to its iconic status, given its history going back to the 1960s. In contrast, the Grom was only introduced in 2014.
Display Dash
Winner: Honda Grom
The display dash on the Monkey welcomes riders with a double wink and has the same functionality as the Grom; however, the Monkey's dash is not equipped with a tachometer.
This may not be a big concern for some riders. However, since these mini-motos are especially popular among new riders, the lack of a tachometer can be a challenge since they can use it to determine what RPM to shift gears.
Off-road experience
Winner: Honda Monkey
The Honda Monkey comes with Enduro tires, which implies that they are ideal for off-roading as these tires grip well under rough terrain. Also, the dual-shock rear suspension absorbs bumps and gives you more control. On the contrary, Honda Grom stock tires are better for street riding.
Handling
Winner: Honda Grom
Thanks to their small size, both the Honda Monkey and Honda Grom can easily fit inside a small garage with any other vehicle.
However, if you're particular about the ease of handling, the Honda Grom will suit your needs better. The Honda Grom weighs only 229 pounds without the ABS since it mainly uses plastic instead of metal and chrome.
Counter-steer also comes into play with the Grom since your weight is on the handlebars, allowing easier turning in corners. You can also move it around conveniently with a strap attached to the seat. Meanwhile, the curb weight of the Monkey is 232 pounds, along with the 1.5-gallon fuel tank without the ABS.
Passenger riding
Winner: Honda Grom
As you would expect, both the Monkey and the Grom aren't made for riding with a passenger. Still, the Honda Grom's seat is big enough to carry another person. On the flip side, the Monkey's seat isn't spacious enough and does not come with passenger pegs either.
2022 Upgrades for Honda Monkey and Honda Grom
Both minibikes have an upgraded 2022 version in the market. Here are the stand out features for both of them:
2022 Honda Grom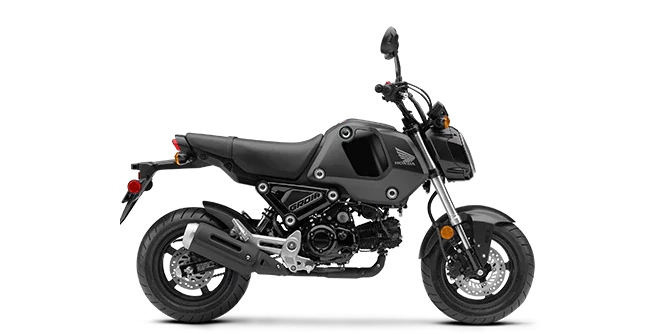 In addition to an upgraded engine, the new Honda Grom also has a higher compression ratio and a 5-speed transmission, offering an exciting 9.7hp and 7.7 lb-ft of torque. This lets the bike perform with higher power at lower speeds without compromising its impressive fuel economy (estimated at 155 mpg).
Unlike the previous model, which had an oil spinner, this one comes with a removable oil filter. In addition, it has further reduced in weight and is now only at 227 pounds (non-ABS).
The acceleration might not be amazing, but it's enough to get you moving on busy streets. One of the main upgrades on the '22 Grom is the 38 teeth rear sprocket, which used to be 34 teeth. This makes it hit 63 mph easily.
2022 Honda Monkey
With the addition of a five-speed gearbox, standard ABS, and spikier acceleration, Honda gave the 2022 Monkey what riders want—a bike with more kick and one that's built to go faster.
To make maintenance easier, the new oil filter is cartridge-style rather than a spinner, which means it can be changed more quickly.
The LCD display in the new variant also includes RPM, gear position, trip odometers, and a clock. You can even choose between yellow and black, replacing the red and blue ones in the previous versions.
Conclusion
Both the Honda Monkey and Honda Grom are great choices for those new to motorcycling. And even if you already own other bikes, either one can be an excellent addition to your collection.
Both provide good fuel economy, exhausts, and braking systems, not to mention the novel experience of riding a mini-motor bike.
Nevertheless, here is a list that can guide you on which bike is most suited for you, based on your needs.
If you are more than 6 feet, then the Grom is the one for you because of its seating position.
If you often travel long distances, the Monkey's soft cushion seat will provide a more comfortable experience.
If you're more likely to ride on curvy or winding roads, then the Grom is your best option.
For a bike with modern sports bike aesthetics, go for the Grom.
If you want the option to ride with a passenger, then the Grom's extra space and pegs will do the job.
If you need some storage space, the Monkey's small toolbox installed on the side will be handy for you. The Grom doesn't offer any space for storage.
If you're planning to go off-roading, the Monkey's Enduro tires, along with the two-stage springs and damper rubbers, will be more suitable on rough terrain.
If you want to do a lot of customizations, go for the Grom.
Images and Links
All images via Honda.
Links to models featured:
Related