If you're in the market for a small bike, you've probably seen and heard a lot about the Honda Grom and the Honda Ruckus.
Both are lightweight motorcycles with off-road capabilities and great fuel efficiency. The Grom, however, is more of a sports bike, while the Ruckus is more of a scooter.
I compared them head to head and found that they each have stand-out features that can benefit different people depending on their circumstances.
Here I've gone through all my favorite aspects of each bike and compiled my recommendations based on who's more likely to benefit from which.
Grom vs. Ruckus Data Table
Honda Grom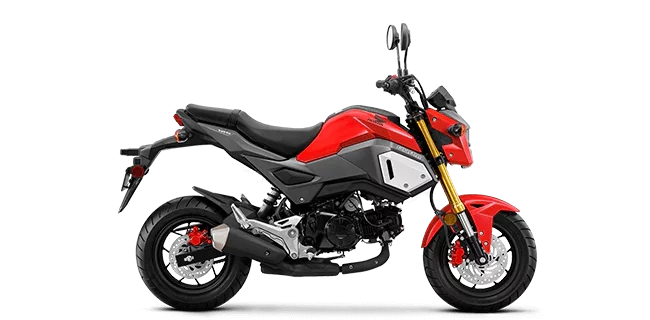 The Grom has been one of Honda's most popular models going on a decade now. It even won Motorcycle USA's Motorcycle of the Year Award in 2014.
This popularity has been due to its ratio of fuel economy to power output, potentially reaching up to 60 mph on 10 horsepower while getting an average of 134 miles per gallon.
Another reason is its versatility. By looking at it, you can see it's somewhere in between a scooter and a sports bike, making it a good starter option for both commuters and enthusiasts, as well as just an all-around fun bike to have in the garage.
Specifically, these are the features that have made the Grom not just one of America's favorites but one of mine too:
125 cc air-cooled, single-cylinder engine, lightweight and easy to handle for beginners
56 mph rated top speed, potentially 62 mph in the right conditions (Honda Grom top speed)
10 hp at 7,000 rpm
134 mpg fuel economy
4-speed manual transmission, also easier for beginners
Inverted front suspension with 3.9 inches of travel
Rear mono-shock suspension with 4.1 inches of travel
Front and rear disc brakes
Read our full Honda Grom review.
Honda Ruckus
The Ruckus is one of Honda's premier innovations on the scooter market, a much more rugged and resilient model. This includes larger tires with deeper treads and a lightweight skeletal frame.
This makes the Ruckus a great, inexpensive means of transportation for most environments and situations. Plus, it's just a lot of fun to drive.
These specs are what caught my eye:
49 cc liquid-cooled single-cylinder four-stroke engine, only requiring a driver's license in most states
40 mph top speed (Honda Ruckus top speed)
4.3 hp at 8,000 rpm
114 mpg fuel economy
Light and manageable 194 pounds (It weighs less than I do!)
CVT transmission requires no input
Twin-downtube fork front suspension with 1.9 inches of travel
Rear single-shock suspension with 2.6 inches of travel
Front and rear drum brakes
Honda Grom vs Honda Ruckus: Head to Head
Both the Grom and Ruckus are good bikes, but they excel in different areas. Here's how they compare in specific aspects of their design.
Comfort
Winner: Ruckus
While the Grom isn't necessarily uncomfortable, it is more like a sports bike, making you lean forward. This increases speed and handling, but it can get tiring after a while, especially if you're just commuting around town.
On the other hand, the Ruckus has a lower seat with higher handlebars and a wide foot platform that makes it easy to relax. Plus, the Ruckus is so lightweight that it takes little effort to handle it, avoiding those sore, tense muscles after the first few rides.
Looks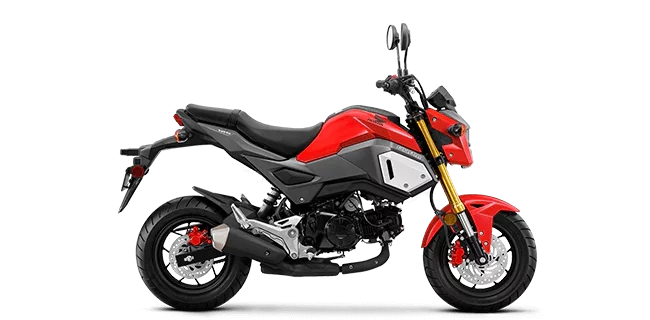 Winner: Both
I just can't choose between the Grom and the Ruckus when it comes to style. My first reaction is to go for the Grom because I'm partial to that sports-bike design. It looks fast, fun, and modern.
However, the Ruckus is probably the coolest looking scooter I've seen. The rugged, bare-bones look is unique for motorcycles in this size range and really sets you apart on the road.
Price
Winner: Grom
The Ruckus is less expensive than the Grom, but only marginally. The Grom has several price points: $3,399 for yellow or black, $3,499 for red, white, or blue, and $3,599 for ABS. Meanwhile, the Ruckus has an MSRP of $2,799.
Considering the Grom's larger engine, higher speed, and increased power, you're getting a lot more for not that much higher of a price. Plus, the Grom's better fuel economy means that if you ride a lot, it will pay for itself with savings on gas.
Display Dash
Winner: Grom
The Ruckus dash is very basic, including just a speedometer and odometer along with a low-fuel light. You don't need anything else since the Ruckus has a CVT transmission and few advanced features.
Still, the sparse info can be a bit intimidating for new riders. The biggest downside is the lack of a fuel gauge, so beginners have to learn the range of their bike quickly, so they don't strand themselves when the fuel light comes on.
Meanwhile, the Grom comes with an extensive dash with a digital display that includes a numeric speedometer and a tachometer. It also has a graphic fuel gauge, digital odometer, clock, oil, and temperature indicators. Hands down, the Grom has a more informative and useful dash.
Off-road experience
Winner: Ruckus
Believe it or not, this lightweight scooter is super fun to take off the pavement, and not just because it's a novelty to take a moped off-road. The wider tires with deeper tread are ideal for rough trails along with the skeletal frame, low center of gravity, and easy handling.
That said, the Grom does have superior suspension. If you upgrade its tires, it's a good off-road option too.
Handling
Winner: Ruckus
Both the Ruckus and the Grom excel when handling, but the Ruckus has a slight edge. This is mostly due to its light weight, coming in at under 200 pounds. (The Grom is about 230 pounds.)
Additionally, the Grom requires a somewhat more forward riding position. In the long run, this can give you better control, which is why sports bikes utilize it, but for a new rider, it's harder to get used to. Overall, the Ruckus has more intuitive handling and steering, especially if you're a little taller.
That said, the Grom's higher seat allows you to put more weight on the handlebars, allowing for better cornering. If you're in a dense city where you'll have to take tight corners at higher speeds, the Grom is still worth considering.
Passenger riding
Winner: Grom
Neither the Grom nor the Ruckus is ideal for carrying a passenger, and neither will be especially comfortable for two people over long periods. However, the Grom has a longer seat and a maximum weight of 340 pounds versus the single seat of the Ruckus and its max weight of 220 pounds.
If you're set on the Ruckus but still want a passenger, it's possible to upgrade to a dual seat. Just don't forget to check your state laws, as some states will require a motorcycle license even for <50 cc if you carry a passenger.
Plus, if you had a bit too much to eat this holiday season, you may already be pushing the Ruckus's weight limit yourself, never mind a second rider.
Fuel economy
Winner: Grom
The Grom simply outright beats the Ruckus in fuel economy, getting 134 mpg versus the Ruckus's 114. This is even more impressive since the Grom weighs more and has a bigger engine with more speed and power.
2022 Upgrades for Honda Grom and Honda Ruckus
Overall, Honda has aggressively upgraded and improved the Grom over the years while, with the Ruckus, they've mostly stuck with what works, just making small tweaks to design and style. Here are the most recent changes for 2022.
2022 Honda Grom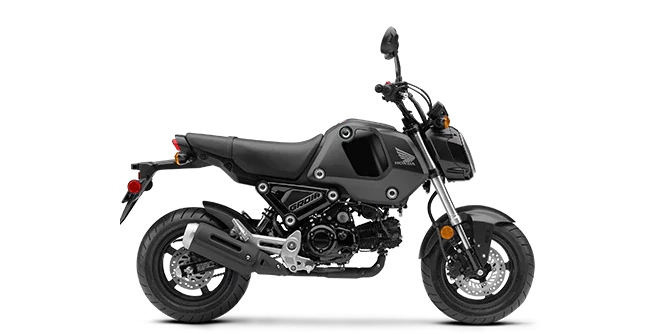 The 2022 Honda Grom has a lot of improvements over past years. The most noticeable is the 1 cc larger engine with a higher compression ratio of 10:1 over the 2020s 9.3:1. This increases the power output to 9.7 hp and the max speed to over 60 mph without sacrificing the Grom's noteworthy fuel economy.
The higher speed also comes with better acceleration. This is thanks to an upgraded rear sprocket with 38 teeth improved from the previous 34.
Finally, the Grom is slightly lighter despite the larger engine at 227 pounds versus 229. It also has a removable oil filter, new on this model.
2022 Honda Ruckus
Frankly, Honda has made next to no upgrades to the Ruckus throughout its production lifetime, certainly not in the last couple of years. Take that as evidence of its effective and popular design.
The only real change has been color availability. The 2020 model only had two options: black or white/red. The 2022 model comes in three more stylish options: midnight blue/tan, gray, and, my personal favorite, white/pearl blue.
Conclusion
The Honda Grom and the Honda Ruckus are great small bikes that are solid choices depending on your circumstances.
Either would make a good choice for in-town transportation, and both are highly versatile. While you can use them for commuting, they have off-road capabilities and can be a lot of fun as well.
My recommendation depends on your personal needs and situation, so here's a list of which bike I'd suggest for whom:
If you travel longer distances, go with the Grom. It has a bigger gas tank and better fuel economy.
If you're new to motorcycles and have never handled a manual transmission, I recommend the Ruckus because it has a CVT transmission.
If you're commuting short distances around town, like going to work and running errands, I'd choose the Ruckus. It has a more relaxed seat position and weighs less.
That said, if you live in a dense city and expect to be taking tight corners, the Grom has better handling when turning.
If you want to have fun off-roading, the Ruckus has better tires.
If you need to carry a passenger, my advice is to get the Grom. It has a much higher weight limit, more power and a longer seat.
And lastly, consider your own tastes. If you want a sports bike, go with the Grom. If you want a scooter, go with the Ruckus.
Images and Links
All images via Honda.
Links to models featured:
Related: