Buying a motorcycle is a fun yet sometimes nerve-wracking experience.
If it's your first time, it can be a little scary. We're talking about a lot of money for something you may wind up not liking, or that scares you so bad you give it up.
The flip side of the scary part is the thrill and excitement of owning your ride, feeling the exhilaration of the ride, and the freedom of the open road. But these things are not free. So how much does a motorcycle cost?
How Much Does a Motorcycle Cost?
The cost of a motorcycle varies considerably based on type, brand, size, and age. Generally, a new bike will run you from  $4,000 to over $40,000. That's quite a price range!
Typically, the bigger or faster the bike, the more it costs. Regardless of type, smaller engines – those with lower displacement measured in cubic centimeters (cc's) will cost less than larger displacement, more powerful engines.
Read more: What Does CC Mean In Motorcycles?
Here's a table that gives a general overview with some ballpark figures.
Let's break that down a little more.
To keep our discussion in the 'apples to apples' category, we'll take each of the major types of motorcycles separately.
Sport Bikes
Sleek, with a high-performance vibe, sport bikes are exciting to look at and ride.
This might be your category if you like to go fast and are not looking for long-distance riding or carrying capacity.
If you are starting or want to save some money, a Yamaha YZF-R3 is an excellent bike for its size. The 321cc liquid-cooled engine will go fast enough to get you in trouble in most places.
The good news is the sticker price of about $5300 will leave you with enough money to pay for some tickets! The 375-lb weight makes it very agile and light to handle.
On the other end of the Sportbike spectrum, you get "supersport" bikes.
Each manufacturer has its version, all with pros and cons and fans that will argue the finer points.
But if you go by cost, fit, finish, and pure speed, it's hard to argue with the Ducati Panigale v4-SP. The 1103cc liquid-cooled engine delivers 214 HP and an estimated top speed of over 200 mph.
Add in the Italian styling and attention to detail, and it's not hard to see why this track-ready ride will cost you almost $39,000.
Of course, the way to get more bike for less money is to go the used bike route.
A good used bike in this category is one of the zillions of Suzuki GSX-Rs available on the used market. 'Gixxers' prices vary from R600 and R750 for around $9,000 to the R1000 for $12-13,000 for a five-year-old model.
---
Standard Street / Naked
A good low-end naked bike will run you around $4,000 for something like a KTM Duke 200 or just under $6,000 for its big brother, the KTM Duke 390. Both single-cylinder engines maintain good power, especially for a newer rider. 
For the high-end naked bike, we again go to Ducati – this time to the Streetfighter V4 S.
The design is a Panigale v4 with the bodywork stripped off and a new set of bars attached. The 1103cc engine is tamed at the gearbox down to a claimed 2087 HP and an estimated 180 MPH top end. Plenty of speed to get you to work on time.
For used, I would go with a Ducati Monster for $8,000 to $10,000 for a five-year-old machine with low miles.
---
Cruisers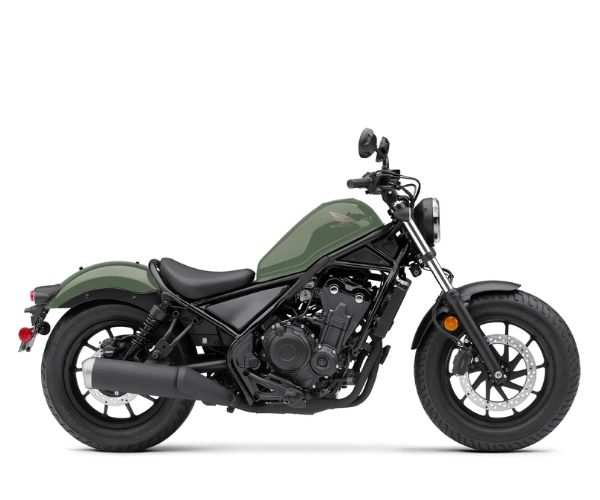 These bikes won't win races against either of the Ducatis mentioned above, but the higher-end ones are plenty fast for cruising around town. 
The Honda Rebel has always been a good entry into the cruiser market for a beginning rider. The Rebel 300 for just under $5,000 or the Rebel 500 for around $6,500 would make a great starting commuter bike.
Topping out at an estimated 85 and 95 mph, respectively, you probably would want to exercise some caution getting on a freeway and stick to the boulevard. 
Veering away from my previous "low vs. high" format for a quick second, let me say there is an absolute wealth of excellent cruisers in the $8,000 to $10,000 range. Great motorcycles are hiding in the middle from the Indian Scout or the Harley-Davidson Sportster to the Kawasaki Vulcan or the Honda Shadow.
The higher end of around-town bikes for cruising the local strip looks like an Indian Chief Bobber ($24,000) or a Harley-Davidson Fat Boy 114 ($20,500) for American-made or a BMW R18 for around $20,000.
It's hard to pin down a top-end for these cruisers because this is where we get into customizations.
Whereas sport and naked bike riders might tweak or tune their engines to eke out a few more horsepower, cruisers will also spend plenty on customizing looks and comfort.
Passenger seats, sissy bars, windshields, sound systems, and lights can add up to thousands in add-ons straight from the dealership.
---
Touring
Here things get slightly fuzzy between 'Cruiser' and 'Tourer.' Straddling that line is a subset of bikes generally called a 'Bagger.' The name comes from the saddlebags that typically come standard on these bikes.
The Harley Road King, the Indian Chieftain, or Indian Springfield are all in this category. I can attest that you can 'tour' on a bagger, but it's much nicer on a proper touring bike. Let's call Baggers the low-end touring bikes and work up from there. 
You have baggers like Harley-Davidson Road King or Electra Glide, starting at around $20,000. With only saddlebags, these bikes have 2.3 cubic feet of storage.
An excellent entry-level sport touring bike is the Kawasaki Concours for approximately $16,000. The Concours holds 1.24 liters, plus a couple of small compartments in the fairing.
Features stay pretty close as you move into the high-end touring bikes for capacity, power, and creature comforts. The top touring bikes have Bluetooth, satellite radio, GPS navigation, tons of storage, comfy seats, and even cup holders!
At the top end, we have bikes like the Honda Goldwing with a base of over $28,000 or the Harley-Davidson Ultra Limited and Indian Roadmaster, starting at just under $30,000 and going up with customizations.
For the SportTourer, the top of the line is the BMW K1600 GTL which starts at $28,000 also.
Touring motorcycle is an excellent category for picking up a used bike. Most higher-end bikes are well maintained, and high mileage on a touring bike is not like high mileage on a sportbike.
---
Adventure Bikes
When the call of the open road also includes dirt roads, gravel tracks, and the occasional shallow stream, perhaps a Goldwing isn't the best choice.
Getting started with an adventure-style bike will cost you in the $6,000 – $8,000 range. Many say the BMW is the standard in this category, and their entry-level G310 model stands out.
KTM's 390 Adventure is probably the closest competitor, with an impressive selection of accessories.  
The more expensive, larger displacement bikes are where the competition heats up. For $24,000 and up, you can get a motorcycle that you can drive from Alaska to South America.
Even Harley-Davidson has an entry with their Pan-American 1250, and Triumph has a decent selection with the Tiger 1200 series. The Triumph is a bit unique in offering two different trim types. The Tiger 1200 GT line is when you are 'road-focused,' with the Tiger 1200 Rally line for what Triumph calls the "ultimate offroad adventure."
The gold standard in adventure bikes is still the much loved BMW R1250-GS.
EThe GS is the Boss of Adventure touring, equipped with a 1254cc engine turning out 136HP, a large fuel tank, and too many features to list, 
The list of accessories for this bike is staggering.
Quick-release pannier style saddlebags and a top case make this the ultimate for long-distance adventure touring. Of course, the price tag reflects this, nearly $30,000 fully decked out.
Like other categories of motorcycles, you can buy a used bike at considerable savings if you aren't set on having the latest gadgets and features. For example, there are a ton of two to three-year-old BMW R1250-GSs for under $20,000.
---
Dual Sport
If Adventure Bikes are a cross between a touring bike and an off-road dirt bike, then a Dual sport is basically a dirt bike that is street legal.
These are great for folks that want an economical commute and still have the ability to rip up the trails on the weekends.
The Kawasaki KLX250 is an excellent entry-level bike. It's dependable and affordable at around $5,400, and it's got a great suspension setup with more than 11 inches of ground clearance overall.
Moving up a bit to a midrange cycle, the Suzuki DR650S is a fine example. While not as great at mudslinging offroad or as comfortable for many highway miles, it's solidly capable of both. Cashing out around $6500, it's midrange in price as well.
For top-end Dual Sports, the clear favorite is the KTM 690 Enduro R. The Enduro has a clear focus toward the off-road side of the equation but still comes with ABS, slipper clutch, and a three-mode ride-by-wire throttle management system.
Prices start a almost $12,500, so start saving your lunch money.
Buying a used dual-sport can be trickier as you must be careful about frame damage from someone going full-on motocross with it.
That said, t broad market of used dual sports exists, so you can pick up a deal if you keep your eyes open. Watch out for a KTM that looks too good to be true; the 690s hold their value very well, with two-year-old bikes still asking $8,000 to $9,000
---
Scooters
Super economical and much less aggressive than a regular motorcycle, scooters are often easier to ride. Many of the better ones have automatic transmission and phenomenal gas mileage.
Starting with the 50cc commuters, a great start is the Honda Metropolitan. This bike only costs around $2500.
It has 22 liters(0.77 cubic feet) of under-seat storage and a liquid-cooled, 49cc fuel-injected engine. The Metropolitan only hits 40-42 mph, so it's an urban commuter bike. The fuel capacity is only 1.2 gallons, but the estimated fuel efficiency is a crazy 117 mpg.
Moving up to 150cc gets you into the luxury scooter range. The Honda PCX is a luxury sport scooter with a top speed of a little over 70 mph.
That should let you get on some in-town highways, but not quite suited for interstate travel. Adding the optional smart top box brings the storage capacity to 65 liters (2.2 cubic feet). All this can be yours for around $4,000. 
The next set moves up to the Yamaha Xmax and the Vespa GTS 300 series.
Both weigh in with engines in the 300cc range, and these scoots will cost you around $7,000. The Yamaha has more sportbike-inspired styling, while the Vespa is styled like – well, a Vespa.
Considering the little Italian bike is what most people think about as a 'scooter,' it's just classic.
Like most entry-level vehicles – there is a large used market for scooters. You can pick up a two or three-year-old scooter for around $3000
---
Electric Bikes
The wave of the future, electric bikes, are primarily seen in the sportbike or naked bike categories.
These guys are fast with modern styling and an incredibly aggressive power to weight ratio.
Cost and range are two things that keep them from taking the world by storm. Today's most electric bikes are special orders except for the Zero Motorcycle company and the LiveWire (surprisingly owned by Harley-Davidson.)
The Zeroes and the LiveWires all look like naked bikes, and both run in the $20,000 plus range.
You can order a Lightning LS-218 superbike if you don't mind waiting. It has a top speed of 218 mph and has a 100-mile range at average highway speeds.
It also costs almost $47,000 with a 20 kWh battery pack. So obviously, maximum performance also has a maximum price tag.
If you don't mind slightly older technology, used Zero Motorcycles cost around $10,000 if you can find one.
The technology on these is changing fast yet is still relatively new, so the used market is not well developed yet, and I fully expect that to change in a few years.
---
Used bikes
You can save a lot by buying a used bike.
The tricky part is not buying someone else's problems. Buying a motorcycle from an honest seller is undoubtedly more straightforward. However, you still have to ask the right questions and know enough about motorcycles to spot potential discrepancies in the sellers' answers.
Other costs
Of course, just buying the bike isn't where the costs end, and there are still the costs of gear, classes, insurance, and maintenance to consider.
So how much should you set aside for these extras?
Training/Licenses
Certainly, you need to get your motorcycle license, but over and above that, you really should take a couple of motorcycle safety courses.
According to the Hurt report, 92% of motorcycle accidents involve a motorcyclist with little or no formal training. The more advanced training you have, the more skilled and safer you will be.
Rough estimate = $250
Safety Gear
No amount of training will prevent 100% of accidents, which is where safety gear comes into play.
Helmets will increase your odds of surviving a crash, but other gear like jackets and gloves are also needed. Rainsuits to stay dry and layers to stay warm; gear adds up!
Rough estimate = $500-$600
Insurance
Your insurance costs will depend a lot on the type of bike, the area of the country where you live, and, sadly, your age.
It's tempting, but do not skip on insurance for your motorcycle.
In addition to the coverage required by your bank if it's financed, you should also cover accessories. This will protect you when you drop the bike and scuff up the saddlebags real bad.
Maintenance
On top of the add-ons listed above, you still have to pay for oil changes, tires, and other maintenance items.
While these are important on a car, it could mean your life to have a mechanical failure on a motorcycle. Keep your bike maintained.
Rough estimate = $750/ year
Memberships
This one is strictly optional but can certainly add to the fun of owning a motorcycle.
I recommend membership to organizations like the American Motorcycle Association, riders groups like the Harley Owner's Groups, or other manufacturer or dealership sponsored riding groups.
Some of these are free to join, but you can pay a fair amount to attend charity events.  
Rough estimate = $100
Conclusion
You may think, "Gee, maybe I should just buy a car!" If you are buying a motorcycle to save money, it gets more complicated.
We go into great depth, complete with mathematical calculations, in our article on "Are motorcycles cheaper than cars?"
Spoiler alert: Maybe.
Are you looking for a motorcycle to save money or have fun? If fun is not a factor, you can buy a very economical car cheaper than a motorcycle. But it won't be any fun!