Does every helmet you try pinch in the forehead and give you a headache after a while? You likely have a long oval head, one that's a lot longer than it is wide, meaning you need a helmet designed for this head shape.
Unfortunately, there aren't many helmets like this out there, so I put together a list of the best motorcycle helmets for long oval heads to help you ride more safely and comfortably.
Best Overall Helmet for a Long Oval Head
Arai Signet-X Helmet
High-tech and seriously comfortable, the Arai Signet-X lives up to its brand reputation and meets the highest safety standards for a more comfortable and confident ride.
Best Budget Helmet for a Long Oval Head
LS2 Stream Helmet
Not only does the LS2 Stream have an especially affordable price tag, it's highly aerodynamic for sport racing or faster acceleration on the street.
Best Helmets for Long Oval Heads Reviewed
---
Arai Signet-X Helmet
Arai is one of the most famous and high-quality helmet brands, so it's great to find a model designed specifically for long oval heads. You can get all the high-tech and convenient features of an Arai helmet with the ideal fit for your head shape.
These features include a high-performance ventilation system with a lot of adjustability for riding in different seasons. Plus, the chin curtain blocks air from entering in the bottom of the helmet so you can fine-tune the ventilation as needed.
The Signet-X is one of the safest helmets out there, too. Not only is it DOT approved, but it also meets Snell 2020 standards. There are even emergency release tabs, an advanced feature that allows emergency responders to remove the helmet without disturbing your neck.
Finally, I can't forget to mention the overall quality of this helmet. The proprietary shell lamination makes it tough but simultaneously lightweight at just 3.53 pounds. Meanwhile, the face shield provides better vision than many other models and includes an anti-fog Pinlock insert.
Pros:
High-quality brand
Adjustable ventilation
Resigned chin curtain
DOT and Snell 2020 approved
Emergency-release tabs
Wide field of vision
Cons:
---
LS2 Stream Helmet
While the LS2 Stream Helmet is my budget pick for long oval heads and one of the most affordable helmets you'll find on the market in general, it also stands out for being especially aerodynamic.
In other words, it's a good choice for anyone who hits the track every now and then, as well as for riders who just want easier acceleration with less strain on their necks.
The ventilation is where the helmet is lacking. It's adjustable but simply doesn't work as well as the ventilation in more expensive helmets. The lack of airflow causes the face shield to fog up easily unless you install a Pinlock insert, which isn't included.
There's also only one shell size, which can make it harder to get a good fit even if it matches your long oval head. That said, I do like the removable and washable liner along with the foam neck pad. These better adapt to the shape of your head, so it breaks in well.
Pros:
Amazing price
Aerodynamic shape
Removable and washable liner
Foam cheek pads
Cons:
Poor ventilation
Fogs up easily
Only one shell size
---
Icon Airflite Helmet
Admittedly, my favorite thing about the Airflite is its style, and I highly recommend checking out some of its other versions, like the Airflite Peacekeeper. However, the sleek shape of the helmet is also functional, creating better airflow through the intake vents for a more comfortable ride.
The main downside of the Airflite is that at 3.79 pounds, it's the heaviest helmet on the list. Still, with three polycarbonate shell sizes, it fits well and is aerodynamic. This minimizes pressure on your neck, so you don't get tired on long rides despite the weight.
This polycarbonate shell is also adequately protective. The Airflite meets DOT standards, so it's pretty safe.
Pros:
Stylish design
Aerodynamic shape
Good airflow
Safe polycarbonate shell
Cons:
---
AGV X3000 Helmet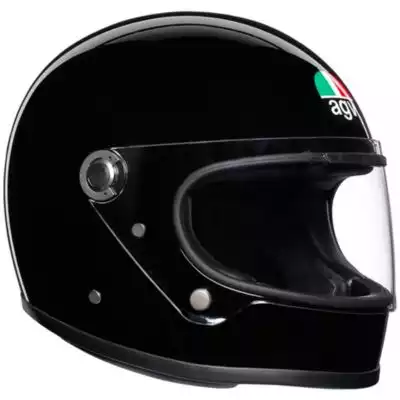 AGV is another well-known brand, though its price tags aren't quite as high as Arai. The X3000 is one of its models that fits the long oval head shape, and it's also one of the lightest full-face helmets on the market today. It weighs just 3.06 pounds. That means it doesn't tire your neck muscles as much, making it an excellent helmet for tourers or those who ride long distances.
The helmet's light weight is due to the composite-fiber outer shell that also provides serious protection. Plus, the three different shell sizes mean the fit is much better tailored to the size of your head.
Finally, I can't leave off the impressive interior made with leather and suede. Not only is it beautiful and comfortable, but it's more durable and resists wear. Plus, it's removable and washable for a fresher and…less smelly riding experience.
Pros:
Great value
Incredibly lightweight
Composite-fiber shell
Three shell sizes
Removable and washable leather interior
Cons:
---
GMax HH65 Full Dress Helmet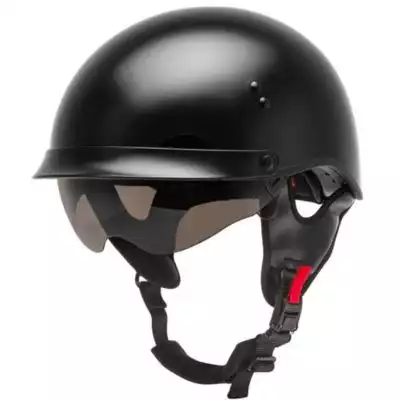 I've mainly focused this list on full-face helmets since those are the ones that are really going to pinch if you don't get them specifically designed for your long oval head. However, even if you're in the market for a half helmet, you can still maximize comfort by getting the right head shape, and, after all, you probably want a half helmet to maximize comfort in the first place.
As for a half helmet, I particularly like this one because it's low profile. In other words, it looks good on top of feeling great.
Finally, I love the drop-down sun visor. Half helmets are normally more simplistic, so this extra feature makes a big difference.
Pros:
Comfortable half-helmet design
Low profile
Drop-down sun visor
Removable and washable liners
Cons:
---
Buyer's Guide
Care, Considerations and Cost
---
The Long Oval Head Shape
Helmet manufacturers produce helmets in one of three different shapes:
Long oval: A rarer shape, this is a head that's much longer than it is wide. All helmets on this list fit into this category.
Intermediate oval: The most common shape, this is a head that's just a bit longer than it is wide. Manufacturers produce most of their helmets in this category.
Round oval: The least common shape, this is a head that's just as wide as it is long.
If you have a long oval head, it can be tough to find a helmet that fits since most are designed for intermediate oval heads. You've probably experienced a lot of helmets that aren't long enough, producing pinching and pressure in the forehead area. This can cause headaches and strain your vision.
It's definitely worth it to invest in a helmet designed specifically for your head shape, so if you have a long oval head, stick to the ones on this list.
General Comfort
Inner Lining
A helmet's internal padding heavily influences its level of comfort. You should look for one that's soft but also spongy so that it molds to your facial contours but doesn't flatten out and lose its cushioning.
What you really want is a removable and washable interior liner. Since you can clean it, it stays soft and spongy without getting weighed down with dirt, grime, and sweat. As an added bonus, it doesn't start to smell as bad, giving you that shock every time you first put it on.
Shell Sizes
Helmets usually come in fewer helmet sizes than they do shell sizes so that multiple sizes may share the same shell size. The more shell sizes available, the more the shell corresponds to that specific helmet size, so you get a more tailored fit. Aim for a minimum of two shell sizes, though three or four is even better.
Ventilation
Adequate ventilation is crucial for a full-face helmet. It helps keep you cool in warm weather but also allows your breath to exit the helmet so it doesn't fog up the face shield. I recommend looking for adjustable ventilation with switches that let you change the direction and amount of airflow.
Chin strap
You need your helmet to fit snugly, including at the chin. But you don't want the chin strap digging into your skin and causing pain. Look for a chin strap that's cushioned and adjustable.
Weight
Assuming it offers the same amount of protection, a lighter helmet is always better. Put simply, it makes it easier to hold your head up straight for long periods without causing fatigue. Lightweight helmets are usually made of Kevlar or other carbon materials.
Safety
Certifications
The easiest way to check if a helmet is safe is to see what certifications it meets. In the US, you should be looking for Department of Transportation, or DOT, certification. In some cases, you may even be legally required to wear a helmet meeting these standards.
If you want an even higher level of safety, check for a Snell certification provided by the Snell Memorial Foundation. To obtain this certification, a helmet must go through rigorous testing and meet especially high standards.
Material
Materials for helmet shells include fiberglass, carbon fiber, Kevlar, and plastic composite. While these are all safe, carbon fiber and Kevlar are considered particularly tough while also weighing much less for greater comfort.
Final Thoughts
If you have a long oval head, finding a helmet specifically designed for that shape will be safer and more comfortable. My top recommendation is the Arai Signet-X Helmet. However, if you're on a tight budget, I also like the LS2 Stream Helmet.