A modular helmet offers the freedom of an open-face helmet paired with the protective properties of a full face, the perfect balance between convenience and protection.
Modular helmets were originally popular with riders on touring motorcycles, but now it is common to see all types of riders wearing them thanks to the improvements in styling and features.
We have pulled together the best modular helmets currently available, followed by a short guide so you have all the information you need when considering a purchase.
Here are our top modular helmets.
Best Premium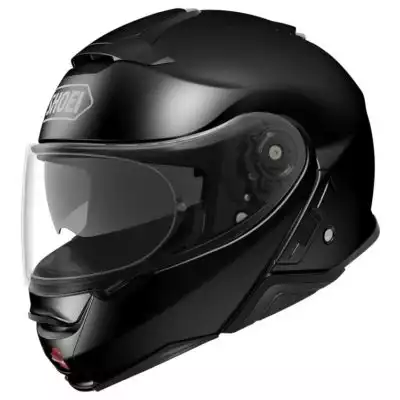 Shoei Neotec 2 Helmet
Exceptional Quality, Feature Packed, Comfortable
A brilliant modular helmet with Shoei quality standards and manufacturing.
Best Value
LS2 Strobe Helmet
Excellent Value, Comfortable, Premium-style Features
An excellent value helmet with quality features and build quality.
Shoei Neotec 2 Helmet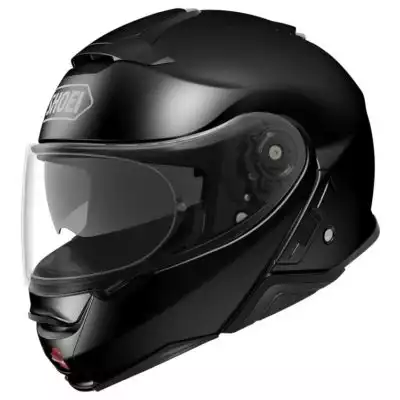 There is little dispute that the Neotec 2 is the King of modular helmets. With the first Neotec, Shoei combined the quality and features of their class-leading full-face helmets with a modular system, and the Neotec 2 just expanded on that.
A few key points make the Neotec 2 stand out from the pack, and much of it is down to Shoei using their wind tunnel to their advantage.
The helmet has an excellent ventilation system with the rear outlets matching the front, cool air hits the intake vents, and warm air is sent out to the exhaust outlets. Airflow is second to none and helps regulate the rider's temperature.
Aerodynamically the Neotec 2 has been tested and optimized, a rear shell spoiler helps reduce lift and drag at speed. At the same time, the Aero Deflector on the chin bar increases stability.
Wind noise has also been thought about with Noise Isolator cheek pads which seal the helmet keeping noise to a minimum.
The chin piece can be easily lifted with a big button on the front and also easily locks down into place again. The mechanism is perfectly usable when wearing gloves.
In terms of construction, there is a multi-piece and multi-density EPS liner to absorb energy in an impact.
The liner is moisture-wicking and temperature-regulating with eyeglass cutouts.
Shoei has also used a 99% UV ray-blocking internal sun visor along with fitting an anti-fog Pinlock insert to the main visor.
The Neotec 2 also integrates the Sena SRL comms kit for a low-profile quality system.
The best description for the Neotec 2 is that it is the Swiss Army Knife of motorcycle helmets.
Pros:
Brilliant construction
Plenty of features
Relatively quiet
Aerodynamic
Excellent Ventilation
Quality materials for maximum comfort
Cons:
---
LS2 Strobe Helmet
The LS2 Strobe is a fraction of the cost of the Neotec 2 but is very popular. This is mainly down to the fact it offers excellent value for money.
A single button on the front lifts the chin piece; it is easy to use and find even with heavy riding gloves.
The Strobe is fitted with a fog-free visor system and an internal sun visor, which are very easy to use as you ride.
LS2 has a built-in ventilation system with exhaust vents at the back to remove warm air. The Strobe also includes a chin curtain and breath deflector, which helps keep you from misting up and keeps you warmer in cooler weather.
The helmet is best suited to oval-shaped heads, as it is pretty narrow on the sides; if you have a more rounded head, you might find it quite uncomfortable.
The Strobe is also not particularly quiet and lets a lot of wind noise in, so if you prefer a calm riding experience, this one isn't for you.
Pros:
Value for money
Drop down sun shield
Comfort liner
Good ventilation
FFS Fog Fighter System face shield
Cons:
Bit noisy
Best suited to oval-shaped heads
---
Schuberth C3 Pro Helmet
If a helmet can give the Shoei Neotec 2 a run for its money, then it is Schuberth's C3 Pro.
While Schuberth has also released the C4 Pro and, most recently, C5 helmets, the C3 Pro remains an excellent option with a solid reputation. It offers exceptional value equal to its newer and more expensive siblings.
Schuberth has gained a significant following by producing high-quality, quiet helmets. If a rider is looking for a quiet helmet, then the only place they should look if they want the best is towards Schuberth.
The original C3 was proudly named the quietest motorcycle helmet, and the C3 Pro follows suit.
The C3 Pro isn't just quiet. It is also a capable sports helmet, wind tunnel tested at high speeds for its aerodynamic properties.
Comfort is at the forefront of the design, with fewer seams in the interior liner and a liner that accommodates most head shapes and sizes comfortably.
The Schuberth SRC communications system integrates seamlessly with two antennas built in for stronger Bluetooth and FM connections.
The C3 Pro is an all-singing and dancing alternative to the Neotec 2, and there isn't much to choose between them.
Pros:
Quiet
Comfortable
Ability for fully integrated comms
Universal fit
Quality construction and materials
Cons:
Quite expensive and has been replaced by newer models like the C4 Pro and C5.
---
Scorpion EXO-AT950 Helmet
The EXO-AT950 is more than just a modular helmet; it is the one you want if you ride different types of bikes in different environments, thanks to its flexibility.
Best described as a touring helmet with off-road features, you get the flip-up chin piece's usefulness, an off-road style peak, and a large anti-fog visor for maximum visibility.
Add to that the easy removal of the visor; you can pair your helmet with a set of goggles for maximum off-road functionality. The peak is also removable for a better aerodynamic profile when road riding.
There are plenty of vents and exhaust ports, and the big front vent has a dual-position setting to act as a defroster.
The large visor has been treated with anti-fog treatment, as has the internal drop-down sun visor; the main visor also offers 100% UV protection.
It is hard to find much wrong with this Scorpion helmet; the only note is that they come up around a size smaller than other manufacturers, so be sure to measure your head against Scorpion's measurement guide for a correct fit.
Pros:
Great value for money
Multi-purpose style helmet
Loads of features
Easy to use and easy removal of visor/peaks etc
Cons:
---
HJC i90 Helmet
HJC produces some of the best-value motorcycle helmets on the market with an excellent grasp of the midrange segment.
The i90 is a no-frills modular helmet, but it does its job well with an easy-to-flip-up chin bar, drop-down sun visor, and moisture-wicking liner.
The main face shield is Pinlock ready, so you can stay fog-free with the purchase of a Pinlock insert, and the sun visor slots into one of three positions for tailored sun protection as you ride.
It also accepts the HJC 10B or 20B Bluetooth communications system.
HJC is good at producing helmets that fit a wide range of riders regardless of head shape, and they even go up to a 5XL.
Read our in-depth HJC i90 review
Pros:
Good value
Accurate sizing and wide range of sizes
Integrated HJC comms kit option
Cons:
Pinlock insert not included
---
Bell SRT Modular Helmet
The Bell SRT modular helmet marries all the sporty nature of Bell's racing helmets, including a fiberglass composite shell, into a modular design.
At first glance, you would be hard-pushed to see that the helmet is actually a modular helmet as it is a sleek design.
The SRT is for those riders who may have turned their back on track days and are now looking to ride in more relaxed circumstances touring or commuting.
You get an internal sun visor, a large face shield with excellent visibility, an easy-to-open front chin bar, and speaker pockets cut out into the EPS liner.
Three EPS liner sizes ensure that you get the right fit for your size, making for a comfortable helmet for longer rides.
Pros:
Bell's racing pedigree in a modular design
Excellent visibility
Speaker pockets
Easy to use flip up mechanism
Cons:
Not the quietest
Sun visor mechanism can be a bit loose
---
BILT Techno 3.0 Modular Sena Bluetooth Helmet
Lastly, we have the Techno 3.0 from BILT, which is a good option for those on a tighter budget who still want top-quality features.
The helmet comes with the Sena DWO-6 Bluetooth system pre-installed, so it is ready to keep you connected to your devices and other riders straight out of the box.
You also get a drop-down sun visor, and the main visor is ready to accept a Pinlock insert.
Things feel slightly cheaper than some other helmets on the list, and the integrated system makes the space feel cramped.
For this reason, you need to be sure that you select the correct size and that everything fits properly, as you shouldn't sacrifice the ease of a built-in comms kit for poor fitment.
It is a helmet on the noisy side of things, but the sound quality of the Sena kit is spot-on, and everything works as it should.
Pros:
Great Value
Built-in Sena communications kit
Top features in value package
Pinlock ready visor
Cons:
Sizing isn't great
Quality feels a bit cheap
---
Buyers Guide
Considerations, care, and cost
---
When buying a motorcycle helmet, regardless of the type of helmet, some things are standard across the board to be aware of, such as how protective it is.
After that, you can start looking at the styling and features of the different types of helmets.
Here are my top tips for buying a quality modular helmet:
Protection
If you are buying a motorcycle helmet, you want and expect it to protect your head.
The first step is to ensure that your helmet is DOT approved. All motorcycle helmets in the US, to be legal and deemed fit for purpose, need to be DOT approved.
They will have been sent off to the Department of Transport for testing and providing they pass all the requirements, they will be approved. Therefore, you know that the helmet meets at least the minimum safety standards required by law.
If you want to take things further, you can look for Snell-tested motorcycle helmets. The Snell foundation was set up in 1957 as a direct response to the fatal accident of Peter Snell. The aim is to help make motorcycle helmets safer by producing feedback to manufacturers on their test results.
Essentially Snell puts helmets sent to them by manufacturers through more rigorous testing than they endure for DOT approval.
It is worth noting that Snell does not approve most modular helmets. There are a few reasons for this: manufacturers don't submit them for testing, Snell tests them solely as a full-face helmet, and Snell is more geared towards ensuring helmets for racing are up to scratch.
Interestingly the SHARP rating system (the equivalent of Snell in the UK) does and has approved many modular helmets as being fit for purpose.
So, you can look for DOT-approved helmets and ECE-approved (the European equivalent) and then at the SHARP website to check the helmet's rating.
The benefit being you will know that the helmet has been tested more rigorously than the DOT tests, and you can see a 1-5 star rating that SHARP has given each helmet.
For example, the LS2 Strobe, HJC i90, Shoei Neotec 2, and Schuberth C3 Pro are all DOT, ECE-approved, and SHARP-rated.
Remember, in the US, the only rating that makes a helmet legal is that it is DOT approved!
Sizing, Comfort and Fit
The factor more important than anything else is that the helmet fits your head correctly. A helmet that is too tight or loose can be seriously detrimental in an accident, but if the fit is correct, it will at least perform to the best of its ability.
The easiest way to get the fit right is to use the manufacturer's sizing guide and measure your head.
The first step is to take a soft tape measure and wrap it around the crown of your head. Take the measurement and use it as a guide to compare against the manufacturer's sizing chart.
Next, try the helmet on and see how it feels. It needs to feel snug with no gaps anywhere; equally, you need to make sure there are no pressure points that present themselves.
Pressure points usually pop on the temples or forehead, these won't get any better over time, so if this happens, you know the helmet is too tight, and you need to go a size up.
The cheek pads should push your cheeks up, and if you can't chew a piece of gum while wearing your helmet, that is typically a sign of a good fit, provided you are still comfortable.
Comfort is crucial when wearing a helmet, as issues like pressure points can cause headaches and fatigue, making you distracted while riding.
There is a delicate balance between the helmet being snug and you being comfortable, so make sure you wear the helmet long enough to establish your comfort levels before heading out for a ride.
Read: How to choose a motorcycle helmet
Features
Next up to help you make your decision is the helmet's features. Modular helmets are the most feature-rich type, offering a range of extras.
The most noticeable feature of a modular helmet is the ability to flip up the front and effectively turn a full-face helmet into an open face.
Read: Full face vs. modular helmet
It is a great solution when at a stop light or stopping for gas to flip the front up and talk to your passenger instead of completely removing your helmet.
Other features include internal drop-down sun visors, tinted visors, ventilation systems, built-in speaker pockets, or, in some cases, spaces to drop in your Bluetooth communication system.
These extra features may be optional, but knowing them will help you decide.
Conclusion
There it is a round-up of some of the best modular helmets on the market, and now you know what to look out for.
You would be hard-pressed to find a better modular helmet than the Shoei Neotec 2. Quality manufacturing and tons of features make it one of the best motorcycle helmets, period.
However, if your budget is smaller, then the LS2 Strobe is a great alternative offering a lot of bang for the buck.