Simply having an extra can of gas stored on your motorcycle can mean the difference between pushing your bike the last few miles to a gas station or topping up and carrying on riding.
I know which option I prefer. 
Whether you ride a custom Harley chopper with a peanut tank or Ducati 916, finding a quality, leak-proof, safe gas specifically built for motorcycles has never been easier.
Particularly as we have put the best of the best together in one place for you, followed by a few notes on what to look out for.
Here are our top motorcycle gas cans.
Best Premium
RotopaX Gasoline Pack
Strong, Well-made, Stackable
A quality can with useful features to make mounting as easy as possible.
Best Value
Tentock Aluminium Fuel Bottle
Excellent Value, Easy Storage, Leakproof
A well-built fuel bottle that you can throw in your luggage and be secure in the knowledge that it won't leak.
Best Motorcycle Gas Cans Reviewed
---
RotopaX Gasoline Pack
The construction of the RotopaX makes it stand out from other gas carriers. It is rotationally molded, which gives it unrivaled strength compared to the more traditional (cheaper) blow-molded carriers. 
RotopaX has selected the plastic for its anti-color fading properties and ability to stand up to degradation. Their carriers are also fitted with a sure-seal gasket to make them leakproof.
You need to purchase the RotopaX mounting system, which can be fitted to various places on your motorcycle, such as rear racks, side racks, or even other luggage systems.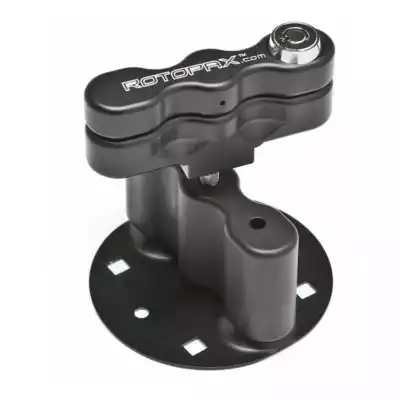 Using the RotopaX Lox Pack Mount will ensure your carrier stays in place even on rides over the roughest terrain, and you can get an extension to carry more than one pack securely. 
You can pick the pack for your specific needs with carriers available in different sizes from 1-4 Gallons.
Pros:
Quality construction
Stackable to increase carry capacity
Variety in sizes from 1 to 4 Gallons
Specific design for motorcycle carrying and mounting
Internal spout
Cons:
Pricey
Need to buy a mount separately
---
Tentock Aluminium Fuel Bottle
When it comes to excellent value for money, then you don't need to look any further than the Tentock fuel bottle.
The biggest option is 1000ml, so this will be most suited to smaller tanks and bikes with good fuel consumption.
If you are on a dual-sport or an off-roader heading out on the trail, then having this fuel bottle with you could save the day, providing you with just enough fuel to get back to the road or your truck, not leaving you stranded.
It is worth noting that you shouldn't fill the bottle to the brim as the lid goes into the bottle and takes up some space. So leaving a little breathing room will ensure no fuel escapes as you tighten the lid.
Pros:
Great value for money
Small enough to store in most luggage setups
Solid construction
Cons:
1000ml max capacity, which might be too small for some riders
Tricky to fill up
---
Reda 1 Gallon Saddlebag Gas Can
The Reda saddlebag gas can has been designed specifically to fit inside traditional-style saddlebags. It claims to hold 1 Gallon of gas but, in reality, is just under as there is an internal spout that takes up space inside the can.
The shape of the can means it will tuck into the saddlebag snugly and out of the way to allow you to still carry some other luggage you might need.
Reda has used a 6-ply EVOH plastic to make it safe from vapors and durable.
One note is that it might be worth purchasing a separate nozzle, as the one that comes as standard is a little flimsy and makes use a bit tricky.
Pros:
Quality construction
Internal spout
Built to fit a range of standard saddlebags
Leakproof
Cons:
Can't quite fit a full Gallon of fuel in
Internal nozzle isn't the best
---
Givi TAN01 Outback Jerry Can
Givi has built a solid 2.5-liter jerry can that will securely carry your fuel, and with the supplied nozzle, you can quickly fill up your tank.
The can is very sturdy and doesn't leak. Givi is notorious for building quality luggage solutions of all kinds, and their jerry can is no different.
It simply does what it is meant to do, and you can't ask for much more.
Pros:
Givi build quality
Good, sturdy nozzle
2.5-liter capacity is more than enough to get most people to the nearest gas station
Cons:
Given Givi's other mounting solutions, it would be nice to have specific brackets to make carrying the jerry can seamless
---
JONAS C 1.3 Gallon Gas Can
The Jonas Gas Can carries 1.3 Gallons of extra fuel, which is a substantial amount if you find yourself running low.
An internal nozzle slides into the can, and the lid has been designed to be leakproof.
The shape of the can means that you can easily use straps, cables, and other ties to secure it to your bike. However, the can also has a simple mounting system to attach to your bike.
It has been built to be durable and impact resistant. Overall the Jonas Can is a solid product with useful features.
Pros:
Durable
Internal nozzle
Clever design for easy mounting
Cons:
Mounting bracket supplied isn't robust
---
Buyers Guide
Considerations
---
When buying a gas can for your motorcycle, there are just a few simple things you need to think about to ensure you get a good quality product.
You need to consider things like size and capacity, mounting/carrying options, and of course, ensure that the gas can is leak-proof, as leaked fuel can cause a whole host of issues you don't want to deal with.
Here are my top tips for buying a motorcycle gas can:
Safety
The first thing you should consider is to make sure that when carrying extra gas on your motorcycle, you can do it safely.
The good news is you are in the right place and looking for a specific gas can to carry fuel on a bike. This means you aren't in the minority who think having fuel in a plastic drink bottle is a good idea. Plastic bottles are not built to cope with the corrosive nature of fuel, so they can erode and leak.
You need to think about how to carry your gas can when riding. It is best to avoid throwing it in your backpack and having it on your person; should you be in an accident, sliding down the road with a can of gas is a pretty bad idea.
Using your motorcycle to carry the fuel, whether mounted on the side or in a saddlebag, is always the best thing to do.
Make sure you find the manufacturer guidelines when it comes to filling up your gas can, sticking to the maximum limits, etc. this will avoid any build-up of gasses that could potentially lead to leaks or the can failing.
Make sure it is leak-proof.
The next thing you need to check is that the can is leak-proof.
A good tip is to fill it with water first and do a dummy run to ensure there are no leaks to worry about.
Make sure each time you fill up, you check that the can's seal is in working order and there are no cracks, so there are no leaks.
Size and capacity
Consider the size of your fuel tank and the average mileage you get from your motorcycle; this will help you assess the size of the can you need to carry.
If you are planning to carry extra gas just in case you run out of fuel when you are out and about, you need to make sure you carry enough so that it will get you to the next gas station.
Knowing your average fuel consumption will help you make the correct decision.
The other thing to think about is weight. If you are on a lightweight dual sport like the Honda CRF300, you won't want a big heavy gas can as it could disrupt your balance.
So you want to make sure you balance your extra fuel needs with weight.
Equally, if you are touring on something like the Indian Chief cruiser, you need to make sure your gas can isn't too big, taking up precious luggage space, or too small to be ineffective if you run out of gas.
Mounting/carrying options
There are a couple of options for mounting or carrying a gas can.
Some cans are built to slide into your saddlebags and can be carried that way; some saddlebags have gas bottle holders ready to throw your bottle in.
Other gas cans can be specifically mounted on the rear or where saddlebags typically go on the side of the bike using a specific mount.
Verdict
Overall the RotopaX Pack comes out on top thanks to its durability and mounting/stacking features.
However, the Tentock Bottle is a great value alternative for those that want to keep things simple.