As a self-identifying melon head, I know that it often seems like you have to sacrifice your helmet preferences just to get one that fits.
However, after a lot of digging, I've finally found five helmets that fit big heads as well as weirdly shaped ones.
With one of these models, you can get the safety, style, and features you want while still being comfortable.
My Conclusion
HJC i90 Helmet
Minimalistic but safe and comfortable high-value helmet
The i90 is one of the best bangs for your buck on the market, with plenty of features, excellent comfort, and a range of sizes.
Best for Round Heads
Arai Quantum-X Helmet
Safety and craftsmanship for special heads
The specially made round shape lets riders with uncommon domes take advantage of a top-shelf helmet.
Reviews of the Best Motorcycle Helmets for Big Heads
---
HJC i90
The HJC i90 has always been one of my favorite helmets overall, not just because it fits my gigantic melon of a head. Although, it does do that, with sizing options up to 5XL covering heads 27 inches in circumference, one of the biggest sizes I've found.
I also like this model because it doesn't make you skimp on features just because you have a big head.
One of the most important is the advanced ventilation system with seven intake vents. Similarly, it also has a moisture-wicking lining. With a bigger head, you're likely to overheat a lot faster, so these features make a big difference during the summer and fall months.
Read our guide to ventilated motorcycle helmets.
I also like the attention HJC puts into the face shield. It has a drop-down sun shield for starters, which again makes this helmet good for those bright summer months.
It's also Pinlock ready, though the Pinlock insert is sold separately. If you do get it, it's easy to install, thanks to the Rapidfire that lets you change out the face shield without tools.
Read our hands-on HJC i90 helmet review.
Pros:
5XL fits 27-inch heads
Advanced ventilation
Moisture-wicking interior
Drop-down sun shield
Rapidfire face shield installation
Great value
Cons:
Pinlock lens not included
---
Shoei Neotec 2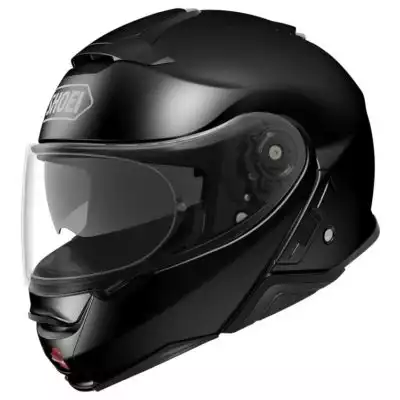 The Neotec 2 is one of the smaller models I decided to add to my list. Its largest size is 2XL, which fits heads up to 25 inches in circumference. That's still pretty big, but not as big as the HJC i90, for example.
I decided to include this helmet because it comes in four shell sizes, while most helmets only come in two or three.
This means that the size you get is more likely to fit comfortably. I know well enough that you often have to accept a slightly uncomfortable helmet when you have a big head. With the Neotec 2, that's not a problem.
Other than that, Shoei is a name brand, and the Neotec 2 demands a top-shelf price and comes with top-shelf features.
These are frankly too many to list, but some of my favorites are the CNS-3 shield system that both reduces noise and protects from UV rays, as well as the modular helmet design that lets you flip up the chin guard so you can eat or communicate while touring without having to take off the helmet.
Pros:
4 shell sizes
CNS-3 shield system
Modular design
Removable inner lining
Aerodynamic shape
Cons:
Only sizes up to 2XL or 25 inches
Top-shelf price
---
Icon Airflite Peacekeeper Rubatone
I've included this Icon model because it's one of the few helmets out there that fits the long oval head shape, my particular curse, which my nephew once called a "cucumber head." As for sizing, its largest 3XL size fits up to 26 inches.
I have to admit, though, that I also like this helmet just because it has such a cool style. With the bronze face shield, you look like you're from the future, though it comes with a clear version if you prefer.
The ventilation is excellent on this model, including a large intake vent on the chin that keeps you cool and allows you to breathe naturally. The Hydrady liner makes it even more comfortable by wicking away your sweat.
Pros:
Long oval shape
Stylish bronze face shield
Advanced ventilation with chin intake
Hydrady liner
Cons:
---
Arai Quantum-X
Like the Shoei Neotec 2, the Arai Quantum-X only goes up to 2XL and head circumferences of about 25 inches. However, it earns a place on this list for fitting the least common head shape: round oval.
This head shape is more common with big heads, meaning this helmet is worth looking into if you have an extra-wide head specifically.
Another reason this is good for riders with larger heads is that it's SNELL certified, thanks to its Super Complex Laminate Construction.
Yes, many helmets are SNELL certified, but usually only in their standard sizes. The Quantum-X is certified up to its largest, 2XL size. You don't have to jeopardize safety just for having a big noggin.
Of course, Arai is one of the most popular helmet brands out there, so the Quantum-X has a ton of top-shelf features. These include things like the removable neck roll and extra exhaust vents and the VAS shield latch system that holds the face shield securely while also having a demisting setting.
Pros:
Round oval shape
SNELL certified in large sizes
Removable neck roll
Effective ventilation
VAS shield latch system
Cons:
Top-shelf price
Sizes only up to 2XL or 25 inches
---
Scorpion EXO-R420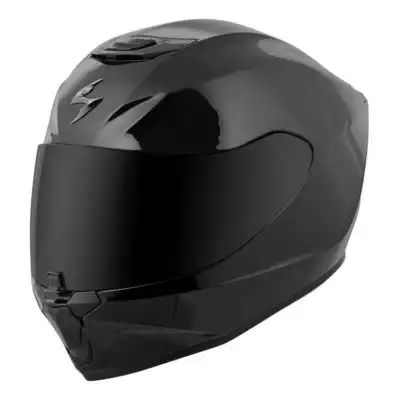 With the Scorpion EXO-R420, you can get a high-quality, safe modular helmet that fits your big head but doesn't cost more than your budget. In fact, it has sizing up to 4XL, fitting heads with circumferences as big as 27 inches.
My only complaint about sizing is that there are only two shell sizes. This means that the largest sizes might still be a little tight, but this is compensated for by a quality interior that includes washable antibacterial KwikWick fiber that adapts to your head shape. In other words, you can break it in quickly.
Finally, you have to admit this helmet looks slick. Its broad head shield isn't just fashionable, though; it gives you a better field of vision and makes you safer on the road.
Pros:
Sizing up to 4XL or 27 inches
Great value
Modular design
Antibacterial, washable, moisture-wicking interior
Breaks in easily
Stylish look
Cons:
Tinted face shield not included
Only 2 shell sizes
Only SNELL certified up to 2XL
---
Buyer's Guide for Big Heads
---
Sizing
What is a big head? You know it when you see it, but you probably can't tell me its circumference in inches. You probably can't even tell me your own head's circumference in inches.
The average head circumference for a woman is about 21.75 inches and not too much bigger at 22.5 for a man. You should figure out what your own is by wrapping a tape measurer around the broadest part of your skull. If it's bigger than the average, then it's big.
Of course, you need to translate this number into a size for whatever helmet you're considering, which is easy because they usually have a sizing chart.
The bigger you are than average, the more likely you'll need 3XL, 4XL, or even 5XL, but what's really important is matching your head circumference to the helmet's sizes. You might need a 3XL in one brand but a 4XL in another.
Head Shape
Sometimes it's not that your head is too big in general. It's just too big in one dimension. In other words, it has a weird shape.
Motorcycle helmets are divided into three classes of head shape:
Most people have an intermediate oval, so most helmets are made for that shape. If you have a long oval or round oval head, the right helmet can be much harder to find.
It's worth figuring out your head shape ahead of time because simply buying a 5XL helmet might not even solve your problem if the head shape isn't right. If your head is considerably longer than wide, go with a long oval helmet. If it's nearly perfectly round, you want round oval.
Shell Sizes
You might get confused when you see that a helmet has sizing options from 2XS to 2XL, but it only has two shell sizes.
What this means is that for a given range of sizes, say L to 2XL, the shell of the helmet is identical. Instead, the size changes based on the interior of the helmet.
Manufacturers can cut costs by making fewer shell sizes, but it makes the sizing less specific. If you have a big head and are tired of tight, uncomfortable helmets, finding a model with more shell sizes is a good idea. Otherwise, the helmet is more likely to be tight regardless of what measurements the size is listed for.
For more, see how to choose the right motorcycle helmet.
Final Thoughts
Having a big head shouldn't mean giving up features and style when buying a motorcycle helmet.
For an all-around great helmet with extensive sizing options, my favorite is the HJC i90.
For exceptionally long heads, I suggest the Icon Airflite Peacekeeper Rubatone, while round heads will like the Arai Quantum-X.