Few things irritate me more than getting my helmet on and adjusted just right only to find it's knocked my glasses out of place.
Riding a motorcycle with glasses doesn't have to be a hassle, though.
With a little bit of digging, I was able to find five great helmets that are comfortable with glasses and allow for easy adjustment.
Below you'll find my in-depth reviews as well as a short buyer's guide describing which features I believe make a helmet a good choice for glasses wearers.
My Conclusion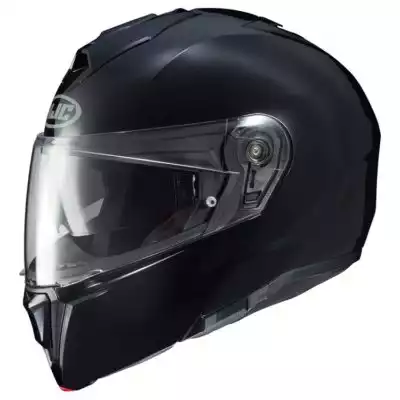 HJC i90 Helmet
Minimalistic but safe and comfortable high-value helmet
The i90 is one of the best bangs for your buck on the market, with plenty of features, excellent comfort, and a range of sizes.
Open Face Option
LS2 OF569 Track Helmet
Open-face ventilation in an easy-to-use package
With a flip-up face shield and a great price, this is a great option for glasses wearers who still want to feel the wind on their faces.
Best Motorcycle Helmets for Glasses Wearers Reviewed
---
HJC i90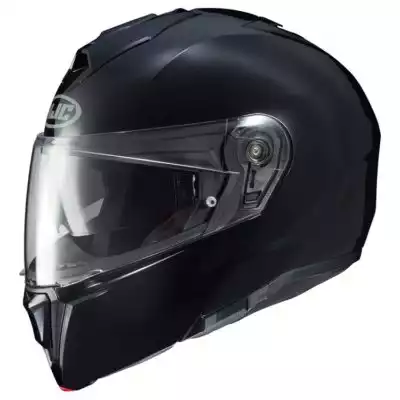 HJC always seems to have glasses wearers in mind with its helmets, and the i90 is one of the most conveniently designed with a specific glasses groove on either side of the lining.
On top of this, many parts of the inner lining are removable, including the crown and cheek pads. This lets you wash them and keep the inside of your helmet smelling fresh, but it also helps you more easily adjust them to better fit with your glasses.
I also like the i90 for glasses because it's a modular helmet and an easy-to-use one at that. It has an accessible one-touch open and close locking system. Just flip it up to quickly put your glasses on or take them off.
The SuperCool moisture-wicking inner lining combined with the ACS advanced ventilation system keeps the humidity down inside the helmet, which helps to prevent fogging. There's even a breath deflector.
Aside from its comfort for glasses wearers, the i90 is an all-around great helmet and easily one of my favorites on the market. It has numerous sizing and color options to get a customized helmet that's right for you, and the polycarbonate shell is aerodynamic but safe.
Read our full HJC i90 review.
Pros:
Glasses groove
Removable/adjustable crown and cheek pads
Easy one-touch modular design
Advanced ventilation minimizes fogging
Safe polycarbonate shell
Great price
Cons:
---
Shark Street Drak
From looking at it, you can tell the Street Drak is a unique motorcycle helmet. It looks more like a fighter pilot's mask.
What makes it great for glasses wearers is the quick-release goggle system. It's not exactly a modular helmet, but it's easy to just remove them and then put on, take off or adjust your glasses.
In fact, you can take off the entire facemask, but it's important to note this isn't a chin guard and doesn't protect your chin in case of an accident. In other words, this is just an open-face helmet with a mask that breaks the wind and rain.
A side effect of this design is its weight, which is only 2.6 pounds. That's comfortable in general, but it also keeps it from weighing down or pressing down on your glasses.
The goggles themselves are anti-fog, and you get a ventilation system with a closable top vent in addition to the breathable face mask. This should help keep your glasses from fogging up as well.
Now, I do wish the Street Drak had more sizing options. It has a standard oval shape that fits most people, but it would still be nice to get one more suited to my big head.
That said, the simple chin strap keeps it secure and comfortable. If you want the comfort of an open-face helmet with the style of a full-face, this is a great choice.
Pros:
Cool pilot-mask look
Quick-release goggle system
Removable face mask
Lightweight and comfortable
Anti-fog ventilation system
Cons:
Few sizing options
No chin protection
---
Bell Eliminator
The Eliminator is an excellent choice for glasses wearers because they have extra space around the ears. These are specifically speaker pockets, but they give you more space for your glasses as well.
Another impressive thing about the Eliminator is how lightweight it is for a full-face helmet, just over three pounds. That doesn't weigh down your head or press down on your glasses. Plus, it makes it easier to adjust to fit with your glasses.
The Eliminator isn't a modular helmet, so it can admittedly be a hassle to take on and off with glasses. Instead, it's better just to flip up the face shield to put on, take off or adjust your glasses. The face shield is kind of difficult to install or change out if you want a darker one, but that means it's secure once it's on.
Speaking of the face shield, it's advanced due to what Bell calls its ProVision technology. Thanks to two panes, it doesn't fog, no matter how sweaty you get.
Similarly, the liner is antibacterial. I've had my share of helmets that end up too stinky to use before their expiration date, so I like this as a feature.
However, my absolute favorite feature of the Eliminator is the sizing. The fiberglass composite shell comes in three different sizes, while there are five different EPS sizes to choose from. This way, you get the safest and most comfortable helmet possible for your head shape.
Pros:
Extra space for speakers/glasses
Lightweight
Face shield easy to flip up
ProVision face shield
Antibacterial lining
Elaborate sizing
Cons:
Face shield difficult to install or change out
Hard to take on and off with glasses
Loud
---
Shoei Neotec 2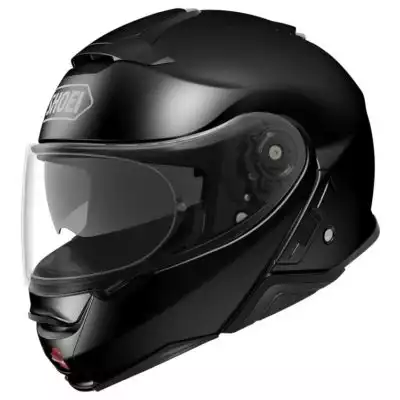 Shoei is one of the most respected and preferred helmet brands on the market.
The Neotec 2 specifically works with all sorts of models of glasses, so you don't have to worry about buying new ones or feeling uncomfortable when you ride. That makes it great for commuters who are riding in their work clothes.
Impressively, though, unlike a lot of helmets designed for glasses wearers, the Neotec 2 is really quiet. That's because the removable lining is ergonomically designed to prevent any unnecessary gaps while still keeping you cool and comfortable.
When it comes to putting your glasses on, taking them off, or adjusting them, the Neotec is convenient, thanks to the modular design that releases the chin guard with a single button. Of course, you don't even have to flip up the full chin guard to adjust your glasses because you can just flip up the face shield.
Like the rest of the helmet, the ventilation system is top of the line. Multiple adjustable vents let you keep the temperature and humidity inside the helmet comfortable, which also helps keep your glasses from fogging. There's even a vortex generator on the face cover that keeps air flowing around the helmet.
Aside from the ventilation, the helmet is comfortable all around, though I wish it were lighter. Unfortunately, that's often the price you pay for the convenience of a modular helmet.
Still, the shell is highly aerodynamic to relieve pressure on the neck, which gets more important to me the older I get. The sizing is good, too, with multiple options that fit most head types.
Pros:
Fits all types of eyeglasses
Quiet
Ergonomic and removable inner lining
Advanced ventilation with vortex generator
Aerodynamic
Good sizing options
Cons:
---
LS2 OF569
If you don't mind having less chin protection, an open-face helmet is always a good way to comfortably wear glasses without worrying about adjusting them.
That's because there isn't a chin guard that might scrape against the glasses when you take off the helmet. Plus, you can easily flip up the face shield and use your hand to adjust the glasses.
While you're wearing the helmet, your glasses fit comfortably, thanks to the liner and cheek pads made from breathable fabric. The liner is also removable and washable, which doesn't just keep them smelling fresh but is fluffy and soft as well, so they fit better with your glasses.
As an open-face helmet, fogging up isn't as much of an issue, but you do get top vents and an exhaust vent in the back that keeps your head cool and comfortable. Plus, the face shield is fog-resistant and easy to flip up or take off if you need to adjust your glasses at stop.
The thermoplastic shell is heavy for an open-face helmet, but it is DOT certified. The shape is nice, too, and it's still lighter than most full-face helmets.
Lastly, I should mention the price. Open-face helmets are generally less expensive than full-face models, but the OF569 is one of the best budget options out there. It's comfort for glasses wearers that doesn't empty your wallet.
Pros:
Open-face design
Breathable and washable inner lining
Anti-fog face shield
Face shield flips up or comes off easily
Budget price
Cons:
Heavy for an open-face model
Loud
No chin protection
---
Buyer's Guide
Care, considerations, and cost
---
Comfort
If you're a glasses wearer, your first concern when buying a helmet is whether it's going to be comfortable or not. Many helmets press against the temples or the tips, making them uncomfortable against your ears or head.
Some also don't have adequate room for the rims and lenses, which can again press them against your head or position them awkwardly. That can make them uncomfortable for your eyes and nose.
This is why it's best to look for a helmet that has plenty of space inside. Often, this involves extra space around the ears or a specific groove for glasses. Similarly, you want a face shield that isn't too close to the face so that there's room for your glasses.
Putting on, Taking off and Adjusting
Besides general comfort, you have to worry about the ease of putting on and taking off your glasses, not to mention adjusting them if they slip out of place. Basically, you need to find a helmet that gives you easy access to your glasses.
Usually, this is through a flip-up face shield or chin guard that lets you reach into the helmet and make adjustments.
Open-face helmets work, too, because you can just reach up inside of them, though I certainly wouldn't recommend it while moving. Wait till you're at a stop.
Fogging
Another big problem that glass wearers encounter is that the glasses fog up while wearing a motorcycle helmet. This happens when the water vapor in your breath condenses on the glass of the lenses.
Read: How to stop your helmet visor fogging
To avoid this, you need a way for that water vapor to escape out of the helmet before it condenses.
On a full-face helmet, this means having good ventilation that provides for plenty of airflow. Additionally, moisture-wicking fabric can help remove vapor from the air so that it doesn't condense on the glasses.
Read our guide to the top ventilated helmets.
Best Types of Helmets for Glasses
The truth is, the more open the helmet, the easier it will be for glasses wearers. That means that open-face helmets are more convenient than full-face helmets, and half-face helmets are the most convenient of all.
That's because there's less helmet to press down on the glasses, and it's easier for you to get to them to adjust.
However, the more open the helmet, the less safe it is. A good compromise is a modular helmet. These are full-face helmets that have detachable chin guards. You can use them as both full-face and open-face helmets.
Read: Modular vs full-face helmet
Plus, since you can flip up the chin guard and the face shield, you can easily access your glasses to fix them if they get out of place. It also makes it easy to vent the helmet if it gets too stuffy and the glasses begin to fog.
Final Thoughts
Wearing a motorcycle helmet over your glasses doesn't have to be uncomfortable.
The HCJ i90 is a comfortable modular helmet specifically developed with glasses in mind if you want full-face protection.
For those who prefer the comfort of an open-face design, the LS2 OF569 is easy to use and easy on your bank account.