At 6'3″ with a 70-inch wingspan, I know how hard it is for tall riders to find a jacket that fits right in the chest, shoulders, and especially arms.
I have tried on dozens of jackets only to end up disappointed.
However, through this disappointment, I've found some that fit right, look good and keep me safe while riding. Now I'm sharing them with you.
Best Overall
FLAVOR Leather Motorcycle Jacket
Genuine leather with extra long arms
You can finally be stylish and comfortable thanks to the leather design with tall riders in mind.
Best Textile Option
Alpinestars T-GP Plus R v3 Air
Highly adjustable with great features
Not only does this jacket come with the quality Alpinestars is famous for, it fits tall riders comfortably as well.
Reviews of the Best Motorcycle Jackets for Tall Riders
---
FLAVOR Men's Leather Motorcycle Jacket
This is my go-to jacket. Genuine leather at a reasonable price it's one of the few leather jackets I've ever put on that fits me with no problems whatsoever. In my case, this is thanks to extra long sleeves that come with the tall sizes and the stretch cuffs and waist.
Unfortunately, it doesn't come with any armor or armor pockets, but the thick leather will protect your skin from abrasion, I can embarrassingly tell you from experience. Plus, the multiple pockets keep devices and papers safe.
Lastly, I love that the hood is removable for warmer riding. Still, the jacket is better for colder weather because of the thick polyester lining and 100% cotton filing, which provides effective insulation that also blocks the wind.
Pros:
Genuine leather
Great value
Tall sizes
Stretch cuffs and waist
Removable hood
Warm lining and filling
Cons:
---
Alpinestars T-GP Plus R v3 Air Jacket
Alpinestars is one of the most famous and sought-after jacket brands, especially for racing and adventure textile jackets. With this particular model, you can get their name-brand quality even if you're tall, thanks to the large sizes, Velcro adjustment at the wrists and waist, and the stretch shoulder inserts.
Beyond that, though, the R v3 Air is just a great jacket overall. It has a mesh collar and lining for efficient temperature regulation in all seasons. It's also comfortable for riding for long periods, thanks to pre-curved sleeves that reduce fatigue.
It's plenty protective too. The 600D polyester fabric protects your skin, and the included elbow and shoulder armor protect the areas most likely to hit hard in an accident. You can even insert chest and back armor if you buy it separately.
Other cool features I like include the waterproof pockets, which make the jacket great for touring and adventure riding in all terrain and climates. There are also multiple patterns to choose from to fit your style.
Pros:
Large sizes
Velcro adjustments
Mesh temperature regulation
Strong textile design
Included armor
Waterproof pockets
Cons:
---
BILT Blaze 2 Jacket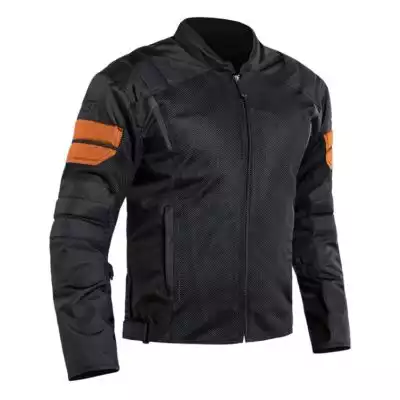 If you want a textile jacket but have long arms, here you go. In fact, on top of tall sizes, the Blaze 2 comes with sleeve and waist adjustment systems to get a good fit even if you have special proportions.
What's nice is that despite fitting tall riders great, this jacket is super protective. It has shoulder and elbow armor and a pocket for a back protector. On top of that, it comes with reflective detailing, so you're more visible at night, something you rarely get with leather jackets.
This isn't the warmest jacket, but it is great for summer riding. That's because it has a lot of mesh that allows for ventilation.
Pros:
Budget price
Tall sizes
Adjustable sleeves and waist
Included armor
Reflective detailing
Mesh ventilation
Cons:
---
REV'IT! Eclipse Jacket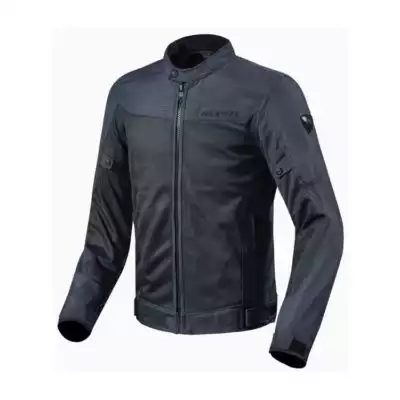 The Eclipse jacket is my recommendation for big and tall guys with an athletic build. While it doesn't have any specifically tall sizes with extra long arms, it does have a lot of extra large sizes with the ideal proportions for well-built men. It also has Velcro adjustments on its cuffs and waist to keep it secure.
Another reason I recommend this jacket for big and tall men is because it looks modern and has six different color options. It's hard to be stylish as a tall rider because you have so few choices, so it's nice that REV'IT! provides all the color versions through all the sizes.
Finally, it will keep you safe too. With a 600D polyester outer shell and shoulder and elbow armor, it helps protect your skin and vulnerable joints from injury in case of an accident. Yet it still doesn't overheat, thanks to mesh ventilation panels.
Pros:
Extra large sizes
Velcro adjustments
Six stylish colors
Included armor
Mesh ventilation panels
Cons:
No tall sizes
Velcro wears down
---
Joe Rocket Sector Jacket
Finding leather jackets for tall, skinny guys is always hard, but not impossible. This jacket from Joe Rocket is proof. In addition to a range of large sizes, they also have specific tall sizes with longer sleeves and a longer torso.
The sleeves, wrists, and waist are also adjustable, and there are stretch textile panels for a secure and comfortable fit.
With this leather jacket, which has 1.2mm Drum dyed cowhide for great protection against abrasion, you also get armor in the elbows and shoulders and a pocket for a back protector, though you have to buy it separately.
Reflective stripes further augment this safety on the front and back, a feature rarely found on leather jackets. This improves visibility, especially at night.
Lastly, you can wear this jacket comfortably year round because it has an insulated liner that you can remove when the weather heats up. Plus, vents keep you cool on both the front and back.
Pros:
Tall sizes
Highly adjustable
Stretch panels
Tough leather
Included armor
Removable insulated liner
Front and back vents
Cons:
Top-shelf price
Few pockets
---
Buyer's Guide
Care and considerations
---
Big and Tall Body Types
While it's not necessarily scientific, many people like to divide body types into three general categories:
Ectomorphic
Mesomorphic
Endomorphic
These body types apply to everyone, but it's crucial to keep them in mind if you're a tall rider looking for a jacket because it will determine the main aspects of the jacket you need to pay attention to and shop for.
Ectomorphs
The ectomorph body type is the tall drink of water with extra long arms and legs, a relatively small chest, and a narrow waist.
The biggest problem this body type faces is getting long enough sleeves. A jacket that fits right in the shoulders, chest, and waist will usually leave your wrists bare.
"Tall" sizes are great for this body type because they usually come with extra long sleeves. An adjustable waist is another good feature to look for.
Mesomorphs
The mesomorph is the classic body-building physique with broad shoulders but a narrow waist making the torso look like a V.
A tall rider with this body type is usually okay to get an extra large size that fits his chest, but stretch panels in the shoulders can help those who are particularly wide. Additionally, an adjustable waist can help keep it secure and prevent it from riding up.
Endomorphs
The endomorph is what most people think of as "big and tall." Someone with this body type has a big barrel chest, equally big arms, and a thick waist.
While stretch panels and an adjustable waist are great for this body type, the most important thing is to check the manufacturer's sizing guide. Make sure it fits you on the chest, waist, and shoulders.
Necessary Features for Tall Riders
Tall Sizes
Naturally, tall sizes make a big difference for tall riders. More than just extra large, these sizes usually have extra long arms and relatively long torsos. This can help guys who often end up with bare arms when griping the handlebars.
Adjustability
Adjustability makes a jacket a lot more comfortable if you're tall. That's because you can get a larger size but adjust the waist and wrists to fit snugly.
Stretch Fabric
Stretch fabric helps a jacket fit more comfortably if you're a tall rider. A longer torso and arms often mean you have less room in the chest and shoulders. The stretch panels allow the jacket to expand and adapt to the shape of your body.
Leather vs Textile
Generally speaking, it's a lot harder to find a leather jacket if you're a tall rider. Plus, leather is harder to alter than textile and much stiffer and less flexible. As a result, textile jackets provide a more comfortable alternative for tall riders with unique body shapes.
That said, if you do want a leather jacket, whether, for the extra safety or the look, it's possible. Just check the sizing guide carefully and look for tall sizes.
What to Measure and How
Chest
Almost all jackets you look at will have a chest measurement in the sizing guide. To do this, use a tape measure around the largest part of your chest, usually right about where your nipples are.
Measure all the way around under your armpits trying as hard as possible to keep the tape measure parallel to the ground.
Waist
Regardless of how you wear your pants, your waist for a jacket measurement is around the top of the hip bones in line with your belly button. Again, use a tape measure to measure all the way around, keeping it parallel to the ground.
Arm
If you're a tall rider, the arm is most likely your most important measurement. Measure along the outside of your arm from the edge of your shoulder to the end of the wrist where it meets your hand.
Since this can be a bit arbitrary, try to find a jacket or shirt that fits you well. Note where its seam hits your shoulder, and the sleeve ends at your wrist. This is where you should measure to get the right arm size for your jacket.
Shoulder
It's not as common, but sizing guides sometimes include a shoulder measurement. This measurement is across your back from the edge of each shoulder, presumably the same place where the jacket seam hits, where you started your arm measurement.
Height
Many jacket sizing guides include your overall height, which helps determine the length of the torso.
Although you probably know your height, it's worth taking it again, to be exact. You should measure it with your shoes off, your back against the wall, and your feet together. Then measure from the floor to the top of your head.
Read more about how a motorcycle jacket should fit.
Final Thoughts
Being tall doesn't mean you can't find a motorcycle jacket that's comfortable, safe, and stylish.
My top recommendation is the FLAVOR Men's Leather Jacket, thanks to the tall sizes with extra long arms. If you'd prefer a textile jacket, I suggest the Alpinestars T-GP Plus R v3 Air Jacket.
Further reading: Best motorcycle for tall riders