It's a common misconception that protective footwear for motorcyclists must sacrifice style for safety, but that isn't the case.
I've researched and discovered several options for motorcycle shoes that offer both protection and fashion-forward design.
Best Motorcycle Shoes Overall
REAX Fulton Air Riding Shoes
With a casual design but extensive protective features, these shoes keep you safe while riding but have the versatility to match your street attire as well.
Best Waterproof Motorcycle Shoes
TCX Mood Gore-Tex Shoes
Despite its casual sneaker look, this shoe includes heavy-duty protection as well as weatherproofing for year-round riding.
Reviews of the Best Motorcycle Shoes
---
REAX Fulton Air Riding Shoes
I love the Fultons because they're protective and comfortable for both riding and walking.
At the same time, they're casual and a good match for most outfits. They're actually available in three different styles. The black and tan versions are good for everyday street clothes, while the hi-viz version adds a bit of safety, especially if you ride at night, though all three versions have a reflective patch on the heel.
What I really like about these shoes is the motorcycle-specific design that involves perforated full-grain leather so you get protection for your feet but don't end up too sweaty even if you're riding in hot weather.
The rubber insole is thicker than on normal shoes to give you a better grip when you stop at lights. It doesn't wear down as fast from gliding against the ground, either.
Best of all, they have inconspicuous ankle cups that are comfortable. This is always one of my biggest issues with motorcycle shoes since ankle cups can look a bit strange if you're wearing the shoes off your bike.
Pros:
Casual look
Hi-viz option
Full-grain perforated leather
Thick rubber sole
Low-profile ankle cups
Comfortable interior padding
Cons:
---
TCX Mood Gore-Tex Shoes
Want the protection of leather without the look of a full motorcycle boot? This TCX shoe is made of full-grain leather but looks closer to a casual sneaker that works with most street outfits. Plus, while you wouldn't guess it from looking at it, it has thick toe and heel protection as well as a thick rubber sole.
What I really like about this shoe, though, is the Gore-Tex lining. This makes them warm and waterproof for year-round riding. They're a good alternative for motorcycle boots, even in the winter.
Pros:
Casual broken-in sneaker
Full-grain leather
Toe and heel protection
Gore-Tex lining
Warm and waterproof
Cons:
---
Alpinestars J-6 WP Shoes
The J-6s are a great option if you want a casual shoe that doesn't look like a motorcycle boot. Surprisingly, though, despite the casual look, they're quite protective, in line with what you'd expect from Alpinestars.
First and foremost, the J-6s include full-grain leather along with a heel protector and rubber sole for full-foot protection. Additionally, they have a waterproof membrane to keep you dry in unexpected foul weather.
Now, despite this membrane, these aren't boots, so they aren't especially warm if temperatures get low. Otherwise, the comfort is decent for the minimalist design.
Pros:
Casual shoe
Full-grain leather
Heel protector
Rubber sole
Waterproof membrane
Cons:
---
Alpinestars Faster 3 Rideknit Shoes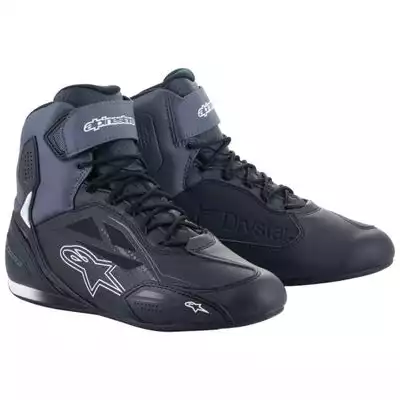 The Faster 3 shoes are a bit more motorcycle-specific, so if you like that look, be sure to check them out. You can really see this in the high ankle and mesh design that makes them especially comfortable in hot weather.
I also like that, in addition to the high ankle, there's a hook-and-loop strap that keeps it snug. This way, it doesn't slide around when you're shifting frequently.
On top of being comfortable, they're super safe. They have a heel counter as well as a shock-absorbing rubber sole. There's even extra padding at the toes to protect your foot and the shoe while shifting.
Pros:
Mesh venting
High ankle
Hook-and-loop strap
Heel counter
Shifter padding
Cons:
---
Street & Steel Oakland Boots
The Oakland boots are straightforward, but while they don't have a lot of frills or style options, they're an attractive choice for traditional riders who want a safe boot. In particular, the craftsmanship is excellent and involves full leather with double and triple stitching.
Additionally, the toe cap is reinforced, and there are ankle and heel cups as well. What I like most is that all these safety features are all low profile.
You can hardly even see them when you look at the boot, which fits with traditional biker style and makes them better for use off the bike.
Finally, these boots even include a waterproof breathable membrane. It keeps water out but lets sweat escape, so your feet remain dry and a comfortable temperature.
Pros:
Traditional boot design
Quality craftsmanship
Reinforced toe cap
Ankle and heel cups
Waterproof breathable membrane
Cons:
No color options
No half sizes
---
Stylmartin Rocket Boots
In my opinion, these boots, specifically in brown, are the coolest looking on the list. Designed in a vintage military style, they harken back to the cafe racers of the 50s and 60s.
I didn't just choose these for their appearance, though. They're also highly practical with a high but stable ankle, full-grain leather upper, and ankle protection on both sides. Plus, there's extra leather at the toe for shifting, which keeps them looking good.
Like other models, these Rocket boots feature a waterproof and breathable lining. What I really like, though, is the rubber sole. It doesn't just keep water out and give you a better grip when it's wet. It's oil-resistant as well, a motorcycle-specific feature important for stability when you stop.
Pros:
Vintage military style
Full-grain leather upper
Ankle protection
Toe shifter protector
Waterproof breathable lining
Oil-resistant rubber sole
Cons:
Confusing sizing
Flimsy zipper
---
TCX Blend WP Women's Boots
Women can often wear men's motorcycle boots, but most women riders I know prefer women-specific boots because they often have a more comfortable fit for the female foot.
That's definitely the case for the TCX Blends. The footbed and toe box are snug without being too tight, though you do have to be careful with the sizing. This shoe comes in European sizes, so make sure to check the size chart.
I also like the tough construction of these boots. The full-grain vintage leather protects against abrasion but provides a stylish combat look that works off the bike, too.
Plus, there's an extra leather pad at the toe for shifting, and the ankle cups protect the exposed bone. They do have a bit of a high profile, but the boots still fit well under jeans.
The rubber sole and waterproof lining are great features. These boots are a good choice for all-weather riding, giving you a good grip on the payment and keeping your feet dry and fresh.
Pros:
Women's fit
Full-grain leather
Vintage combat style
Leather shifter pad
Reinforced ankle cups
Waterproof lining
Cons:
Confusing sizing
Ankle cups are high profile
---
Buyer's Guide
Care, Considerations and Costs
---
Upper Material
While normal shoes can be made out of just about anything, it's best to get motorcycle shoes made out of a tough material that resists abrasion in case of an accident. This usually means leather, but there are some good synthetic fibers out there.
Check the stitching as well. Good leather is useless if the boot is just going to come apart under any kind of stress. Double or triple stitching is ideal.
Ankle Protection
Your ankles are particularly vulnerable in an accident because the bones are so exposed. That's why the best motorcycle shoes include ankle cups or other protective features at the ankles.
Toe Protection
Your toes are also a bit delicate. In an accident, they could easily be crushed by force or weight. That's why I recommend getting a motorcycle shoe with a reinforced toe box.
Shifter Pad
One unique feature that you won't find on regular shoes is an extra leather pad on the toe where it contacts the shifter. This is great for a number of reasons.
First, depending on your bike, you may have noticed that upshifting with regular shoes is uncomfortable, so much so that you sometimes don't even use enough force to adequately engage the transmission. The shifter pad makes your shifting more precise.
Second, this area can often wear down quickly from friction. The shifter pad makes the shoes more durable.
Finally, the toe area that contacts the shifter often gets pretty grimy. The shifter pad can help keep your boots looking neat if you're wearing them off the bike, especially if the pad is removable.
Sole
You want a sole that's thick and has a good grip. For one thing, this will give you stability when you balance at stops. More importantly, if you're anything like me, you often let your shoes glide along the pavement for a moment before stopping and starting. This wears down the soles of normal shoes pretty fast, so a thick sole helps.
Additionally, a rubber sole might be a good choice if you're adventure riding, off-roading, or just likely to get caught in the rain. It adds a waterproof layer to keep you dry.
Weatherproofing
I always look for shoes with a waterproof membrane. You never know when you're going to get caught in the rain. Plus, it's important if you also walk around town in the shoes.
I suggest looking for shoes with a waterproof membrane that's also breathable. Otherwise, sweat can build up inside the shoe quickly. Not only is that uncomfortable, but it can cause foot odor to build up.
Style
Last but not least, you should take style into account. Your personal style is subjective, but it's definitely possible to find shoes that look good while providing you protection. By doing this, you can use your shoes while riding and while walking around town.
Final Thoughts
With the right pair of motorcycle shoes, you'll be comfortable, safe, and stylish both on the bike and around town. I recommend the REAX Fulton Air Riding Shoes above all. For year-round riding in inclement weather, I also suggest the TCX Mood Gore-Tex Shoes.