A question that I'm often asked: what is the best motorcycle for short women?
It might seem strange initially, but when you think about it, women shorter in stature are limited in their options regarding which motorcycle will work for them.
Bikes are notoriously big and heavy. Even lighter-weight options like dual sports and some premium sportsbikes are known for their tall seat heights.
Women are generally built differently from men; we can be shorter and lighter on the whole, which means a motorcycle's seat height and weight can be more problematic for us females than male riders.
All is not lost, though; there are still some awesome motorcycles on the market that will suit shorter ladies of all abilities, and you don't need to sacrifice performance, style, or power.
Let's take a look.
Honda Rebel 300/500/1100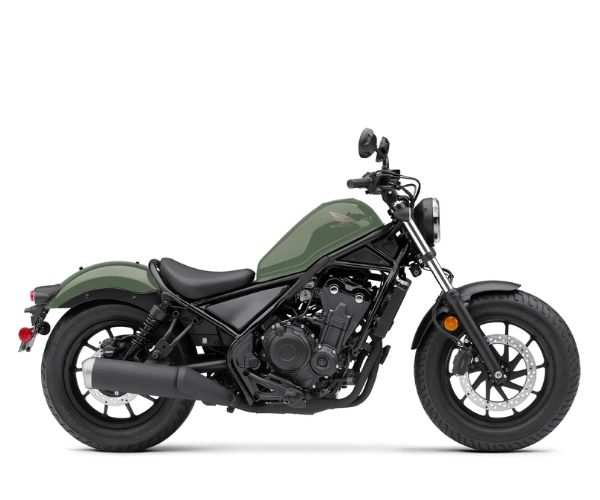 Specs:
Curb Weight – 364 lbs/ 408 lbs/ 487 lbs
Seat Height – 27.2"/ 27.2"/ 27.5"
Max Power – 25hp/ 48hp/ 81hp
Price – $4,749/ $6,449/ $9,499
Honda released the all-new Rebel in 2017, and since then, the line has taken off like a spark on gasoline; there are now 3 variations based on 3 engine sizes.
The core principles and design remain the same throughout the line.
The Rebel is a brutish, stunted bobber with the looks and attitude associated with the Rebel name.
The Rebel has a wonderfully low seat height for the shorter rider, regardless of which model you opt for.
The seating position is natural and comfortable, and the bars sit within easy reach. You also have the option to add on accessories like a forward riding seat to make reaching the controls even easier.
If you are a new rider, the Rebel 300, with its low manageable power, will be well suited for you to master your riding skills. The 500 provides more oomph to grow into if you are more confident.
The 300 and 500 are reasonably lightweight, and the low seat height makes maneuvering the bikes at slow speeds very easy.
Read: Honda Rebel 300 vs 500
When it comes to the 1100, the engine mass is well balanced and, therefore, still easy to control at slow speeds providing you are confident. You might find that the weight is held a little high, so you may need to engage your arm muscles more.
---
Kawasaki Vulcan S ABS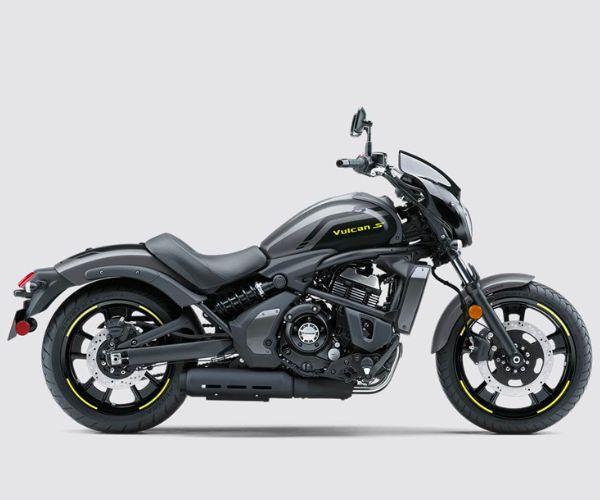 Specs:
Curb Weight – 498.3 lbs
Seat Height – 27.8"
Max Power – 54hp
Price – $7,349
The Kawasaki Vulcan S is the most comfortable cruiser I have ever ridden.
It lacks a little in style and a little of the grunty sound you would want from a cruiser, but that can be changed with aftermarket accessories and new pipes.
The greatest feature of the Vulcan S is Kawasaki's Ergo-fit which allows you to change and move around various components, including the seat, bars, and footpegs. This means the bike can be configured for the shortest or tallest riders.
The Vulcan S is a pretty heavy motorcycle, but the weight is carried low and balanced well, so if you can plant both feet firmly on the floor, paddling it around in a car park or a garage is relatively easy with little fear of dropping the bike.
The big seat is well-padded and extremely comfortable. Paired with the plush suspension, you are set for a comfortable ride with the right amount of power on par with a traditional old-school cruiser.
This is the cruiser for riders moving on from their first motorcycle who want more power and are ready to undertake longer rides.
---
Yamaha V Star 250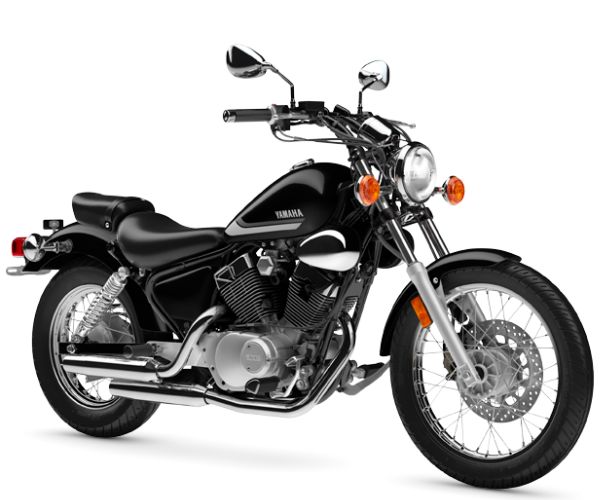 Specs:
Curb Weight – 324 lbs
Seat Height – 27"
Max Power – 21hp
Price – $4,699
Yamaha offers the V Star 250 to the lightweight cruiser segment. It is the perfect beginner motorcycle that will suit short women riders perfectly.
The low seat height, light weight, and neutral ergonomics make learning how to ride a motorcycle a breeze.
The motor puts out 21 horsepower, which is just enough for any situation you encounter on the road.
The V Star 250 has classic motorcycle styling, a cool retro vibe, and modern functionality. It is a great value option for the new rider.
---
Harley-Davidson Street Bob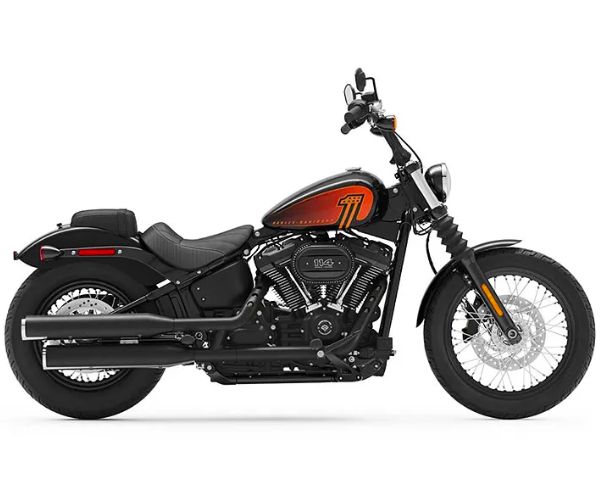 Specs:
Curb Weight – 654 lbs
Seat Height – 26.7"
Max Power – 105 hp
Price – $15,295
We can't talk about motorcycles without mentioning at least one from one of the oldest manufacturers in the world.
Admittedly, most of Harley-Davidson's lineup might be suited to a shorter rider based on seat height alone.
However, we have to consider that these V-twins are heavy machines, and front-mounted foot pegs found on some models as standard will not suit short riders.
So, we have selected the Street Bob as the best option for short women riders.
Firstly, the Street Bob has an extremely low seat height of 26.7", lower than the Honda Rebel line.
The seat is also relatively narrow, so even those with the shortest of inseams should be able to plant both feet firmly on the ground.
Mini ape bars come as standard, so you have a raised handlebar position that should suit most people, although you could change these as required.
Footpegs are mid-mounted, so you won't need to stretch to work your foot controls; the mid-mounted pegs also allow you to grip the tank for added stability and control over the bike.
One big downside to the Street Bob and any big V-twin is the weight.
The Street Bob weighs a massive 654 lbs which immediately sounds off-putting.
However, the weight is very low down, and once you get the bike off the side stand, you can feel how well-balanced the motorcycle is, pull on the throttle, and the instant pull of power will allow you to forget the huge chunk of metal you are sitting on.
Also read about the best Harleys for beginners.
Check it out on Harley-Davidson
---
Indian Scout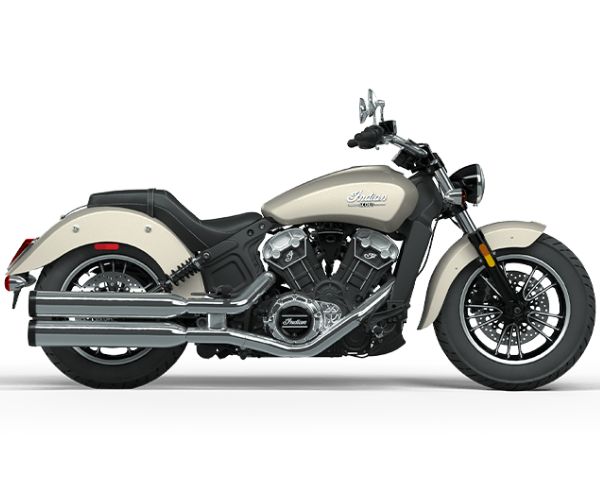 Specs:
Curb Weight – 561 lbs
Seat Height – 25.6"
Max Power – 100 hp
Price – $13,249
It wouldn't be right to mention Harley-Davidson without also nodding to Indian Motorcycles, especially when they have the Scout, an equally awesome V-twin suitable for shorter riders. 
See Indian vs Harley
The key factor for the Scout is its very low seat height of 25.6". This is a bike that anyone should be able to sit on and be comfortable reaching the floor on.
It is a fair bit lighter than the Street Bob, too, but by no means is the Scout a light motorcycle.
The chunky tires it sits on, and the long stretched-out wheelbase provide a very stable feeling when stationary. For example, being able to pop a foot down when doing a slow turn in a car park is reassuring and will be enough to get you upright again.
Similar to the Vulcan S, Indian provides a range of accessories so you can tailor the bike to fit you properly. There is a forward-reaching seat and forward-reaching bars so you can have maximum control of the ride.
Check it out on Indian Motorcycle
---
Kawasaki Ninja 400 ABS
Specs:
Curb Weight – 366 lbs
Seat Height – 30.9"
Max Power – 49 hp
Price – $5,699
While cruisers, thanks to their design making them naturally low in stature, lend themselves more easily to shorter riders, there are some other types of motorcycles to consider.
The first comes in the form of the lightweight sportsbike, the Ninja 400.
The Ninja line has been around since as early as 1984; it has become a legendary name in the world of sportsbikes, setting both records and standards for what can be expected from two wheels.
The Ninja 400 is loaded with the technology and DNA from Kawasaki's rich racing history, but it is all packed in a slightly more compact package making the Ninja name more accessible for shorter riders.
The 400 has a slightly taller seat height than some of the cruisers on the list, but it does have a very narrow body which means those with a shorter inseam will find it pretty easy to get their feet down.
The bike is also lightweight, so even if you can't quite get both feet flat on the ground, you will likely be pretty confident with just one foot and the tips of your toes on the other side.
---
BMW G310R
Specs:
Curb Weight – 362 lbs
Seat Height – 30.9"
Max Power – 34 hp
Price – $5,190
The light roadster from BMW is one cool-looking motorcycle, and as soon as you sit on it, you feel like you are sitting in the bike instead of on top of it.
You become one with the motorcycle.
The seat is wide but narrows towards the tank, so you can easily reach the ground but move around in the seat for comfort on those longer journeys.
The seating position is on the neutral, upright side of things with a slightly sporty edge. The bars are easy to reach without hunching over the tank and are nice and wide for control and comfort.
Slightly pulled-back footpegs sit pretty high up, so you can tuck your knees into the tank for maximum grip, and as a by-product of their design, they are super easy to reach.
Despite the fact the G310R is BMW's entry-level and budget bike, the G310R oozes premium quality with no component having been overlooked.
Check it out on BMW Motorcycles
---
Suzuki SV650 ABS
Specs:
Curb Weight – 437 lbs
Seat Height – 30.9"
Max Power – 75 hp
Price – $7,749
The Suzuki SV650 is a brilliant motorcycle, a smooth and capable machine that riding schools often use to teach new riders.
They are reliable and sturdy, have enough power without pulling your arms off, and are built with perfectly neutral and natural ergonomics in mind.
At 30.9", the SV650's seat height is on par with the Ninja 400 and the BMW, but it is another bike you sit into and has a narrow body, so it should be pretty accessible to most riders.
The riding position allows easy access to the footpegs and handlebars, so you will have complete control without needing to struggle.
The SV650 isn't the sexiest or most powerful motorcycle on the market, but it is a really good solid bike that is up for anything, whether it be your everyday commute or cross-state touring.
---
Ducati Icon
Specs:
Curb Weight – 408 lbs
Seat Height – 31.3"
Max Power – 75 hp
Price – $10,995
Ducati's scrambler line has gone from strength to strength as it has been one of the leaders of the modern retro trend in recent years.
The Ducati Icon is the most affordable and accessible version of the Scrambler.
It is agile, light, and fitted with a narrow flat seat for increased comfort. This will allow short riders to get their feet down easily.
The Icon is built with an upright riding position; wide bars are slightly raised for easier reach and ultimate control.
The footpegs are slightly pulled back for a sporty position that encourages spirited riding but equally makes it easier for those with a short inseam to reach them and control.
---
Triumph Speed Twin 900
Specs:
Curb Weight – 476 lbs
Seat Height – 30.1"
Max Power – 64.1 hp
Price – $9,695
Another leader of the modern retro scene was the emergence of the Triumph Street Twin, which made the Bonneville more accessible to riders on a stricter budget.
For 2022 the Street Twin has become the Speed Twin 900, and it retains all of that essential Bonneville DNA in a modern practical package.
Like the Ducati Icon, the Speed Twin is an upright roadster with ergonomics ready to inspire confidence in the shortest riders.
The Speed Twin 900 is still fairly heavy, and its weight is relatively high, so you will need to use your upper body strength during slow maneuvers and when coming to a stop.
---
Related