Motorcycle manufacturers have been releasing new models with cruise control.
Cruise control is a great way to keep your right hand from getting tired, especially on long drives. You can set it to maintain the desired cruising speed and, by using the throttle, change gears for better performance when driving on hills or going up a ramp.
In this article, we will be sharing 11 of our favorite bikes with cruise control.
Yamaha FJR1300
Curb Weight – 650 lbs
Open Dimensions – 87.8" L x 29.5" W
Fuel Capacity – 6.6 gal
Price – $17,999
The Yamaha FJR1300 Motorcycle with cruise control is a favorite among seasoned riders and new riders alike. This motorcycle has a fuel-injected, 4-stroke engine which makes it super powerful. It has a large windscreen and a headlight protector, making it perfect for rides at night. The cruise control can also be adjusted to the desired speed.
This bike has a 1298 cc engine, which delivers 141 horsepower. The FJR1300 can support speeds of up to 120 mph and also includes a rack for bags so you can take your belongings with you while riding.
---
Honda ST1300
Curb Weight – 730 lbs
Open Dimensions – 89.4" L x 36.8" W
Fuel Capacity – 7.6 gal
Price – $13,999
The Honda ST1300 is a semi-custom, full-fairing sport touring motorcycle. It has suspension travel both front and rear, dual 320 mm front discs with four-piston calipers, and a 290 mm rear disc with two-piston calipers. Its 1261 cc has a five-speed gearbox and includes the latest electronic control systems and processes.
The ST1300 motorcycle shares many of the classic lines of the X-Wing but doesn't use its chassis. The ST1300 uses a V4 engine and an aluminum frame to keep it as light as possible.
---
Yamaha Super Tenere
Curb Weight – 575 lbs
Open Dimensions – 88.8" L x 38.6" W
Fuel Capacity – 6.1 gal
Price – $16,299
The Yamaha Super Tenere ES Motorcycle is a Japan-made superbike that is designed for long-distance touring.
The first Super Tenere rolled out 11 years ago, and since then, the Tenere series has been in production for over 20 years. It is now regarded as one of the most popular touring motorcycles on the market today.
Its 110 HP, 1,199cc parallel-twin engine with the long-travel suspension makes it perfect for steep inclines and off-road riding.
It also features a fully adjustable suspension that can be controlled electronically. You can use it for any type of terrain, and if the electronic control system fails there is a secondary backup available.
---
Moto Guzzi California 1400 Touring
Curb Weight – 762 lbs
Open Dimensions – 90.2" L x 40.5" W
Fuel Capacity – 5.4 gal
Price – $18,490
The Moto Guzzi California 1400 Touring is a classic beauty. This bike has a V-twin engine and a shaft final drive. It can go up to 100 miles per hour and has a cruising range of 200 miles.
The bike comes in either red or black and has chrome accents. It also weighs approximately 700 pounds dry. This bike does not come with an ABS braking system, but it does come with front and rear suspension.
The cruise control in the Moto Guzzi California 1400 Touring comes in handy. When cruising on highways and interstates, this bike can go for miles without the driver feeling the need to hold on tightly.
This bike also has a comfortable seat that can accommodate riders of any height. Overall, it is a timeless classic that seamlessly combines comfort and power.
Read about Moto Guzzi's reliability.
---
Kawasaki Ninja 1000SX
Curb Weight – 513 lbs
Open Dimensions – 82.7" L x 32.5" W
Fuel Capacity – 5 gal
Price – $12,399
The Kawasaki Ninja 1000SX is a bike with a high-performance engine and an agile frame. It has a 1,043 cc inline four-cylinder engine, with smooth throttle response and crisp acceleration off the line. Additionally, the bike is designed to reduce vibration for an even smoother ride.
It comes with a 300 mm front and 250 mm rear disc size, which provides excellent braking power. It has an intelligent ABS that works silently and a manually adjustable suspension. This feature is not very common in this range of motorcycles, which makes it an appealing choice.
---
BMW F 900 R
Curb Weight – 465 lbs
Open Dimensions – 84.2" L x 32" W
Fuel Capacity – 3.4 gal
Price – $8,995
The BMW F900 R is a top-of-the-line, high-performance bike. It is designed for sport, touring, and long-distance rides.
The bike has a compact frame, and it comes in at only 465 pounds. The "R" here stands for race, and it is easy to see why. From the low engine position to the extreme lean angles, this bike was made to be corner-carving and grip-stretching, so it could easily take on steep terrain with confidence.
The best part is that the BMW F 900 R motorcycle is equipped with a cruise control system at an affordable price tag. When in cruise control, the throttle and braking will automatically adjust to maintain that speed. Moreover, it also comes with a range of safety features.
---
2021 Yamaha MT-09 SP
Curb Weight – 417 lbs
Open Dimensions – 82.3" L x 31.3" W
Fuel Capacity – 3.7 gal
Price – $9,399
The MT-09 SP motorcycle has an innovative new suspension system that will have you forgetting that this is a sportbike. The suspension front and rear are adjustable with different settings to fit your riding style.
This bike features a standard cruise control system for easier and smoother riding. The brake system consists of dual 298 mm front discs and a single 245 mm rear hydraulic disc, both equipped with ABS. It is also lightweight, which makes it easy to maneuver, quick to accelerate, and agile on city streets.
---
Kawasaki ZX-10R
Curb Weight – 456.4 lbs
Open Dimensions – 82.1" L x 29.5" W
Fuel Capacity – 4.5 gal
Price – $15,399
The Kawasaki ZX-10R is a racing sportbike that can reach speeds of up to 200 MPH. It has a 4-stroke, 998 cc engine with a 6-speed transmission. Its first version was released in 2004.
The updated version includes an inline four-cylinder engine with a compact displacement capable of producing staggering power. It is also equipped with ABS brakes, new graphics, and modifications to the suspension, which makes it one of the most desirable bikes on the market today.
---
Honda Rebel 1100
Curb Weight – 487 lbs
Open Dimensions – 88.3" L x 32.9" W
Fuel Capacity – 3.6 gal
Price – $9,299
The Honda Rebel 1100 motorcycle is a good choice for those who want to take their time and explore the world on two wheels, as this bike offers power, style, and comfort. It has a four-stroke engine with a displacement of 1084 cc and a form of liquid cooling.
It is equipped with a six-speed transmission, which makes it easy to shift gears even for beginners. The Rebel 1100 also provides plenty of travel for navigating over obstacles like potholes as the back wheel travel is four inches and fork travel is five inches.
---
Ducati XDiavel
Curb Weight – 487 lbs
Open Dimensions – 89.49" L x 36.93" W
Fuel Capacity – 4.2 gal
Price – $20,295
Ducati has updated its XDiavel range to make it Euro-5 compliant. They also introduced two new models, namely, the Dark and the Black Star. Both feature a range of different specs varying between them.
Its 1,262 cc engine provides 158 bhp with an impressive torque, which gives this bike enough power to conquer any terrain, whether on or off-road.
One impressive feature that makes this bike stand out from the competition is its daytime running light that automatically switches. Thanks to cruise control and plenty of power, the Ducati XDiavel motorcycle will make your rides easier than ever.
---
Triumph Rocket 3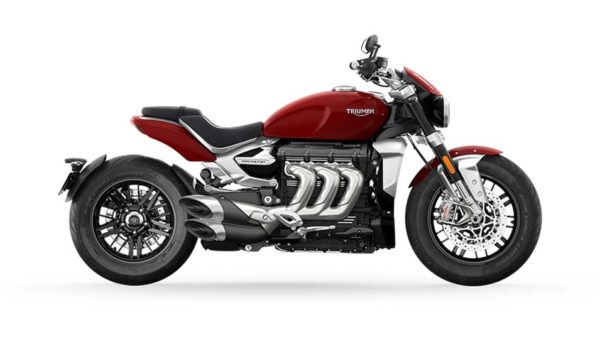 Curb Weight – 797 lbs
Open Dimensions – 98" L x 38" W
Fuel Capacity – 4.8 gal
Price – $21,900
The Triumph Rocket 3 has been recently redesigned for 2020 and now features more modern and aggressive styling. The bike, which was first unveiled at EICMA 2019, is powered by a 2,458 cc parallel-twin engine with 165 claimed horsepower. The Triumph Rocket 3 also comes with a fully adjustable suspension and can be customized to suit the owner's riding style or preferences.
It can go from 0-60 MPH in 2.73 seconds, which is remarkable, especially for an engine with three cylinders. The reduced weight and increased power make this motorcycle the most exhilarating yet from Triumph, providing an adrenaline rush like no other.
Check it out on Triumph Motorcycles
---