Whether it's cafe race, classic bobber, or a vintage motorsport, retro helmets just look cool.
Since retro motorcycle helmets have started to become popular, I'm always checking to see what new models the major brands come out with.
It's not all about style, though. You still need a safe helmet that fits well and is easy to take care of. These are the five best retro motorcycle helmets I've found.
Best Retro Helmet Overall
Bell Bullitt Helmet
The Bell Bullitt is a stylish yet modern and highly safe version of the original Bell Star of cafe race fame.
Best Retro Open-Face Helmet
LS2 Spitfire Helmet
A minimalist helmet in the classic bobber style, the LS2 Spitfire is great if you want the comfort of an open-face helmet with important features like a built-in sun shield.
Reviews of the Best Retro Motorcycle Helmets
---
Bell Bullitt Helmet
The Bell Bullitt tops the list because it's arguably the most retro. It's a throwback to the Star, Bell's first full-face helmet, which it released in the 60s.
With a round design and wide face shield, it harks back to the popular cafe racer helmets of that era. It even has multiple styling options with classic designs and the option to install a bubble face shield.
Of course, the Bullitt meets modern safety standards and includes modern technology to make it more comfortable than an old 60s helmet. For instance, it has a fiber composite shell that makes it lightweight but tough enough to meet DOT requirements.
The comfort is provided by strategically placed metal mesh ventilation, as well as a micro-suede interior that's removable and washable. You'll find that the temperature remains relatively comfortable inside. Altogether, these features make the helmet a good choice for year-round riding.
The primary issue with the Bullitt is the shape. It's designed for round oval heads. Since this is an uncommon head shape, it's a great find if you have a round head, but otherwise, this helmet might fit a bit strangely.
Read our guide to motorcycle helmets for round heads.
Finally, I want to mention the five-year warranty Bell includes with this helmet. That nearly covers the life of the helmet, so you know it's high-quality.
Pros:
60s retro style
Multiple design options
Lightweight
DOT approved
Metal mesh ventilation
Five-year warranty
Cons:
Less extensive ventilation
Small field of vision
---
LS2 Spitfire Helmet
The LS2 Spitfire is a straightforward open-face helmet that has the rounded streamlined look of classic bobber helmets.
Naturally, this doesn't have the protection of a full-face helmet and chin guard, but it's still on the safe side and DOT-approved. Most importantly, it has a quick-release chin strap that lets you or an emergency responder take the helmet off easily in an emergency without disturbing your neck.
One big advantage the Spitfire has over other open-face helmets is the built-in sunshield. You can combine it with goggles or glasses as needed.
Pros:
Classic bobber look
DOT approved
Quick-release chin strap
Built-in sun shield
Cons:
---
Nexx XG100 Helmet
The Nexx XG100 is my favorite on this list when it comes to pure style. I've chosen the Devon version, but be sure to check out the Racer Motordrome and Dragmaster versions, as well, if you're looking for a retro helmet.
The XG100 is also lightweight, just 3.23 pounds. Its ventilation isn't quite as elaborate as the Bullitt's, but it does have a vent at the chin that helps prevent fogging. Plus, you can remove and wash the anti-sweat lining to keep it fresh and help wick sweat to keep you cool.
One thing the XG100 has that the Bullitt doesn't is a removable peak. Unlike many models, it comes with the helmet, and you can attach it easily thanks to three easy snaps.
Pros:
Numerous retro styles
Lightweight
Removable anti-sweat lining
Included snap-on peak
DOT approved
Cons:
---
Biltwell Lane Splitter Helmet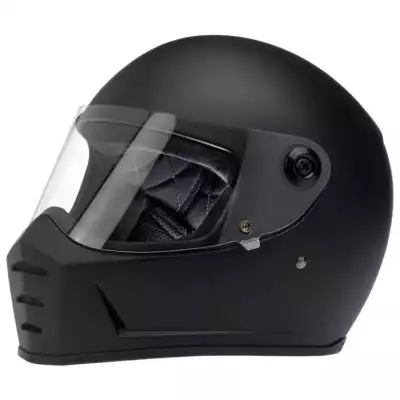 The Lane Splitter's retro design is more subtle than that of the Bullitt and XG100. You can see the 70s stig style in it, but at the same time, it clearly has an advanced modern design. This is most evident in the face shield, which is easy to lift, remove, and replace.
I also like the Lane Splitter's ventilation. Although it's lacking a top vent, the chin ventilation is pretty extensive, so fogging is much less of an issue with the face shield.
The chin bar includes the BioFoam cushioning, as well, which, along with the hand-stitched interior padding, makes the fit particularly comfortable. Just keep in mind that this is another "round oval" helmet that might not fit all riders correctly.
To make it on this list, the Lane Splitter had to be a safe helmet too. With an ABS shell, it's tough enough to meet DOT and ECE standards.
Pros:
Subtle retro design
Easily removable face shield
Anti-fog chin ventilation
BioFoam cushioning
DOT and ECE approved
Cons:
No top vent
Unusual head shape
Only two shell sizes
---
Highway 21 .38 Retro Helmet
The .38 Retro Helmet from Highway 21 is another good option if you want the freedom and comfort of an open-face helmet. It doesn't have the convenient sun shield of the Spitfire, but it does have a snap system for attaching a visor or face shield. On the other hand, it's quieter than the Spitfire and many other open-face models.
Overall, it's a sleek helmet with a round classic look. It's comfortable, too, and has a Coolmax liner and cheek pads. In other words, it's an ideal helmet for summer riding, keeping you cool and comfortable for long cruises in hot weather.
Pros:
Snap system for face shield
Quiet for open-face helmet
Coolmax liner
DOT approved
Cons:
No sun shield
Few color options
---
Buyer's Guide
Care, Considerations and Costs
---
Retro Designs
Retro helmets are those with a vintage design but modern technology. Thanks to advancement in the motorcycle helmet industry, they're often more comfortable and protective than the decades-old helmets they imitate.
"Retro" is a catch-all phrase and can refer to many different styles of vintage helmets. The one that's become especially popular lately—and the one that appeals the most to my personal tastes—is the classic cafe racer helmet. They hark back to 60s motorcycle culture and are full-face models with a round design and wide field of vision.
However, there are other designs out there:
Bobber and chopper: The bobber design has become ubiquitous on the American cruiser motorcycle scene, but this wasn't always the case. Back in the 40s, "bobbing" your motorcycle was characteristic of a specific and enthusiastic motorcycle subculture. Members of the subculture wore minimalist, low-profile half- or open-face helmets that matched their laid-back attitude.
Vintage racing helmets: Many consider the 60s and 70s to be the golden age of motorsports. Therefore, they imitate the helmets worn by professional riders during this time period, usually decorated with bold colors and complete with bubble shields.
Art Deco: More of a niche design, you may come across helmets that pay tribute to the Art Deco movement of the 20s and 30s. Usually, these are customized helmets that are streamlined like the vehicles of the early 20th century and feature stylizations reminiscent of the time period.
Safety and Protection
Retro or not, you want a helmet that will protect your head in case of an accident. The first thing to look for is whether it meets relevant safety standards. In the US, you need a helmet that meets Department of Transportation, or DOT, regulations. In some states, it's even legally required.
If you want more assurance, you can look for a helmet that has been tested by the Snell Memorial Foundation and received its certification, which you'll see listed as something like SNELL M2020. This certification requires more rigorous testing than the DOT standards and signifies a particularly safe helmet.
Besides certifications, you can also check for additional features that increase safety. In particular, check for emergency release buttons or chin straps. In case of an accident, moving your neck could lead to permanent injury, so these devices help emergency personnel remove the helmet while keeping your head still.
Temperature Regulation
Most riders prefer to jump on their bikes in the summer, but that means dealing with heat inside your helmet. Alternatively, if you commute or brave winter rides, you have to deal with cold wind.
Good helmets have adequate temperature regulation. For both full-face and open-face helmets, this comes in the form of ventilation that allows air to enter the front of the helmet and exit the back. This cools you off in the summer and removes humidity in the winter to keep temperatures normalized.
Another feature that helps with temperature regulation is a moisture-wicking inner lining. Regardless of the temperature outside, you probably sweat inside your helmet. If it's cold, the sweat could cool off and make you colder. If it's hot, wicking it away helps pull heat away from your body.
Visors and Face Shields
One of the great things about retro helmets is the return of the wide face shield and large field of vision. Some retro helmets now even have options to install bubble face shields like old racing helmets.
I recommend a wide face shield in general so that you have as much peripheral vision as possible. Additionally, sun shields are a huge benefit, as well as Pinlock inserts that help prevent fogging.
Final Thoughts
I love that vintage styles like the cafe racer helmet have come back into fashion. If you're looking for the best retro motorcycle helmet, I recommend the Bell Bullitt. If an open-face helmet is more your style, the LS2 Spitfire is also a cool classic bobber helmet.