I don't know about you, but safety is the whole reason I wear a helmet. So why not get the safest out there?
I always want a helmet with a SNELL safety rating, but I also look for several other features, including an emergency release system, noise reduction, and comfort.
Below you'll find the 11 helmets I found that maximize safety in 2023, as well as a buyer's guide discussing why I look for those features.
Best Overall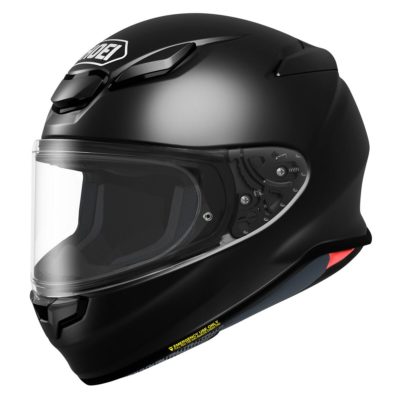 Shoei RF-1400 Helmet
High-end features on top of maximum safety.
This helmet has just about everything you could ask for in addition to a protective shell and emergency release system
Best Budget Option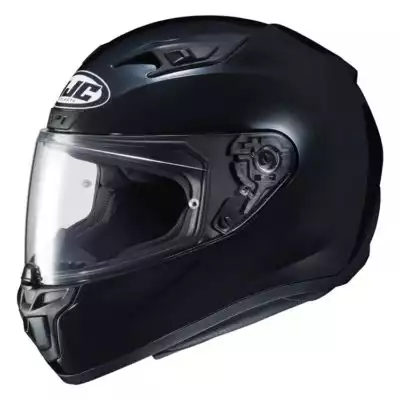 HJC i10 Helmet
Commute safely at a lower price
Protect your eyes, ears and head while staying comfortable on your ride to work or school.
Reviews of the Safest Motorcycle Helmets
Shoei RF-1400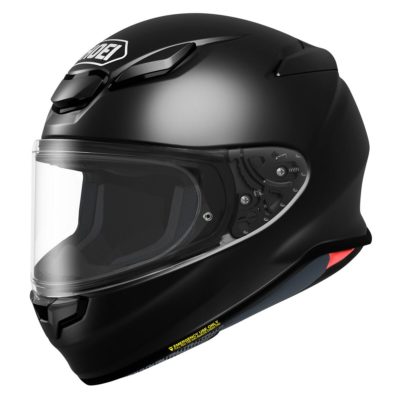 Shoei's RF-1400 helmet was a shoo-in for my top spot because, in addition to the high SNELL-rated safety, it features many other top-shelf features you're unlikely to find on other helmets even ones that cost considerably more.
As for safety, Shoei puts a lot of R&D into developing safe shells, culminating in the SNELL safety testing process. Specifically, the RF-1400's shell is made of a matrix of fiberglass and organic carbon fibers on top of a foam liner that makes it lightweight but capable of absorbing violent impacts.
However, the RF-1400 goes above and beyond simple impact protection. My favorite safety feature is the Emergency Quick-Release System, or EQRS, which allows first responders to remove the helmet without moving the head or neck in the case of an accident. This is essential for preventing permanent injury in the case of neck damage.
Other safety features include a secure chin strap for a snug but comfortable fit and four different shell sizes. Getting the right fit is important for providing adequate protection, allowing the helmet to absorb impacts without bouncing around.
The RF-1400 also has noise reduction to protect your ears while allowing you to hear traffic sounds around you. Similarly, the CWR-F2 face shield with Pinlock lens capability keeps your field of vision clean.
Besides safety, I like the RF-1400 for the fully removable and washable inner lining, an essential feature if you sweat as much as I do under a full-face helmet. Similarly, the ventilation on this model is top of the line, passing air all around the helmet for a more comfortable riding experience in any weather.
Pros:
Both safety and advanced features for a great price
Lightweight but tough shell
Emergency Quick-Release System
Excellent fit
Noise reduction
CWR-F2 face shield
Ventilation and removable lining for comfort
Cons:
---
Arai XD-4
The Arai XD-4 is a dual-sport helmet designed to serve motocross purposes and street riding. This is a big part of why it's so safe, with features that protect against the dangers of both off-road and highway use.
Unique safety features include the extended chin guard and removable visor peak. These are typical on motocross helmets because they protect the face from direct contact with the ground when falling over the handlebars. With this dual-sport model, these features are more subdued but still provide an extra layer of protection for street riding.
The XD-4 is one of Arai's safest models, one of few they decided to put through the rigorous SNELL testing process. A lot of focus has been put into the fit of the shell and inner lining so that it provides superior protection while being aerodynamic for motocross purposes and overall speed.
Of course, the XD-4 has several design features that make it great for sports and adventure riding. These include improved ventilation with more exhaust ports and a chin vent for maximum airflow.
Plus, the interior lining is removable and compartmentalized with a separate head liner, cheek pads, etc. This makes it comfortable in even the roughest of conditions.
Pros:
Dual sport
Removable visor peak
Aerodynamic for increased speed
Multiple vents for better airflow
Removable inner lining
Cons:
---
HJC i10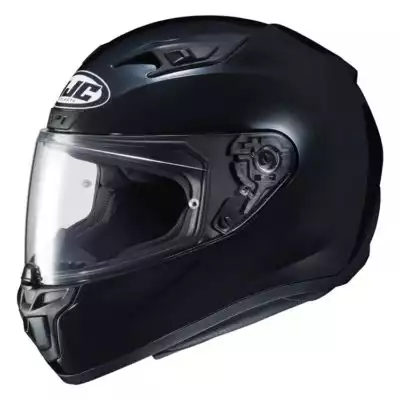 The i10 is arguably the best budget option for a safe helmet because it has quality features and meets the most recent safety standards, including SNELL-M2020. This is partly due to the multi-density EPS liner that's capable of absorbing even direct impacts.
Unfortunately, the shell is made of polycarbonate, which, while plenty tough, can be a bit heavy. I wouldn't recommend this helmet for tourers, but for those just using it to commute, the heavier material allows you to save some money but stay safe at the same time.
Another great thing that stands out for a budget model is the noise reduction. This comes from the aerodynamic shell shape and the CAD technology that minimizes vibration.
The i10 is comfortable with a SuperCool moisture-wicking inner lining and a ventilation system with a chin bar intake and exhaust vents on the back and sides. The face shield offers 95% UV protection and is easy to replace.
Pros:
Great value for highest safety rating
EPS liner absorbs impacts
CAD tech for noise reduction
SuperCool moisture wicking
Advanced ventilation system
Cons:
---
Shoei RJ Platinum-R
Just because you want an open-face helmet doesn't mean you don't want it to be safe. In the case of the RJ Platinum-R, you get a SNELL-M2015 safety rating plus the comfort of an open-face helmet on top of extra features usually reserved for full-face models.
Like on the RF-1400, the high safety rating is thanks to the shell made of Shoei's extensively researched matrix. This is lightweight while still protecting the head in an accident.
On top of safety, this model takes comfort to the next level, probably the whole reason you're looking for an open-face helmet. The inner lining allows for more airflow, and there's even a full-face-style ventilation system, including intake and exhaust vents.
Pros:
Lightweight, protective shell
Dual-layer inner lining
Very comfortable
Advanced ventilation system
Cons:
---
Arai Corsair X
Arai's Corsair X is one of the pricier models on my list, but in my opinion, it's well worth it if you want high-quality features that push the limits of modern helmet technology.
Just take a look at the shell, and you can tell that, on top of looking sleek and professional, it's been meticulously designed for safety.
Specifically, pay attention to the smooth curvature of the shell on top of the various pods sticking out. Together, these cause the helmet to roll more upon impact so that the shocks are glancing instead of direct.
The shell is made of a mixture of carbon and synthetic fibers held together by an advanced resin. This is Arai's proprietary PB-SNC2 shell, and it's one of the safest around while still incredibly lightweight.
Pretty much everything else about this helmet is advanced too. That includes the face shield, which has a de-mist latch system that allows more a small crack and a Pinlock insert.
Additionally, the ventilation has been improved over past models and is easily adjustable with gloves. Lastly, an emergency release tab feature for extra safety allows first responders to remove the helmet without moving the neck.
Pros:
Sleek design
VAS and R75 shape redirect impacts
PB SNC2 shell is lightweight but tough
Highly adjustable face shield
Adjustable ventilation system
Emergency release tabs
Cons:
---
Simpson Outlaw Bandit
Simpson is a small, reliable brand that doesn't have a huge line, but they are safe and stylish. The Outlaw Bandit is no exception.
It meets DOT safety standards and the SNELL-M2015 rating, which was the most recent and rigorous SNELL standard until the newest M2020 rating. A big safety feature that stands out for me is the extended chin guard, which protects your lower jaw in an accident. You wouldn't want to damage your best feature.
Other than safety, I like the Outlaw Bandit because of its appearance. It's one of my favorites on the helmet market and looks simple and modern. You can even get it in a wide range of color choices, including red, blue, and gold.
One thing to be aware of is the shape of this helmet which is fairly round and not ideal for long or narrow heads. This is partially because of the improved aerodynamic design, though, so if your head does fit, you can really take advantage of this helmet on the track.
Pros:
Extended chin guard
Sleek style in multiple colors
Aerodynamic design with minimal lift
Cons:
Round fit
Minimal noise reduction
---
Scorpion EXO-R420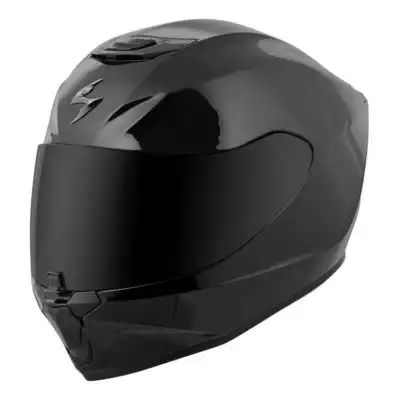 The EXO-R420 is another great budget helmet that doesn't have any expensive frills but still meets the highest safety standards and will keep you safe.
Now, this particular model is still SNELL-M2015 rated. SNELL recently came out with their M2020 rating, which Scorpion will probably run future models through, but for now, be confident that the EXO-R420 has gone through one of the most rigorous safety testing processes out there.
Other safety features include a very wide field of vision so you can see traffic and both sides of you without having to look away from the road in front.
Quick-release tabs allow first responders to more easily remove the helmet without moving your neck and the face shield with 100% UV blocking also protects your eyes.
I would say the biggest downside to the EXO-R420 is the fit. It's fairly generic, coming in sizes of XS-3XL, though the 3XL isn't SNELL rated. These will work for most people, but I've got a weirdly shaped head with an Annotolian bump in the back, so it can get uncomfortable. Keep that in mind.
Otherwise, the EXO-R420 is pretty comfortable thanks to KwikWick fabric in the lining and an extensive ventilation system. It has pockets for a communication or speaker system as well.
Pros:
Budget price
Wide field of vision
Quick release tabs
100% UV blocking
KwikWick fabric
Cons:
Old SNELL-M2015 rating
Generic fit
Minimal noise reduction
---
Arai Signet-X
Yes, another Arai. The fact that I included three on my list should tell you just how safe and reliable these helmets are.
The Signet-X specifically is a standard full-face helmet that's a bit less expensive than the Corsair X. It also has a PB shell made of a lightweight laminate construction that earns it the latest SNELL-M2020 rating.
I mostly attribute the Signet-X's lower price to its less extensive ventilation system, though it still has adjustable ducts that provide a good amount of airflow. If you live in a really hot climate like the Deep South, you might want to go with the Corsair X, but for moderate climates, the Signet-X can save you a little money but still give you the same great Arai features.
For example, the Signet-X also has emergency release tabs and a face shield with Pinlock inserts and the ability to crack it open in a de-mist position. The inner liner is fully removable, so you can keep the helmet clean and fresh.
Pros:
Lower price for top-shelf Arai
Lightweight laminate PB-SCLC shell
Emergency release tabs
VAS face shield system with demisting
Fully removable interior
Cons:
Less effective ventilation than other Arai models
Few color options
---
Bell Race Star Flex DLX
You can tell by the Race Star's aerodynamic shell that it's made for racing. If you like going to the track, this is my recommendation.
Even for everyday use, though, the shape allows for smooth riding when sitting perfectly upright. That's not just comfortable. It's safer, too, because you feel more stable on the bike.
The shell itself is one of the most advanced on the market, made of 3K carbon fiber that's lightweight but tough enough to absorb impacts even at high speeds. Plus, the foam liner is divided into three layers of different densities, which allows it to absorb impacts of varying angles and intensity, so you're safe in all situations.
That same foam liner is comfortable, too, because it slowly conforms to the shape of your head. Additional comfort features include an interior lining made of CoolJade, sweat-wicking fabric, and cushioned cheek pads that reduce noise and vibrations.
Those cheek pads are also magnetic, which, for one, allows you to remove and wash them, but more importantly, helps first responders take the helmet off without disturbing your neck.
Pros:
Racing-quality aerodynamics
3K carbon fiber shell
Multi-layered foam liner
Foam conforms to head shape
Sweat-wicking interior
Magnetic cheek pads
Cons:
---
Sedici Strada II Primo Carbon Prestigio
As Revzilla's in-house brand, Sedici can provide many high-quality features at a much lower price. In the case of the Strada II, it's a heavily protective 6K carbon-fiber helmet that meets SNELL-M2020 standards.
Besides being safe, the Strada II rivals other, much more expensive models in comfort and design. Though it's a bit heavier than most top-shelf models, it's still fairly lightweight.
The aerodynamic shape gives you a low profile and higher stability. The adjustable inner lining and padding let you maximize the comfort of the fit while blocking out wind noise.
Unfortunately, the biggest downside of in-house brands is the limited access to maintenance, parts, and service. That's rarely a big deal, but it is something to keep in mind if you go with Sedici.
Pros:
6K carbon fiber shell
Low, aerodynamic profile
Adjustable inner lining
Maximum noise reduction
Cons:
In-house brand less accessible
Somewhat heavy
---
Bell SRT
Honestly, the Bell SRT has a kind of boring look, but for me, that's always been a lower priority after safety, comfort, and, of course, price. This helmet maximizes these other features, meeting SNELL-M2015 standards at a low price.
Granted, the low price is due to the fiberglass construction, a bit heavier than carbon fiber or composite designs, but otherwise, it's very comfortable. It comes with a removable chin curtain and cheek pads attached with both snaps and a plastic liner that provides a soft but secure fit.
For the most part, the SRT is just a simple helmet that keeps you safe without any extra, expensive frills. The ventilation system is basic but effective, and the face shield is easy to use. If you're new to riding or need something safe for your daily commute, this helmet is a solid choice.
Pros:
Great value
Removable chin curtain and cheek pads
Easy to use
Cons:
Boring look
Few extra features
Heavy
---
Buyer's Guide
care, considerations, and cost
---
There are many factors that contribute to a helmet's safety. These are the ones I considered when making my list and that you should consider when deciding on a helmet:
Safety Ratings
If you're an American motorcyclist, there are two main safety ratings to pay attention to:
Department of Transportation (DOT): This is the most basic rating given if a helmet meets standards set out by the US government's Department of Transportation. In many jurisdictions, a helmet with this rating is required. It provides the minimum of safety in case of a crash.
Snell Memorial Foundation (SNELL): This organization provides a much higher set of safety standards than DOT, and helmets that achieve this rating go through rigorous testing. The most recent and safest rating for motorcycle helmets is the M2020, the previous being the M2015. All helmets on my list have a SNELL rating since this suggests the highest level of safety on the American market.
Regardless of where you buy your helmet, you may also see ratings based on European or British testing systems:
Economic Commission for Europe (ECE): This is a rating similar to DOT for the EU. You may see it on a helmet. Just know it means it meets the minimum requirements for safety in Europe.
Safety Helmet Assessment and Rating Programme (SHARP): This is a safety standard used in the United Kingdom to improve safety and save lives on British roadways.
Emergency Release
Many of the helmets on my list include an emergency release in some form or another.
Usually, this consists of quick-release tabs that allow the fast and easy removal of the interior lining and cheek pads. But it could also involve a removable neck roll or another proprietary release system.
These are important for your safety. In the case of a severe accident, it's imperative that your neck not be moved in case of neck injury. Moving it could permanently damage your spinal cord.
For this reason, first responders and emergency medical personnel need to remove your helmet without moving your neck. Emergency release systems allow that.
Noise Reduction
Noise reduction is an often overlooked aspect of helmet safety. For starters, a snug fit that minimizes wind noise with an inner lining that dampens sound protects your ears from damage due to long-term exposure to loud noises, damage that can often lead to conditions like tinnitus.
You want to be able to keep listening to the same five 90s songs over and over again on Spotify, right?
Moreover, adequate noise reduction keeps you safe by helping you hear important traffic noises. By limiting white noise, you can notice horns honking or tires screeching more easily, so you're more aware of your surroundings.
Related:
Face Shields
UV face shields contribute to safety by protecting your eyes and skin over the long term.
More immediately, you should pay attention to the range of vision provided by a helmet's face shield. A wider field of vision lets you see cars and objects in your periphery, essential for avoiding accidents.
Comfort
Of course, you want a comfortable helmet, but you might be thinking, what does this have to do with safety?
A fit that's snug but not too tight means the helmet will be able to absorb the impact of a crash without bouncing around. Make sure you get a helmet that matches your head shape and has a soft, adaptive inner lining.
In a similar vein, you also want a comfortable helmet because you'll be more likely to wear it. For example, if your helmet has poor ventilation and overheats in the summer, you may be tempted to leave it at home for a quick ride to the supermarket.
Related:
Final Thoughts
For maximum safety with great features and comfort, my top recommendation is the Shoei RF-1400. If you're on a budget but still want safety, take a look at the HJC i10.