Many dyed-in-the-wool bikers would not be seen dead on a scooter. But what about scooters that have been designed to look like motorcycles? Would that change their minds?
Whatever your thoughts on scooters, they have changed dramatically over the past 30 or 40 years.
The Maxi-Scooter has larger displacement engines and rides more like a motorcycle.
Let's have a look at 7 scooters that look like motorcycles. 
Suzuki Burgman 400
Essential Stats
Price New: $8499
Power: 32 bhp
Top Speed: 96 mph
MPG: 70
Weight: 480 pounds
ABS: Yes
Traction Control: Yes
Why the Suzuki Burgman 400?
Although Honda released the CN250 Helix long before the Burgman, it is the Suzuki that has stood the test of time. The Maxi-Scooter has been in continuous production since 1998, starting with a 250 version, quickly followed by the 400cc model in 1999.
The Burgman has gained a considerable following, including several forums such as Burgman USA, and it is popular across the world. Easy to ride, fast and comfortable, it appeals to a different kind of rider.
Engine
Powered by a 385 cc liquid-cooled single, the Burgman 400 was surprisingly powerful on the move. The well-tried single-cylinder engine pushed out 32 horsepower at 7600 rpm and a useful 24 lb-ft at 6000 rpm. Linked to a CVT automatic transmission and a host of engine efficiency systems, the big Suzi makes it easy to cruise along at 70 mph.
Chassis
The latest Burgmans feature a 15-inch front wheel and 13-inch rear rim, enhancing stability and ride comfort. Connected by motorcycle-style 41 mm telescopic forks and a mono-shock rear, you get excellent handling and maneuverability. Around town, you'll be hard pushed to match the Burgman's agility and acceleration.
ABS and traction control as standard add valuable safety features.
Is it for You?
The Burgman could be just up your street if you want a hugely practical, exciting maxi-scooter that won't break the bank. 
---
Yamaha XMax 300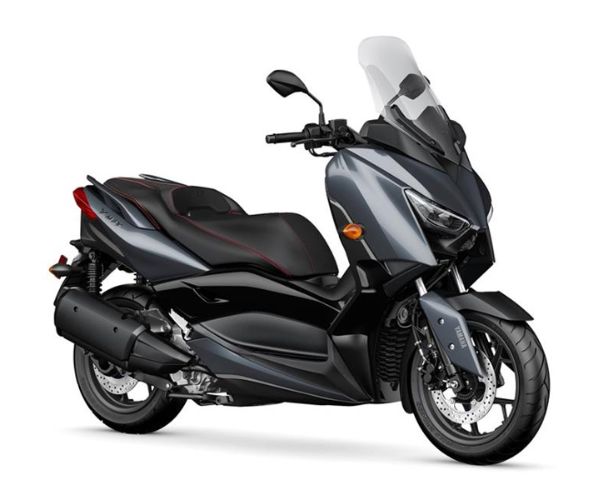 Essential Stats
Price New: $5799
Power: 28 bhp
Top Speed: 85 mph
MPG: 76
Weight: 370 pounds
ABS: Yes
Traction Control: Yes
Why the TMax?
It's a crying shame that TMax 500 is unavailable in the US. The big TMax has taken the Maxi-scoot market by storm all over Europe and beyond. Yamaha USA has decided you can only get the 500's smaller brother, featuring a 292 cc single cylinder engine. 
Engine
Despite being under 300 cc, the XMax zips you around at a surprising rate, pushed along by almost 28 bhp. Thanks to being 110 pounds lighter than the Burgman 400, it just about keeps up except for top speed, but these bikes aren't about outright speed in any case. 
Chassis
Larger 15-inch front and 14-inch rear wheels help give the XMax a great stable feeling without sacrificing the flickability we all associate with scooters. ABS-assisted, powerful brakes and quality suspension make the scoot fun to ride.
Is it for You?
The angular, aggressive bodywork tries to hide the fact it's a scooter. It will always be a big scoot, of course, but the Yamaha is worth a look if you're moving from motorcycles and want something close to a bike's feel.
---
Honda PCX
Essential Stats
Price New: $3899
Power: 16 bhp
Top Speed: 85 mph
MPG: 100+
Weight: 288 pounds
ABS: Extra $199
Traction Control: No
Why the Honda PCX?
Honda's PCX, either with or without the optional ABS, is a great entry-level route into the maxi-scoot world. It may only have a 156 cc engine, but at just 288 pounds, the PCX has plenty of power for round-town riding. 
Engine
The single-cylinder four-stroke engine produces a reasonable 16 bhp, so it's not going to frighten many people. It just gets on with the job. Smooth power with Honda's V-Matic belt drive taking care of the power delivery.
Chassis
Compared to most motorcycles, all the chassis components are pared down to save weight. The front forks are a spindly 31 mm, the front wheel is 14 inches, and the back is 13 inches. While it makes the bike nice and agile, smaller wheels don't cope with potholes so well. 
Is it for you?
If you're looking for a cheap maxi-scoot that looks the part, is lightweight and fast, then Honda's PCX could be just right. I recommend spending extra dollars on the ABS version, but it's still only just over $4000.
---
Honda ADV150
Essential Stats
Price New: $4299
Power: 14.5 bhp
Top Speed: 80 mph
MPG: 100+
Weight: 294 pounds
ABS: Yes
Traction Control: No
Why the Honda ADV150?
Compared to the well-rounded PCX, the ADV150 has been given a much stronger style. Under the more aggressive and angular skin, there are some significant changes. The engine has shrunk to 149 cc, but the suspension has gained more travel, and ABS is fitted as standard.
Engine
With a reduction in cc, the power has dropped to 14.5 bhp, and combined with a weight gain of 6 pounds, the top speed is down a little. That said, it's a revvy little engine and fun to get the most out of. 
Chassis
Although ABS is a standard fitment on the ADV150, the PCX is still cheaper even with them added as an optional extra. But the ADV150 gains longer travel suspension, with 5.1 inches up front and 4 inches on the back.
Is it for you?
Performance-wise, between the PCX and ADV150, there's not much to choose between them. If you prefer the more aggressive ADV150 styling, go for that. The longer suspension travel will also soak up the bumps better, so that may be a consideration.
---
Kymco AK 550i
Essential Stats
Price New: $9899
Power: 53 bhp
Top Speed: 120 mph
MPG: 55
Weight: 462 pounds
ABS: Yes
Traction Control: No
Why the Kymco AK 550i?
Kymco is very well known for its huge range of small, cheap scooters, and they've put all that experience into producing the AK 550i maxi-scoot. It looks great, I think. It's powerful and has excellent chassis components. As an alternative to a motorcycle, this is something I might consider. But probably not until I can't get my leg over a "proper" motorcycle seat. 
Engine
The Kymco's parallel twin, 550 cc four-stroke engine produces a respectable 53 bhp at 7500 rpm. Add a strong torque figure of 41 lb-ft at just 5500 rpm, and the 550i can certainly hustle. 
Chassis
The chassis components wouldn't be out of place on a small sports bike. Up front are 41 mm upside-down forks with radial disc brakes plus ABS front and back. Both wheels are 15 inches, and there are decent tires available to allow you to explore the handling. The front tire is 120/70, with a substantial 160/70 on the rear.
Is it for you?
For just under $10k, you get something very close in performance to many smaller motorcycles but with all the advantages of a scooter. If age is finally catching up, and you want something comfy but with a bit of performance, give the Kymco a chance. You might be pleasantly surprised.
---
BMW C 400 GT
Essential Stats
Price New: $8245
Power: 34 bhp
Top Speed: 86 mph
MPG: 80
Weight: 472 pounds
ABS: Yes
Traction Control: Automatic Skid Control
Why the BMW C 400 GT?
The BMW is a direct competitor to the Burgman 400, with similar pricing, power weight, and speed. What you get as an extra is the BMW brand, which you may or not consider a benefit!
It also looks great, with a brilliant TFT display, interconnection, and handlebar display controls. You can link your audio and mapping to the central display for easy navigation and sounds on the move.
Engine
Although billed as a 400 cc in the model name, it's a typical BMW, and the actual engine size is 350 cc. It's not a patch on my first big bike, the legendary RD350 YPVS, but for a big scoot, it has a goodly amount of power. 
Chassis
BMW decided to stick with conventional front forks, which for this standard of scooter is probably a good move and helps to keep the price down compared to the Kymco, which is over $1600 more expensive. The BMW's forks are mid-range at 35 mm and perfectly adequate. 
Is it for you?
The BMW is undeniably a class act, bringing BMW quality to the maxi-scoot market. It's a direct competitor to the Burgman 400, and I prefer the looks of the BMW over the Suzuki.
---
Suzuki Burgman 200
Essential Stats
Price New: $4999
Power: 18 bhp
Top Speed: 80 mph
MPG: 94
Weight: 359 pounds
ABS: Yes
Traction Control: No
Why the Suzuki Burgman 200?
Built around the same basic design as the hugely successful Burgman 400, the smaller version has the same characteristics in a lighter package. Around 129 pounds lighter than the bigger bike, the Burgman 200 is easy to handle but with plenty of power to get you away from the stop sign drag race.
Engine
The 200cc single-cylinder four-stroke puts out a claimed 18 bhp and 13 lb-ft of torque. Plenty for urban traffic, and even out on faster routes, you'll have little trouble keeping up with the traffic flow.
Chassis
The 200 makes do with small wheels; a 13-inch front and 12-inch rear. While this gives excellent agility, smaller wheels are not so great on bumpy roads or as stable as larger rims. That said, the Burgman handles everything you throw at it, with the plush suspension soaking up the bumps.
Is it for you?
The Burgman 200 is for anyone looking for a maxi-scoot that generally lives in town, but you want more power and road presence than a standard scooter.
---
Should you buy one?
Many bikers still find it challenging to consider maxi-scooters as an alternative to a motorcycle.
And it's all down to image!
See our article comparing motorcycles vs scooters.
But the current crop of maxi's offers brilliant performance and unmatched comfort compared to many bikes. If you can put up with the inevitable mickey taking, you'll be the one laughing. In the end, it's another biker on the road, and that can't be a bad thing.