The minibike market has exploded recently, with the Honda Grom and Benelli TNT 135 representing two of the most popular models.
While they superficially look pretty similar, each bike stands out in different areas. I've decided to compare them to see which is the better choice depending on your situation.
Honda Grom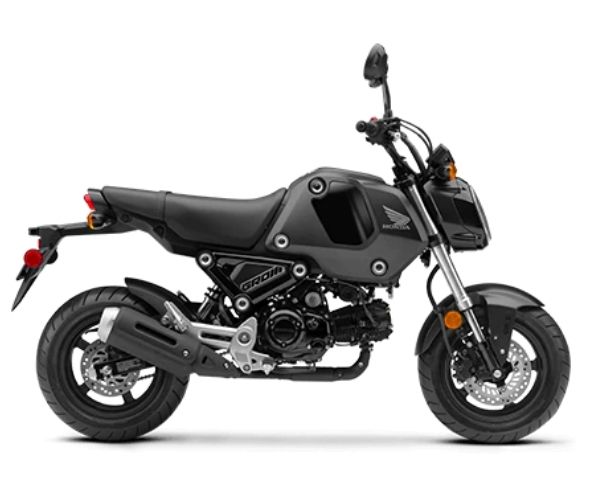 People love the Honda Grom. Released in 2014, it's one of Honda's best-selling models and the winner of Motorcycle USA's Motorcycle of the Year Award.
It's affordable and fun, but it's also highly customizable. There are many ways to improve it with aftermarket parts for performance and style.
With a small but powerful 125cc engine and excellent handling, the Grom has come to define the minibike market.
A lot of companies have tried to imitate it, and while many of them have been successful, the Grom still seems to be getting better and more popular, with features including:
125cc air-cooled, single-cylinder engine
56 mph top speed, potentially – read about the Groms' top speed
10 hp at 7,000 rpm
134 mpg fuel economy
4-speed manual transmission
Inverted front suspension with 3.9 inches of travel
Rear mono-shock suspension with 4.1 inches of travel
Front and rear disc brakes
Read our full Honda Grom review.
Benelli TNT 135
The Benelli TNT is regarded as one of the best Honda Grom clones and one of its biggest competitors.
While much of that is simply due to the lower price point, people also like it thanks to the powerful 135cc motor that produces more horsepower and a higher top speed than the Grom, as well as other features like:
135cc oil-cooled, single-cylinder engine
70 mph top speed
11.3 hp at 8,500 rpm
100 mpg fuel economy
5-speed manual transmission
Inverted front suspension with 4.7 inches of travel
Rear adjustable shock suspension with 5 inches of travel
Front and rear disc brakes
Honda Grom vs Benelli TNT Head to Head
Looks and Customization
Winner: Grom
I like how the TNT looks, especially since it has that minibike appearance with a slightly larger motor. That said, you just can't beat the classic monkey bike design of the Grom.
More importantly, the Grom has way more possibilities for customization. Performance upgrades are plentiful, and you can adapt the bike to your tastes and preferences.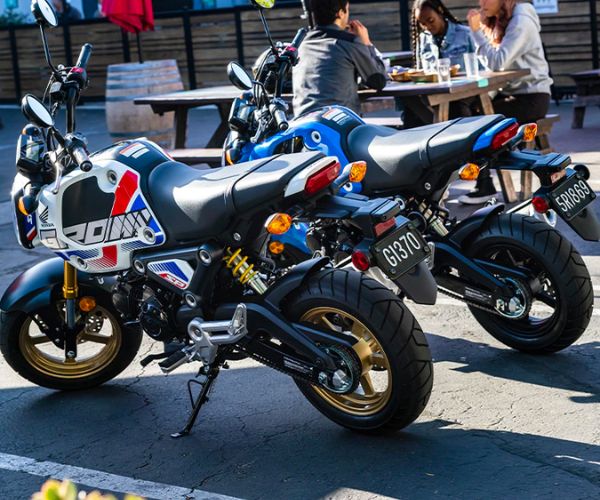 Price
Winner: TNT
The Benelli TNT is simply less expensive than the Grom. While the 2022 TNT has an MSRP of $3,199, the Grom's is $3,399 or as much as $3,599 with ABS.
This may be surprising since Benelli is an Italian motorcycle company, and European manufacturers are usually known for being more expensive than their Japanese counterparts.
However, in this case, Benelli was bought out by the Chinese company Qianjiang Motorcycle in 2005. As a result, the TNT is produced at a low cost in Wenling, China.
Handling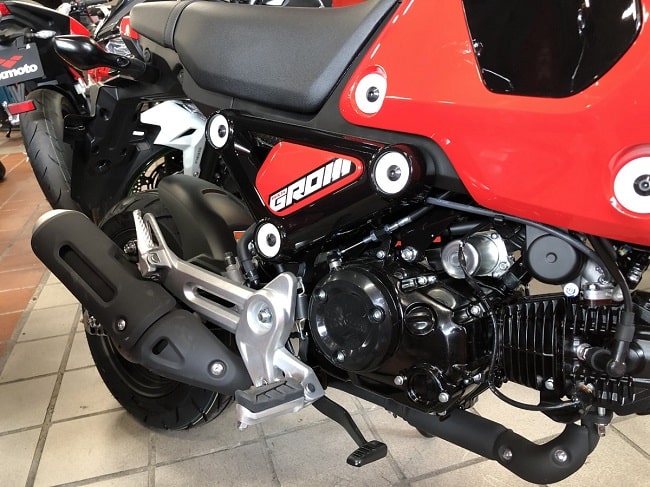 Winner: Grom
While the TNT has great suspension with even more travel than the Grom, it's much heavier and ultimately loses out on handling.
Specifically, the TNT weighs about 267 lbs versus the Grom's 227. Since you're probably looking for a minibike to have some fun with its agility and maneuverability, this is a big downside to the TNT.
Speed and Power
Winner: TNT
The TNT has a bigger motor and therefore gets a higher top speed. It can hit 70 mph, so you can use it on the highway in some places.
It also produces more horsepower and has better acceleration that you can better utilize thanks to the five-speed transmission, though later Grom models also have this feature.
Fuel Economy
Winner: Grom
The Grom is well-known for its fuel economy. Compared to the TNT, it gets 134 mpg, which is about 33% more than the TNT's 100 mpg.
The TNT has a larger, more powerful engine and heavier frame, but the Grom's excellent fuel economy makes more sense for a minibike.
Standout Features
TNT: Oil-Cooled Engine
Unlike most minibikes, the Benelli TNT has an oil-cooled engine.
While this somewhat decreases its fuel economy and increases its maintenance costs, it makes the TNT more suitable for use over long periods and therefore commuting.
Since it also has a larger 135cc engine, this makes the TNT one of the better bikes in the class for use as a practical means of transportation and not just a toy.
Grom: ABS
The Grom comes with an ABS version, while the TNT does not. Far from a trivial feature, ABS is a big deal, especially for a minibike you will be playing around with and pushing limits. The Grom's ABS means you can brake shorter and safer.
Conclusion
The Honda Grom and Benelli TNT 135 are both exemplary minibikes that are agile, fun, and affordable, allowing you to get creative and try new things.
However, since they differ in a few key features, each might work better for certain people and situations. These are my recommendations:
For new riders, even those new to minibikes, I recommend the Grom because it's lighter weight and more accessible.
If you want to use your minibike for some mild commuting, go for the TNT since it has a bigger, oil-cooled engine and a higher top speed.
For those who want to get creative and personalize their bike, nothing beats the Grom regarding customization.
The TNT has a slightly lower price point if you're on a budget.
That said, the Grom gets better gas mileage, so if you're going to ride a lot, it may be more economical.
If you see yourself trying out new tricks and want to maximize safety, I recommend the Grom, specifically the ABS version.