I grew up with the yearly Bikes, Blues & Barbecue festival right in my backyard. Along with the sights of sparkling chrome and the sounds of rumbling choppers, there was a particular… smell.
There's no way around it.
Even in September, when the festival takes place, it gets hot under motorcycle gear, especially the helmet.
A biker festival is one thing, but no one wants to show up to a meeting with their boss dripping sweat.
One of the best ways to avoid this is with a good ventilated helmet. Airflow inside it can keep you cool and dry. Here are six of my favorites, along with some pointers on choosing the right one for your needs.
My Recommendation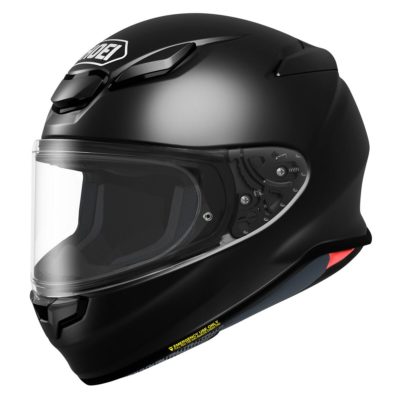 Shoei RF-1400 Helmet
I go with the Shoei RF-1400 for summer riding because it has six intake vents and four exhaust vents, which are adjustable to keep air moving in the best way to keep you cool. It also has a lining made of moisture-wicking fabric.
Budget Pick
HJC i10 Taze Helmet
Temperature control at a great value
Top-shelf design supports you through cold and hot at a low price.
Best Ventilated Motorcycle Helmet Reviews
Shoei RF-1400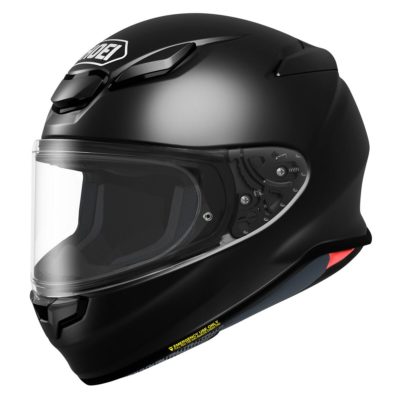 Our top pick earns its place on merit. It's packed full of features with class-leading ventilation while still managing a lower price than other top-shelf brands.
The Shoei RF-1400 is surprisingly quiet. This is partly due to the airtight and watertight shell, puffy cheek pads, and removable ear pads. More importantly, the aerodynamic design minimizes wind noise.
As someone who's spent the last decade listening to 80s hair metal way too loud in the car, I can assure you that your hearing is something you want to care for and preserve.
A quiet helmet can help prevent future issues like tinnitus that are irreversible and result from high wind and engine noise on motorcycles.
Of course, the aerodynamic shell serves more than one purpose. It also keeps you cool. Wind moving over two center, two chin and two temple vents, as well as an exhaust vent with four outlets, keeps air cycling through the helmet.
These are adjustable and closable to adapt to the weather and personal tastes.
The Max-Dry interior also helps absorb sweat, and you can then take it out and wash it when it inevitably captures too much of your personal aroma.
Shoei even took comfort a step further by making this the lightest of all their helmets. At 3.62 lbs, it weighs less on the neck, which is nice if, like many of us, your birthdays keep coming faster and faster.
Pros:
Noise reduction protects ears
Lightest helmet in Shoei line
Advanced, adjustable ventilation
Removable, washable interior absorbs sweat
EVO pinlock prevents eye-shield fog
Low price for top-shelf model
Cons:
Eye shield not compatible with other Shoei RF helmets
Its a big chunk of change
---
AGV Sportmodular
We all love Italian motorcycles, so why not an Italian motorcycle helmet? The AGV Sportmodular has the style you'd expect combined with cutting-edge industry tech.
The downside?
Well, you have to pay for it.
The most noticeable thing about this helmet is the sleek, carbon-fiber frame that makes it tough but incredibly lightweight: just 3.2 lbs.
The design itself is modular, meaning the entire front of the helmet, including the chin guard, opens up. This is great for glasses wearers because you can put it on more easily, and it's just more comfortable and convenient all around. Even the chin bar of the modular design is carbon fiber, making opening and closing easy.
Of course, what you really want to know about is the ventilation. For starters, the light carbon fiber frame itself helps minimize heat build-up. Primarily, though, the Sportmodular stays cool thanks to vents in the chin guard and a rear exhaust that circulates air. Plus, the inner antibacterial fabric wicks away sweat.
Thanks to all this, the Sportmodular has actually shown to be cooler inside the helmet than outside when tested by Champion Helmets. Check out their video:
I'd recommend the Sportmodular for someone living in a variable climate because while the ventilation is great for hot summers, the helmet works well in winter too.
This is due to the anti-fog pinlock lens as well as the reversible crown pad. It can be flipped from moisture-wicking fabric in the summer to softer, insulative fabric in the winter.
Pros:
Carbon-fiber shell is very lightweight
Convenient modular design
Ventilation provides considerable cooling
Antibacterial inner lining
Reversible crown pad
Cons:
High cost
Narrower chin than many models
---
HJC i10 Taze
The HJC i10 Taze is our budget choice, not just because of the price but also the advanced ventilation system that keeps you cool.
This involves an intake on the chin bar and exhaust vents on the side that promotes airflow through the helmet and along the eye shield to keep it from fogging up.
Additionally, the i10 has a sweat-wicking interior lining and crown and cheek pads that can be removed and washed. This sweat absorption cools you down inside the helmet and helps prevent humidity buildup.
Now, as a budget model, the i10 will lack some of the finesse of top-shelf helmets. Most noticeably, it's a bit heavier at 3.88 lbs. For touring and long cruises, that could wear out your neck. It's also slightly louder and lacks features like a Pinlock lens, which you have to buy separately.
However, the eye shield is easy to replace quickly and without any tools. Plus, the helmet easily fits with the SMART HJC 10B or 20B Bluetooth system. This is an impressive feature for the price and is great if you plan to listen to music, make phone calls, or connect with a touring pack while you ride.
Pros:
Amazing value for price
Tough polycarbonate shell
Front-to-back ventilation
Removable/washable crown and cheek pads
Accepts HJC Bluetooth systems
Cons:
Heavy
Less noise cancellation
No Pinlock lens included
---
Sedici Strada II
Sedici is a relatively new brand that's started to come into its own with its newest line of helmets. The Strada II specifically is another solid budget option that will keep you safe and cool in the summer without draining your bank account.
I particularly liked that, unlike many budget helmets, the Strada II is lightweight at just 3.3 lbs. This is due to a shell made of fiberglass and Kevlar, high-quality material usually reserved for the most famous brands. That lightweight is good for long rides because it doesn't strain the neck.
The ventilation on the Strada II is also pretty advanced. It's got two intake vents on the chin bar that move air over your face, plus three on the head that you can adjust to control airflow however you like. The hot air is then pushed out the three rear exhaust vents.
This full-head ventilation is better than a lot of top-shelf models out there.
Additionally, the removable and washable cheek pads are antibacterial and wick sweat to keep you cool. Unfortunately, there's no removable crown pad, so if you tend to soak your hair under a helmet, it could build up an odor.
Finally, my favorite thing about the Strada II is the adjustable forehead padding. I have a rare feature called an "Anatolian bump" that gives me a weird head shape that's hard to fit in many helmets. The 5 mm of adjustability on the forehead of the model really helps. You may not have an Anatolian bump, but this could be a good option if you have trouble getting well-fitting helmets.
Pros:
Lightweight fiberglass and Kevlar shell
Adjustable ventilation with 5 intakes
Removable/washable antibacterial cheek pads
Forehead pad with 5 mm of adjustability
Dark smoke eye shield
Cons:
No removable crown pad
Less noise cancellation
No pinlock lens included
---
Arai XD-4
The Arai XD-4 is our recommendation for adventure and off-road riders who also need something for commuting.
The ventilation system is one of the most advanced and best performing on the market. It includes intakes on both the chin bar and side cowls, as well as a diffusing vent on top that helps move air around before shooting it out the rear exhaust.
This makes it comfortable for commuting, but it especially makes a big difference when you're adventure riding and risk overheating.
The entire inner lining is made with DryCool material that wicks sweat and helps remove heat from inside the helmet. What's really great about the inner lining, though, is that it's entirely removable, something you rarely see. Not only does this let you wash it and keep it smelling fresh, but it increases comfort, too, because the lining regains volume after a wash.
Besides the cooling features, the XD-4 stands out for its removable visor peak. These kinds of extended visors are essential for off-roading because they keep the sun out of your eyes, prevent mud from splattering the eye shield, and provide another point of safety.
Unfortunately, the peak will start to vibrate at higher speeds, making noise and rattling your head. For commuting, you'll most likely have to take the peak off.
Similarly, the XD-4 is surprisingly heavy for an ADV helmet in this price range. This is because it's designed to crossover as a standard commuting helmet. Still, keep in mind that it could weigh you down on the motocross track.
Pros:
Advanced ventilation with diffusion vents
Inner lining removable and washable
Removable visor peak
Versatility for both ADV and street riding
Cons:
Visor peak vibrates at high speeds
Heavy
---
Bell Mag 9 Sena
While the rest of the helmets on this list are full-face models due to their higher safety, I had to include the Bell Mag 9 as an open-face recommendation. It has been around nearly 10 years now, which should tell you something about its success and popularity.
Of course, an open-face helmet will be a bit cooler because the wind can enter the chin area. However, it can still get hot on top. The Mag 9 solves this with a ventilation system more extensive than that of most full-face helmets. Top and rear vents move air around the parts of your head covered by the helmet.
This model also has a fully removable and washable inner lining, but arguably a unique feature the Bell Mag has to keep you cool is the drop-down sun shield.
This is a tinted shield inside the larger eye shield. This keeps the sun out of your eyes but also the interior of your helmet, preventing heat buildup.
Altogether, you can use the Bell Mag 9 in a ton of different setups because there's a removable visor peak as well. Take off the eye shield but leave the sun shield and the peak. Or remove the peak and ride with just the eye shield. You can customize it to serve just about any purpose, from touring to off-roading.
Unfortunately, all these moving parts can mean the helmet wears down quickly. Specifically, it's the chin strap where you might see problems first with fraying and poor attachment.
In this vein, Bell is a budget brand, and this makes a great helmet for someone looking to try out more advanced features on an open-face design.
Pros:
Lots of ventilation for an open-face helmet
Removable/washable inner lining
Drop-down sun shield
Removable visor peak
Great value
Cons:
Moving parts vulnerable to breakdown
Chin strap may fray
---
Buyer's Guide
Here are the main features and factors you should consider when picking out a ventilated helmet to keep you cool in the summer.
Helmet Types
The type of helmet makes the biggest difference in helmet temperature and airflow. There are four general categories to be aware of:
Full-face: Since full-face helmets wrap around your entire head including the chin, they can build up heat easily. However, they're by far the safest, which is why they make up the bulk of my list. Ventilation is essential to reduce the temperature inside a full-face helmet, and advanced models can actually achieve lower temperatures inside than outside thanks to airflow and moisture-wicking.
Open-face/Three-quarters: Three-quarter helmets have no chin bar and are open at the bottom while still covering the top and sides of the head. They're less safe, but allow wind to hit the skin and cool the rider. Ventilation may still be necessary on the top, which can overheat.
Modular: These are a cross between a full-face and open-face helmet. They have chin bars, but they can be removed or lifted up. Since they're the most advanced models, they often have great ventilation on top of the ability to open the face. Their downside is cost.
Half: Half helmets are arguable the coolest since they let wind pass over your face and sides of your head. They're not very safe, though, and lack features like ear and eye protection. They also rarely have top ventilation, so they can be hot on your crown.
Important Features
Vents: Intake and Exhaust
The key to keeping a full-face helmet cool is ventilation. If air cannot enter or escape the helmet, the sun and your body heat will heat it to unbearable levels.
Most full-face helmets try to mimic the airflow of an open-face or half helmet by providing vents. Intakes in the front of the helmet allow air to enter the helmet, then exhaust vents in the back let the air heated by your skin escape.
Chin bar intakes are the most common. These usually let air move over your face and can also help keep the eye shield from fogging. However, they usually don't ventilate the top of your head where you get the most sweaty if you're anything like me.
Intakes on the tops and sides of the helmet can help move air all around your head. Additionally, adjustable intakes can help you target airflow to where you need it most. Basically, the more vents, the better.
Sweat Wicking and Inner Material
Sweat is your body's way of cooling off. The water of your sweat absorbs heat from your body and then evaporates into the air. However, if it can't evaporate because you have a helmet on, it won't do much good.
Sweat-wicking material can solve that problem. It pulls the sweat, and therefore whatever heat it absorbed, from your body.
Removable and Washable Lining
I don't know about you, but my gym socks smell bad after just one use. Imagine ride after ride of sweat building up in the sweat-wicking material of your helmet's lining.
Unless you want your helmet to become a biohazard, you need to wash the lining. Of course, you can't do that if you can't take it out.
Most modern helmets have at least parts of the inner lining like cheek or crown pads that are removable and washable, with some allowing you to take out the whole inner lining. This is definitely a feature to look for.
Sun Visor/Lens
Dark lenses for your face shields serve the primary purpose of keeping the sun out of your eyes. However, they have a nice side effect of keeping the inside of your helmet cool.
Some helmets may have included dark lenses that you have to switch out. For others, you may have to buy them separately. This is something to be aware of because a low price could be misleading if you have to buy a lot of parts separately.
You may even find helmets with drop-down sun shields. These go along with the normal eye shield, which is extra convenient because you can use it whenever you need it without changing the lens out.
Finally, dual-sport or motocross helmets may have extended visor peaks. These also help keep the sun out of your eyes and off your face, keeping you a little cooler. Usually, these are motocross or ADV specific, but some may cross as commuting or touring helmets.
Weight
Weight is a factor for all your motorcycle gear, helmets being no exception. A heavy helmet creates more work for your neck and shoulder muscles. This means it can wear you down on a long tour or cruise or even after repeated commutes.
This can mean a heavier helmet gets hotter, too, because you're using more muscular effort to keep your head up. Plus, it will press more firmly against your head. All else being equal, try to get the lightest helmet you can.
Final Thoughts
A ventilated helmet can make the difference between a comfortable ride and a suffocating one.
I recommend the Shoei RF-1400 both for its ventilation as well as safety and additional top-quality features.
Alternatively, those on a budget should consider the HJC i10, which includes great temperature control at a great price.
Related