We all hate storing our bikes away for the winter but what if I told you you didn't have to?
Modern technology has led to considerable advances in gear that can keep you warm and dry even when riding in winter weather.
Tired of calling it quits every December myself, I recently went looking for a winter helmet. These were the five I found with the right features to keep you safe even during the coldest part of the year.
Best Overall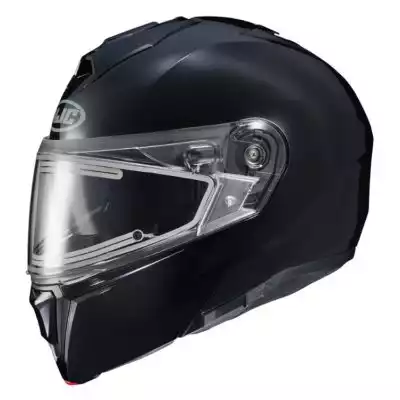 HJC i90 Snow Helmet
Extensive winter features at a great value
The heated face shield and anti-fogging add-ons keep you warm, comfortable, and safe.
Best for Off-Roading
Scorpion EXO-AT950 Ellwood Helmet
A specialized design for winter adventures
With a heated face shield and cold weather kit, you can keep exploring during the iciest months.
The Best Winter Motorcycle Helmets Reviewed
---
HJC i90 Snow Helmet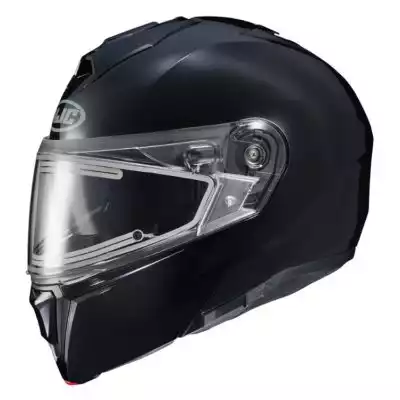 The HJC i90 is my favorite helmet and my standard go-to, so it shouldn't be surprising that its winter version made the top spot on this list. It has some of the best winter-specific features of any helmet out there but, like most HJC models, is still a great value for the price.
Its main claim to fame is the heated HJ-33 face shield designed to melt snow and avoid fogging. On top of this, the included breath guard and chin curtain keep your face warm and minimize breath condensation on the inside of the face shield.
If you're a commuter who has to ride to work no matter how inclement the weather gets, this helmet can literally be a lifesaver.
You also get all the features of the standard i90. They include the ACS Advanced Ventilation System if you decide to use the helmet in the spring. There's also a moisture-wicking, anti-bacterial interior lining. This is important in the winter because if you sweat, that moisture could make you cold.
Finally, the i90's polycarbonate shell is safe, while the D-ring chin strap keeps it stable. The widened face shield also gives you a wider field of vision. With all its safety features, the i90 is both DOT and ECE approved.
Pros:
Great value
Heated face shield
Anti-fog breath guard
ACS Advanced Ventilation System
Moisture-wicking lining
Safe and stable
---
Scorpion EXO-AT950 Ellwood Electric Helmet
The EXO-AT950 is an adventure helmet, so this is a good option if you like off-roading in the winter. Like the i90, it also has an electrically heated face shield that keeps your visibility clear even if there's snow. Plus, the cold weather kit keeps you warm.
Otherwise, it's an excellent helmet for keeping you safe on your adventures. The extended visor provides more protection for your face, and the broad face shield helps you see unexpected obstacles.
The downside of this helmet's winter-specific design is that Scorpion did away with some of the better summer features you find on their other models. Nevertheless, it does have a drop-down sun visor, which is also suitable for the snow, and a Kwikwick antimicrobial liner.
With a polycarbonate shell, you can challenge yourself with confidence. Since it comes in three lightweight sizes, it's comfortable and doesn't interfere with your balance, even when you're moving around a lot in an off-road situation.
Pros:
Heated face shield
Cold weather kit
Drop-down sun visor
Antimicrobial liner
Lightweight
Cons:
---
Nolan N70-2 GT Helmet
The N70-2 GT is specifically designed for urban riding. This means that it's great if you live in a big city where people drive… less than responsibly. It has an extra-large and wide face shield to see more of what's happening around you, like aggressive drivers weaving into your lane.
It's also an incredibly versatile helmet allowing you to adapt to different weather and situations. Thanks to a fully removable visor and chin guard, there are six different configurations. Even more than most modular helmets, it's a 2-in-1 full-face/open-face combo.
It's an ideal helmet for both summer and winter riding. You have an AirBooster ventilation system in the summer, while the Clima Comfort interior liner will keep you warm in the winter. Plus, the large LEXAN face shield is more fog-resistant than most.
What I dislike about this model, besides the fact that it only has two shell sizes, is the chinstrap, which isn't especially comfortable. Nevertheless, its microlock system is stable, keeping you safe along with the polycarbonate shell.
Pros:
Extra-large face shield
Removable chin guard and visor
AirBooster ventilation
Warm interior lining
Fog-resistant face shield
Cons:
Only 2 shell sizes
Uncomfortable chinstrap
---
AGV K3 SV Rossi Winter Test Helmet
If the cool, snowflake finish doesn't convince you that the Rossi is made for winter riding, consider its winter-specific features. These include a removable breath deflector, windproof chin strap protection, and the warm Dry-Comfort inner liner.
This is one of the best helmets for keeping the cold wind out of and off your face. For instance, the face shield has an improved seal. Plus, its profile was contoured around the base of the neck, making it warmer, more aerodynamic, and safer because it reduces the risk of collarbone injuries.
AGV made this model safe in other ways, too, like the thermoplastic resin shell construction, which unfortunately only comes in two sizes. As a result, it's DOT approved.
Riding with the Rossi is also safe since the anti-fog face shield doesn't impair your vision and protects your eyes from UV rays. This is good for the winter because, even though you might not expect it, the glare from the snow can be hard on your eyes and ultimately dangerous.
Pros:
Breath deflector
Windproof features
Warm liner
Thermoplastic resin shell
Anti-fog face shield
Cons:
Only 2 shell sizes
Uncommonly round shape
---
ILM Full Face Helmet
This ILM helmet is a budget model that makes a great alternative helmet for those extra cold days. Its best feature for this is the attached neck scarf. This keeps the wind off your neck and prevents it from entering under the bottom opening of the helmet.
This model can also work if you need a year-round helmet, though. The neck scarf is removable, and it has adjustable ventilation. Additionally, the liner is removable and washable to keep it clean and fresh even when you sweat.
Just keep in mind that this is a budget option. It's not the most stable fit, and most accessories like an anti-fog or tinted face shield are sold separately. It does come in seven color options, though, to match it to your bike, gear, or primary helmet.
Pros:
Budget price
Attached neck scarf
Adjustable ventilation
Removable and washable lining
7 color options
Cons:
Less stable fit
Extra face shields sold separately
---
Buyer's Guide
Considerations and cost
---
Winter Features
Riding in the winter involves two main hazards: cold and inclement weather like wind, rain, snow, and ice. Therefore, a winter helmet has specific features to address these hazards, such as:
Heated Face Shield
An electrically heated face shield is a new but still uncommon feature you may find on some winter helmets. These use a long cord plugged into your battery to run electricity through the face shield and keep it warm.
As well as warming your face a little bit, the primary purpose of this is to melt any snow that lands on the face shield. More than rain, snow sticks to the face shield and blurs your vision. The heated face shield will melt it, though, improving your safety.
Neck Scarf
A neck scarf is another great feature that's hard to find. Since most wind enters through the bottom of the helmet, this doesn't just help keep your neck warm, but your entire head.
Ideally, your helmet's neck scarf should be removable too. This way, you can take it off if the weather changes.
Also see our guide to the best motorcycle neck gaiters.
Breath Deflector
Face shield fogging becomes a much bigger problem in the winter because the outside temperature is colder than inside the helmet, making your breath condense against the face shield more easily.
A good winter helmet should have a breath deflector installed to keep your breath from hitting the face shield, minimizing fogging.
Related: How to keep helmet visor from fogging
Anti-Fog Face Shield
Another way a winter helmet can minimize fogging is with a specifically fog-resistant face shield. These usually have two layers with a vacuum-sealed space between them. The inner layer doesn't get cold, so your breath doesn't condense on the face shield.
Dry Lining
Most people think of a moisture-wicking lining as a summer feature. However, most riders sweat in the winter too. If that sweat stays on your skin, it could make you cold over time.
For this reason, moisture-wicking fabric can help keep you warm and comfortable.
Similarly, it can help wick native moisture out of the air if you live in a humid place in the winter. This humidity makes you feel colder, so the lining is an important feature.
Safety
While looking for winter features to keep you warm and dry, don't forget to pay attention to general safety. If not SNELL certified, make sure the helmet is at least DOT approved. It should fit well, and the chinstrap should feel stable and secure.
Comfort
Lastly, don't forget about comfort either. Whether it's winter or summer, the following features make any helmet more comfortable:
Final Thoughts
A helmet with special winter features can make riding in cold and inclement weather safer and more comfortable.
This is especially true with the HJC i90 Snow Helmet and its electric face shield. The Scorpion EXO-AT950 is another excellent option if you like off-roading in winter conditions.