It's no secret that women are built differently from men. Unfortunately, that means women can have a tough time finding the right motorcycle helmet. The good news is the motorcycle accessories industry has caught on and begun catering to female riders.
For me, one of the most important features of a helmet is its weight. A lightweight helmet that is still protective is my favorite kind of helmet. It means I can ride for longer in comfort, with no fatigue, and still know I am protected.
We've found the best lightweight helmets for female riders, to give you a great starting point to find the best option for you.
Here are our top lightweight motorcycle helmets for women.
Best Overall
AGV Sportmodular Carbon Helmet
The AGV Sportmodular Carbon helmet is an epic sports helmet with a modular design. At just three pounds, the helmet is super lightweight, constructed from carbon fiber, and the modular design makes it a practical road helmet ready for anything.
Most Stylish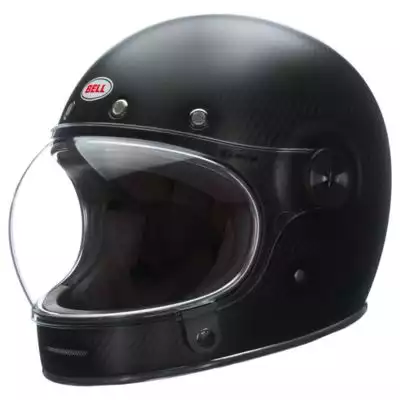 Bell Bullitt Carbon Helmet
The Bell Bullitt is an iconic retro design that looks incredible, but Bell has stepped up the game even further by using carbon fiber, making the Bullitt super lightweight at just 2.82 pounds.
Reviews of Women's Lightweight Motorcycle Helmets
---
AGV Sportmodular Carbon Solid Helmet
Weight: 3.2 pounds
There are very few modular helmets on the market that have inherited all the positives of a premium sports helmet. The AGV Sportmodular changes all of that. Arguably best of all, it is extraordinarily lightweight at under three pounds for a medium-sized lid.
The shell is 100% carbon fiber and so is the chin bar. The construction ensures that weight is kept down while maintaining safe protective properties. AGV has taken safety one step further by designing the shell to protect not only your head but also your collarbone, by redirecting the impact energy.
The helmet comes in four shell sizes, with two main visor sizes as well, ensuring you can get the right fit. The Sportmodular runs quite small, which is great for ladies who have to go for extra-small helmets, but don't be surprised if you have to order a size up if you are normally medium or large.
Features include an internal sun visor, a quick-release face shield, a visor-lock system, a water-resistant neck roll, and an advanced ventilation system.
There is no question about it—the Sportmodular is a practical, all-weather, sports-touring modular helmet that can do it all, and it still only weighs in at around three pounds, which is pretty impressive in my book.
Pros:
Carbon-fiber construction
Modular design
Rich in features
Four shell sizes
Cons:
---
Bell Bullitt Carbon Helmet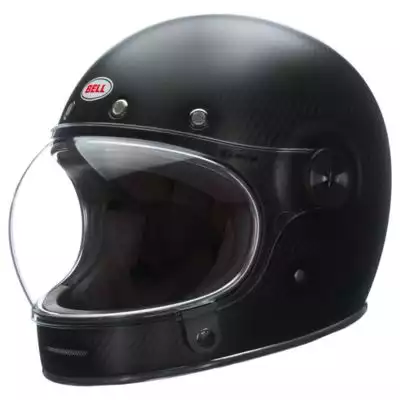 Weight: 2.82 pounds
The Bell Bullitt is a retro-styled full face helmet that throws back to the original Bell Star. Named after Steve McQueen's detective character in the classic movie Bullitt, there are few lids cooler than the Bullitt.
Bell has built the Bullitt with a carbon-composite shell, making it super light at 2.82 pounds, although the standard Bullitts weigh in at around 3.24 pounds, which is still pretty lightweight as far as helmets are concerned.
Although very retro in design, modern safety features can be found throughout, including a multi-density EPS liner for impact protection and a traditional D-ring closure.
The Bullitt is a very airy helmet, with plenty of space around the face, as well as great ventilation and visibility. This will suit a rider who doesn't like the typical closed-in feel of a full face helmet.
Other key features include speaker pockets and two visors: a clear bubble visor and an iridium flat visor.
Pros:
Cool retro design
Carbon-composite shell
Two types of visor included
Modern protective features
Cons:
---
Simpson M30 Bandit Carbon Helmet
Weight: 2.78 pounds
The Simpson M30 Bandit is a helmet that wins in two departments: style and weight.
At 2.78 pounds, this lid is one of the lightest on our list, and on top of that it has an aggressive style that will have heads turning when you roar past.
The M30 Bandit has been in production since the 1970s and very little about it has changed since it was first released. A large eyeport and a large chin piece with vents in the front and to the side are the signature of the Bandit.
The helmet offers plenty of ventilation and the Free Stop pivot system means the rider can have the visor open at any angle, increasing airflow whenever they desire.
Pros:
Carbon-fiber construction
Iconic retro design
Excellent ventilation
Cons:
Basic helmet that lacks extra features
---
HJC RPHA 11 Pro Carbon Helmet
Weight: 3.06 pounds
If retro styling isn't your thing and you want something more track-oriented, then you need look no further than the RPHA 11 Pro. HJC has taken its RPHA 11 Pro racing helmet to the next level by using a carbon-fiber and carbon-glass hybrid construction for a lightweight and advanced shock-resistant shell.
The RPHA 11 Pro Carbon is a serious helmet that means business in terms of important safety features and practicality for track riding.
Ventilation is second to none, with a six-way dial on each top vent so you can control the airflow into your helmet. Plus, you have a MultiCool liner that wicks away moisture.
The face shield is easy to use, with a one-touch mechanism optimized for high-speed conditions, and there are cut-out glasses grooves for riders who need to wear glasses or sunglasses.
Other features include speaker pockets, a dual-locking system, a Pinlock-ready face shield, clear and dark smoke shields included, and interchangeable cheek pads.
Three shell sizes across the full size range mean that you can find a helmet that fits you properly, one that is not just stuffed with extra lining.
Pros:
Carbon-fiber and carbon-glass hybrid construction
Track-worthy safety specs
Advanced ventilation system
Plenty of useful features
Great value
Cons:
---
Bell Pit Boss
Weight: 2.44 pounds
The Bell Pit Boss is a very simple and lightweight open-face helmet.
It offers protection for the top and back of your head to a high standard, with a composite shell, but it allows your face to be open to the elements for maximum ventilation and freedom.
The Pit Boss includes an internal drop-down sun visor that offers 100% UVA and UVB protection and a neck curtain to stop wind creeping down your back.
Bear in mind that the Pit Boss is an open-face helmet and so the lack of protection means it is best suited to wear around town at lower speeds.
One important note is that Bell helmets, particularly the open-face helmets, tend to come up a bit small, so you may need to size them up.
Pros:
Very lightweight
Comfortable
Carbon/Kevlar/fiberglass composite
Cons:
---
Buyer's Guide
Care, considerations and cost
---
Buying a womens motorcycle helmet can be a tricky task, but you can narrow down the choices with a few important considerations.
Safety is paramount and should always be the first thing you think about. After that, materials, sizing, and style will help you find the perfect helmet for you.
Here are some factors to consider when looking for a lightweight women's motorcycle helmet:
Safety
Even though you want a helmet that is lightweight, safety should still be your number one priority.
The first thing to check is that your helmet is DOT approved. All helmets sold in the US need to meet the set of standards laid out by the Department of Transportation.
Typically, you should find a sticker somewhere on your helmet that acts as the DOT certification. Knowing your helmet is DOT-approved not only reassures you that you are using a legal helmet but that it meets a basic set of standards and will therefore offer a minimum level of protection in an accident.
While DOT approval is a good starting point, helmets that receive certification from the Snell foundation are considered to be even safer. The latest motorcycle helmet standards are laid out in the M2020 document, which explains the testing procedures in detail. You can check whether a helmet is Snell certified here.
The style of motorcycle helmet also affects how protective it is. Full-face helmets are the most safe helmet to ride with, followed by modular helmets. Open-face and half-shell helmets are less protective simply because there is no protection for the lower half of your head or your face.
Further reading: Helmet safety standards explained.
Style
Safety isn't the only thing to think about with the style of helmet you're looking for. Full-face, open-face, half- or three-quarter-shell, and modular helmets are the main types of helmet you can choose from.
Modular helmets tend to be heavier than regular full-face helmets because they are equipped with a mechanism so that the front can lift up and turn into an open face lid.
Open-face, half-shell, and three-quarter-shell helmets tend to be lighter than full-face and modular helmets. These can be great for women who feel claustrophobic in full-face helmets or those who prefer increased airflow while riding.
Full-face helmets vary in weight due to the wide range of styles within that segment. Sports helmets tend to be the lightest type of full-face helmet because they are constructed of the most premium materials and lack extra features.
Touring helmets can be heavier because they are loaded with useful road-riding features, such as internal sun visors and built-in intercom pockets.
Knowing what compromises you're willing to make in order to have a lightweight helmet will help you pick the right one for you.
Read: modular vs full-face
For example, you might be willing to forgo extra features and choose a premium sports helmet if the weight is your priority along with safety. Alternatively, you might be willing to ride with an open-face helmet and accept the lack of protection that a full-face chin bar offers.
Materials
Helmets with a carbon-fiber shell are typically the lightest on the market, followed by mixed-composite helmets that include carbon in their composition.
Carbon fiber is a popular material for constructing helmets because it is lightweight but has excellent protective properties. Full-carbon helmets can be expensive, so mixed-composites are favored by manufacturers because they are accessible to a wider audience.
Mixed-composite helmets are usually constructed of a mix of carbon, Kevlar, and fiberglass and offer great protective properties. They are also pretty lightweight.
Many helmets are built using a polycarbonate shell. This is a very strong plastic material that is easy to work with. The cheap manufacturing process of injection molding with polycarbonate means that it is one of the most popular materials used for motorcycle helmets.
Polycarbonate helmets tend to be cheaper. However, they can still meet high safety standards. There are plenty of Snell-rated polycarbonate lids on the market. The downside is they tend to be heavier than other types of helmet.
Sizing
Women can have a tougher time finding the right helmet. Some manufacturers are better than others at producing a full size range of helmets and getting the right helmet size is key for both safety and comfort.
Generally, women are smaller than men, although there are exceptions to this of course. As a result, we tend to need to look for smaller helmets.
The best approach is to look at manufacturers who offer the widest range of shell sizes.
If a helmet comes in just two shell sizes, it means that the thickness of the inner liner dictates the overall size. If a helmet has four shell sizes, it usually means an XS will have its own shell size and you get a better fit.
If your helmet fits properly, it should be comfortable and the weight will be distributed evenly around your head, leaving you with no pressure points.
Conclusion
The AGV Sportmodular Carbon Solid Helmet is a fantastic lightweight helmet fro women, with a functional modular design that makes it the clear winner in my book.
However, the Bell Bullitt is a great-looking retro helmet that now comes in a carbon option, keeping the weight super low.