No one denies that sports bikes are fun, but I rarely find them as aesthetically charming as customs or cafe racers. The Yamaha XSR series proves that sportsbikes can be beautiful too.
Since the series caught my eye so convincingly, I wanted to compare two of its most popular models: the XSR700 and the XSR900.
Frankly, I'd love to have them both in my garage. Nevertheless, each has its advantages when compared head to head.
Here's what I found.
XSR700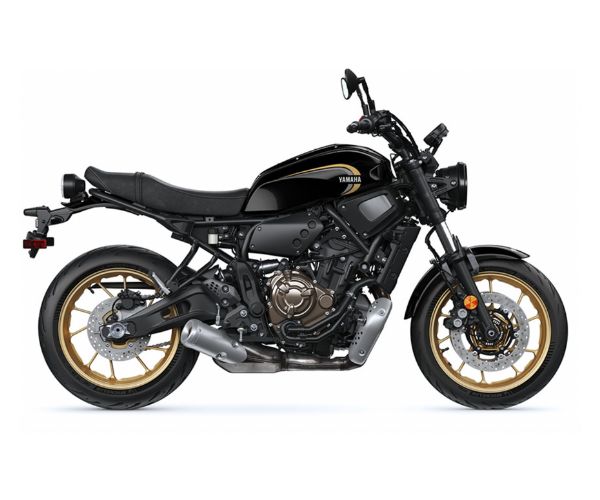 The XSR700 is Yamaha's look to the future while honoring the past. It looks way thinner and more agile with a sleek retro sports-bike look than you'd typically expect from a 689cc motor.
It is agile, though, with telescopic fork suspension and disc brakes on the front and rear wheels. And it only weighs 410 lbs (186 kg).
Of course, if you're anything like me, this isn't even what you first notice about the XSR700. Its beauty and style turn the head of even the most anti-sports-bike chopper rider out there.
Attached to the agile chassis are a vintage-style headlight and retro two-texture leather seat.
It also has power condensed into an engine suitable for those just getting into big bikes. The acceleration mixed with agility is fun no matter where you're riding.
Specifically, these are the features that impressed me about the XSR700:
Twin-cylinder, four-stroke engine produces a kick with 75 hp at 9,000 rpm
Front and rear hydraulic disc brakes for better control
3.7 gallons (14 liters) fuel capacity
Narrow 32-inch (820 mm) chassis
6-speed transmission for better acceleration
XSR900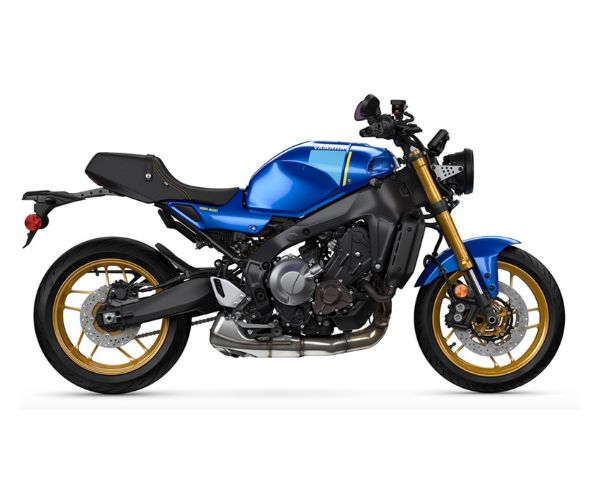 The XSR900 is very similar to its little brother, just… bigger. It has the same retro look combined with new technology and engineering.
In fact, the XSR900 is about five millimeters narrower than the XSR700 while weighing just 20 pounds more. Not bad for an 847cc engine.
And with that engine size, you get power, which is what this bike is all about. With a crossplane three-cylinder design, expect some impressive acceleration that's still easy to handle, thanks to the lightweight aluminum frame.
These specs, in particular, caught my eye:
Three-cylinder, four-stroke engine kicks even harder with 113 hp at 10,000 rpm
Front and rear hydraulic disc brakes to stop on a dime
3.7 gallons (14 liters) fuel capacity
Narrow 32-inch (815 mm) chassis
6-speed transmission to take full advantage of the powerful engine
XSR700 vs XSR900: Head to Head
Honestly, the XSR700 and XSR900 are very hard to compare. They're very similar machines with similar designs on the part of Yamaha.
There are a few areas where I can pick one over the other, but keep in mind that it's only a win by a nose. Both excel in all these areas.
Comfort
Winner: XSR700
The XSR700 is marginally more comfortable than the 900. While their seat heights are the same, the flat textured seat of the 700 is a bit softer for longer rides. It's also wider, which, while not great for agility, can be more comfortable.
Additionally, the 700 has taller handlebars. Altogether, this makes the positioning comfortable for tight turns.
Looks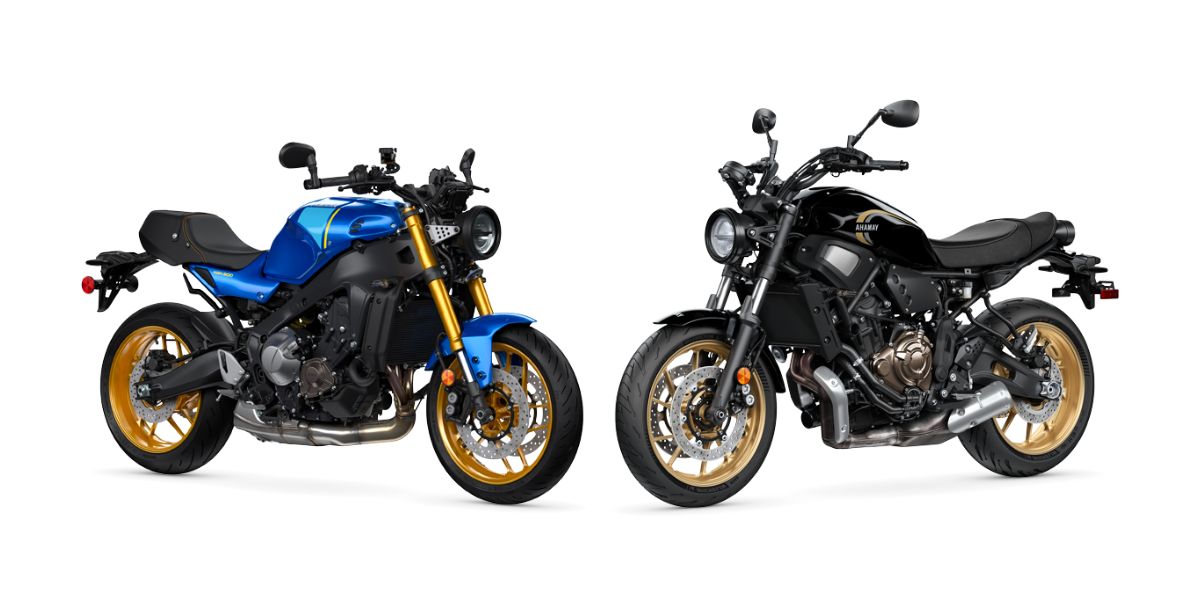 Winner: Both
I can't choose a winner on looks because these models look amazing. I may just be a fan of the vintage style, but I can't think of many sportsbike I consider as aesthetic as these two.
Specifically, I like the retro design that harks back to the Yamaha sports bikes of old with sculpted bodywork and a sleek but classic chassis.
At the same time, the clear technological improvements give the XSR series a futuristic look that makes you stand out on the road.
Price
Winner: XSR700
Being slightly smaller, the 700 is slightly less expensive. It has an MSRP of $8,499 versus the 900's $9,499. In the case of the 900, I consider this increase of $1,000 well worth it for the larger engine if that's what you want. Both are great value.
Electronic Controls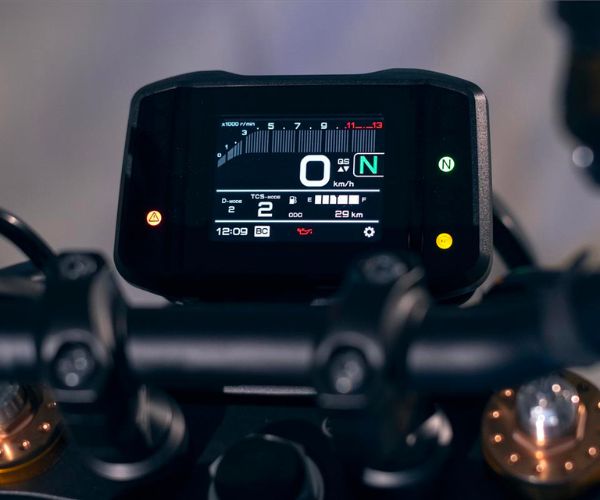 Winner: XSR900
If you want advanced electronics on your motorcycle, the XSR900 doesn't just beat the XSR700; it beats most bikes on the market. 
First of all, you have three power control settings, going from softer and more progressive acceleration to a harder punch.
Additionally, there are two different traction controls. One provides normal stability while the other is more secure and makes it harder for the wheels to spin out.
Engine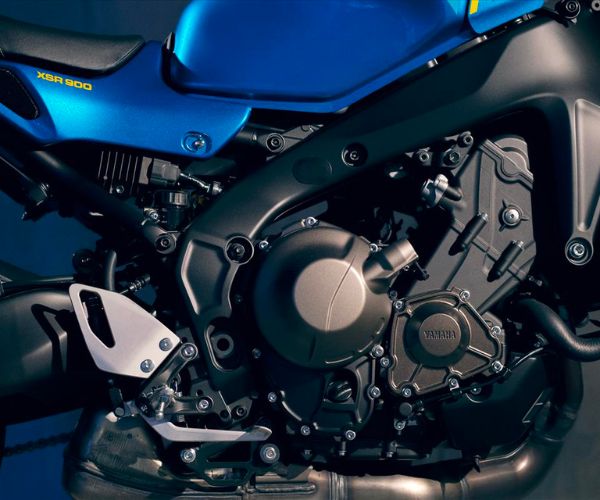 Winner: XSR900
The 900 is the clear winner here with not only a larger engine but a more powerful one with a more advanced design. Specifically, with three cylinders at four strokes each for 12 valves in total, it gets great acceleration that you can feel in your bones. 
The power is impressive, too. Producing 113 hp, it has more power than many cruisers I've seen with bigger engines.
This isn't to say the 700 doesn't have a powerful motor, though. If you're looking for something smaller or are just getting into bikes with this kind of acceleration, the 700's lower horsepower of 75 hp is still a good choice.
Handling
Winner: XSR900
I may say something controversial here, but I believe the 900 has better handling.
While the 700 is a bit lighter at 410 pounds with superb handling too, the three electronically set power settings and the adjustable suspension and assist-and-slipper clutch make the 900 ideal for a wider range of situations like rain or snow. Therefore, overall, I have to give the win to the 900.
Fuel Economy
Winner: XSR700
This is another marginal one, but the 700 does nominally have the better fuel economy. It gets 58 miles per gallon. After all, it does have a smaller engine and is around 20 pounds lighter. However, the 900 still gets good fuel economy for its size, at 43 mpg.
2022 Upgrades for the xsr700 and xsr900
The XSR700 and XSR900 already have industry-leading specs, so Yamaha hasn't been aggressive about too many updates. They've mainly focused on rider experience, updating things like the display.
2022 XSR700
The only real spec upgrade for the XSR700 is the front disc brake diameter increase from 282 mm to 292 mm. This improves braking performance.
Additionally, Yamaha upgraded the LED headlight, giving it better illumination and reinforcing the bike's vintage look.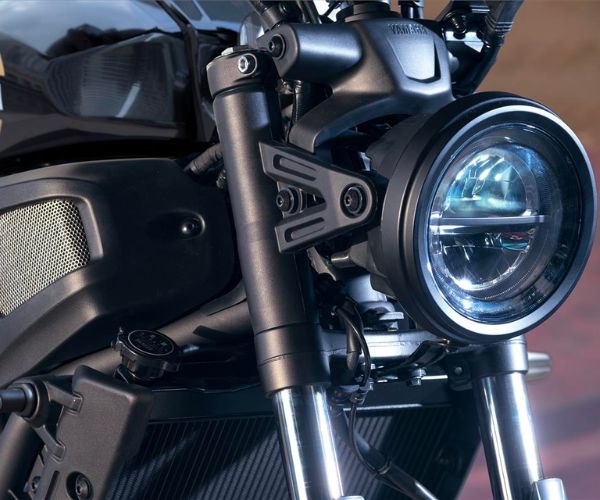 Finally, Yamaha improved the cockpit display to be more user-friendly. It now features better LCD meter visibility and moves control to a left handlebar switch.
2022 XSR900
Yamaha has upgraded the 2022 XSR900 a lot more than the 700. It's getting a bigger 889cc engine meaning more power: 117 hp. Nevertheless, the 2022 XSR900 is five pounds lighter than in past years at 425 lbs.
Yamaha further improved the handling by going from three to four power modes. There's also cruise control which is uncommon.
Read more about bikes with cruise control. 
Conclusion
If you want a sportbike that's fun to ride while turning the heads of everyone you pass, Yamaha's XSR series should be the first place you look.
The 700 and 900 both stand out for their agile handling, adrenaline-pumping acceleration, and neo-retro style. 
However, depending on your needs and preferences, one might still be better than the other. Here are my recommendations:
If you're new to sportsbikes, go with the XSR700 since the 900's acceleration may be hard to handle.
If you're a commuter who also uses your bike in inclement weather, I'd choose the XSR900 since it has better traction controls and handling.
If you're on a tight budget, I suggest the XSR700. It has a lower price and gets better gas mileage.
If you want power that'll knock your boots and then your socks off, pick the XSR900 and its advanced engine.