Back in the 80s and 90s, the curbs were lined with zippy single-cylinder 250cc motorcycles. However, in recent years, the market for these small bikes has started to shrink. That's a shame because they're lightweight and manageable but still fast and highway-legal. 
Luckily, whether you need a starter bike to learn on or a lean commuter motorcycle, I've compiled a list of the 10 Best 250cc motorcycles currently in production, from dual-sport models to mini cruisers.
Suzuki GSX250R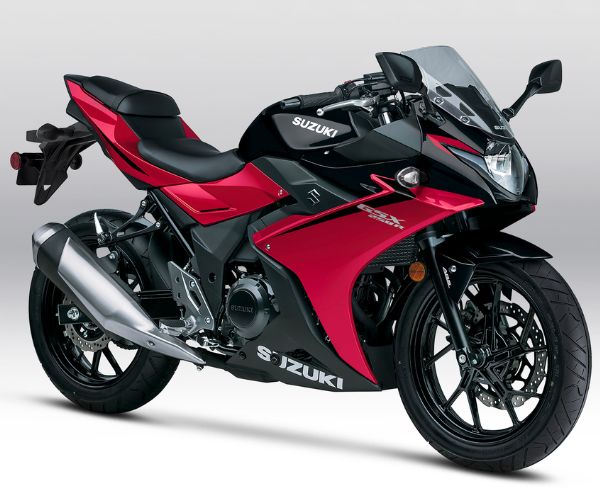 Engine: 248cc parallel twin
Max power: 24 hp
Max torque: 17 lb-ft
Seat height: 31.1 inches
Curb weight: 399 pounds
MSRP: $4,999
The Suzuki GSX250R fits right in with Suzuki's GSX-R line. It's a bit smaller and more lightweight, making it a great bike for beginners and hobbyists.
With a 248cc engine, it fits perfectly onto this list, especially in an era when many manufacturers are increasing the size of their 250cc bikes to 300cc. As a result, it remains lightweight and agile, great for deep turns and fun handling.
At the same time, the engine is powerful enough to compete with its rivals, producing 24 horsepower and 17 ft-lb of torque. This provides a reported top speed of around 85 mph, more than enough for the highway.
I also like the parallel-twin engine design. Along with giving the exhaust a throbbing bark, it makes the bike feel more substantial overall despite its small size.
The GSX250R is a fun bike all around and one of the best 250cc models when it comes to combining power and handling. I recommend it for beginners most of all, though. Thanks to standard ABS and a comfortable seat with a lightweight, unintimidating frame, you can learn quickly while still having fun from the get-go.
---
Honda CBR300R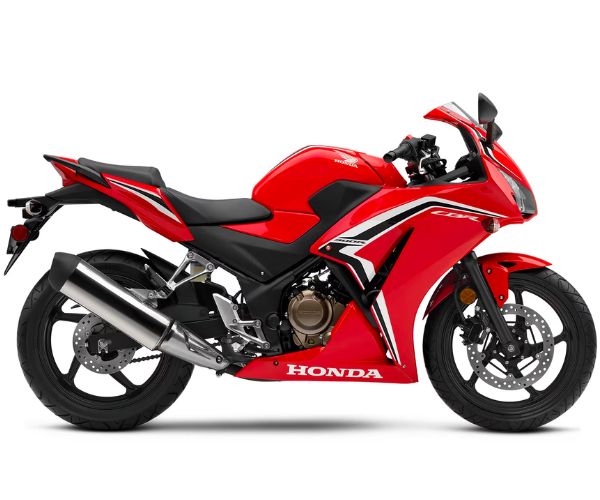 Engine: 286cc single cylinder
Max power: 30.5 hp
Max torque: 20 lb-ft
Seat height: 30.7 inches
Curb weight: 357 pounds
MSRP: $4,899 ($5,099 with ABS)
As a response to the Kawasaki Ninja 300, Honda increased the engine size of the CBR250R from 250cc to 286cc. Of course, this also increased the power and torque, as well as the top speed, which is usually rated at 98 mph.
Despite the larger engine, the CBR250R is impressively lightweight. In fact, it weighs less than the Suzuki GSX250R, even though it gets more power.
Better yet, this Honda model, the smallest in the CBR line, is relatively inexpensive. The base model costs less than the GSX250R, but it doesn't have ABS. You'll have to pay a bit more for that, but it's still a great value.
Other upgrades from the 250cc version include a restyling of the fairing and headlight, as well as a better exhaust system. The engine also has taller gearing, which is better for cruising, giving this bike a bit more versatility than others in its class.
Altogether, I'd say the CBR250R lacks some of the cornering abilities of its Suzuki and Kawasaki competitors, but it makes up for it with a smoother ride at high speeds and lower fuel consumption on the highway.
It's not my top pick for enthusiasts looking for acceleration and handling, but for commuting and cruising the highway, I love this motorcycle.
---
Kawasaki Versys-X 300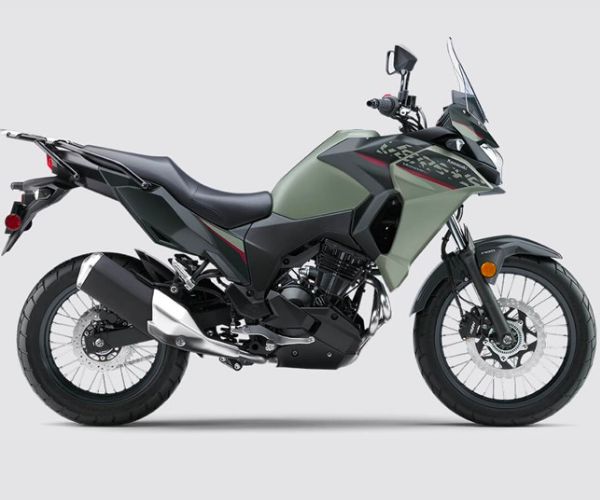 Engine: 296cc parallel twin
Max power: 39.3 hp
Max torque: 18.9 lb-ft
Seat height: 32.1 inches
Curb weight: 386 pounds
MSRP: $5,899 ($6,199 with ABS)
Because manufacturers continue to make their entry-level bikes bigger and bigger, Kawasaki discontinued the Ninja 300 after already replacing the Ninja 250. Instead, the 400 has become the smallest bike in the Ninja line. However, Kawasaki does offer a smaller motorcycle, the Versys-X 300, which it released at basically the same time it discontinued the Ninja 300.
Compared to the Ninja, the Versys-X is designed more for adventuring. It's lightweight and maneuverable with a highly versatile torque-to-power ratio. You get good acceleration but smooth performance on the street. It reaches speeds of over 80 mph.
You'll note that compared to Ninjas and other small sport bikes, the Versys-X 300 has an upright riding position, which also makes it ideal for a wider range of applications. The standard tires also allow for light off-roading. While not an exact replacement for the Ninja 300, it's a nice bike if you're looking for a little adventure with a bigger engine than a dirt bike.
---
Honda Rebel 300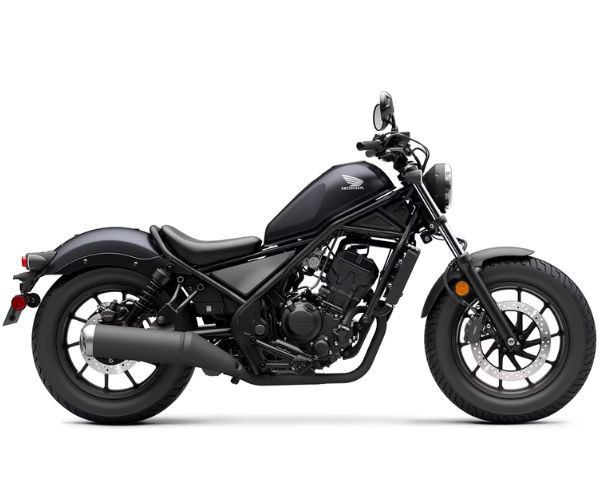 Engine: 286cc single cylinder
Max power: 25 hp
Max torque: 17.5 lb-ft
Seat height: 27.2 inches
Curb weight: 364 pounds
MSRP: $4,749 ($5,049 with ABS)
Just like with the CBR, the Honda Rebel was once a 250cc starter bike — one of the most popular, in fact, because it allowed aspiring cruisers to start with a small bike while still keeping that classic style. Now they've upped the displacement to 286cc, but it's still close to the original that Honda produced in 1985.
Unlike the sportier bikes that dominate the 250cc class, the Rebel 300 is geared more for smooth, easy riding than power and acceleration. You can cruise leisurely on the highway or commute through the city. Just keep in mind that it has a super-short seat height, even for a 250cc bike, so it's best as a starter cruiser before moving up.
Aesthetically, it matches the classic cruiser look you want too. It has the bobber style that's come to dominate the cruiser market these days, available in both matte black and candy red.
---
Yamaha V-Star 250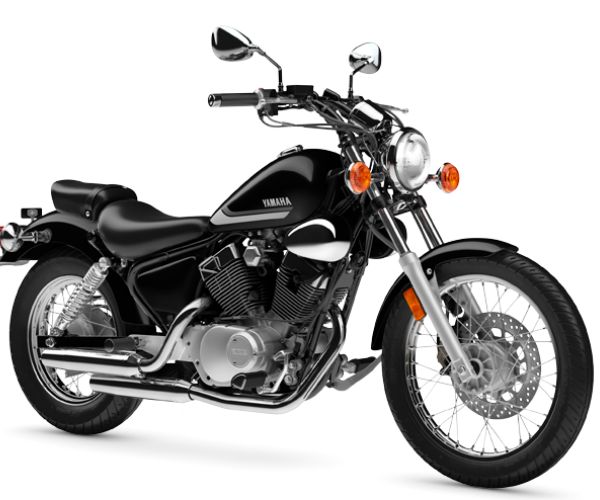 Engine: 249cc V-twin
Max power: 21 hp
Max torque: 15.2 lb-ft
Seat height: 27 inches
Curb weight: 324 pounds
MSRP: $4,699
The Yamaha V-Star 250 is the only V-twin in the 250cc class. Plus, Yamaha has kept it at 250cc, unlike the Honda Rebel. While this mini cruiser never really achieved the fame or market share of the Rebel, it's actually a superior starter cruiser in a couple of ways.
For starters, most larger cruisers, especially the more popular ones, are V-twins, so it's helpful to start out on one. Plus, the smaller engine, while producing less power and torque, is more manageable.
Oh yeah, and it's a tad cheaper than the Rebel, too, not to mention most of the 250cc sport bikes. You get a classic-looking Harley-type cruiser in a compact, learnable size at an impressively affordable price.
---
BMW G 310 R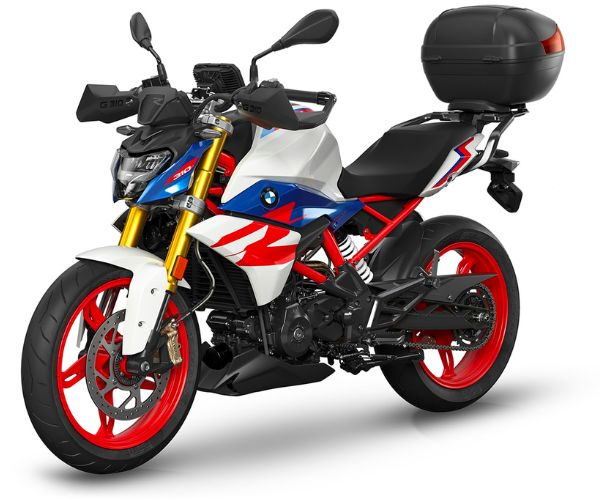 Engine: 313cc V-twin
Max power: 34 hp
Max torque: 20.6 lb-ft
Seat height: 30.9 inches
Curb weight: 349 pounds
MSRP: $4,995
Who doesn't love a BMW bike? The G 310 R is larger than most bikes on this list at 313cc, but it's still lightweight with amazing handling.
Part of BMW's Roadster series, the G 310 R is a sporty bike overall, but the seat height is a bit more upright. This style is pretty unique to BMW, a particular preference that's loved by some but not all. Either way, I can't deny that this bike is perfect for getting around crowded cities, something BMW is expert in given its European market.
In the US, it's great for the big city, but it's also just fun all around. The power is impressive for its small frame, yet the ride is still smooth at high speeds. It can reach nearly 90 mph.
---
Benelli 302S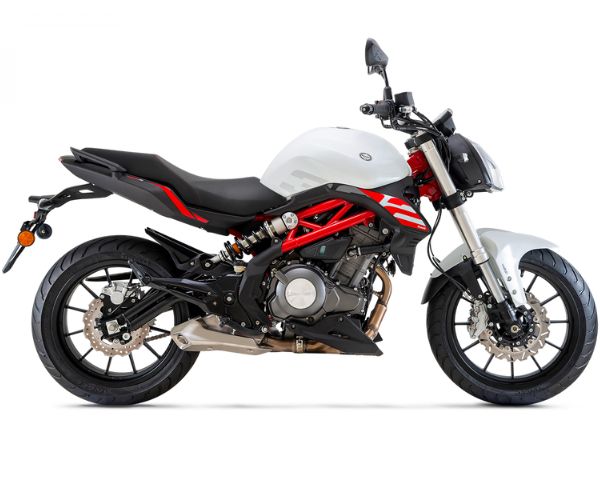 Engine: 300cc parallel twin
Max power: 37.5 hp
Max torque: 19 lb-ft
Seat height: 31.3 inches
Curb weight: 430 pounds
MSRP: $4,989
Benelli is a storied Italian motorcycle company, but there's been a certain amount of skepticism regarding their budget bikes now manufactured by the Qianjiang group in China. The 302S hasn't been out very long, so it's not very tested, but its predecessor, the TNT 300, was well received, and I quite like this bike as an inexpensive entry-level option with a lot of power.
In fact, I have no doubt that this model will come to rival the Japanese bikes that have long dominated the American market, just like those bikes themselves did in the 80s. It's a versatile, naked bike with a comfortable seating position and smooth riding on city streets.
I really like the looks of the 302S as well. Overall, if you need a bike for commuting, you can save a bit of money and get a motorcycle just as good, if not better, than most others with similar specs.
---
KTM 200 Duke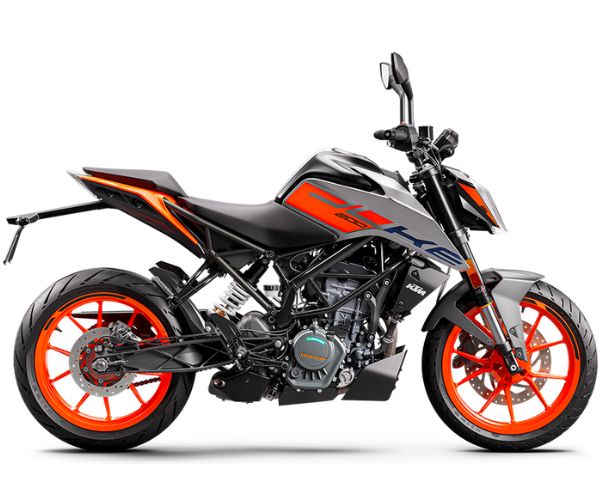 Engine: 199.5cc single cylinder
Max power: 25 hp
Max torque: 14.2 lb-ft
Seat height: 32 inches
Curb weight: 291 pounds
MSRP: $4,199
Although the KTM 200 Duke was introduced back in 2012, it wasn't available in the US until 2020. With a smaller 200cc engine, it fits a niche with very few other available bikes. It's lighter weight and less expensive than many full 250cc models, but it's still highway-legal in most jurisdictions. In fact, some claim its top speed is nearly 90 mph.
The 200 Duke is a naked bike, too, which makes it more versatile and a good choice for beginners who don't have a specific style of motorcycle in mind. At the same time, you can save several hundred dollars compared to most 250cc models.
---
Yamaha YZF-R3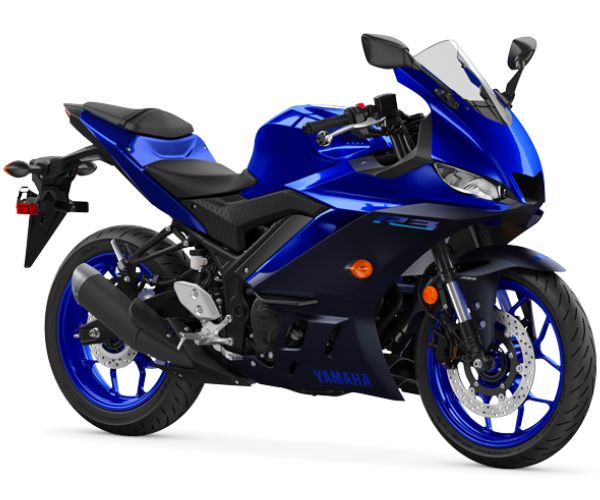 Engine: 320cc inline twin
Max power: 50 hp
Max torque: 21.8 lb-ft
Seat height: 31 inches
Curb weight: 375 pounds
MSRP: $5,499
With a large 320cc engine, I debated putting the YZF-R3 on this list. However, I think it belongs with the 250cc motorcycles as an entry-level sport bike, especially these days when manufacturers are constantly increasing size.
Naturally, since it's so large, this bike has a lot more power than others on this list. In particular, 50 horsepower means comfortable cruising and regular commuting, even if you have to hit the highway sometime.
The biggest downside to this bike is its braking. It takes a full 130 feet to come to a complete stop from 60 mph. That can be tough for beginners, so this is a better bike if you at least have some riding experience already.
---
Kawasaki KLX 300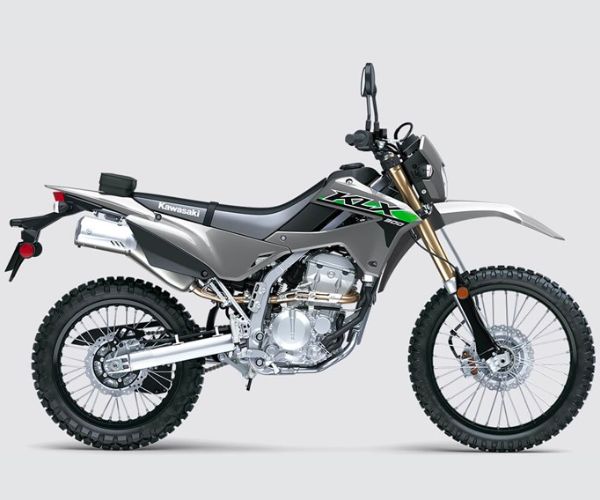 Engine: 292cc
Max power: 30 hp
Max torque: 21 lb-ft
Seat height: 35.2 inches
Curb weight: 302 pounds
MSRP: $6,199
If you also want to go off-road, my top recommendation is the Kawasaki KLX 300. While I used to be a big fan of the Honda CRF line, I feel that Kawasaki has come to dominate this segment of the motorsport market just as they have many others. For a 292cc motor, the torque is great for off-road applications, but the 30 horsepower is fine for pavement as well.
The KLX 300 is great off-road for other reasons as well. It's insanely lightweight and easy to balance. Plus, the seat is higher with a relaxed but stable riding position. You do have to pay a bit more than you would for other 250cc bikes, but that's typical for dual-sport models since you're basically getting two for one.
My favorite part of this bike is definitely the new shroud design for the transmission, though. It makes shifting a lot more comfortable, particularly during cornering.
---