Automatic motorcycles have struggled to gain traction in the industry despite being invaluable to those who ride one. Scooters have long been powered by the pairing of a combustion engine and CVT (continuously variable transmission), but this has never really taken off with motorcycles. 
However, times are slowly changing, and leading the pack is Honda, with its dual-clutch transmission (DCT) models and, of course, the rapid rise of electric motorcycles, all of which are automatic. 
Automatic motorcycles are easy to ride and smooth, they don't stall, and they appeal to new riders and long-distance riders alike, both of whom might not want to think about clutch operation.
We have picked the best options on the market, so let's get into it.
Honda Gold Wing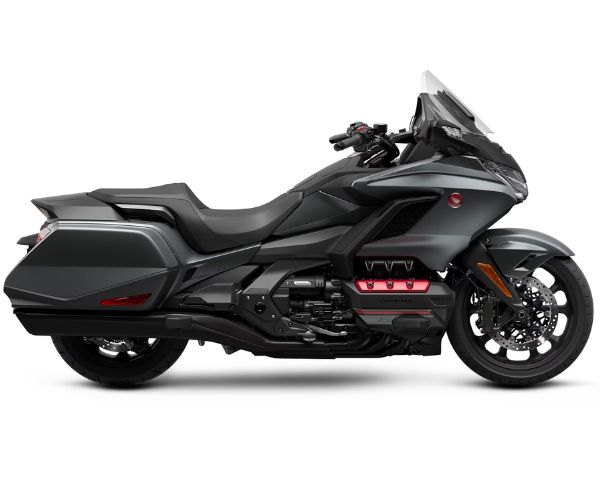 Specs:
Max power: 124 horsepower
Max torque: 170 Nm
Top speed: 140 mph
Seat height: 29.3"
Curb weight: 804 lbs.
MSRP: $25,600
Few bikes are as deserving of the title "icon" as the Gold Wing. It is a certified legend with a legacy that stretches back to 1975 and, without a doubt, has shattered all expectations the original designers had for the model. 
Fifty years later, the Gold Wing is more powerful and comfortable than ever while still providing the long-distance touring experience that has become synonymous with the model. 
The DCT model is equipped with a seven-speed transmission, including a walking mode and reverse option. The DCT allows riders to either manually shift gears using paddles on the handlebars or switch into fully automatic mode and let the bike handle everything. 
The seventh gear acts as a cruising gear for highway riding, and the walking mode helps you to easily maneuver the heavy bike around at slow speeds.
The base model comes in Matte Gray, and it has four riding modes, hill-start, and a full multi-media center.
The Gold Wing Tour includes a 61-liter travel trunk, hard saddlebags, and electronic preload suspension. You can also select the Tour model with a built-in airbag option for added rider protection.
---
Honda Rebel 1100T DCT
Specs:
Max power: 86 horsepower
Max torque: 97 Nm
Top speed: 102 mph
Seat height: 27.5"
Curb weight: 524 lbs.
MSRP: $11,299
I never thought we would see the day when an automatic cruiser was an option, especially one with a name like "Rebel," but pushing the boundaries of convention, Honda has equipped the Rebel 1100 with its DCT transmission. 
The Rebel 1100T is a muscular-looking bagger with a lot of attitude, and it pushes out a fair amount of power, more than enough for all riders to enjoy.
As the bagger model, the 1100T features hard-locking saddlebags and a front fairing. You can get the standard Rebel 1100, which lacks these features, but it does still have a DCT option.
Honda has built the 1100T as a touring model. The saddlebags and fairing are the obvious touring features, but with a low seat height and relaxed riding position, too, the bike is a great choice for a long ride.
The bike also comes with ABS and cruise control as standard, plus it has selectable riding modes and a USB charging port.
The DCT option lends itself to cruisers nicely. It makes cruising easier than ever — all the rider has to do is sit back, enjoy the ride, and look mean. Oh, and maybe keep their eyes on the road!
---
Honda Africa Twin DCT
Specs:
Max power: 94 horsepower
Max torque: 98 Nm
Top speed: 118 mph
Seat height: 34.3"
Curb weight: 529 lbs.
MSRP: $15,299
Honda's Africa Twin is a leader in adventure motorcycles. Along with the BMW GS, these two names are the first that come up when it comes to adventure bikes.
Now the Africa Twin also comes as a DCT-equipped model. And if you want to go that bit further, you can also choose a DCT Sport ES model, which has additional features like electronic suspension, an adjustable windscreen, a larger fuel tank, tubeless tires, and much more.
The dual-clutch transmission is beneficial off-road too. The smoother gear shifts and minimal drive disruption help the tires hold the road better.
The bike features a TFT display, selectable torque control, ABS, and cruise control, all features that are as beneficial on the road as they are off it.
Long travel suspension, wide handlebars, knobbly tires, and plenty of low-down torque are just some of the reasons why the Africa Twin is one of the big players in the adventure market.
---
Honda NC750X DCT
Specs:
Max power: 57 horsepower
Max torque: 69 Nm
Top speed: 125 mph
Seat height: 31.6"
Curb weight: 472 lbs.
MSRP: $9,399
The NC750X is the ultimate everyday motorcycle. It makes a great commuter or a great Sunday morning blast through the canyons, and it can also comfortably take you on overnight weekend trips.
Thanks to the unconventional parallel-twin engine layout, where the traditional fuel tank would be, you have a large storage space big enough for a full-face helmet.
The suspension is inspired by the bigger adventure bikes, so it has long travel. It soaks up bumps in the road with ease and could do some light dirt riding if you so desire.
It isn't the most tech-packed option, but it does come with Selectable Torque Control and ABS as standard. The windscreen is more than up to the task of offering wind protection and the riding position is upright, neutral, and comfortable for all-day riding.
The NC750X is actually a perfect option for automatic transmission because it is a really practical, sensible motorcycle. Riders of the NC750X will appreciate the DCT. Since it makes commutes easier, the automatic transmission is a real benefit to the model rather than a novelty. 
---
BMW C 400 GT
Specs:
Max power: 34 horsepower
Max torque: 35 Nm
Top speed: 86 mph
Seat height: 30.5"
Curb weight: 472 lbs.
MSRP: $8,245
Okay, so the BMW C 400 GT is actually a scooter and not technically a motorcycle in the traditional sense.
However, it's a pretty cool scooter, and given CVT transmissions have dominated the automatic market for a long time, it makes sense to include just one nontraditional bike in the list.
The C 400 GT is a great-looking scooter. The single-cylinder engine pushes out a useful amount of power, making it an excellent city ride but also capable of back roads on the weekend.
Power delivery is smooth and quick, the riding experience easy and comfortable.
Standard equipment includes ABS, LED lights, ride-by-wire throttle, and the BMW Motorrad Connectivity display. You can also add heated grips, a heated seat, and a whole range of accessories to tailor the bike to your needs.
---
KTM Freeride E-XC
Specs:
Max power: 24.5 horsepower
Max torque: 42 Nm
Top speed: 50 mph
Seat height: 35.8"
Curb weight: 245 lbs.
MSRP: $11,299
The KTM Freeride E-XC is built for pure fun and not much else. It is a lightweight, dirt bike-style, all-terrain machine.
At the heart of the bike is a brushless 18 kW synchronous motor that produces a modest 24.5 horsepower and 42 Nm of torque. It isn't the fastest bike, but it's more than quick enough for its purpose.
WP XPLOR suspension front and back contribute significantly to the agile nature of the bike. The suspension setup is also why the bike is so dynamic off-road or for jumping curbs. 
The riding position is a typical dirt-bike stance, which gives you complete control over the bike so you can really push your limits, whether that's racing around dirt trails, pulling wheelies, or performing some light jumps.
The Freeride E-XC is just an awesome, lightweight, fun automatic electric motorcycle.
---
Livewire ONE
Specs:
Max power: 100 horsepower
Max torque: 113 Nm
Top speed: 110 mph
Seat height: 30"
Curb weight: 562 lbs.
MSRP: $22,799
Harley-Davidson released its first electric motorcycle and named it the Livewire. Harley decided to apply the Livewire name to its subsidiary, which would cover its entire electric motorcycle production.
This way, Harley kept its brand to traditional V-twin bikes but could still keep a hand in the booming electric market.
The Livewire ONE is the very first official Livewire and it is a pretty awesome one at that. The bike produces 100 horsepower, 113 Nm of torque and has a top speed of 110 mph. It has a 0–60 time of three seconds. 
The big difference between a combustion engine and an electric motor is the power delivery. The automatic nature of electric motorcycles means power is instant, as it is with the Livewire ONE. A twist of the throttle and the power seems endless right up until the top speed. 
The Livewire ONE is built with a strong cast-aluminum frame, it has Showa suspension and the latest Bluetooth and cellular connection, and no expense has been spared, which is what you expect from a bike made by Harley-Davidson, even if it doesn't have the name.
---
Livewire S2 Del Mar
Specs:
Max power: 84 horsepower
Max torque: 263 Nm
Top speed: 103 mph
Seat height: 32.2"
Curb weight: 436 lbs.
MSRP: $15,499
The Livewire S2 Del Mar is currently on pre-order and has yet to hit dealer floors. There is a lot to be excited about, though, if electric bikes are your thing.
The S2 Del Mar is built for speed, agility, and linear acceleration. This is the combination Livewire hopes will make it the number one bike for urban riding.
Just like the Livewire ONE, the Del Mar is built with the best components, like Showa suspension. It also features next-level technology like Over The Air updates.
The rider needs to download the S2 Del Mar app, which means they will be able to control software updates for the bike, pair their phone to the bike, and also access key mobile phone functionality from the bike, like navigation and ride details.
The S2 Del Mar is one to watch for riders who love the latest technology and appreciate electric motorcycles.
---
Energica Ego
Specs:
Max power: 171 horsepower
Max torque: 215 Nm
Top speed: 150 mph (electronically limited)
Seat height: 31.9"
Curb weight: 573 lbs.
MSRP: $32,636
A really exciting electric motorcycle is the Energica Ego. It is a supersport motorcycle with bags of power and torque and an electronically limited top speed of 150 mph. It has a 0–60 time of 2.6 seconds.
As it is a naturally automatic motorcycle, the power delivery of the Energica Ego is like no other sport bike on the market. Think of the Ego as an automatic Ducati Panigale V4 — it is a crazy concept.
Energica has ensured that the Ego is capable of performing on the track and alongside traditional supersport motorcycles, so every design detail has been well thought through and carefully selected for maximum performance.
It is also an electric motorcycle that could easily be mistaken for a traditional sport bike thanks to the sports fairings and design.
The Ego is arguably the best electric sport bike currently available.
---
Zero SR/F
Specs:
Max power: 110 horsepower
Max torque: 190 Nm
Top speed: 124 mph
Seat height: 31"
Curb weight: 500 lbs.
MSRP: $19,795
Zero Motorcycles is one of the leaders in the electric motorcycle industry and the SR/F is its naked streetfighter option. It is an awesome-looking naked bike with an aggressive stance and mean-muggin' styling.
Packed with power and torque, the SR/F is ready to carve up city streets and weave through traffic as much as it is ready to ride through the twisties and cruise on the highway to get to the next destination.
Like the Livewire bikes, the SR/F can be paired to your phone, from which you can customize the bike's options to suit your needs.
This is one streetfighter where you can twist the throttle, fly from the traffic lights, and continue to join the highway without the need to shift gears or experience any turbulence from a combustion engine.
The electric motor is seamless in its power delivery, giving you more time to focus on the road, your destination and your next adventure.
Check it out on Zero Motorcycles
---