Harley-Davidson is an institution, an iconic motorcycle manufacturer with a rich history and a legacy of V-twin domination. But Harleys aren't usually considered the most beginner-friendly motorcycles, mostly due to the weight and engine capacity of the big roaring V-twin engines.
However, we need to flip the script on this assumption. I don't believe in the idea that beginner riders should be limited to one type or capacity of motorcycle — with some sensible exceptions, for example, new riders should probably not go and buy a Kawasaki Z H2.
A low seat height and a balanced, low center of gravity are essential to making new riders comfortable. Luckily, they're also natural features of a Harley. So some lighter-weight options are suitable, and even ideal, for new riders. 
Let's look at our top picks for beginner-friendly Harleys.
We've selected models from both the current H-D range and readily available used models.
Harley Davidson Street 750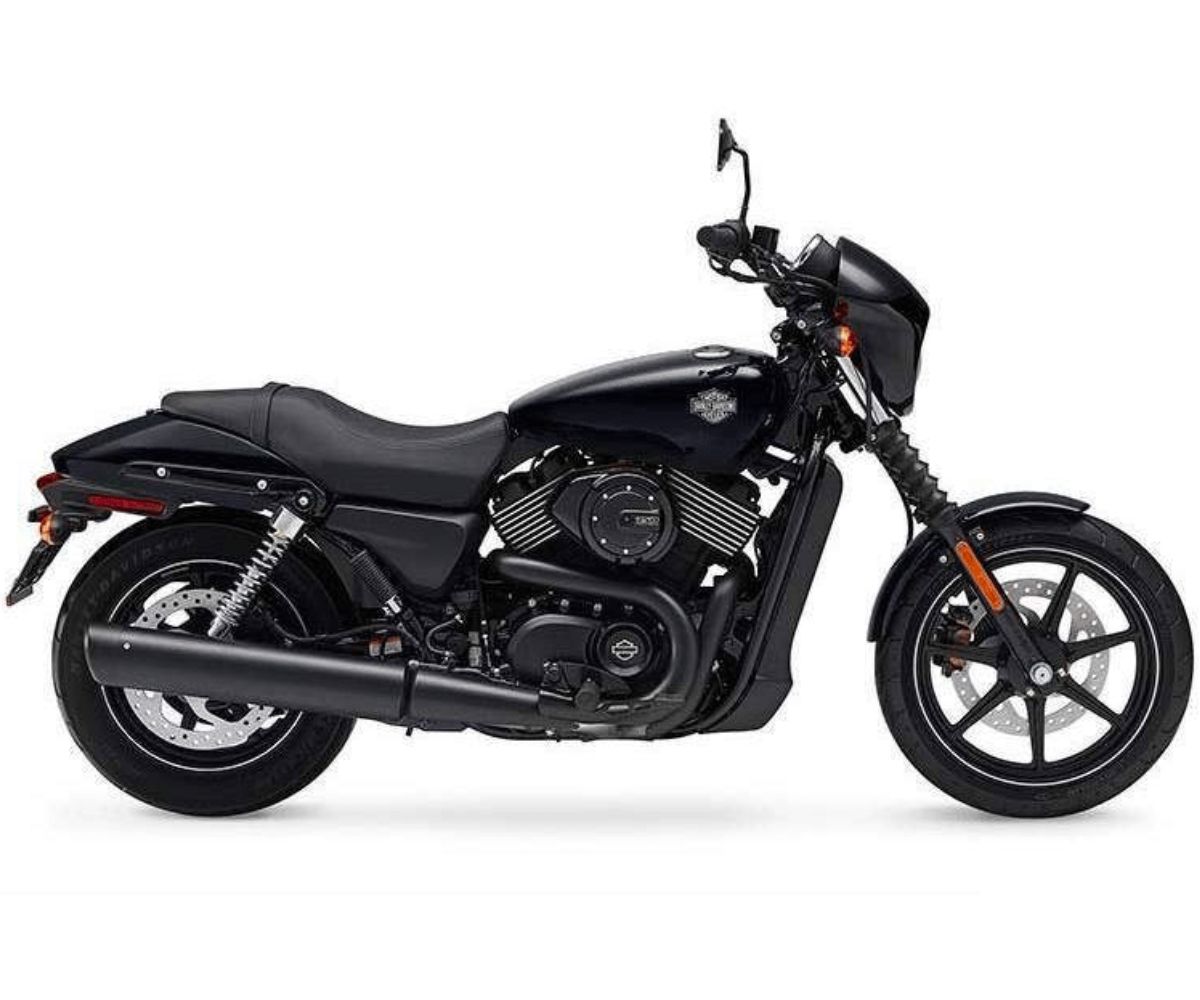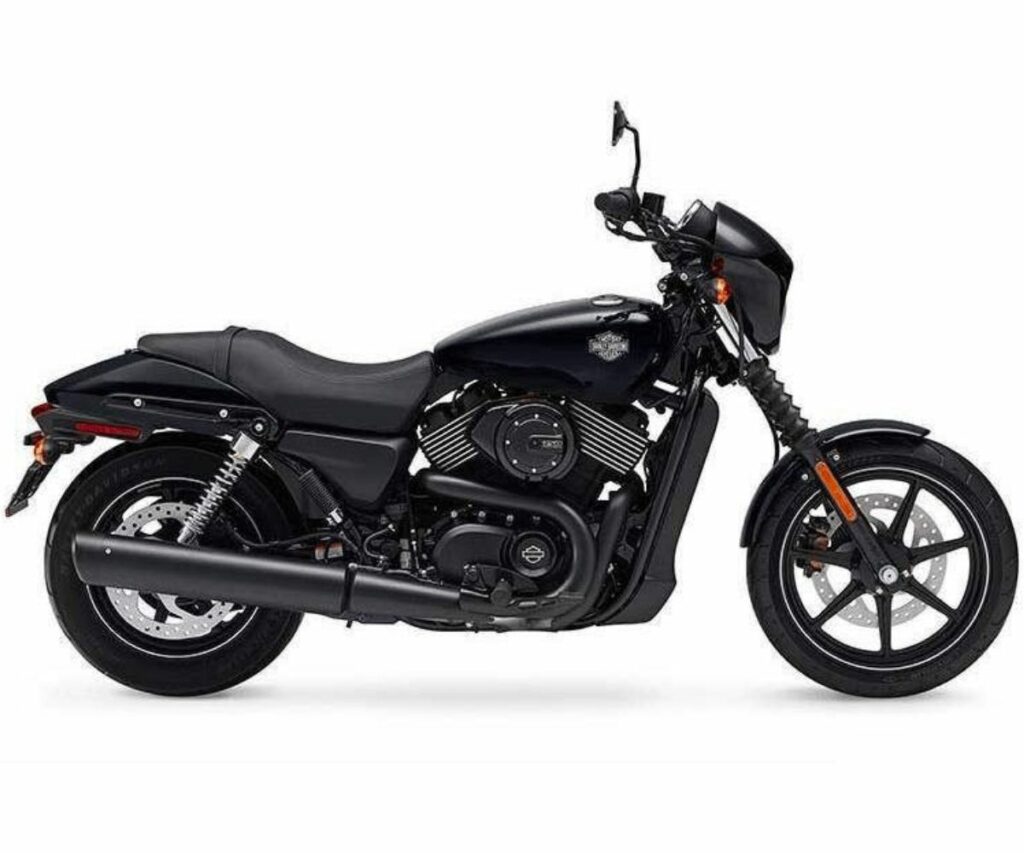 Specs:
Curb weight: 514 lb.
Seat height: 25.7"
Engine: 749cc, water-cooled, Revolution X
Max power: 53 horsepower
Max torque: 64.9 Nm
Price: $5,000–$7,500
We're going to start off with a discontinued model that is available on the used market. The H-D Street 750 was discontinued in 2020, along with the Street Rod and the Street 500.
The point of the Street 750 and 500 was to attract new riders to the Harley-Davidson brand and lifestyle. They were styled to attract the younger generation with the hope they would develop an allegiance to the brand and move up the range with time. 
H-D developed a water-cooled engine for the Street range and called it the Revolution X. It is relatively low-powered with just 53 horsepower, but it's more than enough for everyday riding. The 64 Nm of torque ensures there's plenty of low-down power to get you moving away from traffic, pulling you up to speed easily.
It's a lightweight H-D, and the low seat ensures riders can reach the ground with ease. Both of these features mean new riders can get to grips with slow speed maneuvers quickly and not have to worry about struggling with a heavy bike at stops.
Ergonomically, however, the Street 750 is a little bit strange. Mid-mounted controls force your knees into an awkward angle on either side of the engine, and you can easily rest your heel on the hot exhaust, which isn't fun!
Taller riders may struggle with the Street series for this reason.
Since the model was discontinued, prices have been pretty steady on the used market. They are cheaper than many other Harley models, and most are low-mileage bikes.
Check listings on Cycle Trader
---
Harley-Davidson Iron 883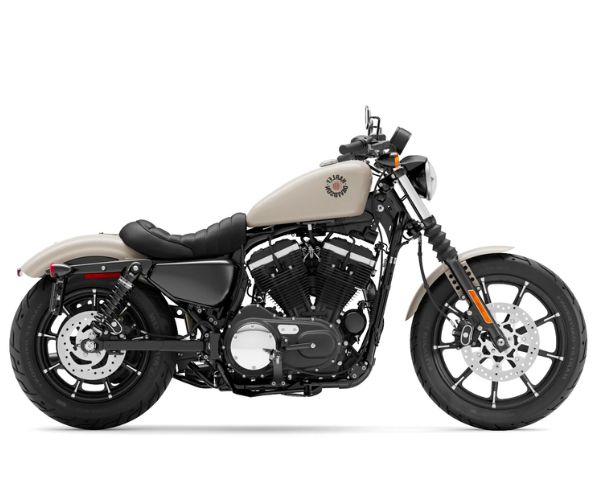 Specs:
Curb weight: 564 lb.
Seat height: 27.5"
Engine: 883cc, air-cooled, Evolution
Max power: 50 horsepower
Max torque: 73.2 Nm
Price: New $11,249, used from $4,000
The Harley-Davidson Iron 883 was discontinued last year and along with the Forty-Eight, was the last of the air-cooled Sportsters. The air-cooled H-D Sportster had been in production since 1957 until it was then phased out and replaced with the water-cooled Sportster S and Nightster. 
There is no question that the Iron 883 is one of my favorite motorcycles of all time. In fact, my husband had one that I named Dolores, and it's safe to say his selling her was very nearly the end of our relationship.
The V-twin Evolution engine is one of the most reliable and stable Harley engines ever produced, and the 883cc version in the Iron is a very accessible motor for new riders. It has enough power to grow into, but it's far from intimidating and unmanageable. Instead, you rumble along in traditional Harley style — in full control.
A 27.5"-seat height is plenty low enough for most to get both feet on the ground at stops, and the narrow nature of the Iron means it's easy to control and maneuver, with your legs able to help your arms keep you upright.
The seating position is comfortable and upright, with the bars in easy reach and the footpegs mid-mounted. This natural position is perfect for new riders because there are no extremes.
There are still some 2022 Iron 883 models in dealers, so if you want a brand new one, have a look around. Otherwise, there are plenty of used bikes on the market and they are very reasonably priced.
---
Harley-Davidson Forty-Eight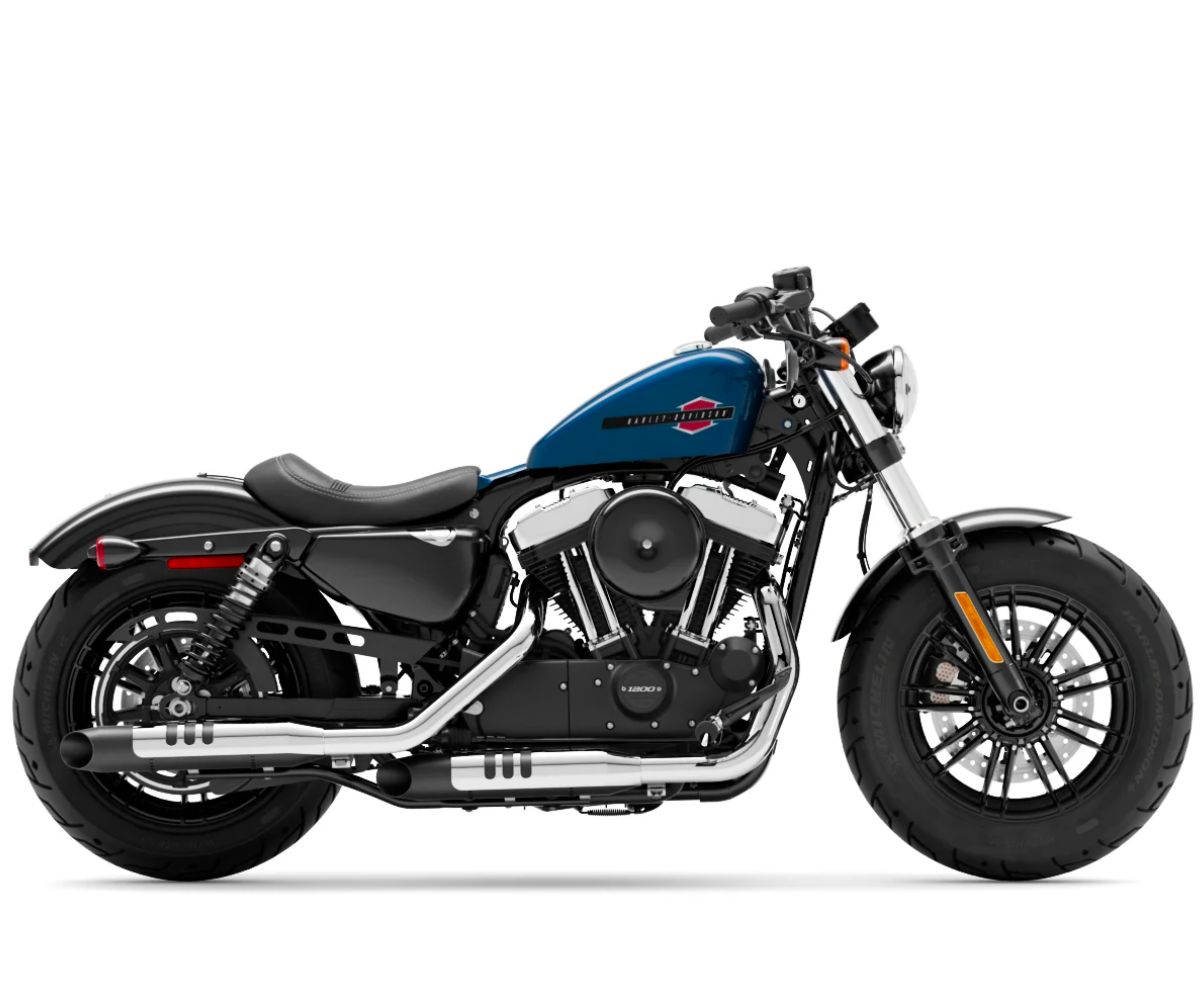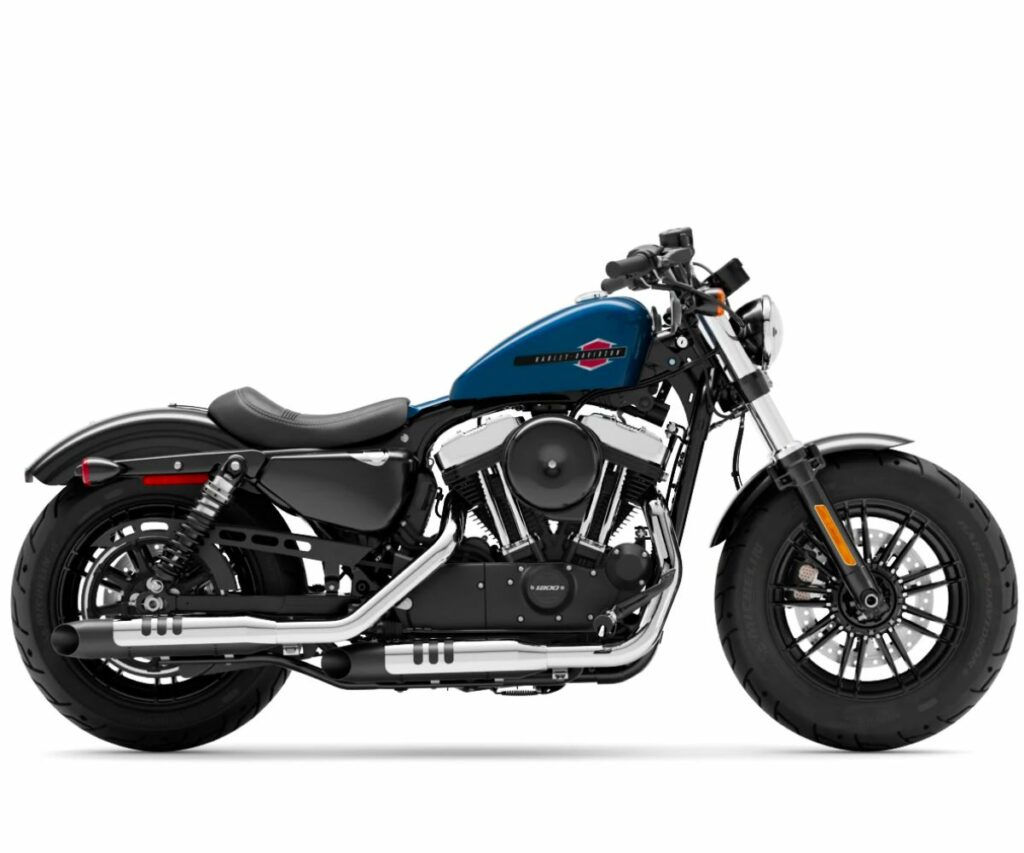 Specs:
Curb weight: 556 lb.
Seat height: 26.2"
Engine: 1200cc, Evolution V-twin
Max power: 60 horsepower
Max torque: 98.9 Nm
Price: New $12,299, used from $5,000
The Harley-Davidson Forty-Eight is a 1200cc Sportster that is somewhat more aggressive than the Iron series. Again, the Forty-Eight was removed from the range last year, but there are still some new models hanging around at dealers.
The Forty-Eight used the 1200cc Evo engine, which gave it a bit more power than the 883. However, it isn't dripping in horsepower. It's still very manageable and easy-going. The main difference is you will have slightly more top-end power for faster riding circumstances, like the highway.
Instead of mid-mounted controls, you get forward controls and a forward riding position overall, along with two very fat tires for a bulldog stance. 
New riders will have to adjust to the riding position, but the seat height and weight should inspire confidence when you first get out riding. The truth is an air-cooled Sportster of any generation is going to be suitable for a new rider. The weight, power, seat height, and ergonomics will all make a new rider comfortable pretty quickly.
For reliability, stick to the Evolution engine, but if you're like me and like to make things more difficult for yourself, and you want to learn to wrench on your bike, then the Ironhead Sportsters are classics.
---
Harley-Davidson Nightster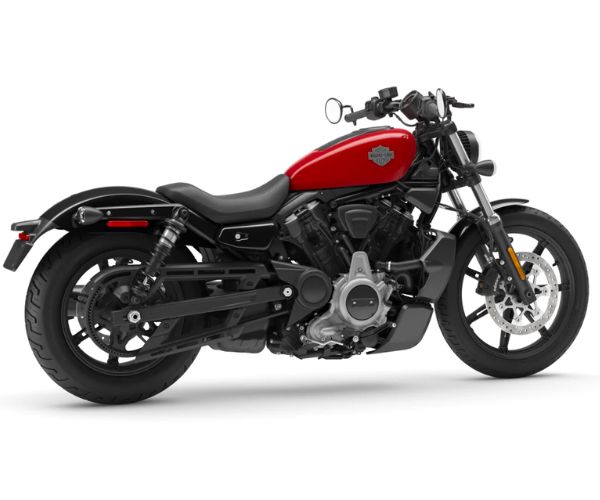 Specs:
Curb weight: 481 lb.
Seat height: 27.1"
Engine: Revolution Max 975
Max power: 90 horsepower
Max torque: 94 Nm
MSRP: $13,499
New for 2023, the Nightster is the next step in the Sportster revolution. Unlike the Sportster S, the Nightster is styled in a more traditional Sportster fashion, with a similar silhouette to the popular Iron 883.
It utilizes an all new 975 Revolution Max engine, which produces 90 horsepower and 94 Nm of torque. There's plenty of power for everyday riding situations and plenty for new riders to grow into. But it's delivered in a non-threatening fashion for easy riding. You don't need to fear twisting the throttle and the bike taking off like a rocket.
H-D has redesigned the traditional sportster chassis, which used the hook frame. Now the engine is used as a stressed member of the frame, which builds strength and rigidity to the overall chassis.
This method has also reduced the weight significantly to just 481 lbs. It's even lighter than the smaller Street 750, so it's perfect for new riders who don't want to wrestle with a big, heavy machine.
Harley has also included some rider safety enhancements with the Nightster. ABS, Traction Control, and Drag-Torque Slip Control come standard and are all useful to keep you safe, especially as a new rider. 
---
Harley-Davidson Sportster S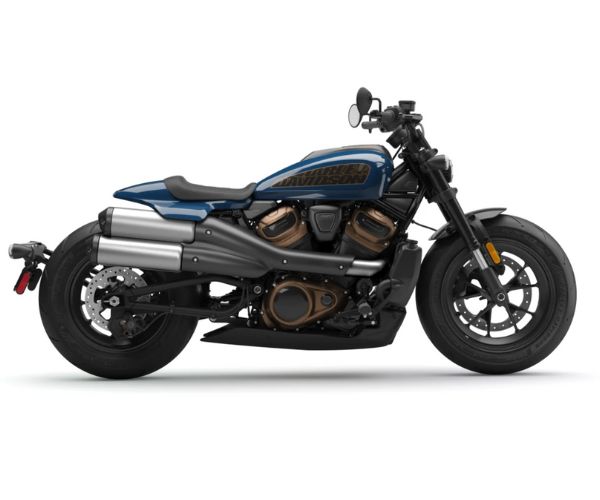 Specs:
Curb weight: 502 lb.
Seat height: 28.9"
Engine: Revolution Max 1250GT
Max power: 121 horsepower
Max torque: 127 Nm
MSRP: $16,399
Initially, the only offering from Harley in the Sports category — following the demise of the air-cooled Sporsters — was the Sportster S. It was the smallest-capacity Harley available for a short time until the Nightster debuted.
On one hand, the Sportster S is excellent for new riders. It's lightweight for a Harley, it has a low seat height, and it's agile and easy to move around. Equally, it's fitted with rider aids like ABS and Traction Control for enhanced cornering abilities, which will help new riders stay safe.
However, the Sportster S is a fast motorcycle. It's loaded with power and torque, and performance is at the heart of the machine. So, unless you're willing to exercise caution and self-control, the Sportster S might be a bit too much for you to handle initially.
---
Harley-Davidson Softail Standard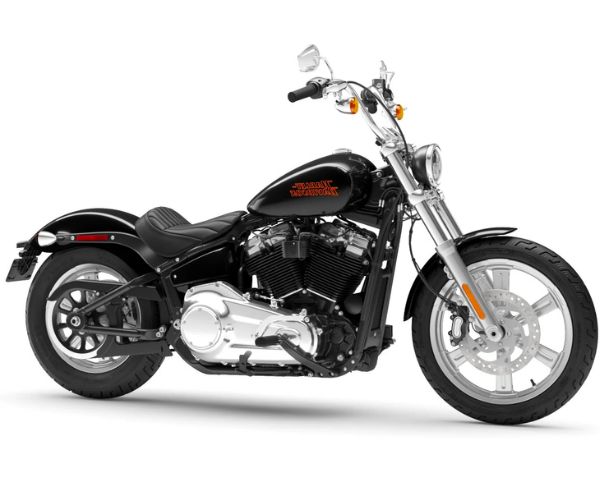 Specs:
Curb weight: 655 lb.
Seat height: 25.8"
Engine: Milwaukee-Eight 107
Max power: 86 horsepower
Max torque: 149 Nm
Price: $14,399
Ironically, this big cruiser may actually be more suitable for beginners than fast bikes like the Sportster S. These models are significantly bigger in both weight and capacity, but they can still very much suit a new rider if you take into account caution and common sense.
The Softail Standard is an essentials-only, bobber-style cruiser that is the perfect starting point for a rider looking for their first big twin H-D. Powered by the Milwaukee-Eight 107, it has masses of power and torque, so as a new rider, you have to be sensible with your throttle hand. 
Despite being 655 lbs, the bike has a super-low seat height of 25.8", which means managing the weight isn't as hard as you might think. Once you're off the center stand and moving, the bike does the hard work for you, and the torque will pull you along.
The riding position is nice and upright for maximum control and comfort. There are no fancy electronics or distractions on the Softail Standard, which means new riders can just get on with learning their craft.
---
Harley-Davidson Street Bob 114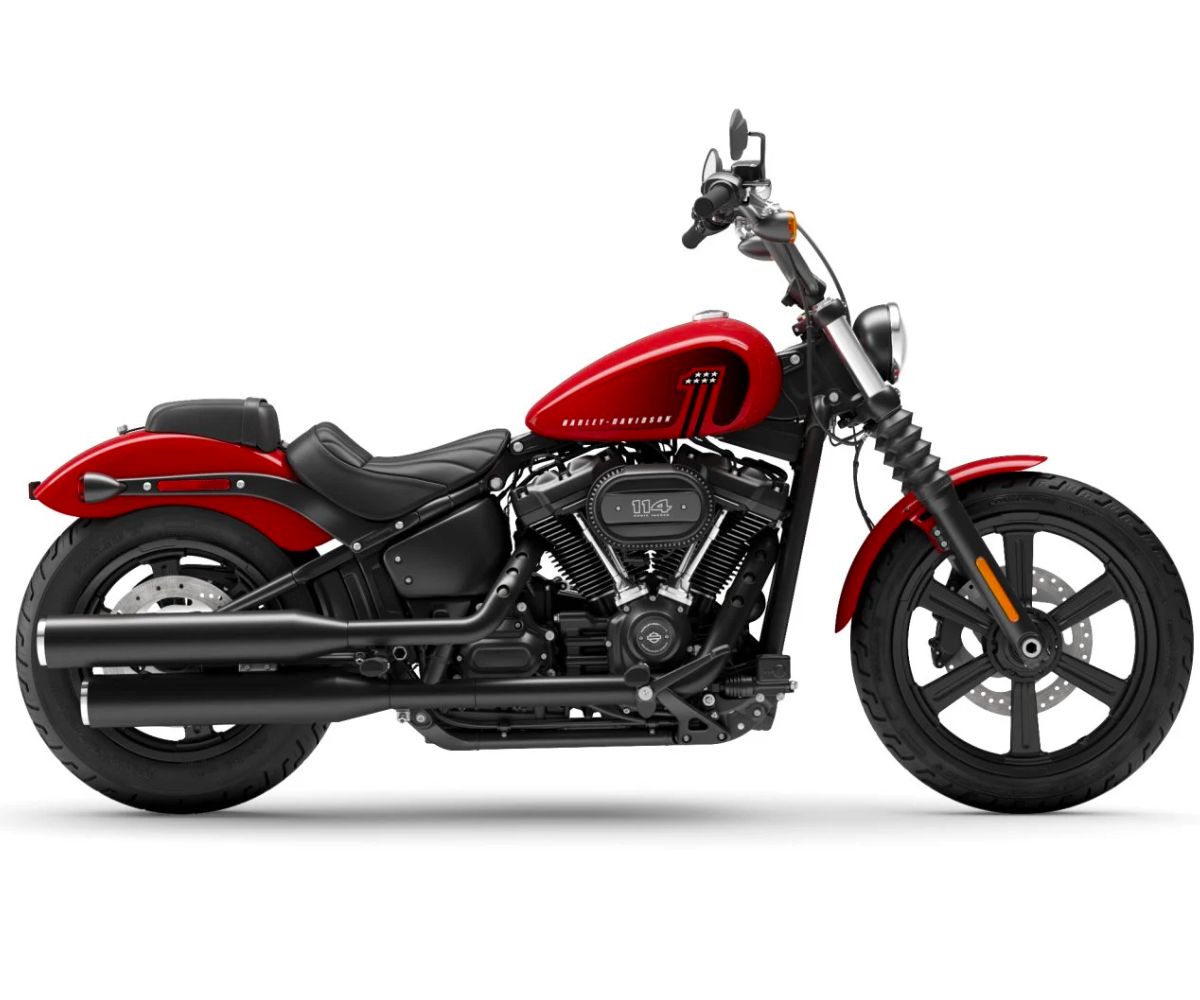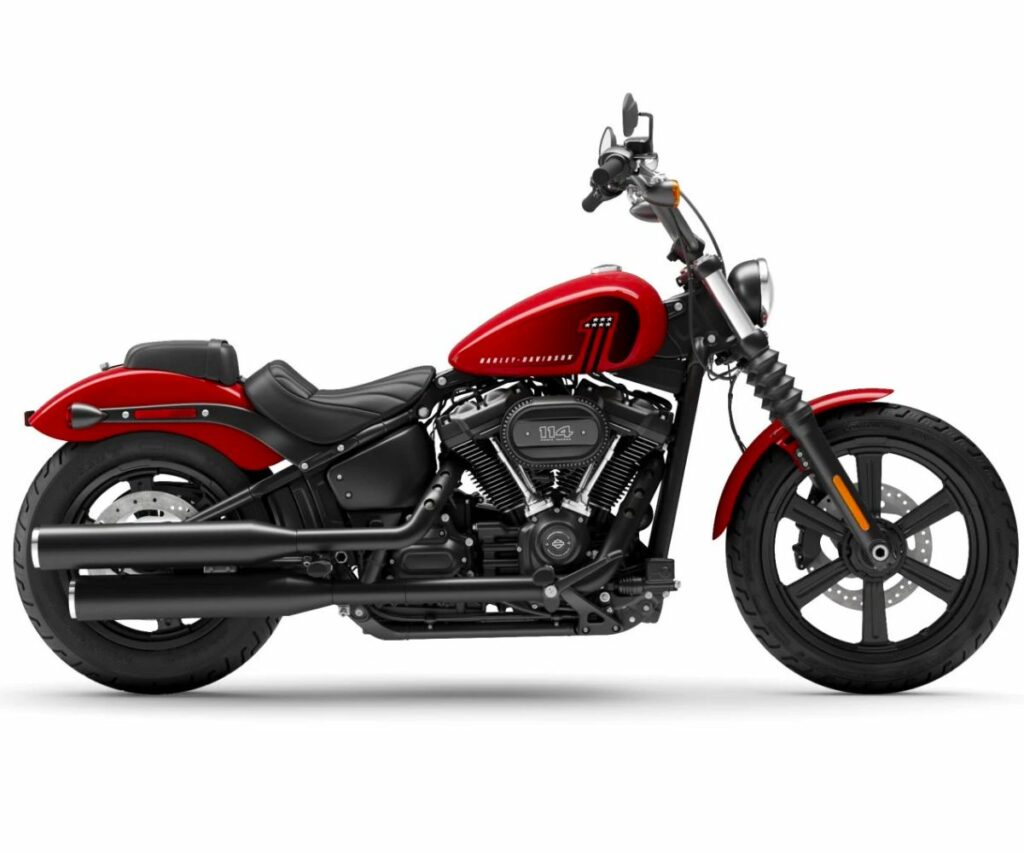 Specs:
Curb weight: 655 lb.
Seat height: 25.8"
Engine: Milwaukee-Eight 114
Max power: 94 horsepower
Max torque: 116 Nm
Price: $16,599
Moving up the range slightly, we have the Street Bob 114, equipped with the bigger Milwaukee-Eight 114 engine. The Street Bob is very similar to the Softail Standard in design: The ergonomics are the same, as are the weight and seat height. The main difference is a passenger seat pad and slightly bigger engine.
Another considerable difference, which may help you decide between the two, is that the Street Bob has a more modern style, with fresh paint schemes, including Redline Red and Industrial Yellow.
A new rider who understands the power of the engine could not go wrong with the Softail Standard or the Street Bob. The only choice to make really is which style you prefer.
---
Harley-Davidson Freewheeler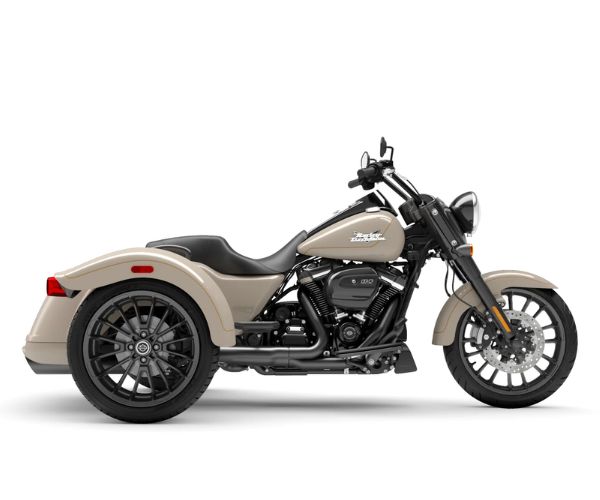 Specs:
Curb weight: 1,110 lb.
Seat height: 26.2"
Engine: Milwaukee-Eight 114
Max power: 90 horsepower
Max torque: 165 Nm
Price: $29,999
Of course, another option for new riders, if a little bit off track, is to look at Harley's Trike range. Harley-Davidson was making trikes way back in its early history. They were used as service vehicles for the military and postal services.
It was 2009, though, before Harley officially released its first trike for the everyday consumer. Up until that point, aftermarket versions had been built by different manufacturers using Harleys as the base. 
The obvious benefit of a trike for a new rider is the stability of the third wheel. There's no worry about managing the weight because the bike holds itself upright.
The Harley-Davidson Freewheeler is our favorite option because it's styled like traditional Harley cruisers, so you don't miss out on that Harley feel. The Freewheeler has everything you need for a comfortable ride and the hot-rod styling is visually stunning.
H-D has fitted the Freewheeler with rider-safety enhancements, such as Cornering ABS, Cornering Linked Braking, and Traction Control, as well as an electric reverse gear so you don't have to worry about pushing the bike back when you need to.
There are a host of reasons why somebody might want a trike, and the Freewheeler is an awesome option for those who want in on the Harley-Davidson brand.
---
All images via Check it out on Harley-Davidson