We all know and understand the importance of good protective gear when riding our motorcycles. The problem is that motorcycle gear can be costly, so if you buy a budget motorcycle jacket, how do you know it will protect you?
We've found the six best budget motorcycle jackets from the hundreds of options available for under $200.
Best Overall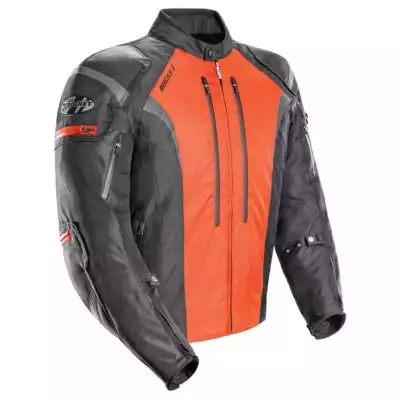 Joe Rocket Atomic 5.0 Jacket
Offering all-year-round use, the Joe Rocket Atomic 5.0 gives winter and summer comfort, with CE-approved armor and padding at a great price.
Best Budget Summer Jacket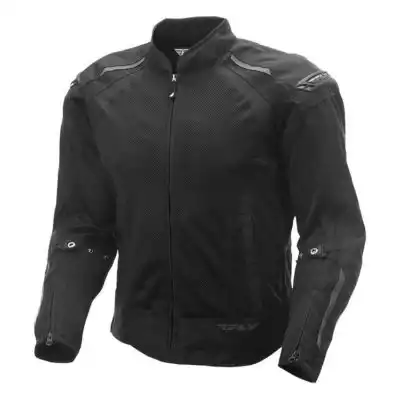 Fly Racing Street Coolpro Jacket
With the removable liner that extends the Fly Coolpro's useable seasons, plus a host of safety features, this jacket is our choice as a budget summer jacket.
Best Budget Motorcycle Jackets Reviewed
---
Joe Rocket Atomic 5.0 Jacket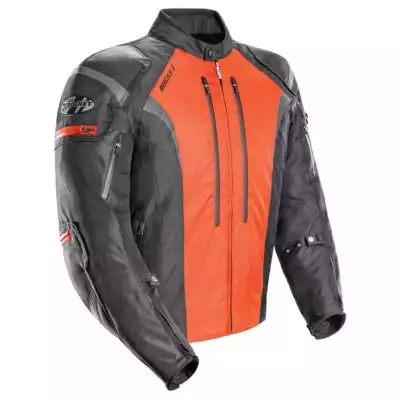 If you are looking for a value for money, multi-season jacket, then consider the Joe Rocket Atomic 5.0. Not only is it waterproof, but it comes with a removable winter liner, plus ventilation panels for the warmer days.
Protection is provided by the Rock Tex and Hitena shell, with impact areas protected by CE-approved armor. The armor is in external pockets, so you could remove it to make the jacket more comfortable once you arrive at your destination.
For extra safety, the jacket has a zipper and belt loops so you can connect it to your pants. Multiple adjustment points allow you to get a great fit, plus neoprene linings on the cuffs and collar add comfort.
Pros:
True multi-season jacket
Waterproof
Neoprene cuffs and color for comfort
CE armor in external pockets on shoulders and elbows
Ventilation panels
Zipper and belt loops for attaching to your pants
Removable thermal winter liner
Cons:
Spine pad fitted, not armor
---
Fly Racing Street Coolpro Jacket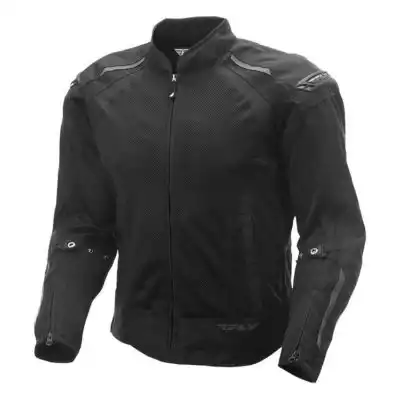 The Fly Racing Street Coolpro Jacket is a summer full mesh jacket. Unlike most mesh jackets, it comes with a removable waterproof, windproof, and breathable liner, extending the jacket's useable season from spring to fall.
If you can only afford one jacket and don't ride in the winter, this could be perfect.
840D nylon, more robust than the 600D polyester used in most mesh jackets, protects the impact areas. Add in CE-approved armor on the shoulders and elbows, and you get excellent protection at a low price.
The only slight downside is the spine protector is a pad and not armor. But at this price point, something has to be cut. You can easily fit an armored spine protector.
As a spring-to-fall jacket with good protection where needed, the Fly Racing Street Coolpro Jacket is hard to beat at this price.
Pros:
840D ballistic nylon protection in impact areas
Removable waterproof, windproof, and breathable liner for fall and winter use
Arm adjustment holds armor in place
Cuffs have zip and velcro adjustment
Extended back panel for extra protection
Zipper for attaching pants
Velcro waist adjustment
Side expansion panels
Cons:
The spine protector is a pad, not armor
Only available in black
---
Speed and Strength Off The Chain 2.0 Textile Jacket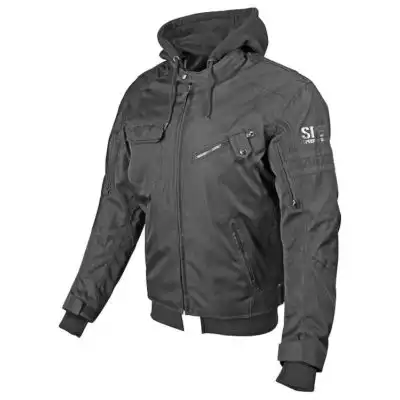 Available in black only, the Off The Chain 2.0 jacket looks pretty cool and is perfect as a general biking jacket. We noticed it is a relatively loose fit, so ordering a size smaller than usual is advised.
CE-approved armor on the shoulders, elbows, and back offers quality protection at an affordable price. Talking of security, this must be the only jacket with a concealed carry holster pocket! That's pretty unique.
The AR-600 outer shell is only water-resistant, but for the target market, that's fine. A removable hoody style inner liner featuring hand warmers on the ends of the sleeves makes it great for those cooler days.
The Off The Chain 2.0 offers some great safety features as a casual wear biking jacket without the power ranger look of some bike gear!
Pros:
CE approved armor
Zipped air vents front and rear
Zip-out hoody lining
Hand-warmer cuffs on the hoody
Plenty of pockets
Jeans loops to connect to your pants
Built-in pistol holster for concealed carrying!!
Cons:
Water-resistant not waterproof
Loose fit – order a size smaller than you usually order
Plastic zippers
---
REV'IT! Eclipse Jacket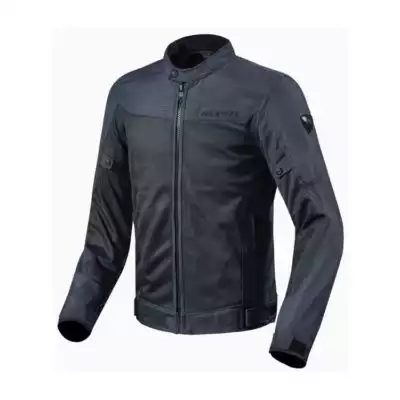 The REV'IT Eclipse Jacket is a mesh style designed primarily for summer use. The main shell is a mesh material with 600D abrasion-resistant panels at all impact points. The only thing missing is a spine protector, but there is a pocket ready to accept one, and it has a 600D panel for good abrasion resistance.
Velcro adjusters on the cuffs and waist allow you to get the perfect fit, while the jeans loops keep the jacket in place in case of an off.
The Eclipse is styled as a sports tourer fit, so it's looser for comfort than a full-on sports jacket. The look is also good when you are off the bike, looking like a casual jacket, particularly in the light brown color choice.
REV'IT has produced a great summer jacket, with good protection, except for the missing spine pad, for a very reasonable price.
Pros:
600D polyester abrasion protection in vulnerable areas
Mesh construction for summer comfort
Knox CE Level 1 protection on shoulders and elbows
Hook and loop wrist and waist adjustment
Bicep button adjuster for good fit
Button-down collar with soft feel liner
Great range of colors
Cons:
---
BILT Blaze 2 Jacket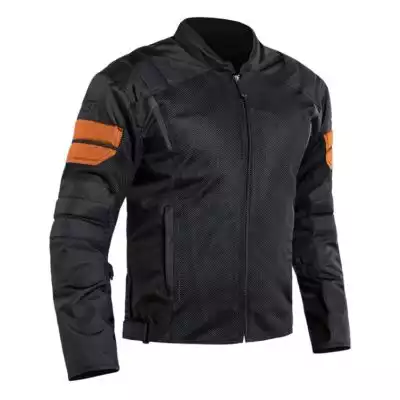 Bilt's Blaze 2 Jacket is another summer riding jacket with a mesh shell and 600D protection at impact areas. CE armor is included at the shoulders and elbows, but a spine protector is missing, although there is a pocket for it.
We found that the Blaze 2 is a very snug fit, and for some, the sleeves weren't long enough. Use the sizing guide carefully to ensure a good fit.
The cuffs are closed by zippers, but there is no hook and loop adjustment, which is a shame as we find this more adaptable.
As a summer riding jacket, it offers good protection, particularly if you add the spine protector, and it will keep you cool during the hot summer months. Add the incredibly low price of under €120, and it's perfect for those on a tight budget.
Pros:
CE armor at the shoulders and elbows
600D protection on impact areas
Mesh shell for cool summer riding
Zipper to connect to pants
Hook and loop waist adjustment
Neoprene comfort collar
Cons:
Spine protector available at extra cost
No velcro closure on wrists
Only available in black
---
Sedici Matteo Waterproof Jacket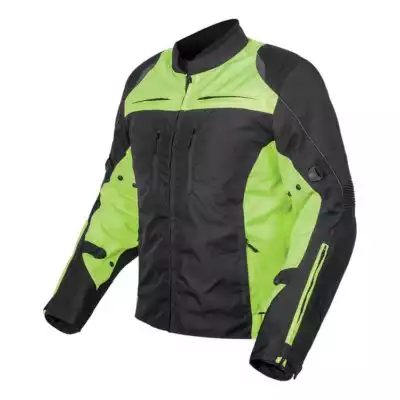 The Sedici Matteo is another multi-season jacket featuring a mesh lining, a removable waterproof liner, and a removable thermal liner.
In spring and fall, zip in the liner and ride on the cooler days, while during the summer, remove the liner and open the ventilation vents. However, it is a compromise as the jacket will not be as cool as a full mesh jacket in the summer.
Where the Sedici does score higher is with the built-in CE Level 2 armor. All the other jackets reviewed here have Level 1 protection.
The under $180 price includes many features found on more expensive jackets, such as the cell phone pouch, inner liner waterproof pockets, and reflective panels on the front, back, and sleeves.
Pros:
CE Level 2 armor in the shoulders and elbows
Removable waterproof and thermal liner
Multiple adjustments for good fit and armor location
Jacket to pants connection zipper
Some waterproof pockets
Mesh lining
Cons:
---
Buyers Guide
---
Price
Everything we buy is built to a price, but that doesn't mean that motorcycle jackets under $200 don't offer good protection. It is something to bear in mind, though.
Manufacturers save costs and reduce the price by fitting non-CE-approved armor, removing the extra features of more expensive jackets, and making the jacket showerproof instead of waterproof. Quality will also suffer, which generally means the jacket will wear out more quickly.
The bottom line is that these jackets will offer better protection than one not designed for motorcyclists.
If your budget is restricted, these jackets provide at least some protection should the worst happen and are better than fashion jackets.
Safety
We've briefly mentioned safety already, but it's a subject that requires a more detailed examination. How do you know that a particular motorcycle jacket will provide you with any protection?
There are no set protection standards for motorcycle protective equipment in the US despite efforts to create some. For the moment, we can rely on the European Union CE certification standard.
The CE standard requires a separate article, but we can cover the basics here.
There are two certification levels, CE1 and CE2, and the difference between them is the amount of force the armor can take. CE2 armor is more protective than CE1, so if you want the best available, look for CE2-certified armor.
You can find the full text of the regulations on the European Union website, but be warned; it's heavy reading!
Armor or Padding
It is important to recognize the difference and understand the protection each offers.
Armor is hard plastic or carbon inserts that fit around vulnerable areas, such as your shoulders, elbows, and knees. Back protectors can also be armored. Armor offers the highest level of protection, as it protects against both impact and sharp objects.
For armor to work effectively, it must be held in the correct location. If your jacket is loose fitting and the armor moves, the protection will be limited, but it could worsen the injury. When you try on a jacket, make sure the armor fits snugly and is in the correct position.
Padding comes in various levels of thickness and effectiveness. As with armor, it is also essential to make sure the padding is in the right place and cannot move around.
Thicker padding may offer better protection but could be bulky and make the jacket uncomfortable to wear. There are modern versions of padding gels that solidify on impact and give similar protection to armor. These are more expensive, so they don't usually feature in budget jackets!
Comfort
If your jacket is uncomfortable, you are less likely to wear it, and the most significant cause of discomfort is the armor and protective elements. The armor must be in the correct location for protection and comfort.
An uncomfortable jacket will affect your concentration while riding, decreasing your safety.
Try on the jacket and wear it for a while, if possible. Sit on a motorcycle and move around as if you are riding. You should get a feel for how good the fit is and how comfortable it will be.
Check out this article for more on how a motorcycle jacket should fit.
Waterproofing or Showerproof
If you are a dry weather only rider, then a showerproof jacket will most likely suffice. It will keep the worst of the weather off while you find shelter.
Related: Best motorcycle jacket for hot weather
For more committed riders, where a bike is their daily transport, then waterproofing may be more important to you than the highest spec safety features.
Look for Goretex linings that offer 100% protection, but they will be hard to find at this price point. That said, I've yet to find a jacket that is 100% waterproof, although some have come pretty close.
Breathability
If the weather where you live is hot, sunny, and generally dry, then a lightweight, breathable jacket will be attractive to you. Let's face it, wearing motorcycle gear in warm temperatures can quickly become uncomfortable.
I have a summer jacket with CE-approved armor and padding in the right places, but you can see right through the mesh if you hold it up to the light. The outer is still a hard-wearing, abrasion-resistant Cordura-type material, but a lovely cooling breeze blows right through as soon as you are moving!
Extras to look out for
Removable liners. These can provide extra warmth or sometimes a waterproof layer. Being able to remove the liner makes the jacket more comfortable in different temperatures.
Secure Closing Cuffs and Collars. Draughts around the collar or cuffs can quickly make you cold, so check these can be closed properly.
Plenty of pockets. Pockets are always useful on a jacket to store your phone, wallet, earplugs, etc. Check if any of the pockets are waterproof.
And Finally!
Wearing a jacket whenever you are riding is essential for safety, but when you're on a tight budget, do you need to compromise?
We've found some great jackets that offer excellent protection without breaking the bank in our short article. For general use, I recommend the Joe Rocket Atomic 5.0, and for a summer jacket, the Fly Coolpro is an excellent choice.