Sport bikes are arguably the most exciting types of motorcycle. They let us live out our wannabe racer fantasies, they look and sound awesome, and, most importantly, they provide some of the best performance that two wheels can give.
Unfortunately, great performance often comes at great cost, so you have to dig deep in your pockets to get your hands on a lot of these road rockets.
However, we have found the cheapest sport bikes on the market, so even those on the tightest budget can get a taste of what it's like to replicate Valentino Rossi (or at least pretend to).
Here are the cheapest sport bikes on the market.
Honda CBR300R: $4,899
Specs:
Engine: 286cc, liquid-cooled, single-cylinder
Max power: 30.4 horsepower
Max torque: 27 Nm
Top speed: 98 mph
Weight: 354 lbs
The Honda CBR300R delivers standout performance in an affordable package for the lightweight class. Honda's entry-level sport bike is mostly tailored to new riders, but that also makes it a cheap option for those making their first move into sport bike riding.
It has a sleek, aggressive style, clearly drawing inspiration from the bigger CBR siblings. The clean, sharp design with sporty graphics nods to the legacy of the flagship CBR1000RR, which makes it a very appealing bike.
The 286cc, single-cylinder engine pumps out enough power for the urban commute as well as heading to the mountains at the weekend to lean into some bends. Smooth performance and excellent fuel efficiency are two other big bonuses for the CBR300R.
It has a compact, lightweight chassis that makes handling easy and precise. The bike is agile around town, allowing you to easily weave through traffic.
Savings come from the exclusion of certain features, such as ABS, which for new riders would have been a massive safety bonus. The seat is also a little hard and uncomfortable, but you can replace it with an aftermarket option for an easy, cheap fix.
---
Suzuki GSX250R ABS: $4,999
Specs:
Engine: 248cc, liquid-cooled, parallel-twin
Max power: 24 horsepower
Max torque: 22 Nm
Top speed: 85 mph
Weight: 399 lbs
The Suzuki GSX250R is the smallest-capacity machine on our list, but that shouldn't rule it out as a viable option as a good sport bike that offers great value for money.
It is a naturally lightweight, compact bike, very agile, easy-to-handle, and it's equipped with ABS. The very nature of the bike makes it ideal for new riders. It's easy going, won't rip your arms off at speed, and the ABS provides consistent, safe braking in all conditions.
The 248cc, parallel-twin produces 24 horsepower and 22 Nm of torque, which should be enough for new riders who want to hone their craft before moving on up. Power delivery is smooth and linear and doesn't threaten to explode at any point in the rev range.
There is a full digital instrument display and LED lights, and it's equipped for two-up riding, although the lack of power could limit the practicality of this on longer rides.
Perhaps the only downside is the bike's capacity. Riders could outgrow the bike very quickly and find that a quest for power means they sell and move up to a bigger option. Luckily, the bike is cheap to start with.
---
Yamaha YZF-R3: $5,499
Specs:
Engine: 321cc, liquid-cooled, inline twin-cylinder
Max power: 42 horsepower
Max torque: 29.6 Nm
Top speed: 112 mph
Weight: 375 lbs
The lightweight YZF-R3 packs more of a punch than the CBR300R and the GSX250R. It has more power and a much more aggressive design. The R3 takes after the iconic R1 in design. It is a true race-bred sport bike that just so happens to have a pretty small engine.
To start with, the model looks bigger than it is. In fact, placing it side by side with an older R6 or the new R7, people would struggle to immediately know which is which. Thanks to its bodywork and aggressive stance, it has a big bike presence.
The latest engine has been updated to deliver even better performance, which is ready for both the road and the track. I always say chasing the red line on a smaller bike is way more fun than on a big bike.
The R3 is a great choice for new riders who want something to grow into and who want a genuine sport-bike experience. You can take the R3 to the track and see what you're made of because it is set up for that type of riding.
Yamaha includes an LCD display and LED lighting, and ABS is also an option, which I always recommend for new riders especially.
I would also say that the R3 is a bike experienced riders could downsize to and be pleased with the performance. It still feels, rides, and performs like a genuine sport bike despite its engine size.
---
Kawasaki Ninja 400: Non-ABS: $5,299, ABS: $5,699
Specs:
Engine: 399cc, liquid-cooled, twin-cylinder
Max power: 49 horsepower
Max torque: 37 Nm
Top speed: 116 mph
Weight: Non-ABS: 361.6 lbs, ABS: 366 lbs
The successor of the Ninja 300, the Ninja 400 is a testament to Kawasaki's drive to continually improve its bikes in each class, pushing the boundaries of what is expected out of a lightweight motorcycle.
Powered by a 399cc, twin-cylinder engine, the Ninja 400 boasts impressive performance figures and can reach a top speed of 116 mph.
There is plenty of low-down torque, which makes riding easy around town through traffic. The power is smoothly delivered, so there is a good amount at the top end for higher-speed riding.
The styling is typical of a Ninja, and you can clearly see where aerodynamics have been considered, resulting in better efficiency and performance. Neutral upright ergonomics ensure comfort, and the seat is one of the most comfortable seats across all sport bikes, not just the lightweight class.
A diamond-type frame contributes to the sporty dynamics and agility but also allows for practical riding, such as your everyday commute, where agility needs to meet stability.
ABS is extra, and unlike the bigger Ninja's, there is no slipper clutch, plus, the exhaust note is pretty tame. However, these are small sacrifices.
---
KTM RC390: $5,899
Specs:
Engine: 373cc, liquid-cooled, single-cylinder
Max power: 42 horsepower
Max torque: 37 Nm
Top speed: 112.5 mph
Weight: 371 lbs
There are few bikes that turn heads quite like KTM sport bikes, and the RC390 is no exception. It is a mean-looking beast that attracts attention.
It is completely race-inspired in design. It looks at home on the track and will stand out on the street in a pack of bikes. The bright orange paint does nothing to deter those who stare, and the motor delivers a performance worthy of applause.
Impressive engine outputs mean that even seasoned riders can have a good time on the RC390. Linear power delivery means new riders will be able to control the throttle for safe, confident riding and as their skills develop, they can push the boundaries for a more exciting ride.
The lightweight steel-trellis frame contributes to excellent handling. Whether you need stability in a straight line at speed or in a tight bend, the RC390 will perform without casting any doubt in your mind.
Although more expensive than others in the lightweight class, the RC390 is equipped with top components, like WP suspension and Brembo brakes, so you know you're getting a quality ride.
---
Honda CBR500R: $7,299
Specs:
Engine: 471cc, liquid-cooled, parallel-twin
Max power: 46 horsepower
Max torque: 57 Nm
Top speed: 116 mph
Weight: 421 lbs
Now we move up to the middleweight class with the Honda CBR500R. The CBR500R bridges the gap between 300cc lightweights and the 600cc sport bikes that begin to get a bit more serious as racers.
It is still welcoming to new riders, though. The engine is tuned to be tame, smooth, and functional, not an aggressive monster.
The 471cc parallel-twin produces 46 horsepower and 57 Nm of torque, which is more than enough for any riding situation on the road. It also happens to be enough for some fun on the track.
Ergonomically, the CBR500R is more upright, with comfortable intentions, as opposed to the CBR600RR, for example, which is 100% sporty. As a result, the bike is more practical as an everyday ride, and one you can ride for longer.
Sure, it isn't the most aggressive sport bike on the market or even the most powerful in the class, but it offers great value for money since it comes with ABS, delivers solid performance, and is built to a high standard. It's also significantly cheaper than the CBR600RR.
---
Kawasaki Ninja 650: Non-ABS $8,299, ABS $8,899
Specs:
Engine: 649cc, parallel-twin, DOHC
Max power: 68 horsepower
Max torque: 63 Nm
Top speed: 131 mph
Weight: Non-ABS 421.2 lbs, ABS 423.4 lbs
Kawasaki has two middleweight sport bikes, the ZX-6R and the Ninja 650. The Ninja 650 is the more affordable of the two and also the most practical on the road.
It is one of my favorite motorcycles and certainly my favorite sport bike. It's comfortable and easy to ride, and it offers excellent, precise handling. All in all, it boasts impressive performance from the parallel-twin engine.
The Ninja produces enough power and torque for you to ride anywhere, from the city to the canyons, to the track. Anywhere there's a road, you are good to go on the Ninja 650, except maybe a dirt road — that could be problematic.
Despite being the more upright street version of the ZX-6R, the Ninja is still styled in Kawasaki's racing designs and it has a dominating, powerful presence.
You get a choice between ABS and non-ABS models, and Kawasaki Traction Control is standard on both.
---
Honda CBR650R: $9,899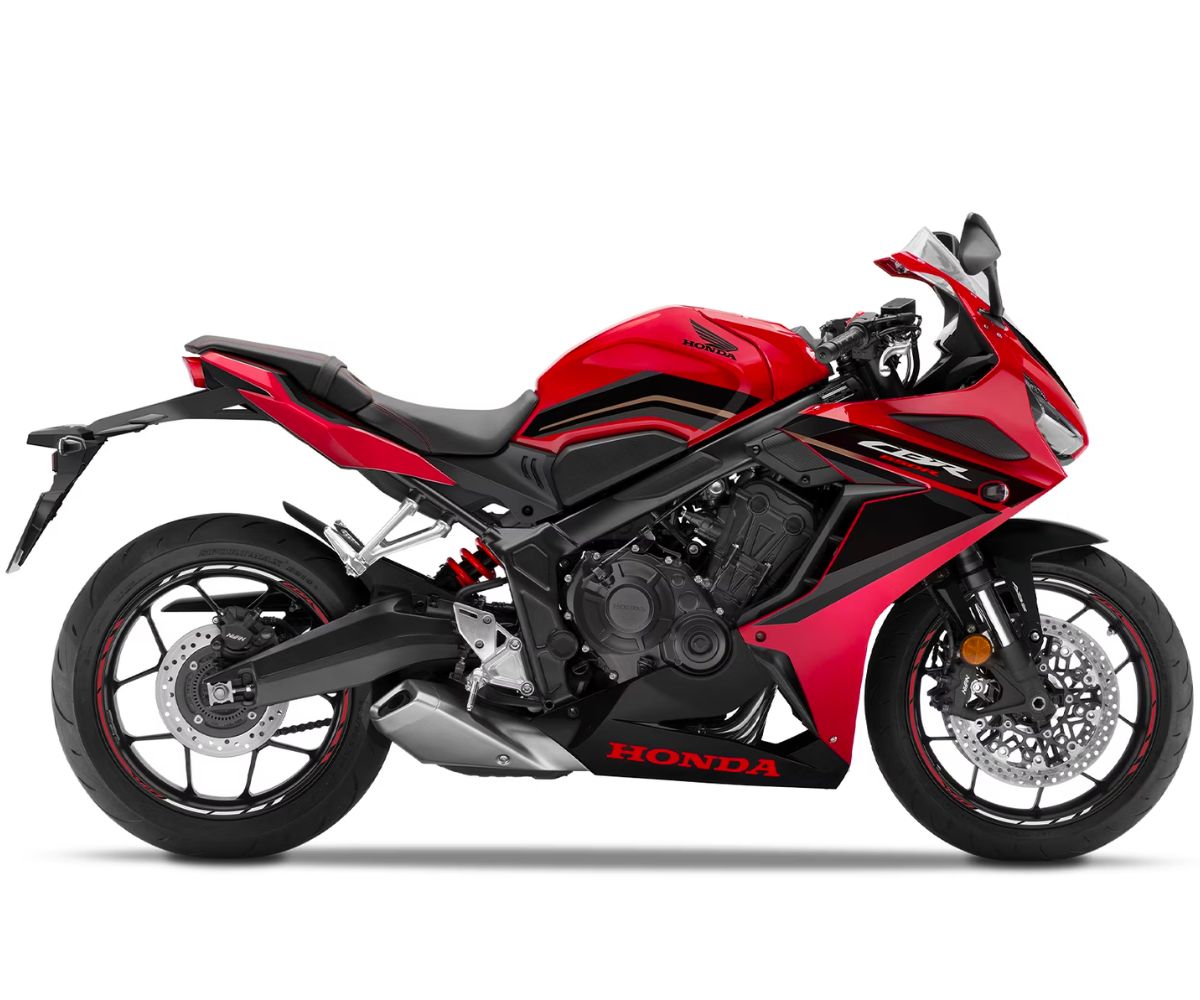 Specs:
Engine: 649cc, inline-four cylinder
Max power: 94 horsepower
Max torque: 63 Nm
Top speed: 149 mph
Weight: 445 lbs
Honda's third entry to our list is the bigger CBR650R. It's much the same as the 500R but has an inline-four cylinder engine as opposed to the parallel-twin.
It has neutral ergonomics for maximum rider comfort. You only need to take a sporty stance when you want to and the performance is super impressive for both the class and price.
With 94 horsepower and 63 Nm of torque, this bike can quite easily compete with other 600's on the track, as well as being the perfect vehicle for the streets.
Power, weight, and maneuverability are all in equal measure, which is the best combination for any good motorcycle worth its weight.
Unlike the CBR500R, the 650 is more suited to riders with some experience, since the potential of the engine is much greater with a top speed of 149 mph.
An LCD screen, LED lights, ABS, and an assist/slipper clutch are all included as standard.
---
Yamaha YZF-R7: $9,199
Specs:
Engine: 689cc, liquid-cooled, CP2
Max power: 72 horsepower
Max torque: 68 Nm
Top speed: 143 mph
Weight: 414 lbs
Next up to bridge the gap between the middle- and heavyweights is the YZF-R7, Yamaha's replacement for the discontinued R6. The R7 is a masterpiece of design and engineering that has full-blooded racing aesthetics paired with a complimentary price.
Sporty ergonomics are created by the sporty geometry and then backed up by the sporty performance of the CP2 motor. This isn't a bike for touring though. It's intended to be a true sports machine, so comfort comes second to the prioritized racing edge.
Other sport bikes in the class such as the Honda CBR600RR is priced at $12,099 and the Kawasaki ZX-6R at $11,999 which gives you a clear indication of why the race-bred R7 is such good value for money.
---
Ducati Supersport 950: $15,195
Specs:
Engine: 937cc, Testastretta, 11-degree twin-cylinder
Max power: 110 horsepower
Max torque: 93 Nm
Top speed: 186 mph
Weight: 405 lbs
It wouldn't make sense to produce a list of sport bikes without including one real big bike, even if it doesn't quite break the liter mark. Personally I also think it doesn't make sense to include any sport bike list without a Ducati so…here we are.
For many, it might be surprising that Ducati makes any list that has the word "cheap" in it, which is a fair point, but in this case, the Supersport 950 is cheaper than all competition in the class.
It's a powerful machine with all the exotic Italian styling you could ask for, plus it's a Ducati, which, by its nature, makes it a more exclusive option than something from the big Japanese brands.
Loaded with features like ABS, Traction Control, Wheelie Control, and high-end components, the Supersport 950 is ready to brawl with the best of them.
It might not be the flagship Panigale, but it isn't a bad second choice. It will outshine most on the track and definitely turn heads on the street.
---