Cruisers are widely known for being comfortable motorcycles. They're built to go the distance, carrying rider, passenger, and luggage in comfort and ease.
Low seat heights, wide bars often pulled-back or raised, relaxed ergonomics, and longer wheelbases are just some of the key features that make cruisers comfortable motorcycles.
From traditional Harley-Davidson V-twins to the monstrous Honda Goldwing and the beastly BMW R18, we've gathered the best and most comfortable cruisers together in one place.
Let's take a look.
Kawasaki Vulcan 900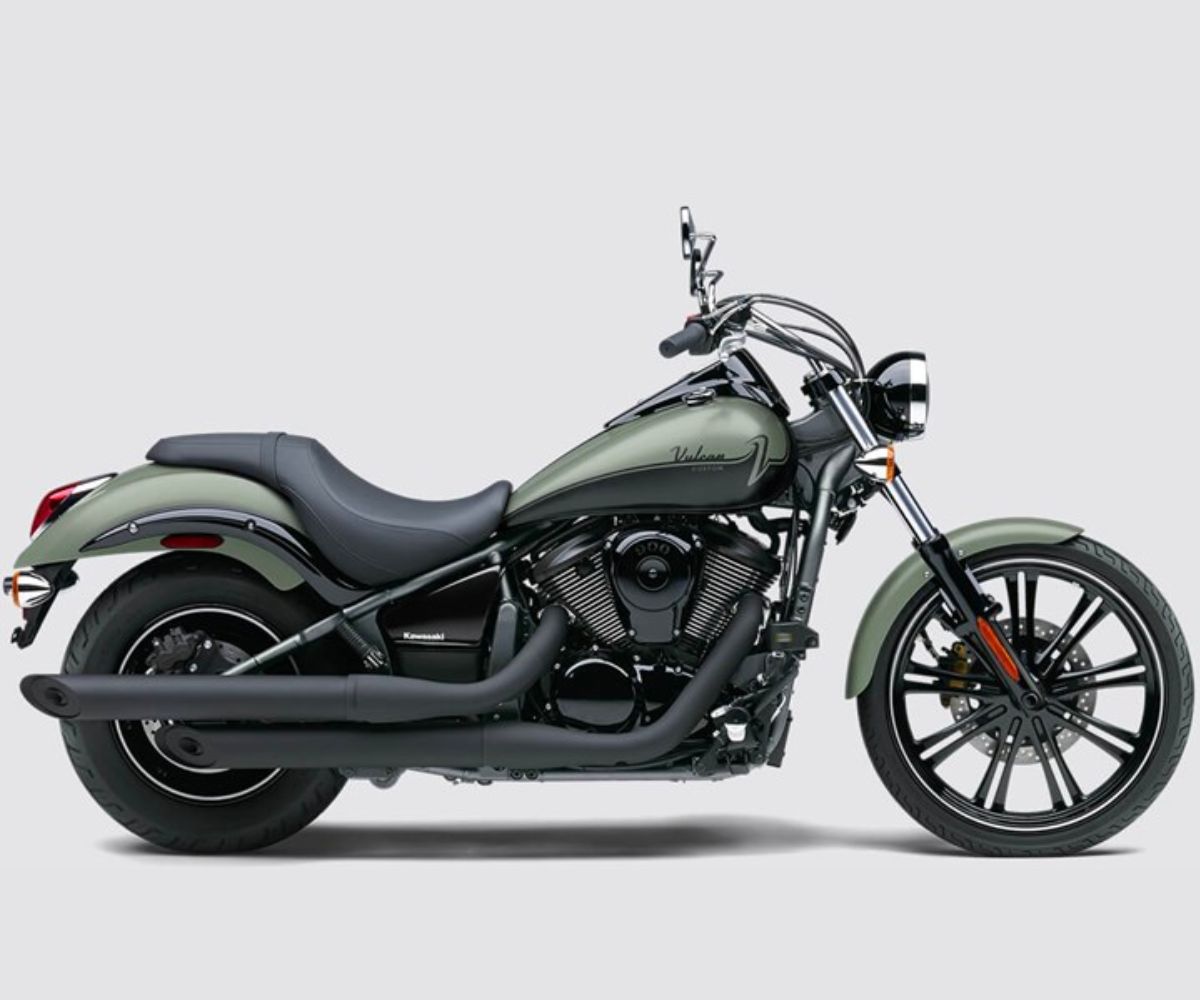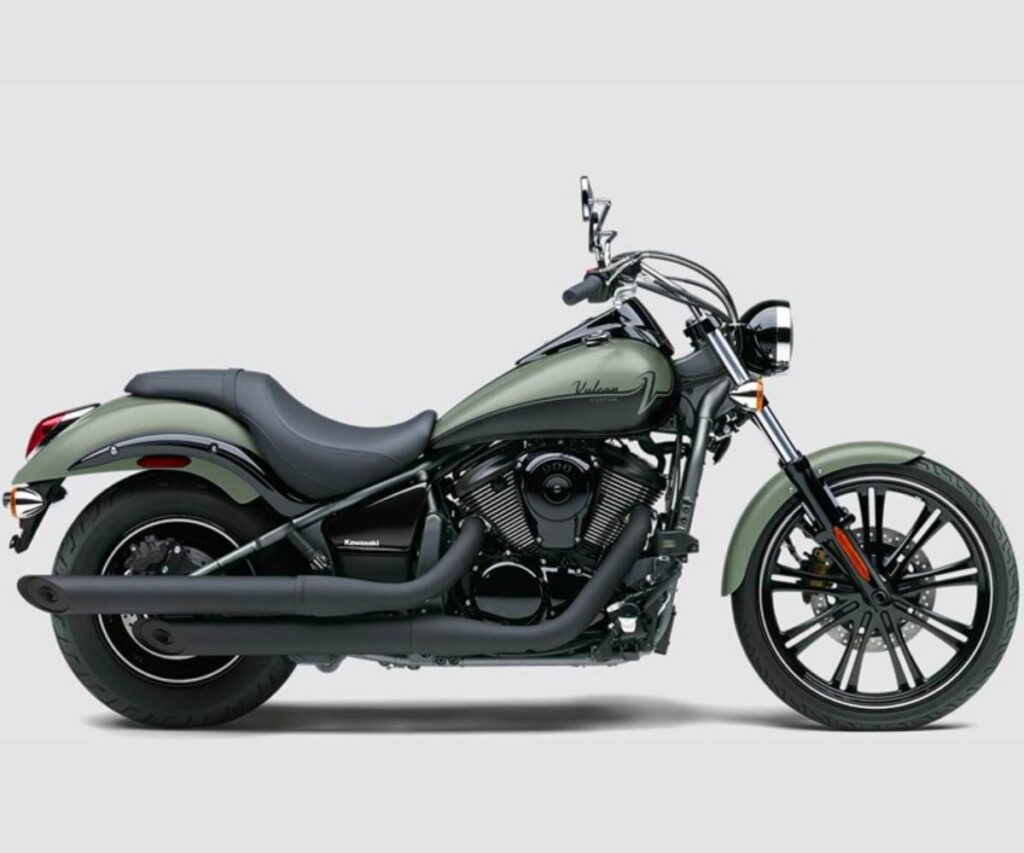 Specs:
Engine: Fuel-injected 903cc V-twin
Seat height: 26.8"
Curb weight: 619.6 lbs.
MSRP: $8,999
The Kawasaki Vulcan 900 is a classic cruiser with a handcrafted design and one-of-a-kind attitude. It absolutely oozes quality, With clean smooth lines and a premium finish, the bike looks as smooth as it rides.
The Vulcan 900 has a super low seat height of 26.8". The weight is distributed for excellent balance, so you always feel in control, even at super slow speeds.
The wide, padded seat rises at the back into the passenger pad, so you get lower-back support and plenty of room to move around as you ride.
In terms of ergonomics, the riding position is super relaxed. The handlebars are wide and slightly pulled back for easy reach, and, instead of just footpegs, the bike is equipped with floorboards and a heel/toe shifter.
There is little in the way of wind protection on the stock model, but a windshield is available direct from Kawasaki, which is a good idea for those planning on putting in some highway miles.
---
Honda Shadow Aero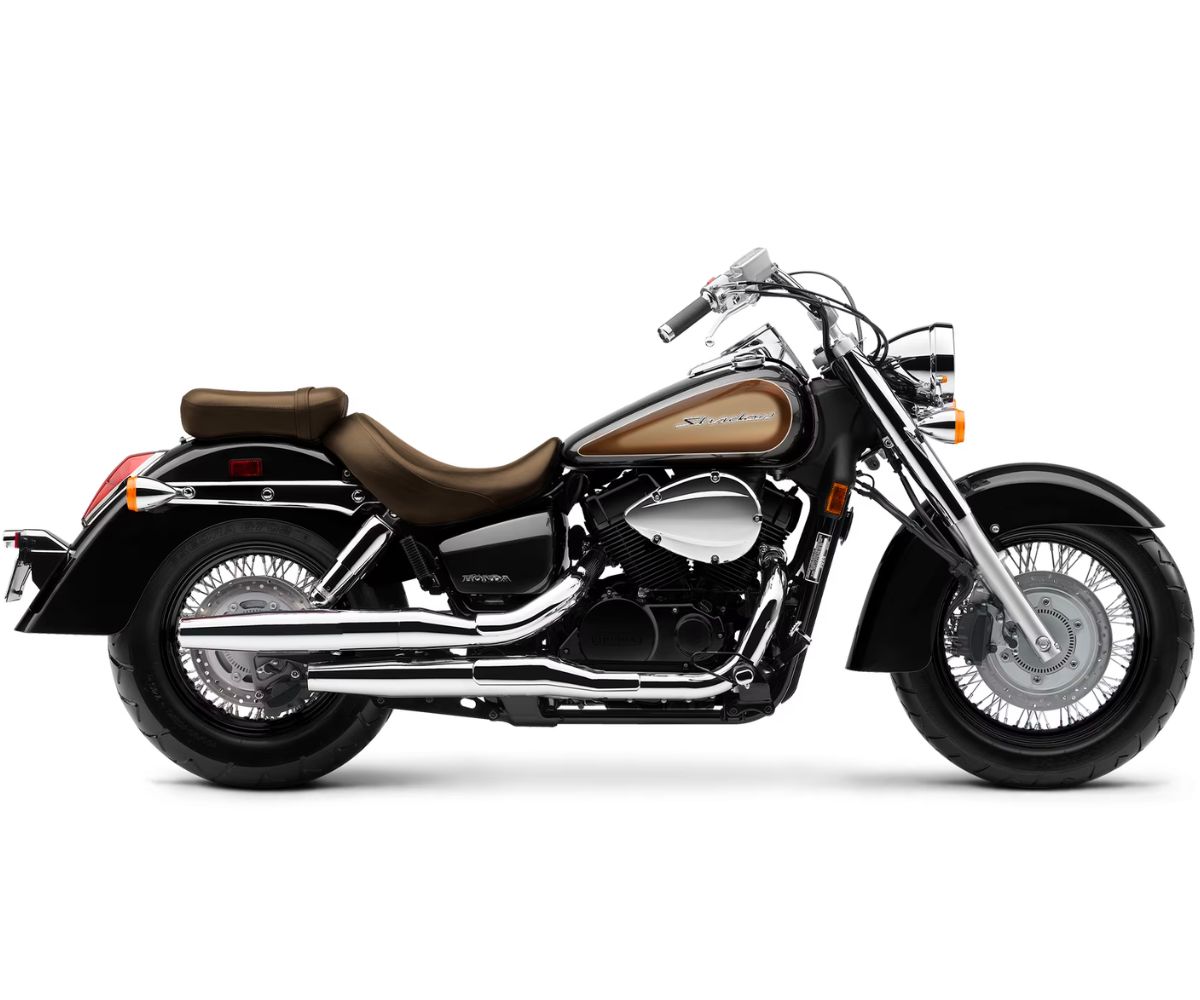 Specs:
Engine: 745cc liquid-cooled 52-degree V-twin
Seat height: 26"
Curb weight: 560 lbs.
MSRP: $7,949
The Honda Shadow was first introduced in the early 1980s as a way for Honda to infiltrate the US market, dominated at the time by Harley-Davidson. Since then, it has cemented itself as a reliable, well-built, simple classic cruiser that has only evolved into an even better motorcycle over the years.
The Shadow Aero retains the classic DNA of the original Shadow, bolstered by a smooth-natured, punchy 745cc V-twin.
Similar to the Vulcan 900 in its design, the Aero has a well-padded, wide, and low seat that offers some lower back support. The wide handlebars are also slightly pulled back to be within easy reach, and the forward-mounted pegs complete the chilled-out seating position.
The Shadow Aero is also offered in an ABS version, so you have the added benefit of confident, safe braking — a particularly good feature for newer riders.
---
Honda Gold Wing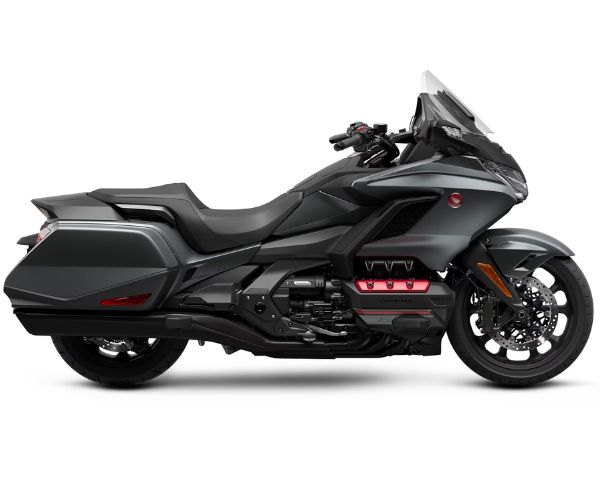 Specs:
Engine: 1833cc liquid-cooled horizontally opposed six-cylinder
Seat height: 29.3"
Curb weight: 804 lbs.
MSRP: $25,600
From simple and stripped back, we move to the fully loaded Honda Gold Wing. Another staple in Honda's lineup, this bike has set the bar for long-distance touring cruisers.
The Gold Wing is often referred to as a La-Z-Boy on wheels. It is incredibly comfortable whether you're riding solo or with a passenger, plus all the luggage you can muster.
There are currently four Gold Wing models to choose from:
Gold Wing Automatic DCT
Gold Wing Tour
Gold Wing Tour Automatic DCT
Gold Wing Tour Airbag Automatic DCT
Essentially, you need to decide whether you're going to be riding solo or with a passenger and/or lots of luggage. If solo, the standard Gold Wing is a solid choice, but if you're riding with a full load, the Gold Wing Tour is a great choice for both rider and passenger comfort.
The second choice you need to make is whether you want a manual transmission or automatic DCT transmission.
The Gold Wing has a luxurious seat, comfortable ergonomics, incredible suspension, and all the technology you could throw at a motorcycle to make it both safe and easy to ride.
When I said "fully loaded," I meant it. Hill start, luggage space, reverse gear, electric windscreen, and heated grips are just some of the features included. There are also over 50 accessories you can purchase through Honda to tailor your Gold Wing to your needs.
---
Suzuki Boulevard C50T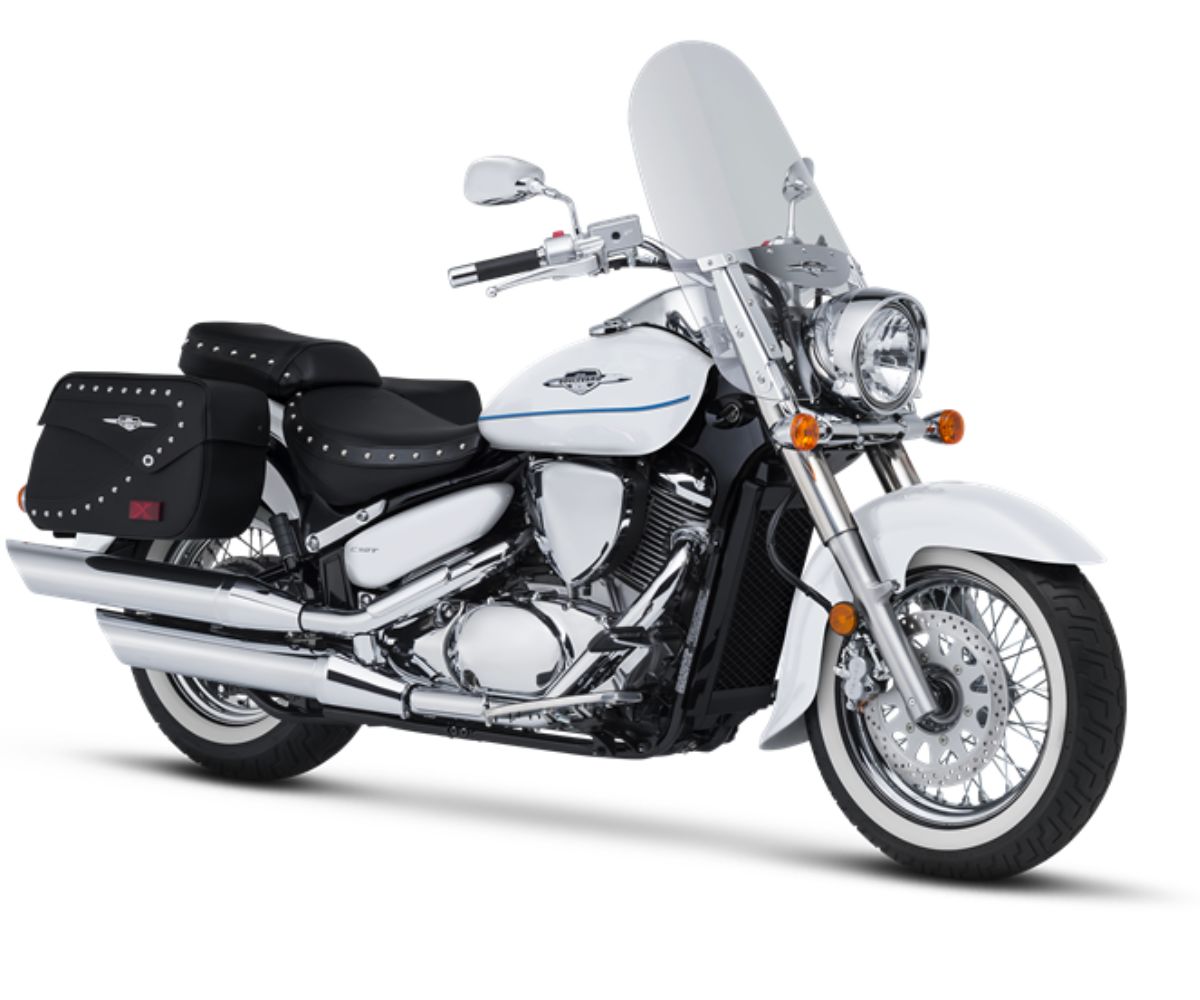 Specs:
Engine: 805cc, liquid-cooled, SOHC, 45˚, V-twin
Seat height: 27.6"
Curb weight: 644 lbs.
MSRP: $10,359
The Boulevard C50T is another classically styled cruiser packed with all the features to make it a comfortable touring motorcycle.
A large padded seat, wide, pulled-back bars, floorboards, and a large windscreen cover all the bases for a comfortable ride.
Huge front forks and a hidden link-style rear shock provide quality suspension for smooth riding wherever the road takes you.
The drawn-out 65.2" wheelbase provides a stable platform to help you crunch the miles, and the low seat height of 27.6" makes the heavy weight of the bike easy to manage at stoplights.
Suzuki has even thought about the passenger's comfort with the Boulevard, so the stepped passenger seat that sits on top of the rear fender allows them to see over the rider's shoulder.
There are a range of optional accessories to choose from that can further enhance comfort, such as a passenger backrest.
---
Indian Scout Sixty
Specs:
Engine: Liquid-cooled, 60 cu. in., V-twin
Seat height: 25.6"
Curb weight: 543 lbs.
MSRP: $11,749
The Indian Scout Sixty is an excellent choice for newer riders and those shorter in stature.
The Scout range has expanded significantly since its release in 2014. Indian drew inspiration from the original 1920s Scouts and turned all that heritage into a modern performance package.
Indian's Scout Sixty has a super-low seat height of 25.6" and despite the pretty heavy weight of 543 lbs, the 62" wheelbase provides excellent balance and stability, distributing the weight and making it more manageable.
Forward footpegs and easy-to-reach handlebars put you into a neutral position that is both comfortable and confidence-building, thanks to the ultimate control you have at all times.
The Scout's suspension is backed up by chunky tires, which provide a smooth rolling experience that will have you thinking the bike is lighter and smaller than it actually is.
Check it out on Indian Motorcycles
---
Indian Super Chief
Specs:
Engine: Air-cooled, Thunderstroke 111
Seat height: 26.2"
Curb weight: 739 lbs.
MSRP: $18,999
The Indian Super Chief is a bigger, more traditional cruiser than the Scout. It is equipped with the bigger Thunderstroke 111 engine, which produces 108 ft-lbs of torque.
It is also equipped with a tall windscreen for excellent wind protection. The low seat height places you right behind the screen, greatly reducing riding fatigue.
The low seat also helps with slow-speed maneuvers and balancing the bike at stop lights since, at 739 lbs, it isn't a light bike at all.
Wide cruise handlebars put you in control of the bike and floorboards are in place of footpegs for more comfortable riding over distance.
As standard, the Super Chief comes with ABS and cruise control, which are nice additions that make for more easy-going cruising.
Check it out on Indian Motorcycles
---
Indian Roadmaster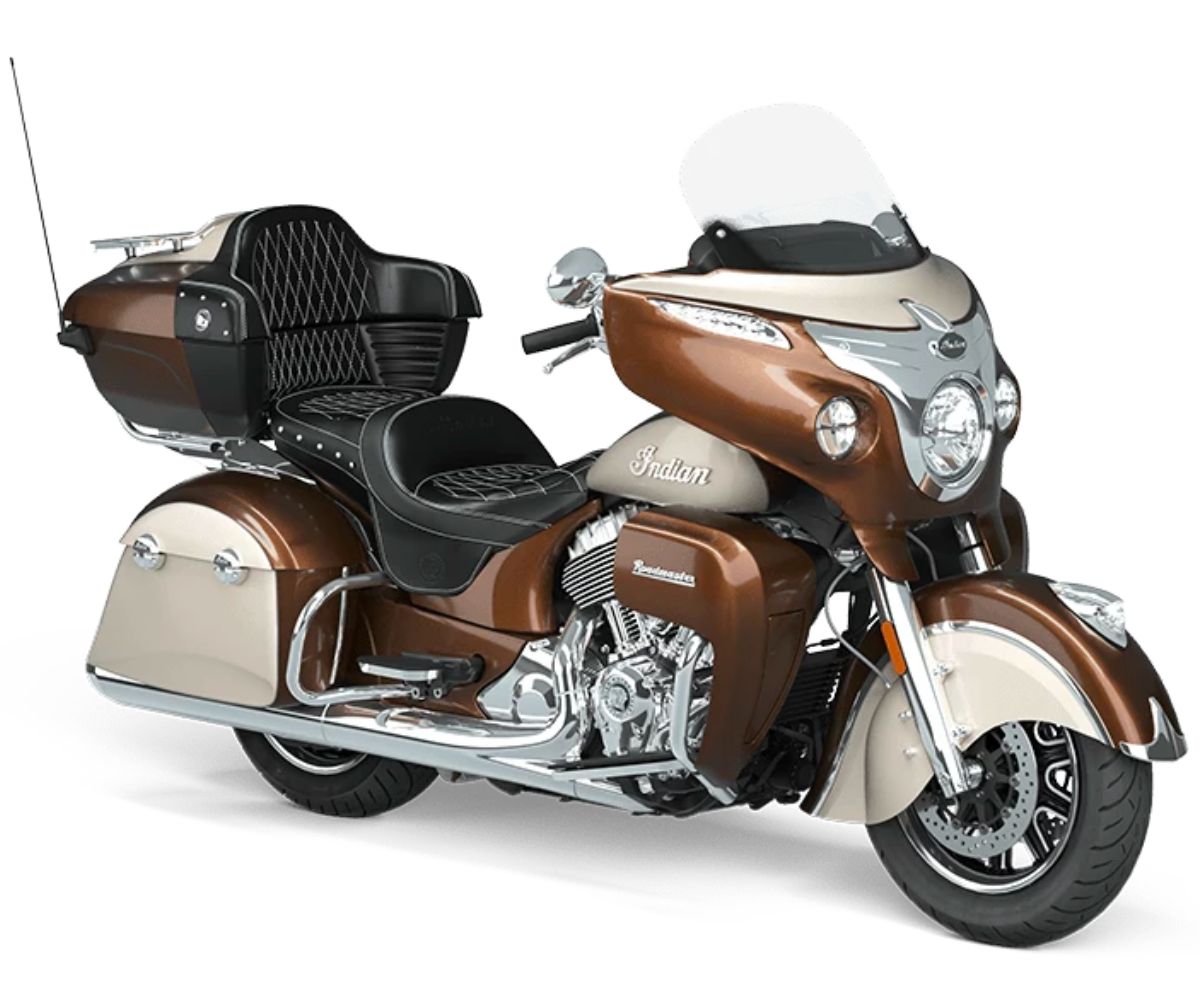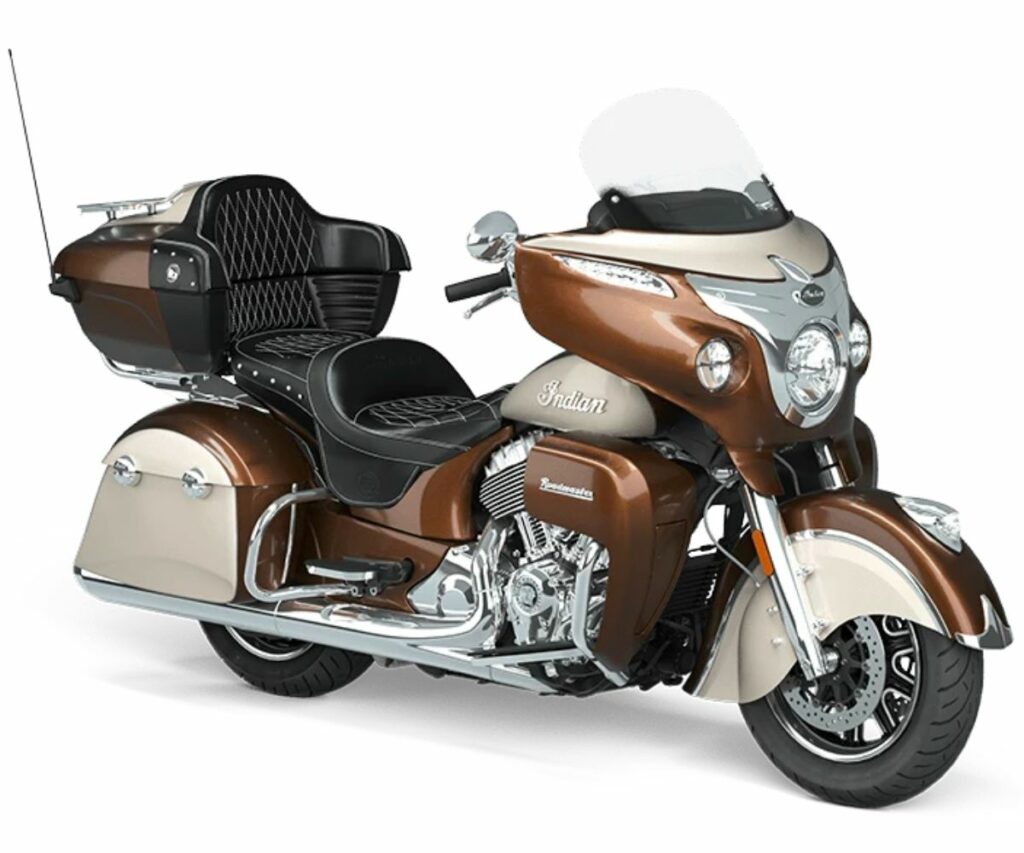 Specs:
Engine: 6 speed, Thunderstroke, air-cooled 116 cu. in. V-twin
Seat height: 26.5"
Curb weight: 909 lbs.
MSRP: $31,499
If you need a more luxurious cruiser, the Roadmaster might just fit the bill. It's a bike built for two-up riding and going the distance, with all the necessary features to make the ride as comfortable as can be.
The Roadmaster has a few notable comfort features:
A huge fairing with an electronically adjustable windscreen
Heated grips for both passenger and rider
Plush seats
Lower fairings with adjustable vents
Trunk that doubles up as a passenger backrest
The Roadmaster is also equipped with a built-in 7" screen powered by RIDE COMMAND. It features Apple Carplay, navigation, and Bluetooth connectivity, as well as live traffic and weather updates.
Just like the Honda Gold Wing, the Roadmaster is an exceptional long-distance cruiser whether you're riding solo or with a partner.
Check it out on Indian Motorcycles
---
Harley-Davidson Heritage Classic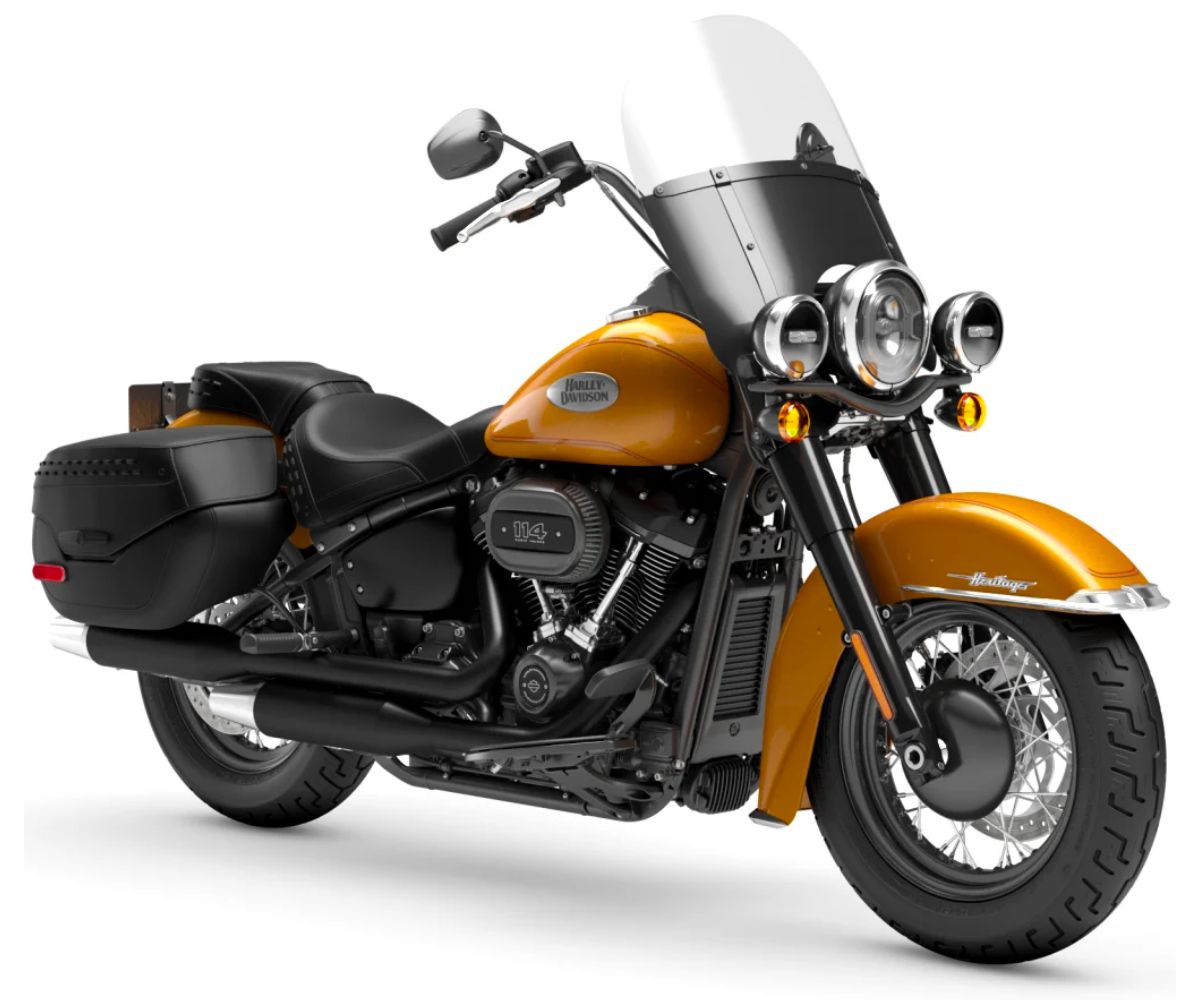 Specs:
Engine: Milwaukee-Eight 114 V-twin
Seat height: 26.3"
Curb weight: 728 lbs.
MSRP: $21,199
Of course, we can't list the best cruisers without mention of Harley-Davidson. The Heritage Classic is a traditional H-D cruiser with design inspiration clearly drawn from the bikes of the 1950s.
It has a wide scoop seat with nice leather details, rider floorboards, and a detachable tall windscreen along with classic cruiser handlebars.
The detachable windscreen is great because you can remove it when it's hot out and enjoy as much airflow as possible, but when you need that protection, it's easy to just clip it back on.
The riding position is an upright, natural seating position, so rider fatigue is minimal, even on long journeys.
The Heritage Classic is really the ultimate vintage style V-twin, merging classic style with modern performance and rider comforts.
Check it out on Harley-Davidson
---
Harley-Davidson Low Rider ST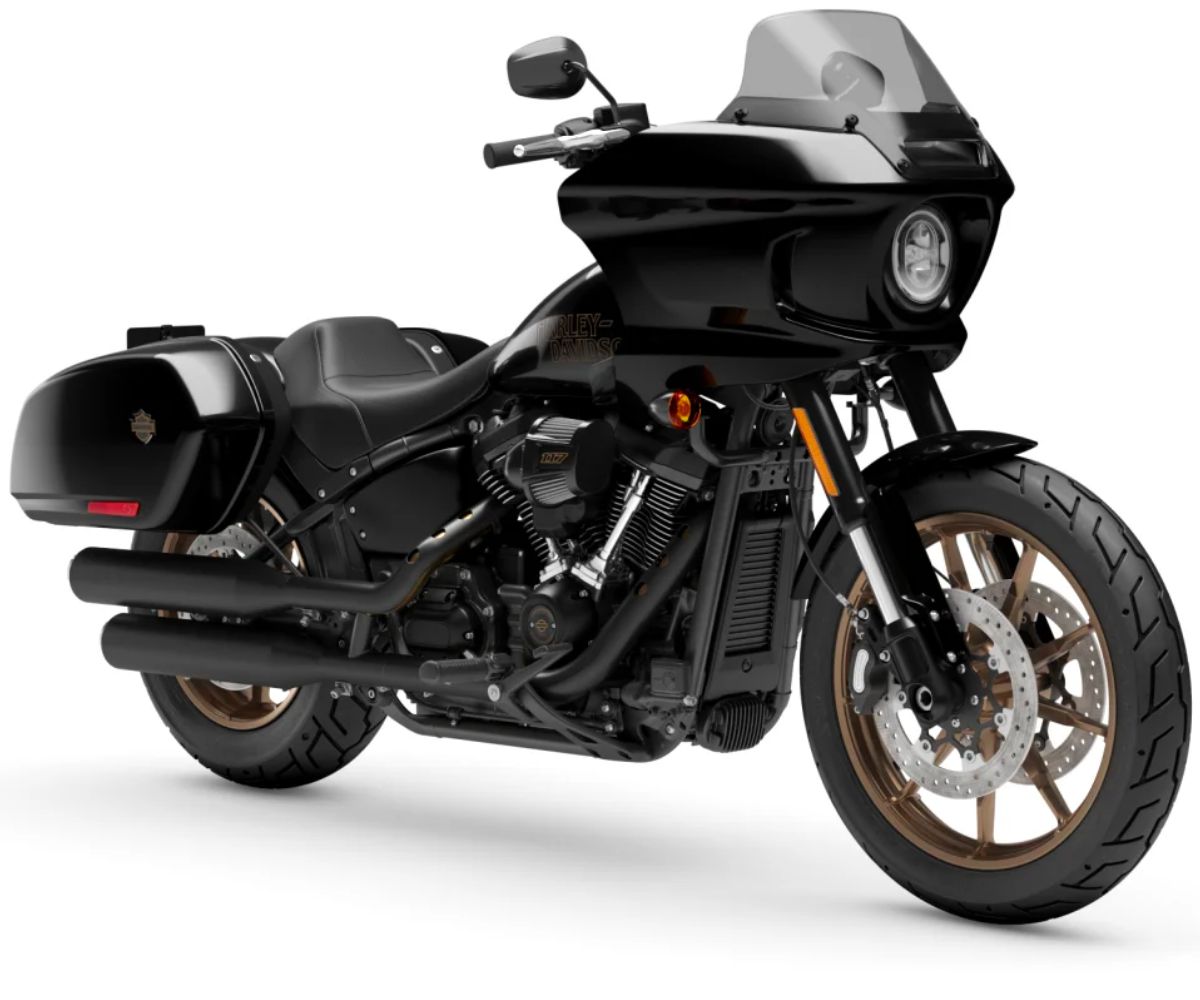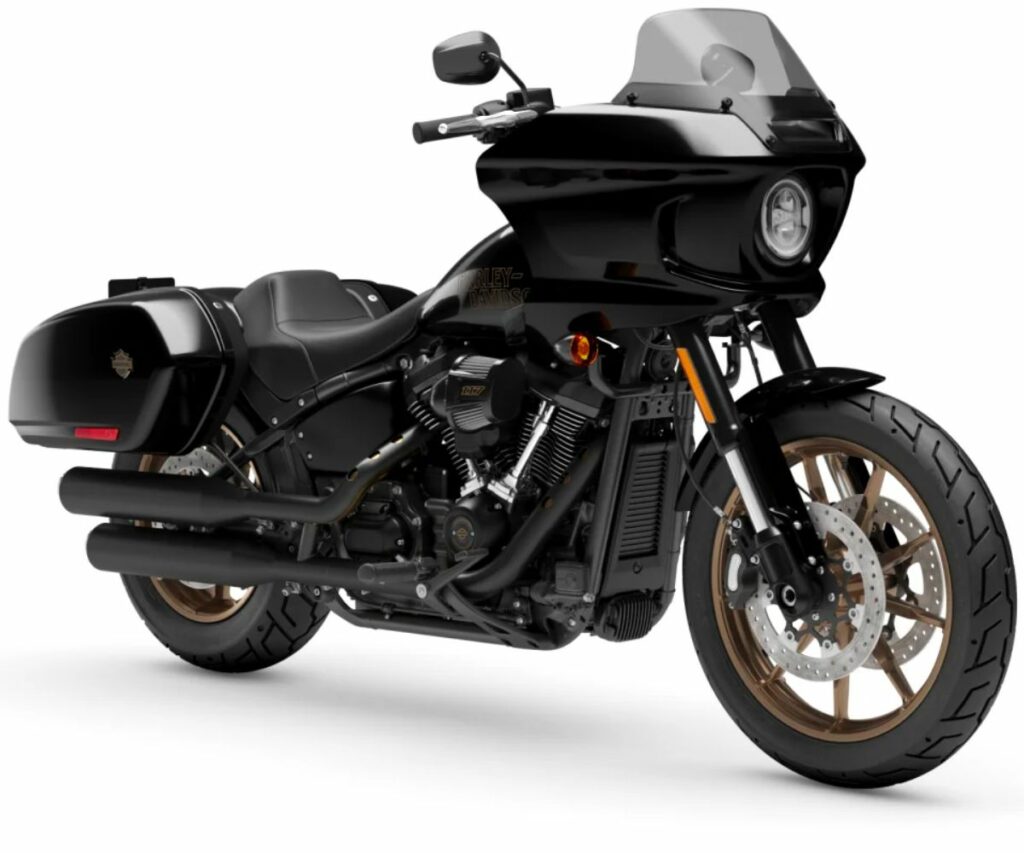 Specs:
Engine: Milwaukee-Eight 117
Seat height: 27"
Curb weight: 721 lbs.
MSRP: $22,199
The Low Rider models are my favorite at the moment and the ST is the touring version. The Low Rider ST is a much more modern Harley-Davidson.
This is the cruiser you want if you value performance along with comfort. The Milwaukee-Eight 117 packs a punch of immense power and torque for all riding scenarios.
Along with the impressive motor, the Low Rider ST has a long, well-balanced chassis for confident stability at speed and a surprisingly agile nature in bends.
The seat height is a little higher than other cruisers on the list, but not by much, and the seating position is still upright, comfortable, and commanding.
The ST benefits from a frame-mounted fairing and small windscreen for adequate wind protection.
Check it out on Harley-Davidson
---
Harley-Davidson Road Glide Limited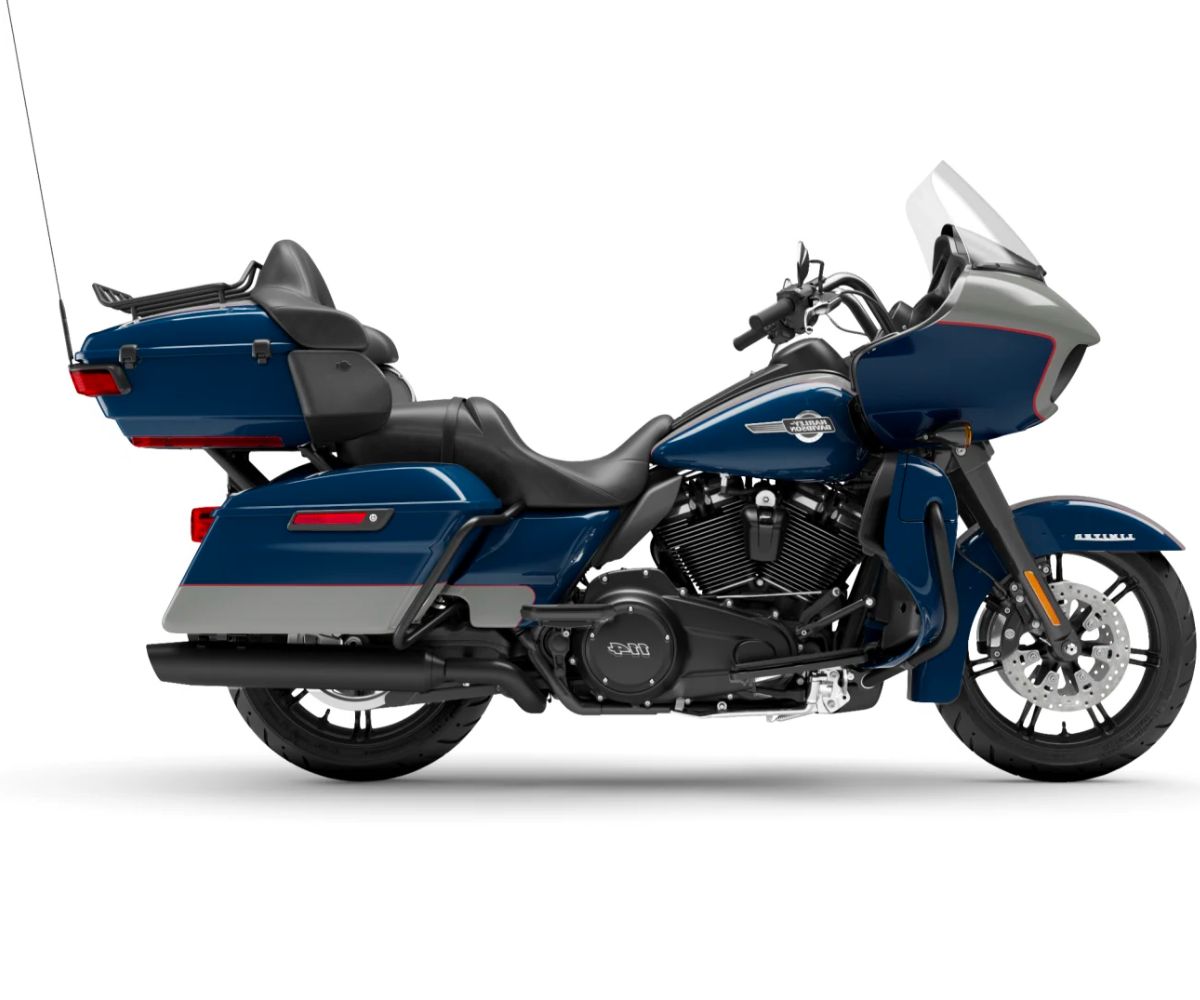 Specs:
Engine: Twin-cooled, Milwaukee-Eight 114
Seat height: 27.2"
Curb weight: 932 lbs.
MSRP: $29,399
If you like the Gold Wing and Roadmaster but are loyal to Harleys, you can't go wrong with the Road Glide.
The Road Glide Limited has a huge sharknose fairing with a windscreen, rider and passenger floorboards, and a comfortable back supporting rider seat, as well as a passenger seat and backrest.
The trunk doubles as the passenger backrest, with upper arm supports and speakers built in. If the trunk doesn't provide enough cargo space, hard saddlebags come standard.
The handlebars are pulled back for easy reach and to complete the upright riding position.
Harley equips the Road Glide with a complete infotainment system that includes everything you could ask for, including an AM/FM radio, weather band, phone connectivity, and intercom between rider and passenger.
As with all H-D models, a wide range of additional extras and accessories are available, including some rider safety enhancements that could make a rider far more comfortable, such as Vehicle Hold Control and Cornering ABS/Traction Control.
Check it out on Harley-Davidson
---
BMW R 18 Classic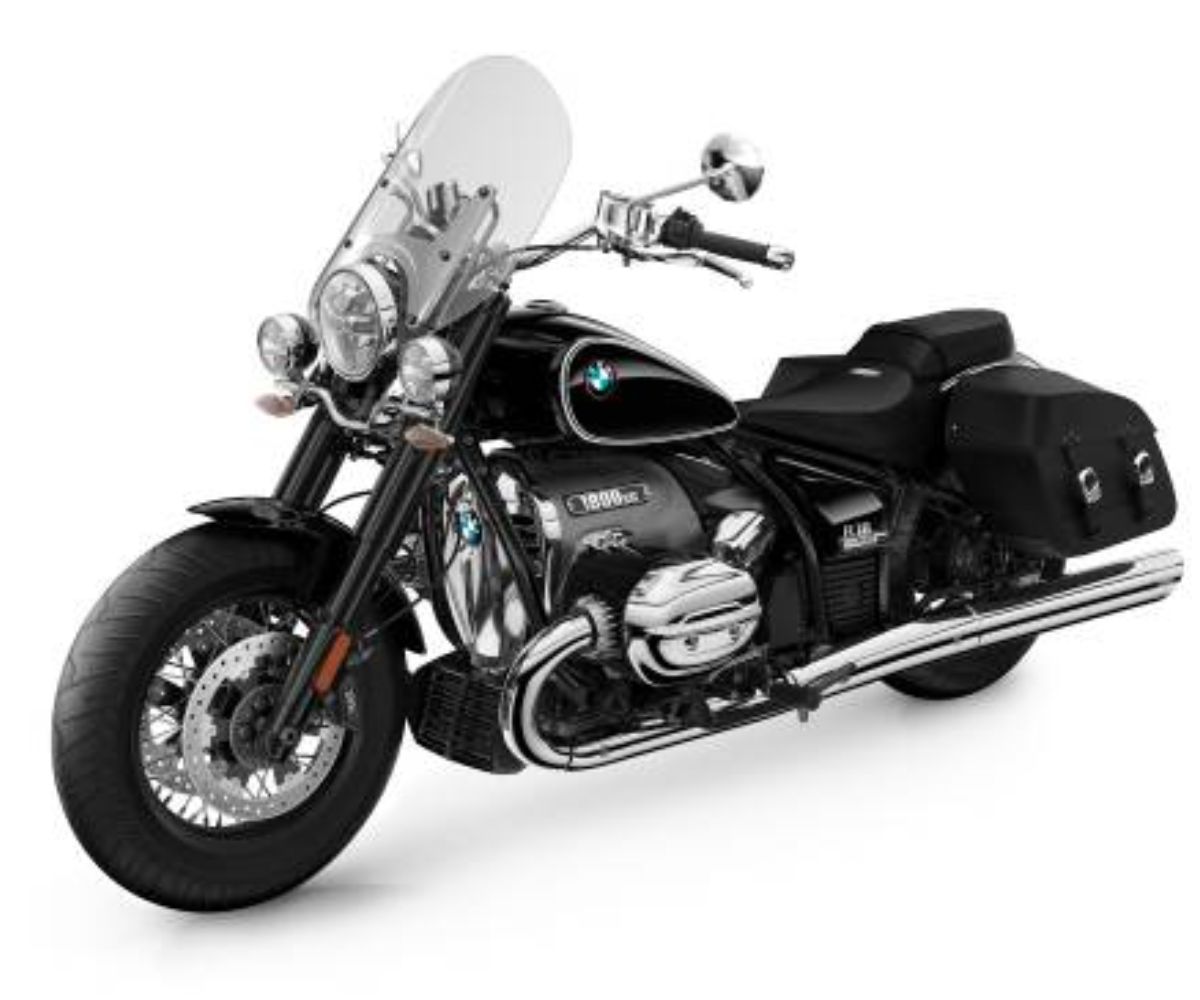 Specs:
Engine: Air/oil-cooled, two-cylinder Boxer engine
Seat height: 28"
Curb weight: 805 lbs.
MSRP: $17,995
One of the newest additions to the cruiser market is the R 18 Classic, which was initially only a concept for BMW before going into production.
The R 18 Classic is built for cruising. It has the premium details and quality finish that you expect from BMW. It looks like a completely custom machine that you won't see another of, despite the fact that it's a production motorcycle.
The model has a wide scooped seat and the typical wide cruiser handlebars. It also comes with a tall windshield and rider floorboards.
The R 18 comes in five other models:
R 18
R 18 100 Years
R 18 Roctane
R 18 B
R 18 Transcontinental
If you need something with more wind protection, then the R 18 B might be a good choice because it is equipped with a fairing. On the other hand, the Transcontinental would be a great option for two-up riding and/or carrying lots of luggage on longer tours.
---