First Manufacturing's Commuter leather jacket is an excellent balance between price, performance, and features. It's not a cheap jacket, but it's hard to find a better jacket for less. I know, I tried!
Bottom Line Upfront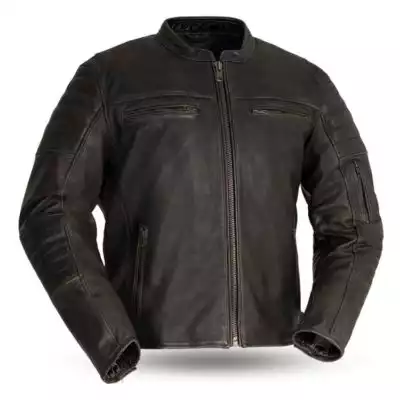 First Manufacturing Commuter Jacket
Classic Style, Modern Protection
Has a classic appeal that will draw admiring looks. At the same time, the removable liner keeps you warm, and the thick cowhide and optional armor keep you safe.
First Impressions
The first look at this jacket shows it's a smart choice. The distressed brown looks like you've had it for years.
The vintage look is what attracted me to the jacket in the store. The "Commuter" Style, with the mandarin style collar and several pockets, gives a nice cruiser style without going full-on "Wild Hog biker-style."
The leather is soft to the touch but feels sturdy enough to provide you with some protection in a crash.
When you pick up this jacket, you immediately notice that it's heavier than it looks. A closer look reveals the zip-out thermal liner and the HUGE Concealed Carry pockets inside.
Features
1.2mm leather with a vintage finish in either black or antique brown
Mandarin collar with center zipper
Two vented chest pockets
Two zippered slash pockets
Two large interior conceal carry pockets
Zippered sleeves with gussets and button snap
Zippered pocket on the left arm
Action back with zipper exhaust vents
Adjustable side belts
Insulated zip-out thermal liner
Pockets for armor at the shoulders, elbows, and back (sold separately)
Comfort
I have worn several leather jackets over the years, and most of them required some 'weathering' or a breaking-in process before the new leather stiffness relaxed.
Not so the Commuter jacket.
It fit like an old friend from the first time I put it on. I heard that I was lucky that I grabbed the right size the first time, as this model runs slightly on the small side of what you would expect from the label.
Warmth
The primary function of a jacket is to keep the wearer warm, right? This one does that in spades.
Riding at night in temps around 35 degrees F, I was perfectly comfortable once I zipped all of the venting closed. When the temperature gets warmer, you simply zip out the lining and open the vents. I was comfortable this way, almost to 80 degrees.
Cut and Fit
Some jackets you get are not cut correctly for riding. You can tell when you reach out to the handlebars and the sleeves ride halfway up your forearms.
This jacket is long enough in the sleeve, and the sleeves have a natural bend to the elbows. This bend puts you in a more comfortable position while riding.
Quality
Not only is the leather nice and thick on the First Mfg Commuter, but the YKK zippers are solid all the way around. The thermal liner is both nicely made and easy to zip in/out.
I've done it on the side of the road when the temperature warmed unexpectedly. The leather seams are double stitched, and the cloth lining the pockets is nice and solid.
Protection
Thankfully, I personally cannot vouch for the protection features of this jacket. I have a great deal of confidence in it as there are pockets for elbow, shoulder, and back pads that are easy to access yet secure.
With the added protection of the thick leather, I feel pretty safe wearing this.
Additional features
In addition to the usual things that motorcycle jackets are supposed to do (i.e., Keep you warm and not dead), this one satisfies a guy's urge to have lots of pockets.
There are two 'slash,' or handwarmer pockets, two vented breast pockets, a small pocket on the left sleeve, and two concealed carry pockets on the inside. Seven pockets total.
The CCW pockets have elastic straps inside to secure your weapon and spare magazines, or alternatively, your cell phone. Even if you aren't carrying a 9.5 inch wide and 12-inch high pocket on either side is never a bad thing.
The two breast pockets are "vented," meaning the top is made of mesh, allowing airflow to the jacket.
Speaking of vents, there are two zippered 'exhaust' vents on the back to help vent off some body heat when it does get a bit warmer.
Would I buy it?
As motorcycle jackets go, this one is pretty much the middle of the road in price. The quality is apparent even on a cursory inspection, and it is feature-rich. All of that, and it looks sharp as well.
My wife recently went looking for women's jackets and found nothing she liked; she walked over to the men's section.
Guess which jacket we bought?
Yup, the First Manufacturing Commuter Jacket in a Small. So not only would I buy it, I HAVE bought it twice.
Conclusion
When it came time to get a new leather jacket for winter riding, I tried less expensive jackets. After all, I live in South Texas – it's not too cold for too long here, so why spend hundreds of dollars?
The cheaper jacket was terrible. It didn't fit right, didn't sit right, just was uncomfortable. So I gave it to a family member to wear on walks and went to Revzilla for an upgrade. After trying on several other brands, I kept coming back to this one. It just felt right from the beginning.
I've worn this jacket through cold, rain and cold rain. It keeps me warm, relatively dry, and carries all my stuff safely. What else could I ask for in a biker jacket?
Check Prices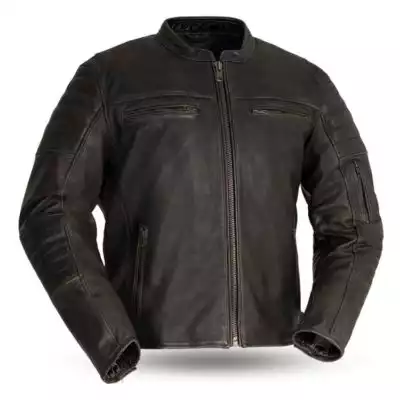 First Manufacturing Commuter Jacket
Classic Style, Modern Protection
Has a classic appeal that will draw admiring looks. At the same time, the removable liner keeps you warm, and the thick cowhide and optional armor keep you safe.