The Rebel is one of the world's most recognizable motorcycles. Inexpensive and lightweight, yet powerful, the cruisers of this line have become go-to bikes for new riders as well as enthusiasts.
While the original Rebel was a 250cc model prized as a cheap learner bike, Honda has since expanded the line to include larger 300cc and 500cc models. 
If you're a fan of the Rebel's simple but effective design but aren't sure which size is better for you, this head-to-head comparison of the Honda Rebel 300 vs 500 is just what you need.
Rebel 300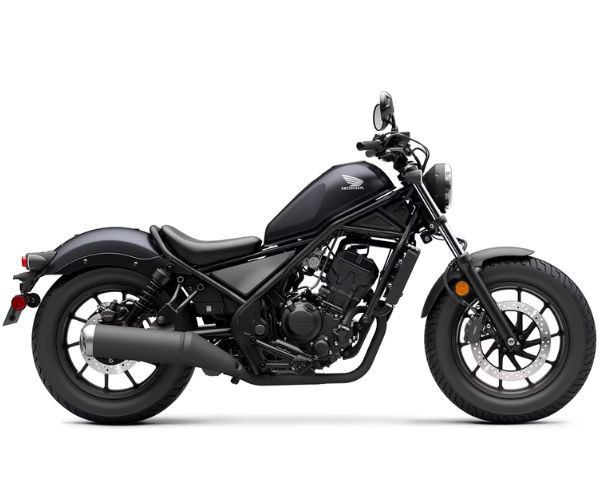 The Rebel 300 is the only true cruiser you'll find in Honda's 2023 lineup with an engine under 400cc. As a result, it's compact and has a low profile and minimalist design that makes it well suited to commuting and urban transportation.
In fact, the engine isn't quite even 300cc but 286cc, which makes it close to the original 250cc Rebel. However, unlike the original Rebel, it has a six-speed transmission that provides the smooth ride you'd normally expect from a heavier bike. Of course, the light weight gives it incredible fuel economy and comfort — at least, if you fit on it.
Here are the specs for the Rebel 300:
286cc liquid-cooled, single-cylinder, four-stroke engine
364 pounds curb weight
85 mph top speed
25 horsepower
17.6 pound-feet of torque
Six-speed manual transmission
Front 41 mm fork
Rear dual shocks
Front and rear disc brakes with optional ABS
Three-gallon fuel tank
78 mpg fuel economy
27.2 inches seat height
All-LED lighting package
Rebel 500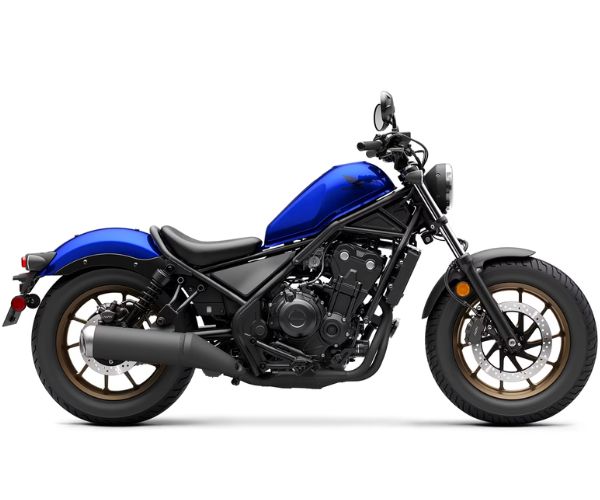 The Rebel 500 represents the mid-range of Honda's current cruiser lineup. It has a bigger, 471 cc twin engine. However, it maintains the overall minimalist and classic Rebel style. In other words, it's much the same bike as the 300, just with more power and a better potential for leisure.
Thanks to its bigger engine, the 500 starts to feel a lot more like a motorcycle than a scooter or minibike. It also has that throaty exhaust that its little brother is lacking.
Here are the specs for the Rebel 500:
471 cc liquid-cooled, parallel-twin, four-stroke engine
408 pounds curb weight
95 mph top speed
46 horsepower
29.9 pound-feet of torque
Six-speed manual transmission
Front 41 mm fork
Rear dual shocks
Front and rear disc brakes with optional ABS
Three-gallon fuel tank
67 mpg fuel economy
27.2 inches seat height
All-LED lighting package
Rebel 300 vs Rebel 500 Head-to-Head
---
Comfort
Winner: Rebel 500
The larger model just edges out the 300 when it comes to comfort. While it has the same seat height and design, the extra weight makes it a bit more stable at higher speeds, which provides a more comfortable, if less agile, ride. 
Plus, since the engine is more powerful, you have to do less shifting and revving, so you can stay more relaxed while you ride.
Looks and Customization
Winner: Both!
I can't really declare a winner here because, aesthetically, the bikes are pretty much the same. They both sport the same sleek, minimalist cruiser look that's become a signature of the Rebel line. They also both have access to the same wide range of aftermarket Honda parts to customize them as you wish.
That said, I will mention that for my personal tastes, I think the twin engine of the 500 looks fuller and just cooler than the 300's smaller engine.
Price
Winner: Rebel 300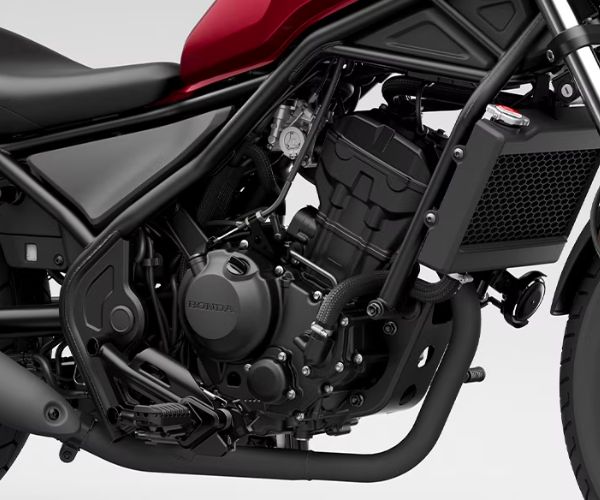 Since the 300 is the smaller bike, it's less expensive. It has an MSRP of $4,749 versus $6,499 for the 500. In fact, the 300 is Honda's least expensive cruiser. Of course, you get more power and speed with the 500. Overall, both prices are proportional to what you're getting and, therefore, a good value.
Handling
Winner: Rebel 300
As the smaller, lighter-weight motorcycle, the Rebel 300 wins the handling category. At 364 pounds, it weighs quite a bit less than its big brother and handles heavy traffic and tight turns much better.
Speed and Power
Winner: Rebel 500
Not only does the 500 have a much larger engine, but it's a twin as well. As a result, it puts out much more power, 46 hp to be exact, compared to the 300's 25 hp. For one thing, this gives it a higher top speed of 95 mph versus 85 mph for the 300. While they can both handle highway speeds, the 500 accelerates much more easily and maintains speed much more comfortably.
2023 Upgrades for the Rebel 300 and 500
---
2023 Rebel 300
Overall, the Rebel 300 hasn't changed much for 2023. Major specs, like the 286cc motor, 26 horsepower, and low 27.2-inch seat height, remain the same. 
However, Honda has changed the color options for the new year. Pearl Blue is no longer available, replaced by Candy Diesel Red. Additionally, Matte Black Metallic has taken the place of Matte Gray Metallic.
Unfortunately, Honda did raise the price $50 for 2023. The starting MSRP is $4,749, and it's $5,049 if you want ABS.
2023 Rebel 500
Like with the Rebel 300, Honda's only real changes to the Rebel 500 for 2023 were aesthetic. It still pumps out 46 horsepower from a 471cc engine.
The new color options are Candy Blue and Matte Black Metallic instead of the previously available Pearl Organic Green and Matte Gray Metallic. Plus, the SC model has a brown seat now instead of a black one, and the black wheels have been replaced by bronze.
Like the 300, the 500 saw a $50 price increase to an MSRP of $6,499. That rises to $6,749 with ABS.
Recommendations
The Honda Rebel 300 and Rebel 500 are similar cruiser bikes in the same lineup, so they meet a lot of the same needs. The 500 is bigger, though, and capable of longer leisure rides and more acceleration, while the 300 is more agile in an urban environment. As a result, these are my recommendations:
If you're a beginner, go with the Rebel 300. It's lighter and has better handling. It's one of the best bikes to learn on.
For commuters in the city, the Rebel 300 is your best bet. It's better suited for heavy traffic and gets better gas mileage.
I recommend the Rebel 500 if you're mainly riding for fun. Taking cruises, especially on the highway, is much more comfortable on the bigger bike.