If you've been looking for the safety of an airbag system but want the protection and style provided by a full motorcycle jacket, there are now airbag jackets that combine the two.
Since I like to be as efficient with my gear as possible, not just for the sake of comfort and value but also for safety, I set out to find the best available.
Here they are.
Best Overall
Helite Free-Air Mesh Airbag Jacket
Protection from impacts and the elements
This jacket covers all the bases, including crash protection, waterproofing and comfort.
Best for Women
Helite Xena Women's Airbag Jacket
A precise fit for the female form
The correct fit is essential to maximizing airbag safety, so this jacket is the ideal choice for women riders.
Best Motorcycle Airbag Jackets Reviewed
---
Helite Free-Air Mesh Airbag Jacket
This Helite airbag jacket combines the technologically advanced protection of an airbag vest with the greater safety of a jacket.
Specifically, it has an airbag that fully inflates in less than 0.1 seconds on top of shoulder, elbow, and back armor and abrasion-resistant 600D fabric. It also has reflective detailing that makes you more visible, something a lot of airbag jackets lack.
This jacket is super comfortable, too. It runs small, so I'd advise getting it two sizes larger than your usual size, but if you do get the right size, the fit is adjustable thanks to zippered cuffs with straps. Mesh panels also provide airflow that keeps you from getting too sweaty during the summer.
The Free-Air jacket doesn't just protect you from accidents either. It also has a waterproof liner to keep out the rain, but you can remove it for extra comfort on clear days.
The jacket is reusable just replace the CO2 cartridge after deployment. One comes included.
Pros:
Extensive armor included
Abrasion-resistant construction
Reflective detailing
Adjustable cuffs
Mesh panels
Removable waterproof liner
Cons:
---
Helite Xena Women's Airbag Jacket
Fit is important for an airbag jacket to function correctly. That's why it's a good idea for a woman to get a women's jacket. As is the case with the Helite Xena, it will fit more snugly and therefore provide maximum airbag protection in the critical areas in case of an accident.
Like other airbag jackets, this one runs small, so you should get a jacket two sizes larger than you're used to. However, its cut is much more conducive to the female body type with a tapered waist and, more importantly, waist adjustment on top of leather stretch panels at the sides and bottom of the back.
My main complaint with this jacket is the lack of visibility. It only comes in black, and there is no reflective detailing. That said, there is a lot of protection in the form of shoulder, elbow, and back armor in addition to tough leather construction.
An extra bonus of the Xena jacket is the removable thermal liner. This keeps you warm on colder days, but you can take it out when the weather changes. This increases the jacket's value by making it wearable for most of the year.
The airbag system has a standard inflation time of 0.1 seconds. It uses an integrated CO2 cartridge that tethers to your bike.
Pros:
Female-specific fit
Waist adjustment
Stretch panels and fabric
Extensive armor
Leather
Removable thermal lining
Cons:
Runs small
Poor visibility
---
Helite Adventure Airbag Jacket
This is my airbag jacket recommendation for adventurers. That's because it has maximum protection from the elements thanks to a Humax membrane that's waterproof and windproof but breathable.
There's also a removable thermal liner and neoprene neck. You can take it on long trips through mountain passes with the confidence that you'll be safe, dry, and warm.
This jacket doesn't run as small as other Helite airbag jackets, but I'd still recommend getting a size larger than normal. You can then adjust the fit with straps to make it snug at the waist, arms, and forearms.
By adjusting the fit correctly, you help the airbag, which inflates with a CO2 cartridge in 0.1 seconds, to protect you correctly. Additional protective features include reflective piping and shoulder, elbow, and back armor.
This is a comfortable jacket, important for long adventure riding. There are a lot of vents, too, in the front, back and sleeves, for temperature regulation.
This jacket is great for adventure riding because it has two waterproof pockets as well as other pockets. This may seem like a small feature, but it's important when you're riding in unfamiliar terrain and never know how the weather could suddenly change. You need to carry gear like your phone but don't want it getting soaked.
Pros:
Humax element-resistant membrane
Highly adjustable
Extensive ventilation
Reflective detailing
Extensive armor
Waterproof pockets
Cons:
---
Helite Leather Airbag Jacket
If you want the protection of an airbag system while maintaining a classic leather look that matches your cruiser, consider this option.
The Helite leather airbag jacket is available in both black and brown 1.3-mm leather that looks good but resists abrasion to complement the integrated airbag system.
Aside from the airbag, this jacket has several other features you won't find on most leather jackets either. For example, you get shoulder, elbow, and back armor for protection and mesh armpit vents for comfort. You have temperature regulation for the winter too, thanks to a removable thermal liner.
The only real problem with the stylish leather design is the lack of visibility. There's no reflective detailing. However, if you do experience an accident, the airbag inflates in 0.1 seconds and is more likely to remain correctly positioned if you use the included wrist fasteners.
Pros:
2 stylish leather options
Extensive armor
Mesh ventilation
Removable thermal liner
Wrist fasteners
Cons:
High price
Poor visibility
---
Alpinestars Andes Pro Drystar Jacket + Tech-Air 5 System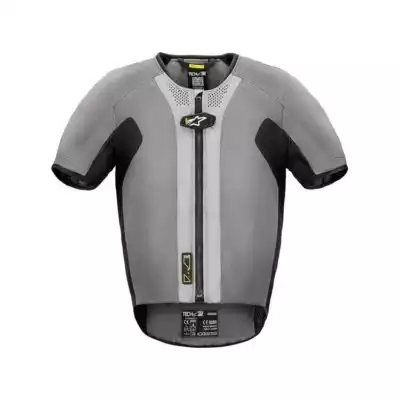 Alpinestars is one of the best-known names in motorcycle jackets because they produce highly protective and comfortable gear.
While they make an integrated airbag jacket, they actually provide a more versatile option: combining a compatible Alpinestars jacket with an Alpinestars airbag system.
My personal recommendation is the Andes Pro Drystar jacket combined with the Tech-Air 5 airbag system.
Check Prices on Revzilla for Andes Pro Drystar Jacket
Check Prices on Revzilla for Tech-Air 5 Airbag System
As for the jacket, it's a great airbag jacket option because it has hook-and-loop closures and zipper fixing for attaching the airbag system as well as a shell shaped to allow for the expansion of the airbag.
Even cooler, there's actually an LED panel on the jacket that will tell you how the Tech-Air 5 is working once you've connected it correctly.
The jacket itself is safe thanks to a reinforced polymer construction as well as shoulder and elbow protectors. Unfortunately, chest and back protection are sold separately, and you can't use them at the same time as the airbag system anyway.
There is reflective detailing for added protection, though, as well as zippered vents and a removable thermal liner.
As for the airbag system, the Tech-Air 5 is one of the most advanced on the market. It uses an electronic system with integrated sensors, which is more convenient than the classic tether design that's easy to deploy accidentally. That said, you do have to charge the battery that provides 30 hours of riding time, enough for adventuring.
The best result of the electronic system is an improved deployment time of 40 milliseconds, more than twice as fast as standard airbag jackets. The system also includes a ventilated back protector and provides airbag coverage for your chest, ribs, and shoulders in addition to your entire back.
What's nice about combining the two is that it gives you more riding options. If for whatever reason, you decide one day you don't want to deal with the airbag system, you can just take it out. You get all the features of a normal jacket on top of the airbag system.
Pros:
Versatile combo
Compatible jacket with LED panel
Shoulder and elbow protection in jacket
Reflective detailing
Electronic sensors
40-millisecond deployment
Back protector included in airbag system
Cons:
Each piece sold separately
Jacket's back protector sold separately
Requires battery charging
---
Buyer's Guide
Things to consider
---
Jackets vs Vests
Most airbag systems are incorporated into vests, but a few companies have gone as far as to make full jackets with airbag capabilities. While these are harder to find, they do have some advantages.
First of all, a jacket provides a lot of protection that a vest doesn't. It covers your arms to prevent abrasion and can include shoulder and elbow armor. Similarly, it can keep your arms warm if you're riding in cold weather.
With a vest, you may have to wear it over or under a jacket to get the jacket's protection.
Additionally, many riders find that jackets simply look more stylish and natural than vests. Most manufacturers of airbag vests incorporate the airbag systems seamlessly so that the jacket looks like a normal textile or leather jacket. You can keep safe without feeling awkward.
Deployment Method
The majority of airbag jackets use a mechanical deployment method. A tether runs from the CO2 cartridge of the jacket and attaches to the motorcycle. If you're thrown from the bike in an accident, the tether is pulled out, activating the inflation process.
This mechanical tether system is simple and reliable, but it does have a couple of downsides. First of all, you have to remember to attach it each time you get on the bike. Additionally, it's prone to accidental deployment, and it can be a hassle to replace the CO2 cartridge.
A more advanced option is an electronic sensor. This is much more convenient, but on top of being more expensive, it requires a battery. You then have to recharge the battery to use the jacket.
Deployment Time
The time it takes for the airbags to fully inflate is also an important factor to consider. All jackets take just a fraction of a second, but some are still faster than others. 0.1 seconds, or 100 milliseconds, seems to be about the average.
Motorcycle accidents happen fast, so the faster the airbag opens, the better. You should especially look for a faster airbag jacket if you race or ride motocross where accidents and falls happen quickly.
Fit and Adjustability
Fit is even more important when it comes to an airbag jacket than your other gear because it can only function properly when it fits correctly. Otherwise, the airbags may not cover the part of your body they're supposed to protect, or they may shift in an accident and not provide adequate cushioning.
Make sure to look over the sizing guide of any jacket you're interested in buying. Many run large or small compared to other gear, so you'll need to choose a size based on your measurements.
Besides getting the right size, adjustability can make a jacket fit better and therefore protect you more effectively. Look for features like adjustable straps and buckles, accordion panels, and zippers.
Reusability
Hopefully, you won't be getting in too many accidents, but still, you may accidentally deploy the airbags. Plus, if you're off-roading or riding motocross, well, accidents may be a little more common.
Reusability is a big convenience when it comes to airbag jackets. You don't want to have to buy a new one just because you forgot the tether was still attached. Usually, reusability means changing out the CO2 cartridge for a new one, but it's worth checking just how easy this is to do.
Extra Safety Features
If you're interested in an airbag jacket, you obviously take your motorcycle safety seriously. So you probably want to pack all the safety features you can into the jacket itself.
Besides the airbags, these include things like:
Protective elbow, shoulder, back and chest armor
Foam lining
Abrasion-resistant leather or other material
High-vis yellow patches
Reflective detailing
In addition to keeping you safe while riding, safety features like these increase the value of the jacket since you don't have to buy them separately.
Final Thoughts
An airbag jacket is a great way to combine the protection of an airbag system with the style, comfort and safety of a motorcycle jacket. For most riders I recommend the Helite Free-Air Mesh Airbag Jacket. For women, I would suggest the Helite Xena Women's Airbag Jacket to get a more precise and therefore safer fit.