Standards for motorcycle helmets can get confusing because there are many of them. You may even find a helmet with multiple stickers and different labels to say it's been certified by various authorities. But what do they all mean?
The most important certification in the US is from the Department of Transportation or DOT. All helmets in the US are legally required to be DOT approved.
However, if you know what other standards to look for, you can identify helmets with even higher standards and more rigorous testing.
Let's explore each relevant helmet standard so you know what you're looking at the next time you go helmet shopping. 
Further reading: How to choose a motorcycle helmet
DOT
The DOT standard only applies to helmets sold in the US, and all helmets must be DOT certified.
According to the Legal Information Institute, the DOT's Federal Motor Vehicle Safety Standard No. 218
"establishes minimum performance requirements for helmets designed for use by motorcyclists and other motor vehicle users."
The purpose of the standard is to reduce deaths and injuries to motorcyclists and other motor vehicle users resulting from head impacts.
Any helmet manufacturers looking to sell in the US have to produce helmets that can withstand DOT testing. If their helmets pass, they can self-certify and put a DOT sticker on the back of their lids.
It is the duty of the Office of Vehicle Safety Compliance to test several helmets each year at random to ensure they are still compliant with the DOT standard. If they are not up to scratch, the helmets are removed from sale, and the manufacturer can face steep fines (sometimes even $5,000 per helmet).
The DOT test comprises three main sections:
An impact attenuation test: The helmet is subjected to a series of impacts from a flat and round anvil at four sites, with two impacts per site. This tests how effective the helmet is at absorbing an impact.
A penetration test: To test how effective the helmet is at deterring an object from penetrating the shell, a pointed striker is dropped onto various sites of the helmet.
A retention strap test: To make sure the retention strap is secure enough to keep the helmet in place, weights of 50 lbs and 300 lbs are strapped to the helmet, ensuring the strap doesn't elongate more than an inch after each load.
These are then followed by a check that the helmet has enough peripheral vision. Peripheral vision can be no less than 105° from the helmet midline, and projections from the surface of the helmet, such as snaps (for visors), may not exceed 5 mm.
The helmets are tested in four different environments to ensure they operate the same in each. The idea is that these conditions represent real riding conditions:
Humidity
Low temperature
High temperature
Water immersion
Providing the helmet passes the above tests, it is deemed fit for sale. A DOT sticker should be found on the back of the helmet in addition to a label stitched inside the helmet.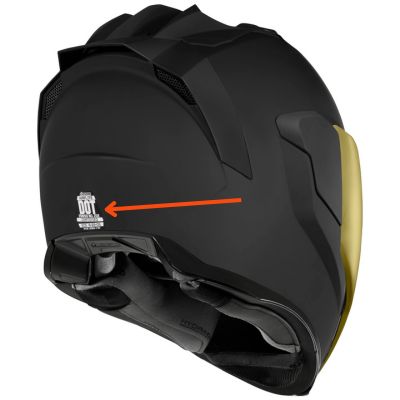 ---
SNELL
Another set of standards that apply to helmets in the US is SNELL. The SNELL Memorial Foundation is an independent authority that applies rigorous testing to improve the standard protection of crash helmets.
To obtain SNELL approval, once manufacturers have a DOT-approved helmet, they can pay to have their helmet sent to Snell for further testing.
SNELL approval is much harder to obtain and helmets go through much more rigorous testing.
All motorcycle helmets used for racing have SNELL approval. The very fact that motorsport participants are required to use a SNELL-approved helmet as opposed to just a DOT-approved helmet demonstrates that a SNELL-certified helmet will do a better job protecting a rider's head.
There are six stages to the SNELL testing that a helmet needs to pass in order to display a SNELL-approved sticker:
The first three tests are similar to those of the DOT:
Impact test: Similar to the DOT test, but the helmet is dropped onto various surfaces at various speeds and the energy the helmet absorbs in the impact is measured. 
Retention strap performance: SNELL uses heavier weights than the DOT test. 
Penetration test
SNELL then performs three tests that the DOT does not:
Fit test: This test checks that the helmet fits securely on the head.
Chin-bar test: To ensure the helmet stays in place and is effective in an impact, a weight is dropped onto the chin bar.
Face-shield penetration test: Air-gun pellets are shot at the face shield.
Manufacturers voluntarily submit their helmets for SNELL testing, and there is no requirement for them to do so. SNELL will also buy helmets off the shelf for testing.
The latest standard is called M2020D or M2020R. Most Snell-certified helmets in the US will be awarded the D certification. The M2020R standard is awarded to those helmets that are also approved for use in Europe.
An easy way to check if a helmet has been SNELL rated is to check out the SNELL website. Also, if a helmet has been SNELL approved, it will carry a certification label on the inside (You can clearly see the Snell approved label on the Shoei helmet below.) 
---
ECE and SHARP
To make matters even more confusing, you will often see ECE-certified helmets and sometimes even hear about SHARP ratings.
ECE (Economic Commission for Europe) standards apply to helmets sold in 47 different countries, predominantly throughout Europe, but also Australia.
It is common to see helmets approved for both DOT and ECE standards so manufacturers can sell in multiple markets. For example, the AGV K6 S meets both DOT and ECE 22.06 standards.
It is really important to remember that only DOT-approved helmets are legal in the US. Even if your helmet meets the latest ECE 22.06 standard, it is not legal to wear in the US unless it also has DOT approval.
However, you should still understand ECE standards because a helmet that is both DOT and ECE approved will undergo more-rigorous testing and provide more protection than a helmet that is only DOT approved.
The latest ECE regulation is 22.06, which will take effect at the start of 2024 — ECE 22.05 helmets are currently being phased out and sold off. 
ECE testing is more thorough than DOT testing, especially with the new ECE 22.06 standards, in a number of ways:
Additional conditioning to solvents and UV lights
A wider range of helmets tested
Greater testing area for the impact test
Chin-bar test included
Abrasion test
Visor tested for scratch resistance, light refraction, and transmission
More helmet sizes tested throughout the production run
No self-certification by manufacturers
ECE vs SNELL
The SNELL foundation argues that its testing procedures are far more in-depth than at least the ECE 22.05 standard testing. However, the Economic Commission for Europe argues otherwise.
It is safe to say that both authorities, despite one being a legal requirement in Europe and the other being a voluntary institution in the US, take helmet testing very seriously and both aim to ensure manufacturers produce the safest possible motorcycle helmets.
SHARP
SHARP is the equivalent of SNELL in the UK. It is an independent testing body that puts helmets through more intense testing procedures than even the ECE requirements by using a five-star rating scale to determine how protective a helmet actually is.
You're less likely to see SHARP-rated helmets in the US, but if you find a DOT- and ECE-approved helmet, look up if it has a SHARP rating, too, especially if it hasn't yet been SNELL approved. 
---
FIM (Fédération Internationale de Motocyclisme)
FIM is the governing body for international motorcycle sport. In 2019, it implemented its own helmet-testing procedures.
Helmet manufacturers have to submit their helmets for testing where FIM tests them to make sure they are capable of protecting racers. All helmets used in FIM road racing must comply with the standard. This affects races such as MotoGP and WSBK.
A FIM-sanctioned helmet means you're getting exactly the same helmet that you see racers on the track wearing. If you want that level of protection, a good example is the HJC RPHA 1N.
FIM helmets are subjected to a series of tests under three main areas: linear impact, oblique impact, and penetration.
Linear tests focus on absorption, oblique tests focus on rotational forces, and penetration tests look at the rigidity of the shell.
If a helmet is FIM certified, then you know it has met or exceeded DOT, ECE, and SNELL standards. A label will be sewn into the chin strap and a hologram label will be visible on the back of the helmet.
FIM is preparing to roll out phase two of its helmet-testing procedures, which focuses on off-road helmets involved in competition.
---
FAQ
How do you know if a helmet is DOT certified?
A DOT-certified helmet will have a sticker on the back, but should this have been removed, it will also have a DOT label stitched into the interior lining of the helmet or retention strap.
Can I remove the DOT sticker from the back of my helmet?
Keeping the DOT sticker on the back of your helmet is highly recommended. Should you be involved in a traffic stop with the police, they can easily identify your helmet as legal, avoiding any confusion and inconvenience.
What is the difference between DOT and SNELL?
Helmets are legally required to meet the DOT standard, whereas to get SNELL approval, manufacturers voluntarily put their helmets through testing.
The testing procedures for SNELL approval are far more intense and rigorous, so it's much harder for a helmet to get SNELL approved than it is to get DOT approved.
If your priority in a helmet is superior protection and you want peace of mind it has been tested to a high standard, then get a SNELL-approved helmet. All race helmets are SNELL approved.