I love it when sweater weather comes around. Hoodies are versatile articles of clothing, and with the right features, make great motorcycle gear.
This year I wanted to find the most protective, comfortable, and stylish hoodies out there. These five really stood out.
Best Overall
Merlin Hamlin Hoody
Protection and comfort in a stylish design
Multiple linings offer abrasion resistance and temperature regulation both on and off the bike.
Best for Bad Weather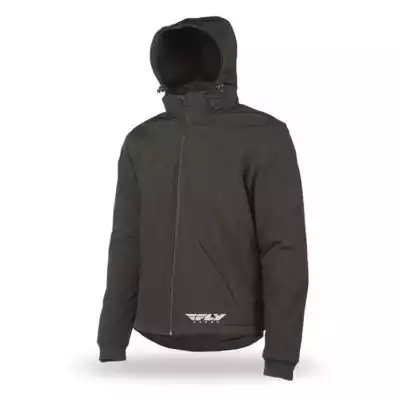 Fly Racing Street Armored Tech Hoody
Versatility for a wide range of conditions
Wind and water resistance combined with armor options keeps you warm, dry and safe.
The Best Motorcycle Hoodies Reviewed
---
Merlin Hamlin Hoodie
The Merlin Hamlin armored hoodie maximizes protection, comfort, and style all in one. It has 100% DuPont kevlar lining throughout the entire hoodie, but it's well hidden, giving the hoodie a natural, casual look you can still wear in everyday situations.
It's also comfortable in warm and moderate weather thanks to a mesh lining. This increases circulation and also prevents the kevlar fabric from irritating the skin.
It has ribbed cuffs and a ribbed base as well to keep it tight against your body. This way, the wind doesn't make it ride up and become uncomfortable. The same is true of the drawstring hood.
One of the coolest features, in my opinion, is the connection loops so you can connect the hoodie to your pants. I hate it when the wind makes my hoodie ride up in the back, and these loops make riding all the more comfortable. This is especially important because the hoodie tends to run a little short in the torso.
Pros:
100% DuPont kevlar lining
Mesh lining for circulation
Ribbed cuffs and drawstring hood for firm fit
Connection loops for pants
Cons:
High price
Torso runs short
---
Street and Steel Redwood Armored Hoodie
The Street and Steel Redwood Armored Hoodie gives you added protection over a regular hoodie at a great value. Specifically, it has armor at the elbows, shoulders, and spine, the most vulnerable areas if you have an accident.
The reflective trim adds extra protection too. It's likely you'll be using your hoodie when the weather starts to get cooler and the days dimmer, so this is an important safety feature.
The fit is comfortable due to the cotton lining. There are even thumbholes at the wrists. I love this because it doesn't just keep the sleeves pulled down and snug, but it also helps warm and protect your hands. Speaking of warmth, the flannel hood is great both on and off your bike.
Pros:
Great value
Armored elbows, shoulders and spine
Reflective trim
Thumb holes
Flannel hood
Cons:
Fabric color fades
Runs small
---
Fly Racing Street Armored Tech Hoodie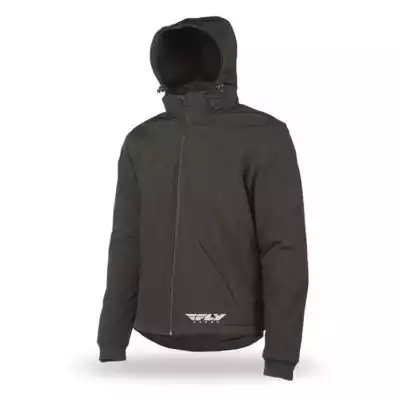 This hoodie is my recommendation for anyone who has to deal with regular rain on their rides. It's made of windproof and water-resistant fabric that, while not exactly stylish, keeps you warm and dry in rough conditions.
Unfortunately, it doesn't come with armor, but you can upgrade using armor kits that are sold separately. In fact, versatility is a big part of this hoodie, and the hood is removable as well. You can adapt the hoodie for comfort.
There are a number of safety features included, though. These include reflective piping and panels in the elbows and shoulders that resist abrasion. Plus, the waist can be tightened with a shock cord to keep the hoodie snug.
Pros:
Windproof and water-resistant
Versatile armor pockets and removable hood
Reflective piping
Abrasion-resistant elbow and shoulder panels
Shock cord waist
Cons:
Armor sold separately
Not stylish for everyday situations
---
DFNDR Men's Full Zip Smart and Armored Hoodie
As far as style, the DFNDR hoodie is my favorite. It looks great on the bike, on the street or at the bar. You can even get it in two colors, black or gray, to complement your wardrobe.
That doesn't mean it doesn't have the necessary protection, though. It's made of a 60% cotton, 40% kevlar blend that's both comfortable and prevents abrasion if you have an accident.
The hoodie itself may not be waterproof, but it does have a waterproof inner pocket where you can put your phone or other valuables just in case. I also really like the thumb cuff and pants loops that keep it from riding up in the wind. The thumb cuffs especially go great with gloves.
Pros:
Available in two stylish designs
40% kevlar blend
Waterproof inner pocket
Thumb cuff and pants loops
Cons:
---
Speed and Strength Cruise Missile Armored Hoodie
This hoodie is designed for cold weather. It's a cotton polyester that helps keep you warm, even on a motorcycle. Plus, there are two zippered extra-warm hand pockets. If you live up north, this is a good option.
The Speed Strength Cruise Missile Armored Hoodie doesn't have armor throughout, but it does have protective panels on the shoulder and elbows as well as the spine. What's nice is that these panels are removable. I like to be able to take out the armor when I'm in a more casual situation and want to feel comfortable. It makes the hoodie more versatile.
Lastly, this hoodie has loops to connect to your pants, which really helps with comfort and fit while you're on the bike.
Pros:
Warm cotton-polyester blend
Extra warm hand pockets
Removable elbow, shoulder and spine armor
Loops to connect to your pants
Two design options
Cons:
Color fades
Can overheat in warmer weather
---
Buyer's Guide
---
Protection – Material
Armor is what separates a motorcycle hoodie from a regular casual hoodie. The purpose of this armor is to protect your skin from abrasion against the roadway in the case of an accident.
Many hoodies accomplish this by including kevlar in their fabric blend or having a kevlar lining. You probably know kevlar as the material that makes up bulletproof vests, so you can be sure it's tough. At the same time, it's lightweight and flexible, so in a hoodie, it's still comfortable and wearable.
Protection – Armor
On top of kevlar material, many hoodies have actual armor panels. Most commonly, these are included in the vulnerable areas that often strike the pavement first when you crash and are pressed tight against the bone. In other words, your elbows, shoulders, and spine.
These armor panels can be permanent or removable. Permanent panels are a bit more secure, but removable panels make the hoodie more versatile since you can remove them when you're not riding.
Related reading: Best motorcycle armor vest
Temperature Regulation
Motorcycle hoodies are great protective wear for moderate weather. They cover your arms and torso but aren't as heavy as a motorcycle jacket.
For this reason, you want a hoodie with good temperature regulation since you'll most likely be wearing it on days that could get a little warm. Things like mesh lining can provide ventilation and keep you cool if it begins to heat up. Cotton is also a breathable fabric that makes for a great hoodie.
On the flip side, you want the hoodie to be warm when the weather is cool, especially since you'll have to deal with strong winds on the bike. Extra lining made of warm fabrics like flannel can make a big difference.
Wind and Waterproofing
Most hoodies are made of cotton or a blend that won't resist wind or rain. However, you can occasionally find hoodies made of polyester wind-breaking fabric. The only problem with these hoodies is that they aren't exactly stylish. Plus, the material isn't super flexible and can be uncomfortable to wear for long periods.
They're better for wearing over clothing if you live in a rainy area. They also make a good part of any commuter's emergency preparedness pack.
Pant Loops and Thumb Cuffs
I see it every day. You're driving behind a motorcycle on the highway and have a full view of the rider's back because the wind is blowing their shirt clear up around their shoulders.
If the wind makes the back or sleeves of your hoodies ride up, it defeats the purpose of the clothing's protective material. Luckily, many motorcycle hoodies have features that prevent this.
First, look for loops that allow you to attach your hoodie to your pants. This will help the waist from riding up.
Thumb cuffs are another great feature. These are holes in the wrists you can slide your thumbs through. Not only do they keep your sleeves pulled down, but they help keep your hands warm and complement gloves in cold weather.
Style
It might not be as important as your safety, but you still want a hoodie that looks good. This is especially true because hoodies usually make great casual wear you can wear off the bike as well.
Of course, style is subjective, and you should choose a hoodie that matches your personal tastes. This is a lot easier, though, if your hoodie has design options. When selecting your hoodie, check to see if you choose from different colors or styles.
Final Thoughts
Motorcycle hoodies are a great option for those who want protective clothing without the weight and thickness of a full motorcycle jacket.
I recommend the Merlin Hamlin motorcycle hoodie for someone who wants great protection in a hoodie they can still wear casually. Meanwhile, I'd suggest the Fly Racing Street Armored Tech Hoodie for commuters who regularly need resistance to the wind and rain.