Since the very first time a single-cylinder, gas-powered engine was strapped to a bicycle, motorcycles were destined to be fast. Sure enough, it wasn't long before motorcycles were racing. Sports bikes and supersports began dominating the tracks at break-neck speeds. 
While we might all appreciate the precision, speed, and handling of a supersport like the Yamaha R1, some of us prefer things less track-orientated, that same power harnessed in a chassis capable of street riding.
Originally streetfighters were simply sports bikes stripped back by owners, usually as a result of necessity. Sports bikes would be ripped around, usually dropped or in an accident, and the most expensive part of the rebuild would be the bodywork.
Eventually, owners decided it was easier to just remove the plastics, stick a headlight to the forks, and carry on riding.
That's how streetfighter motorcycles came to be. It wasn't long before manufacturers started building naked sports bikes on the back of the popularity of these early streetfighters, and the terms "streetfighter" and "naked bike" are interchangeable.
Here we've compiled a guide to the best streetfighters available today. 
Ducati Streetfighter V4 S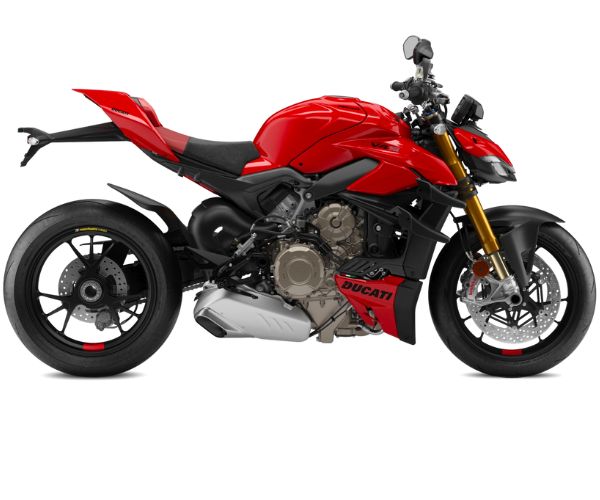 Specs:
Engine: 1,103cc, Desmosedici Stradale V-4
Max power: 208 horsepower
Max torque: 123 Nm
MSRP: $27,595
There is no better place to start than with the Ducati Streetfighter V4 S. Ducati makes some of the best motorcycles in the world, effortlessly pairing aesthetics with performance to make beautiful performance bikes.
In this case, Ducati has taken the Panigale V4 and stripped it back to produce an absolute beast of a streetfighter.
There are several options for the Streetfighter V4: the base model, the V4 S, the V4 SP2, and the limited edition Lamborghini collaboration, which is an Italian masterpiece.
The V4 S is my favorite because it has everything you could wish for to master the 208 horsepower beast. Its key features include riding modes, power modes, DTC, ABS, wheelie and slide control, Ducati Power Launch, quick shift, Brembo brakes, electronic Ohlins suspension, and Marchesi aluminum-forged wheels.
Sports-bike DNA runs through the V4 S, but despite this, it is perfectly comfortable for everyday use. The different riding and power modes paired with the active suspension means the bike can be tailored to every riding scenario, from track to street. 
Premium components, premium styling, premium quality, and the exotic Italian Ducati name — there is nothing not to like about the Streetfighter V4 S.
Of course, if you want to step it up even further, the limited edition Streetfighter x Lamborghini might be up your street, but it does come with a price tag of $68,000 — surely it's worth it, right?
---
MV Agusta Rush
Specs:
Engine: 998cc, inline-four
Max power: 208 horsepower
Max torque: 116 Nm
MSRP: $38,800
If the Ducati isn't quite exclusive enough, you could take a look at the MV Agusta Rush, limited to just 300 units.
MV Agusta refers to the Rush as being
"designed for heart-stopping, tarmac-burning take-offs. Its untamed beastly power and its arrogant, irreverent appeal, make it totally irresistible."
The Rush is the extreme of everything — a compact, muscular, drag-strip ready hyper-naked that looks nothing like anything else. 
MV Agusta built the Rush around the Brutale 1000RR. It shares the same engine, chassis, and swingarm. But you get an SC Project exhaust and a retuned ECU, which means you squeeze an extra 5 horsepower out of the Rush compared to the Brutale. 
The Rush doesn't come cheap and certainly won't be for everyone, but it has MotoGP DNA, premium everything, and next-level aesthetics that would have even the most hardcore Ducati fans turning their heads!
Check it out at MV Agusta.
---
Aprilia Tuono V4 Factory 1100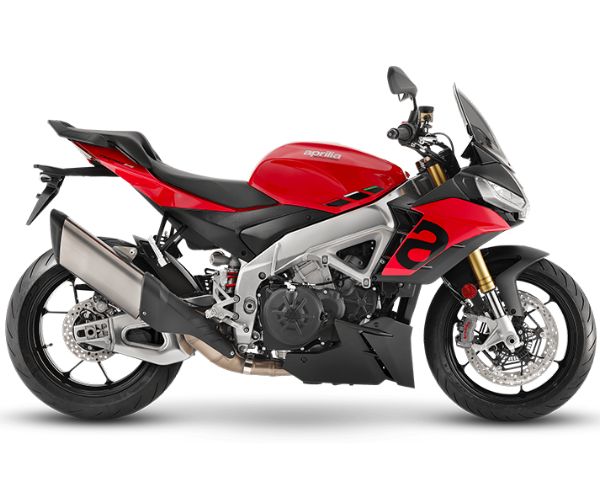 Specs:
Engine: 1077cc, V-four
Max power: 175 horsepower
Max torque: 120 Nm
MSRP: $19,599
Another Italian thrown in the mix is the Tuono V4 Factory, an uncompromising sports bike with street ergonomics, so riders can enjoy their bike in all environments.
Aprilia has taken all of its racing history and success and filtered that down to the Tuono V4 Factory, so riders are getting a bike as close to a MotoGP experience as they can get. 
The best bit is that the model can be taken to the streets for an adventure and is comfortable enough to ride all day, and you could even tour on it. It isn't the most typical streetfighter-looking motorcycle on our list, but with such impressive superbike performance, we couldn't ignore the Tuono! 
Significantly cheaper than the Ducati and MV, this Italian naked bike is more accessible to riders and there is no compromise on quality or performance.
---
KTM 1290 Super Duke R Evo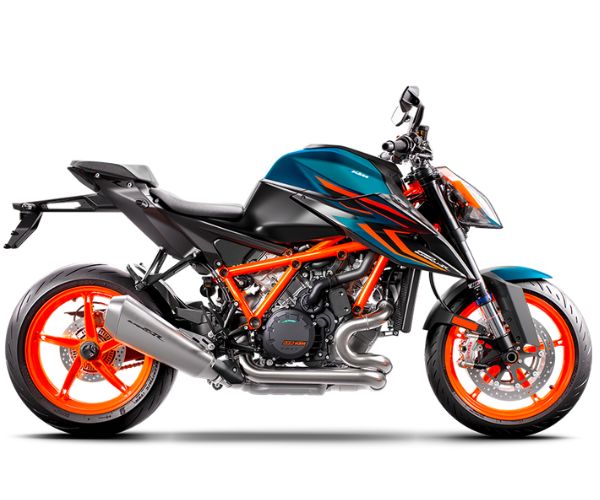 Specs:
Engine: 1,301cc, LC8, V-twin
Max power: 180 horsepower
Max torque: 140 Nm
MSRP: $20,399
KTM brings the 1290 Super Duke R Evo to the class, an aggressive, calculated beast built to dominate the streetfighter/naked class.
Equipped with intuitive semi-active suspension, the bike reacts to both the road surface and rider input for the most precise handling ride possible. The LC8 V-twin engine has been refined to be lighter, but other than that, it's a tried and tested, trustworthy motor that produces 180 horsepower and 140 Nm of torque.
In reality, the Super Duke is just a missile with wheels. Fortunately, the electronics package and brilliant chassis help the rider to contain all that power until they want to unleash its full potential.
Track or street, the Duke is ready, and it has an iconic silhouette that defines what a streetfighter looks like.
---
Kawasaki Z H2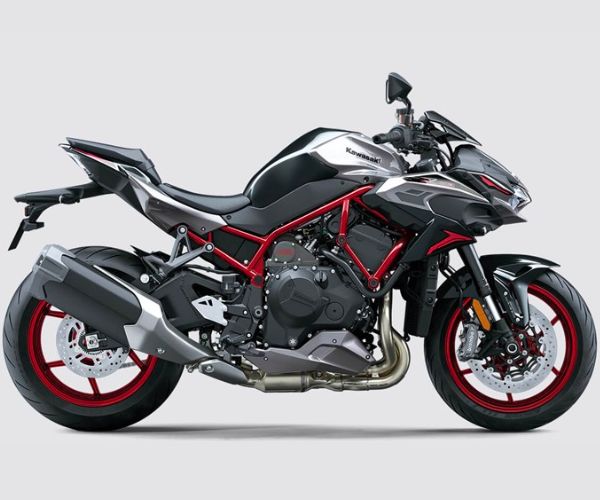 Specs:
Engine: 998cc, supercharged four-cylinder
Max power: 197 horsepower
Max torque: 137 Nm
MSRP: $18,500
Another insane addition to the class is the Z H2, a supercharged four-cylinder rocket derived from the fully faired supersport H2.
The model benefits from a specifically designed, lightweight trellis frame, Kawasaki electronic suspension supported by Showa technology, and top of the line Brembo calipers, and that's just to start with.
The Z H2 is as aggressively styled as they come. It just looks mean, like it's ready to get down to business with no hesitation.
Loaded with the full Kawasaki electronics package, there are plenty of safety features and custom options to tailor your ride exactly how you want it.
---
Yamaha MT-10 SP
Specs:
Engine: 998cc, inline-four
Max power: 158 horsepower
Max torque: 111 Nm
MSRP: $17,199
Yamaha's MT range is incredibly popular, and leading the pack is the MT-10 SP.
Packing 158 horsepower and 111 Nm of torque, the MT-10 is super serious in terms of performance. The CP4 crossplane engine is from the YZF-R1. It is race ready but tuned slightly differently for enhanced street riding.
The SP (sports production) model steps things up a notch with superbike styling and Ohlins semi-active suspension. Known as the "Master of Torque," the bike is fully loaded with accessible power across the rev range. It is the ultimate hooligan machine.
Slightly more refined than the MT-09, which is the reigning "wheelie king," the MT-10 is for the more mature rider who only needs to unleash their hooligan side occasionally,
---
Honda CB1000R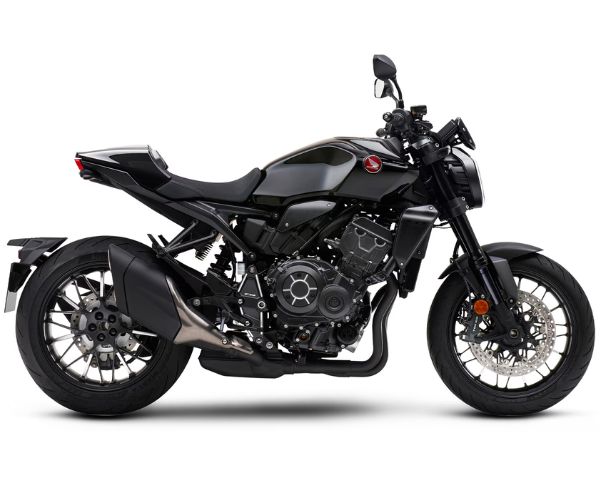 Specs:
Engine: 998cc, inline four-cylinder
Max power: 143 horsepower
Max torque: 104 Nm
MSRP: $12,999
Honda's CB1000R stands out from the pack. It is a bonafide streetfighter with much derived from the CBR1000RR superbike. However, it isn't styled as intimidating as streetfighters from Ducati or Yamaha. Instead, it has a refined, classy aesthetic with a sharp edge that will appeal to a variety of riders.
The inline-four is a smooth-accelerating motor that cruises through to the redline quickly with absolute ease and seamless gearshifts.
The CB1000R is competitively priced, and you get access to a 1000cc motorcycle, styled in a timeless fashion, with a streetfighter attitude, that is much cheaper than some of the other leading naked bikes. 
---
BMW S 1000 R
Specs:
Engine: 999cc, inline four-cylinder
Max power: 165 horsepower
Max torque: 114 Nm
MSRP: $13,945
No streetfighter list is complete without mentioning BMW and the S 1000 R. This piece of German engineering is frankly a work of art. The S 1000 R is the naked roadster version of the S 1000 RR, which is BMW's flagship superbike.
Superbike performance screams from the naked R. You can even opt for the M package, which includes the sporty M colors and M-forged wheels.
The bike's chassis is as agile as it gets. Precision steering and light handling are part of the package, and when this is paired with the 165 horsepower from the engine, you have one exhilarating ride.
---
Suzuki GSX-8S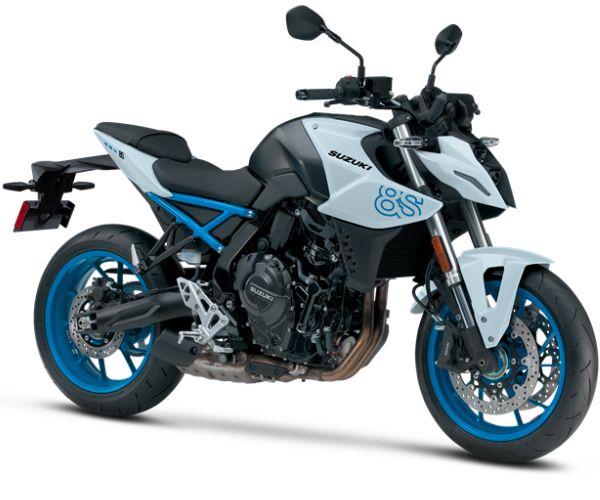 Specs:
Engine: 776cc, parallel twin
Max power: 83 horsepower
Max torque: 78 Nm
MSRP: $8,849
New for 2023 was the GSX-8S, a 776cc parallel-twin-powered naked bike added to Suzuki's range.
Suzuki flipped the script with this one. Instead of a sports bike pioneering the way for a new naked, it's the other way round — the GSX-8S has an innovative, new design that's set to make way for Suzuki's future sports bikes.
The GSX-S series of streetfighters are iconic, and the latest addition is no exception. Suzuki insists it listened to the demands of riders for the mid-size naked bike category and has catered to them with the new bike. 
A solid engine, lightweight chassis, suite of electronic rider aids, and a quick-shift system ensures the bike is up to date with modern technology and meets the expectations of the modern rider. 
The GSX-8S is for riders who need more power than the GSX-S650 to open up their riding options. However, the liter bikes are probably too much, not necessary, and too heavy.
---
Triumph Street Triple 765
Specs:
Engine: 765cc, triple-cylinder
Max power: 120 horsepower
Max torque: 79.9 Nm
MSRP: $9,995
Fancy a triple-cylinder Triumph with streetfighter looks that dominate both the track and street? Look no further than the Street Triple 765, a visual and technical masterpiece engineered for high performance and exceptional handling.
The bike is lightweight and compact and has slightly sporty ergonomics that are comfortable enough for a long day's ride yet give you full control on the track at speed. 
The triple-cylinder engine ensures smooth acceleration and plenty of grunt, immediately available to propel you forward, then when you think you are done, twist the throttle and you will find there is still more to get through.
There's also a Street Triple Moto2 edition available, which is the ultimate racer in road bike clothes — it is the closest you can get to a true Moto2 racer.
Check it out at Triumph.
---
Honda CB500F
Specs:
Engine: 471cc, liquid-cooled, parallel-twin four-stroke
Max power: 47 horsepower
Max torque: 43 Nm
MSRP: $6,799
Not all streetfighters need to be massive in capacity, and the CB500F proves that. A naked upright with aggressive styling and stance but relatively mild manners, this is the streetfighter for new riders or those who want to slow down without compromising quality.
Power delivery is smooth, as are gear shifts. The bike is comfortable for all-day riding and you're in an upright, commanding riding position for maximum control and confidence.
Showa suspension and ABS come as standard despite the bike being priced very competitively.
The CB500F is a bike that new riders will love to learn on. They will also grow into and have plenty of power to utilize as their skills develop, whereas experienced riders will also enjoy the engine and be able to have plenty of fun — afterall, chasing the redline on a smaller bike is always more fun!
---