Speed has been the aim of the game for motorcycles since the first simple single-cylinder engine was strapped onto a bicycle frame. It didn't take long for riders to start setting up races to see how fast they could go.
Things haven't changed much in that regard, except that everything has got a lot faster, a lot more powerful, and motorcycle racing is now a big industry.
Here we have gathered the fastest production motorcycles currently available to purchase. Let's get straight into it.
MTT 420 RR
One of the most insane motorcycles ever built is the MTT 420 RR. It isn't one you are going to see at every bike meet. It might be one you have never even heard of; however, it is a beast worth looking at.
MTT LLC, or Marine Turbine Technologies, is a design, engineering, and manufacturing company specializing in gas turbine engines for unique industrial applications.
They entered the motorcycle market with the MTT Y2K Superbike, the first manufacturer to produce a street-legal turbine-powered motorcycle. This has since been followed up with the even more explosive 420 RR.
At the heart is the Rolls Royce Allison turbine engine that propels the bike to speeds of 237mph.
The Y2K was deemed the most expensive production motorcycle ever made and the most powerful; the 420 RR is both more expensive and more powerful.
Specs 2022 Model:
Engine – Rolls Royce Allison – 250-C20 Series Gas Turbine
Max Power – 420 horsepower
Max Torque – 810 Nm
Top Speed – 237mph
Weight Dry – 500lbs
Current MSRP:
The MTT 420 RR is built to order, so it is difficult to get a firm price without actually going through the process of ordering one.
I contacted MTT direct to get an idea of costs for a new 420 RR:
If you want to order a new 420 RR, the budgetary price is $250,000 (price variations are in line with any custom additions), and there is a 6-8 month lead time.
It is also worth noting that should you wish to order a new bike, there is a 50% deposit to be paid on ordering and the balance on completion.
Check it out on Marine Turbine
---
Kawasaki Ninja H2R
When Kawasaki released the Ninja H2, the motorcycle world went wild.
The Ninja platform is one of the most recognized names in motorcycling. It is known for its aggressive sporty, powerful and responsive ride; Kawasaki then improved upon the flagship Ninja 1000 by adding a supercharger.
The H2R takes this further as it is built for track domination, performance-focused, and race ready. It is a track-only model.
There isn't much not to like about the H2R if performance is your thing; it claims the title of the fastest production motorcycle in the world.
Of course, if you want your fast bike to be street legal, then the slightly more tame H2 might be more appropriate.
Specs 2022 Model:
Engine – 998cc four-stroke, supercharged engine
Max Power – 305 horsepower
Max Torque – 165 Nm
Top Speed – 240mph (unverified claims of 250mph)
Curb Weight – 476.3lbs
Current MSRP – $56,500
---
Ducati Superleggera V4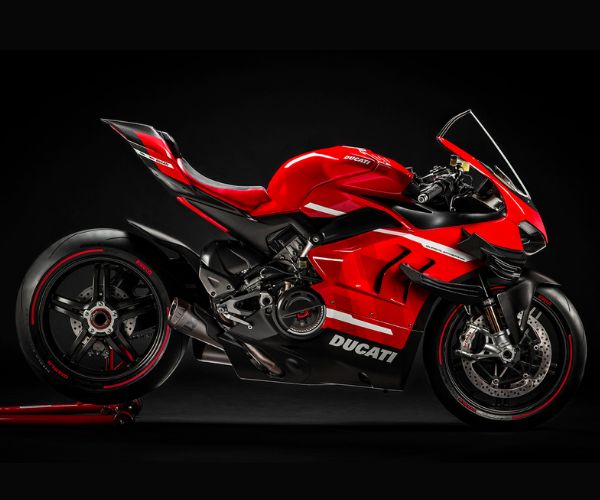 If speed is essential, but you also appreciate premium styling, then you cannot go wrong with the Ducati Superleggera, the most exclusive Ducati to date, with only 500 units produced.
The Superleggera takes the top-of-line Panigale V4 SP2 and moves things into a more focused and deliberate package.
However, it should be noted that the Panigale SP2 is an excellent track-only motorcycle that shouldn't be overlooked with impressive specs such as a top speed of 184mph.
The Superleggera is the only motorcycle approved for road use with a carbon fiber frame, swingarm, and rims. The light chassis equals an incredible power/weight ratio of 1.54 hp/kg.
This is the bike if you love Italian design, exclusivity, premium build quality, and incredible performance. 
Check out our guide to the fastest Ducati motorcycles.
Specs 2022 Model:
Engine – 998cc V4, Desmodromic timing, 4 valves per cylinder, liquid-cooled
Max Power – 224 horsepower
Max Torque – 119 Nm
Top Speed – 200mph
Weight Dry – 159kg
Current MSRP – Around $100,000
---
Suzuki Hayabusa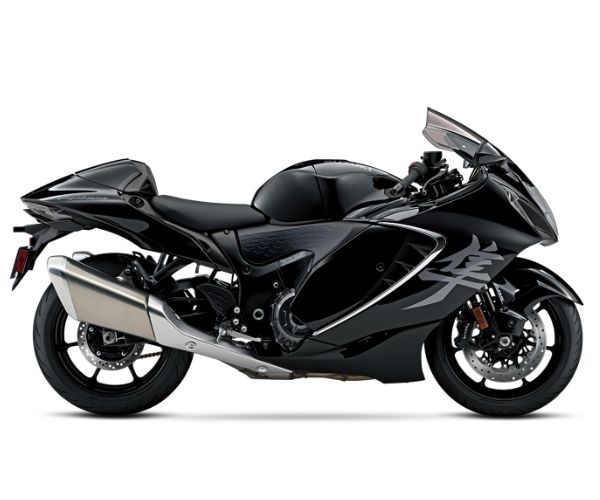 Next up, we have something slightly less premium and more affordable for the average rider; with that said, it is still a monster and one of my favorite motorcycles of all time.
The latest Busa is the 3rd generation, the most advanced yet while retaining the silhouette we have all come to love.
This muscular bike was inspired by the Peregrine Falcon, the fastest bird in the world. Upon original release, this was a slight jab at Honda's Blackbird as the Falcon hunts birds like the Blackbird.
Now you can get a Hayabusa with the Suzuki Intelligent Ride System, Cruise Control, a Quick shifter, Traction Control, Riding Modes, and a Launch Control System among other features.
Suzuki has nicely managed to mold modern electronics and useful riding features to improve performance with the original style of the 1999 Busa that has become iconic.
Specs 2022 Model:
Engine – 1340cc, 4-stroke, liquid-cooled, 4-cylinder, DOHC
Max Power – 187 horsepower
Max Torque – 110 Nm
Top Speed – 190mph
Curb Weight – 582lbs
Current MSRP – $18,799
---
BMW S1000RR
One look at the S1000RR, and you know it means business. It is no joke, a focused, lean, mean sports machine.
BMW has thrown all of its technical engineering abilities and knowledge at the S1000RR to make sure it meets any serious sports riders' needs, including:
With an aluminum composite frame and swingarm, and aluminum wheels, the engine is semi-self-supporting, ABS Pro, Racing ABS, Riding Modes, Traction Control, Hill Start, LED lighting, and TFT display. 
With 205 horsepower to use and a top speed of 186mph, this BMW will take you where you want to go as fast as you want.
Specs 2022 Model:
Engine – 999cc Water/oil-cooled 4-cylinder 4-stroke in-line engine, four titanium valves per cylinder, BMW ShiftCam
Max Power – 205 horsepower
Max Torque – 112 Nm
Top Speed – 186mph
Curb Weight – 197kg
Current MSRP – $24,374
---
Aprilia RSV4 Factory 1100
Aprilia has always been up there with the best for fast-performance motorcycles with an incredible racing division that has won 54 World Titles.
The development of the racing bikes has filtered down into their production bikes, and they are every bit the performance racer.
Aprilia has overhauled the RSV4 for the latest model, including fitting a new ECU, the Marelli ECU 11MP. The ECU has improved the electronics response timings, so overall performance has also improved.
The rear swingarm has been adjusted to increase rigidity, but other than that, the chassis remains the same; why would you change a good thing?
It offers nimble steering and precision handling, so you can make the most of the 217 horsepower engine whether you are on track or street.
With a top speed of 189mph, the RSV4 Factory is no slouch.
Specs 2022 Model:
Engine – 1099cc, Aprilia longitudinal 65° V-4 cylinder, 4-stroke, liquid-cooled, double overhead camshafts (DOHC), four valves per cylinder.
Max Power – 217 horsepower
Max Torque – 125 Nm
Top Speed – 189mph
Weight Dry – 445lbs
Current MSRP – £25,999
---
Lightning LS-218
If you are looking for something that stands out a little bit more like the MTT, then the Lightning LS-218 might be for you.
We all know electric motorcycles are on the takeover, with many of the leading manufacturers introducing electric models.
However, some new manufacturers are solely focused on electric motorcycles and are doing things very well indeed, especially for all us speed freaks.
The LS-218 from Lightning has an estimated top speed of 218mph which puts it firmly in the top section of the fastest production motorcycles.
Lightning is currently taking orders for the model, and prices start at $38,888. This may seem high, but when you look at the more exclusive traditional bikes on the list, like the MTT, the Ducati, and H2R, the LS-218 comes out pretty well with an equal, if not better top speed.
Electric motorcycles won't be for everyone, but the LS-218 looks more like a traditional sportsbike than many other electric models we have seen. It's possible this could turn a few traditionalists to look toward electric.
Specs 2022 Model:
Engine – Electric powered, 380V 12 kWh battery pack
Max Power – 200 horsepower
Max Torque – 227 Nm
Top Speed – 218mph
Weight – 495lbs
Current MSRP – $38,888
Check it out on Lightning Motorcycles
---
PGM 2.0 Liter V8
This V8 monster claimed the title of the 'World's Fastest Production Bike' in 2018.
It is a bike from Down Under and is like nothing else on this list. It only shares commonalities with the MTT, Lightning, and Ducati as it is a very exclusive motorcycle, built to order.
Unlike the other bikes on the list, the PGM is a naked motorcycle, so you will feel everything as you work your way up to a top speed of 249mph utilizing a huge 334 hp.
The engine is built from two Yamaha R1 engines bolted together, which makes the 1,996cc V8 and uses only the best components for the rest of the bike. This includes a custom Akrapovic Titanium exhaust, Ohlins suspension, and aluminum Marchesini wheels.
If you fancy a superbike with a V8 engine, this bike is for you.
Specs 2022 Model:
Engine – 1,996cc, 90 degree V8
Max Power – 334 horsepower
Max Torque – 214 Nm
Top Speed – 249mph
Weight Wet – 533lbs
Current MSRP – $104,000
---
BMW M1000RR
The M1000RR is BMW's first M model motorcycle. The M sport line is well known with the BMW cars and is the best of the best in terms of performance; this translates over to the new bike.
High-quality materials, craftsmanship, and performance are at the heart of the M RR. It is there to be unbeaten as a performance sportsbike, taking all of BMW's racing pedigree and injecting it into the bike's DNA.
Carbon wheels, titanium exhaust, carbon parts, M-designed billeted parts, M braking system developed from WSBK braking systems, and Marzocchi forks.
While the M RR has been developed using race knowledge, it has been tailored to perform on the road just as well.
As with all of BMW's top-of-the-line motorcycles, you can expect the best electronics, technical features, and a range of accessories to make the bike your own.
This time you have a range of M accessories to choose from, which makes it a bit more premium.
Specs 2022 Model:
Engine – 999cc, Water/oil-cooled four-cylinder four-stroke in-line engine
Max Power – 205 horsepower
Max Torque – 112 Nm
Top Speed – 189mph
Weight Dry – 112 Nm
Current MSRP – $32,945
---
Bimota Tesi H2
A running theme in the list of the fastest production motorcycles is that you have to pay for power and speed. The Tesi H2 from Bimota is no different.
Bimota has partnered with Kawasaki to exclusively use their engines in Bimota motorcycles, including the supercharged H2 engine.
The engine has been paired with a Bimota hub-steered chassis, and it weighs 7kg lighter than the Kawasaki model, primarily due to the use of Carbon bodywork.
The Bimota Motorcycle Company got its name by using the first 2 letters of the three founders' names – Bianchi, Morri, and Tamburini.
These men with the company and later as individuals injected some of the most incredible motorcycles into the industry since 1996, including Massimo Tamburini's design of the 'World's Most Beautiful Motorcycle,' the Ducati 916.
The Tesi H2 follows true Italian design and beauty. It has taken the Kawasaki H2 platform and made it even sleeker and more stylish.
This is another model for which you have to place an order, but I can safely say that if I had the money in the bank, this is the bike I would throw my cash at.
Specs 2022 Model:
Engine – 998cc, 4 stroke, 4-cyl, DOHC, W/C, supercharged / DOHC 4 valve
Max Power – 227 horsepower
Max Torque – 141 Nm
Top Speed – 200mph
Weight Dry – 456lbs
Current MSRP – $75,700
---