Those guys you see wipe out at high speeds on the track just to stand up and walk away? What do they almost always have in common? They're wearing a lot of armor.
Since I'd also like to be able to walk away from a potential crash, I always look for motorcycle pants with armor, and these are my five favorites.
Best Overall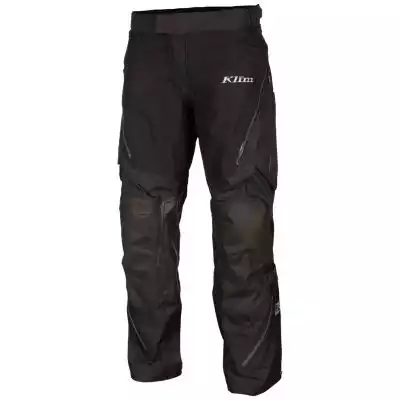 Klim Badlands Pro Pants
The Klim Badlands Pro Pants have CE Level 2 armor at the hips and knees, but they topped my list because of all the innovative features they have on top of that.
Best Leather Pants With Armor
Dainese Delta 3 Perforated Pants
The Dainese Delta 3 Perforated Leather Pants combine the impact protection of armor with the abrasion resistance of leather to provide you with a safe, comfortable, and stylish ride.
Reviews of the Best Motorcycle Pants With Armor
---
Klim Badlands Pro Pants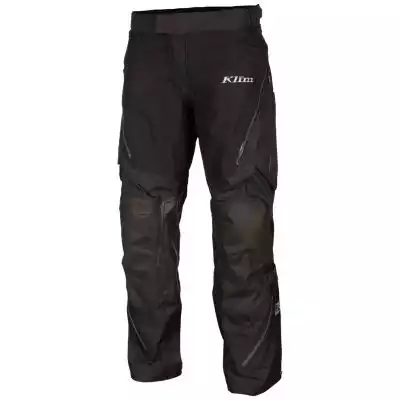 Various Klim gear tops our lists, especially the pants. When it comes to armor in particular, I love the Klim Badlands Pro Pants because of, well, all the armor.
The armor is extensive, located at the hips and knees. More importantly, though, it's some of the toughest armor you can get: Aero Pro D3O CE Level 2. This gives maximum protection to the most vulnerable parts of your legs that are likely to absorb the impact in an accident.
The armor is just the start, though. The knees are also reinforced with 630D Karbonite panels and variable-density Superfabric. Combined with the armor, this protects your skin and bones so you're more likely to walk away from a crash.
Aside from safety, the Badlands Pros have a ton of cool features you won't find on other pants, armored or not. There's a lot of ventilation to keep you cool if the weather heats up, including ventilation on the armor.
I also like the MOLLE-compatible utility panel on the thigh, which gives you easy access to important gear in adventure situations, as well as the leather strips on the knees that help you grip your bike.
Pros:
Extra tough armor at hips and knees
Doubly reinforced knees
Extensive ventilation
MOLLE-compatible utility panel
Leather grips on knees
Reflective material
Cons:
---
Dainese Delta 3 Perforated Leather Pants
If you're like me, you prefer leather gear. You can just feel how much safer and tougher the material is. Unfortunately, it's hard to find leather pants that include armor, so when I found these, I had to add them to the list.
The armor itself consists of composite protectors at the knees. There isn't firm armor at the hips, but there are soft protectors. Overall, this is the tried and true protection of genuine cowhide leather.
I personally prefer the perforated version of the Delta 3s since this cuts down on heat, the main issue with leather pants. However, Dainese also makes a non-perforated version, which also has a lot of styling options, something the perforated ones are lacking.
Pros:
Cowhide leather
Long composite knee armor
Soft hip protectors
Perforation for ventilation
Reflective inserts
Cons:
No hard hip armor
No style options
Tight
---
Klim K Fifty 1 Jeans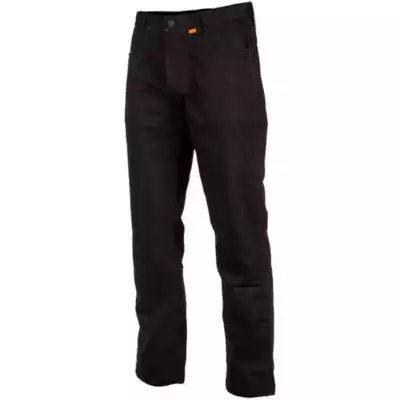 The Klim K Fifty 1 jeans are my favorite motorcycle riding jeans, mainly because of their extensive armor, which includes D3O hip and knee armor as well as a foam tailbone piece.
There are even Kevlar panels for extra abrasion resistance beyond what's provided by the denim. This is more protection than you get from a lot of dedicated textile motorcycle pants.
I also like the fit, which is much more comfortable and flexible than a lot of other jeans. This is in part due to the extensive sizing, available in tall and short options, as well as the nylon-cotton blend. As an extra bonus, the mesh liner improves airflow to keep you cool.
Pros:
Hip and knee armor
Foam tailbone protection
Kevlar panels
Tall and short sizes
Mesh moisture-wicking liner
Cons:
No adjustment
Small pockets
---
Scorpion EXO Seattle WP Pants
If you're a commuter, you probably don't want to wear bulky, awkward motorcycle pants to work or school. A good solution is a pair of overpants that you can slip on over jeans or slacks, but then you still need the armor of traditional motorcycle pants. For that, I recommend the Scorpion EXO Seattle WP Pants.
At the knees, you'll find CE Level 2 armor, and at the hips, foam protectors. Depending on what you're wearing underneath, you may want full composite hip armor, which you can upgrade to. The knees are reinforced with 1680D nylon, which is some of the toughest fabric I've found on textile pants.
Another thing I like about these overpants is their versatility. Not only can you wear them over just about whatever you want, but there's a removable liner and internal zipper gusset that makes the pants good for all weather and seasons.
Pros:
Wearable over other pants
Tough knee armor
1680D nylon reinforcement at knees
Removable liner
Internal zipper gusset
Cons:
Composite hip armor sold separately
No style options
Difficult waist adjustment
---
Icon Field Armor Compression Pants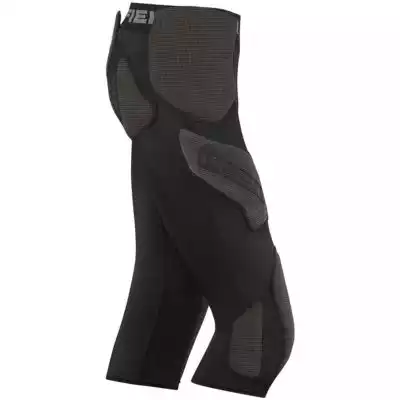 These compression pants are the flipside of the overpants above. You can wear them under other motorcycle pants — or regular pants for that matter — for extra protection, which is provided by some of the most extensive armor I've ever seen. Not only are there armor inserts at the hips, knees, calves, glutes, and tailbone, but there are also several panels made of Kevlar fiber, the same material used in bulletproof vests.
All this armor protects your bones and skin from just about any angle you might crash at. For ideal protection, consider combining the Field Armor compression pants with motorcycle pants with hard composite armor at the hips and knees.
Pros:
Wearable under other pants
Compression design
Armor at hips, knees, calves, glutes, and tailbone
Kevlar panels
Moisture wicking
Cons:
Bunch up at knees
Armor is thin alone
---
Buyer's Guide
---
Motorcycle Armor Explained
There are a lot of different types of motorcycle armor, and it can be a bit confusing to figure out what you need. The first thing to know is that armor can be hard composite or soft, usually made of foam. Composite is more protective and absorbs the force of an impact, but foam can add a little cushioning as well.
Motorcycle armor is usually located at the knees and hips, but you may also find it at other vulnerable locations. These include the tailbone, seat, calves, and ankles.
Now, want to know just how tough that armor is? Look at the CE rating. CE stands for "Conformité Européene," French for "European Conformity." This is the standard set by the EU for motorcycle gear, and you may occasionally see it abbreviated EN. CE ratings have two levels:
CE Level 1: This is the minimum required for most racetracks, at least in the EU, and represents protectors that transmit no more than 18 kN of force to the body.
CE Level 2: Even more advanced protection, required for some high-speed track schools and races, this represents the best armor that transmits no more than 9 kN of force.
Other Protective Features
While armor is usually only located at especially vulnerable spots, such as the knees and hips, it's still ideal to have protection throughout the pants. You mainly want abrasion resistance since your knees may hit the ground first, but other parts may slide across the payment and injure the skin.
The toughness of a synthetic fabric is measured in Denier, abbreviated as D. So a 1200D fabric is tougher than a 600D. Similarly, certain materials are known for their toughness, such as leather, denim, and Kevlar.
Read more about the best motorcycle jeans.
Basically, the more of this tough material, the better, but you definitely at least want reinforcements in vulnerable areas like the knees.
Armor Adjustability
Being able to adjust the armor in your pants doesn't just improve comfort. It's safer too. If the armor pockets have room to move the armor around and then secure it, you can position it directly over the vulnerable body part. Adjustability varies widely by model, so check for it.
Overall Comfort
I'm always concerned with comfort. It helps with safety since you'll simply be more likely to wear a pair of motorcycle pants if they're also comfortable.
One of the first things you should check for is temperature control. Mesh ventilation provides airflow that cools you off in hot weather, and you can also find removable liners that provide insulation in cold weather. You can also look for waterproof linings that keep you warm and dry if it starts raining.
Another factor for comfort is fit. As well as paying close attention to the manufacturer's size chart, you should consider your purpose. I mainly ride cruisers, so I look for loose thighs and knees that let me stretch out and still manipulate the foot controls. If you ride a sport bike, you might want a tighter fit that cuts down on wind resistance.
Final Thoughts
The best way to improve your chances of walking away from an accident is to wear heavily armored motorcycle pants. My top recommendation is the Klim Badlands Pro Pants. However, if you prefer leather, take a look at the Dainese Delta 3 Perforated Leather Pants. For denim, go with the Klim K Fifty 1 Jeans.