Motorcycle pants are great, but let's face it. They aren't the most stylish things to walk around town in.
I prefer to wear motorcycle jeans because they combine the look and abrasion resistance of denim jeans with the extra armor of motorcycle pants. These are the five best motorcycle riding jeans I've found.
Best Overall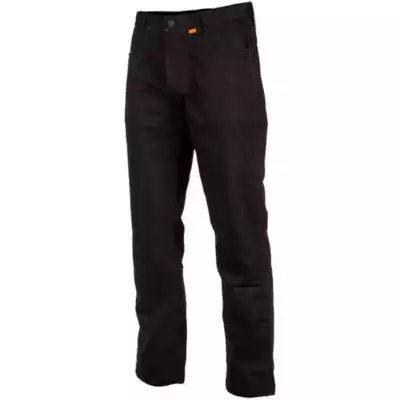 Klim K Fifty 1 Jeans
The Klim K Fifty Jeans feature extensive armor all the way to your tailbone along with stretchy material and a mesh liner that combine for maximum safety and comfort.
Best Budget Option
Street & Steel Oakland Jeans
With a price closer to that of regular jeans, the Street & Steel Oakland Jeans still provide plenty of protection, with armor at the knees, and an ideal fit and cut for riding.
Reviews of the Best Motorcycle Riding Jeans
---
Klim K Fifty 1 Jeans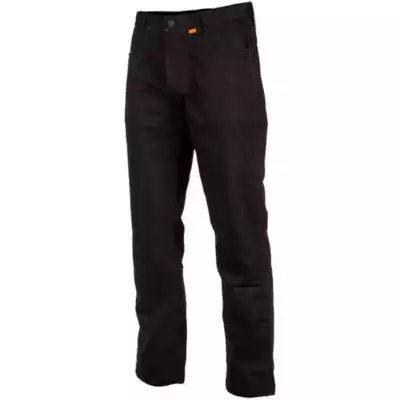 The main reason I like the Klim K Fifty-1 jeans is that they have an ideal intersection of comfort and protection. I usually have trouble finding regular jeans that don't bunch up and get tight in the wrong places while I'm riding, much less armored jeans. But the Fifty-1s are just that.
For armor, you get D3O hip and knee armor on top of a foam tailbone piece and Kevlar panels. Plus, the denim is heavy-duty anyway and resists abrasion better than standard jeans.
At the same time, the nylon-cotton blend stretches well and complements the relaxed fit so you can sit comfortably on a wide variety of motorcycles regardless of posture. There's also a full mesh comfort liner that wicks moisture to keep you cool, another big problem I have with most jeans in the summer.
Finally, as a guy who's 6'3″ and lanky, I love Klim's extensive sizing. For waist sizes, you have standard, tall, and short inseam options that aren't available with other brands.
Pros:
Hip and knee armor
Foam tailbone piece
Kevlar panels
Heavy-duty denim
Stretchy nylon-cotton blend
Mesh comfort liner
Extensive sizing
Multiple color choices
Cons:
---
Street & Steel Oakland Jeans
One of the main problems with riding jeans is that they're a lot more expensive than your normal Levi's. That's why I decided to include the Oakland jeans from Street & Steel on my list. They include the motorcycle-specific features you're looking for at a much lower price.
Most importantly, the Oakland jeans are armored. There's removable and adjustable CE protection at the knees. The seat, hips, and knees are also reinforced to resist both heat and abrasion.
The denim is blended with a bit of elastane to make them stretchier. This gives you a better range of motion and a more comfortable sitting position. The cut of the jeans is loose enough for comfort without being so loose that it's dangerous or produces too much wind drag.
Pros:
Budget price
Removable knee armor
Reinforced seat, hips, and knees
Elastane stretch
Riding cut
Cons:
No hip armor
Limited sizing
Limited color options
---
REV'IT! Philly 3 Jeans
The best part of the Philly-3 jeans is the blend: 64% cotton, 22% polyethylene, 12% polyamide, and 2% elastane. This blend is highly breathable and stretchy as well. Combined with a relaxed fit and plenty of size options, you can sit comfortably on just about any motorcycle.
As motorcycle riding jeans, the Philly-3s are protective, too. There's CE armor at the knee and hip. A unique feature, they even have reflective accents, so they're a good choice if you ride a lot at night.
Pros:
Breathable, stretchable denim blend
Relaxed fit
Precise sizing
Knee and hip armor
Reflective accents
Cons:
Limited color options
Armor difficult to adjust
---
Trilobite Parado Jeans
You should take a look at the Trilobite Parado jeans if you have trouble with stretch in your riding jeans because of your bike's sitting position, because you have large legs, or whatever. Regardless, the Parados have numerous stretch panels at the knees, waist, and crotch. These give you a much better range of motion than with other pants.
These jeans are also ideal for summer riding since they're so breathable. For one thing, they're 98% cotton. More significantly, they have a breathable crotch panel and thigh-vent pockets.
The Parados give you extra protection when riding. There's Kevlar lining in the knees in addition to CE protectors at the hips and knees. They're not removable, but there is some adjustment at the knees.
Finally, I want to mention the four color options. It's nice that Trilobite provides so many choices, but you need to keep in mind that the colors correspond to different fits, which can be frustrating. Gray and red are slim fit while blue and black are regular.
Pros:
Stretch panels
Breathable
Kevlar lining
CE hip and knee protectors
Four color options
Cons:
Armor isn't removable
Colors only available in certain fits
---
Bull-it Covert Evo Slim Jeans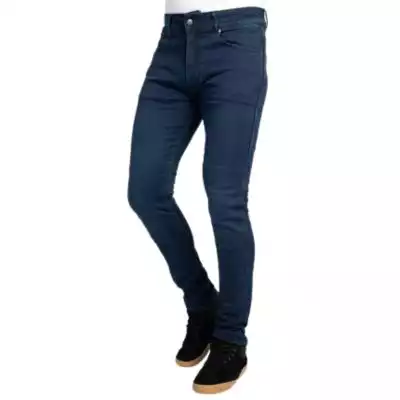 The Bull-it Cover Evo jeans are my recommendation if you want a slim cut. This is usually better for sport bikes than cruisers since you don't need as much range of motion. The cut is stylish and looks good with both the black and blue color options.
These jeans have a good price but unfortunately don't have included armor. There are pockets at the knees and hips for inserting armor, but you have to buy these inserts separately. Otherwise, the denim itself is highly protective and has AAA abrasion resistance.
Pros:
Slim cut
Stylish design
AAA abrasion resistance
Extensive sizing
Cons:
Armor not included
Limited color options
---
Buyer's Guide
Costs, Care and Considerations
---
Protection
Jeans are generally highly recommended for motorcycle riding anyway because denim is more protective than a lot of other fabrics. You can improve on this protection by getting specific motorcycle riding jeans that are even more protective. Look for these key features:
Armor: Motorcycle riding jeans usually include armor that regular jeans don't. This armor absorbs impacts, so you want it at the places most likely to hit the pavement in a crash: your knees and hips. You can also look for armor at the tailbone. Read more about the best motorcycle pants with armor.
Ideally, you want armor that's adjustable. This way, you can make sure it's centered over your vulnerable body part. Removable armor is also nice in case you want to use the jeans in casual situations off the bike.
Abrasion resistance: Most manufacturers increase the abrasion resistance of their riding jeans even beyond that of standard denim. This helps reduce damage to the skin if you slide across the pavement.
Comfort and Fit
You want motorcycle jeans that are comfortable and fit correctly. This isn't just about an enjoyable riding experience but a safer one too. You need to have a full range of motion on the bike so you can accurately control it. These are the things to pay attention to:
Sizing: You need to get jeans that are the right size. The easiest way is to check the manufacturer's sizing guide and make sure you've measured your waist and inseam correctly. In some cases, you might need to opt for a "short" or "tall" size to make sure the pant legs fit correctly.
Blend and stretch: Most motorcycle sitting positions require more of a stretch than regular everyday activities, not to mention moving on the bike to control it. Ideally, you want jeans that stretch quite a bit, either because of the material blend — usually one with elastane — or because they have separate stretch panels.
Breathability: Breathability makes your jeans a lot more comfortable in hot weather, so you can still wear them and take advantage of their protective features. A blend high in cotton is usually breathable, but the best riding jeans have breathable mesh panels.
Final Thoughts
Motorcycle riding jeans allow you to ride stylishly while still staying safe and comfortable. My favorites are the Klim K Fifty 1 Jeans, but if you don't want to spend too much, the Street & Steel Oakland Jeans are a good budget option.