Both manufactured by Yamaha and both members of the MT family, it may seem like the only thing separating the MT-07 and MT-09 is a couple hundred cubic centimeters of engine capacity.
However, they are actually very different machines, and each may be the better choice for you depending on your riding preferences and needs. I decided to compare them head to head to see which one wins out.
Yamaha MT-07
---
The Yamaha MT-07 has emerged not only as the cornerstone of Yamaha's naked bike line but also as a defining model in the standard motorcycle segment. It launched in 2014 and was released in the US in 2015 as a little brother to the MT-09.
Yamaha believed that large sport bikes were losing popularity and wanted a smaller model to corner the market. A smart move, since the MT-07 has captured the attention of motorcycle enthusiasts worldwide, becoming one of Yamaha's best-selling motorcycles in the US and globally.
In addition to its robust 689 cc engine, riders mainly like the MT-07 for its excellent handling capabilities. Critics have praised its light weight, agility, and smoothness. It also boasts an impressive roster of specifications that Yamaha has improved upon multiple times.
Here are the features of the MT-07:
689 cc liquid-cooled four-stroke parallel-twin engine with crossplane crankshaft
406 lbs curb weight
133 mph top speed
73.8 hp at 9,000 rpm
52.2 mpg fuel economy
Six-speed constant mesh transmission
Front telescopic fork suspension
Rear swingarm (link type) suspension
Front and rear disc brakes
ABS optional or standard from 2018
MT-09
---
Yamaha designed the MT-09 to compete with the Triumph Street Triple, Kawasaki Z900, and MV Agusta Brutale 800. It received notice and praise from its debut in 2014 due to its powerful performance and superior handling.
A supersport bike and streetfighter type, the MT-09 features a formidable, though admittedly heavy, 890 cc engine. This gives it a unique blend of power, flexibility, and aesthetic appeal. In fact, many enthusiasts and critics consider it a better value for the features than its main competitors.
Here are the MT-09's notable features and specs:
890 cc liquid-cooled four-stroke engine with crossplane crankshaft
417 lbs curb weight
148 mph top speed
114.9 hp at 10,000 rpm
Six-speed constant mesh transmission
Front inverted 41 mm telescopic fork with 5.4 inches of travel
Rear swingarm with monoshock with 5.1 inches of travel
Front and rear disc brakes
ABS since 2017
MT-07 vs MT-09 Head-to-Head
---
While these raw numbers can give you some idea of how the two bikes perform against each other, it's best to get a full idea of how they compare head-to-head in different aspects of riding. Each has its advantages and disadvantages.
Comfort
Winner: MT-07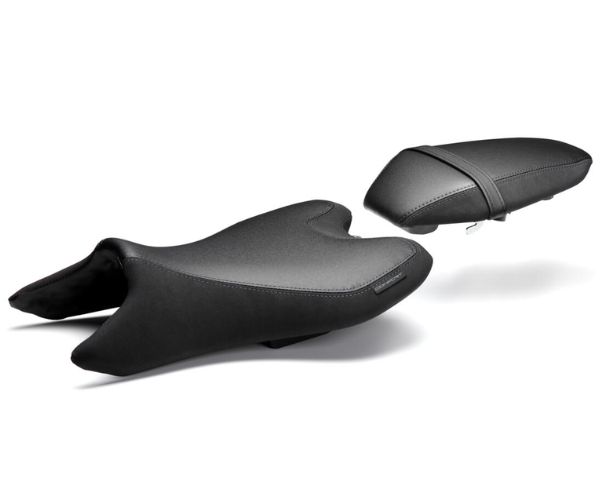 When it comes to comfort, the Yamaha MT-07 takes the win. It provides a more relaxed riding position that suits various riders, from beginners to long-time commuters.
The seat height is relatively low at 31.7 inches, making it easy for tall and short riders to flat-foot the ground.
The handlebars are positioned to allow an upright posture, reducing fatigue during longer rides compared to a lot of sport bikes. Finally, the MT-07's lighter weight makes handling easier and long rides more comfortable.
---
Looks and Customization
Winner: MT-09
In terms of aesthetics and customization potential, the MT-09 edges out its little brother. The aggressive, modern styling of the MT-09, with its sharp lines and unique headlight design, turns heads.
The design philosophy behind the MT-09 leans towards a more streetfighter look, which is appealing to riders seeking an edgier style. Additionally, the MT-09 offers a broader range of aftermarket parts and accessories, so you can customize the bike extensively to suit your personal style and riding preferences.
---
Price
Winner: MT-07
The MT-07 has a lower price than the MT-09, so logically, it wins this category. It has an MSRP of $8,199 versus $9,799 for the MT-09.
That said, many would argue that the MT-09 is a better value because you're getting a lot more for only a slightly increased price. In fact, the MT-09 is considered one of the best value sport bikes on the market.
---
Handling
Winner: MT-07
Though both bikes are superior models when it comes to handling, the MT-07 beats out the MT-09.
Its compact dimensions and lighter weight allow for easier maneuvering through traffic and around tight corners. The suspension is set up for comfort and ease of use, so you can better handle bumpy roads or quick directional changes.
---
Speed and Power
Winner: MT-09
When it comes to speed and power, the MT-09 is the clear winner. Its larger 890 cc engine not only provides a significantly higher power output with 114.9 hp at 10,000 rpm but also delivers higher torque, producing 65 lb/ft at 8,500 rpm.
That's quite a bit more than the MT-07's 74.8 hp at 9,000 rpm and 50 lb/ft of torque at 6,500 rpm. As a result, the MT-09 is a much faster and more powerful machine with better acceleration and higher top speeds.
---
2023 Upgrades for MT-07 and MT-09
As key models in Yamaha's lineup, the company has tried to improve the features and specs of both the MT-07 and MT-09 as often as possible.
For 2023, both bikes continue this tradition, with the MT-07 showcasing important upgrades, while the MT-09, having undergone a substantial transformation in 2021, remains largely unchanged, though it maintains those recent enhancements.
2023 MT-07
The most notable upgrade for this year is the five-inch, full-color TFT display that gives you the choice of two different screen modes: a modern "street" mode with a bar-type tachometer and a more traditional "touring" mode with an analog-style tachometer.
The 2023 model also introduces Yamaha Motorcycle Connect, which lets you connect to your smartphone via the Y-Connect app. This feature enables incoming calls, email, and message notifications on the TFT display while the app records data from your ride, including distance, acceleration, and fuel economy.
The 2023 MT-07 is pre-wired for a quickshifter, which makes installing Yamaha's Quick Shift System a lot easier.
For 2023, the MT-07 is available in three color options: Cyan Storm, Team Yamaha Blue, and Matte Raven Black. It's available from April 2023 and priced at $8,199 MSRP.
2023 MT-09
While the MT-09 doesn't introduce any new features for 2023, it's worth noting the significant overhaul it underwent for the 2021 model year, which saw an increase in engine capacity from 847 cc to 889 cc, as well as new pistons, connecting rods, and camshafts. This resulted in a power bump from 113 hp and 64 lb/ft of torque to 117 hp and 67 lb/ft.
Additionally, the redesigned frame and swingarm also produced a slight weight reduction and a 50% increase in lateral rigidity.
The 2023 Yamaha MT-09 has an MSRP of $9,799. It's available in Matte Gray, Blazing Orange, and Blue Race.
Recommendations
The Yamaha MT-07 and MT-09 both have a lot going for them and are each good choices for various riders. They're agile and dynamic sports bikes that offer distinctive aesthetics and performance capabilities.
While they both excel as versatile motorcycles, certain features might sway riders depending on their needs and preferences.
These are my recommendations:
For beginners, particularly new sport-bike riders, the MT-07 has more accessible pricing as well as a strong emphasis on comfort. Plus, it's lighter.
If you want power and speed, on the other hand, you may find the MT-09 more fun simply due to its increased engine capacity and power output.
For gearheads looking for customization, both models offer opportunities, but the MT-09 is prettier and has a wider range of aftermarket options.
Regarding fuel efficiency, the MT-07's lighter weight makes it the better option for urban commuters and those on a budget.
Image Credits:
All images via Yamaha