Motorcycles are generally considered to be loud machines. Exhausts roar and engines make unavoidable mechanical noise. Or at least that is what the stereotype suggests. I would argue that it's just the loud bikes that get noticed, while the quiet ones ride along, peacefully avoiding attention.
There are various reasons why a rider might want a bike to be loud, including the common idea that "loud pipes save lives."
However, some riders want a quieter motorcycle that won't intrude on their surroundings or require ear plugs. Fortunately, some bikes are much quieter than others.
We've mainly focused our search on gas-powered bikes. However, we've thrown in a couple of electric motorcycles for good measure. Without an engine, electric motorcycles are the quietest option on the market.
*Where possible we have collected noise level information, but the specifics vary from model to model and we have averaged the figures across sources where measurements differ.*
Kawasaki Ninja 400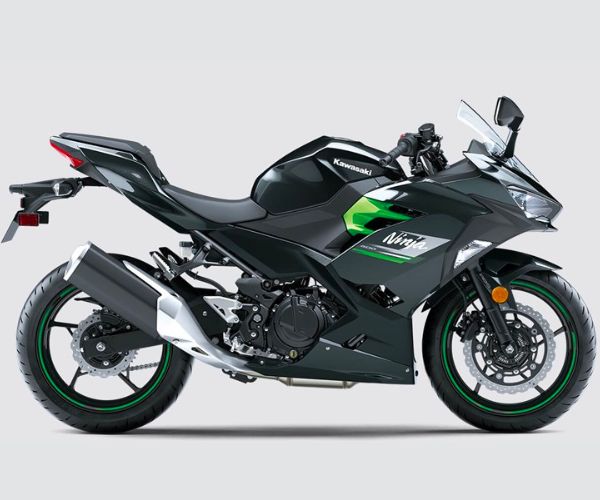 Specs:
Noise level: 71.5 dB at idle and 84.5 dB at 5,000 RPM
Engine: 399 cc, twin-cylinder, liquid-cooled DOHC
Max power: 26.9 horsepower
Max torque: 37 Nm
MSRP: Non-ABS $5,299/ABS $5,699
The Kawasaki Ninja line is legendary in the sports-bike world and rightly so. The Ninja 400 might be the baby of the bunch, but it is packed with attitude, aggressive styling, and punchy Ninja fun.
It has a chunky exhaust system, but its looks are deceiving — it delivers a pretty quiet yet satisfying growl. Even at speed, the exhaust noise is throaty instead of high-pitched and annoying, like some small-capacity machines.
The Ninja 400 is a great choice for a novice rider. It has neutral ergonomics, smoothly delivered power to grow into, ABS as an added safety option, and a brilliant sports-bike aesthetic.
Equally, experienced riders can enjoy the lightweight chassis and easy-going nature while still having fun chasing the redline out on the backroads.
---
BMW R 1250 GS
Specs:
Noise level: 56 dB at idle and 88 dB at 40 mph
Engine: 1,254 cc, flat-twin, air/liquid-cooled DOHC
Max power: 136 horsepower
Max torque: 142 Nm
MSRP: $17,995
For such a big bike, the BMW R 1250 GS is surprisingly quiet. It's a well-mannered adventure bike built for the long haul, which is likely why BMW has kept the noise down. When taking the 249 kg beast over difficult terrain, you want to be able to hear yourself think and concentrate.
Luxury is at the heart of the R 1250 GS. It might be a rugged adventure bike, but it has touches of class that only BMW is capable of delivering. Heated grips, heated seats, seven riding modes, adaptive headlights, and a TFT display, plus much more, are either standard or available to add on.
The GS is the ultimate in long-haul adventure motorcycling. While many others have tried to compete, the GS remains the best in the class.
---
Honda Rebel 500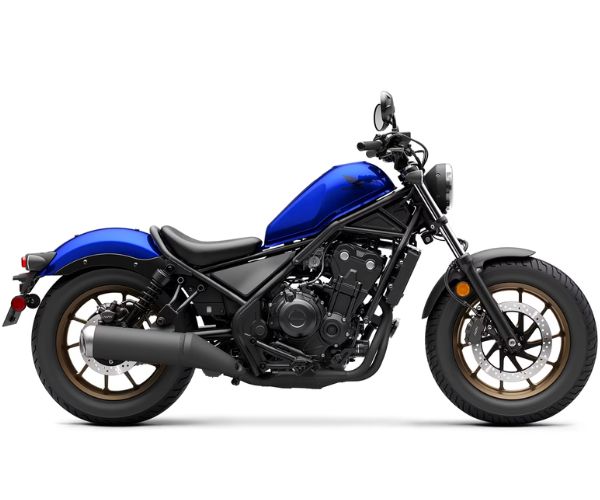 Specs:
Noise level: Average output of 85 to 90 dB
Engine: 471 cc, liquid-cooled, parallel-twin four-stroke
Max power: 46.8 horsepower
Max torque: 43 Nm
MSRP: $6,449
The Honda Rebel is a lightweight bobber with a difference. It is powered by a parallel-twin engine, is priced very affordably, and is also incredibly quiet for a cruiser/bobber, which are known for their loud thunderous exhausts.
The Rebel is just that — a bike that rebels against the norm and what is expected of it. It is trying to be anything other than itself, which is why I personally love it. The punchy parallel-twin delivers smooth power with plenty of grunt at the low-mid range for getting around town.
It has a very low seat height and is lightweight, so even the shortest of riders will be able to get their feet down and manage the weight of the Rebel 500.
Perhaps its greatest attribute is its factory-bobber styling which begs the owner to start customizing and making it their own. 
Also see: Rebel 500 vs 300
---
Honda NC750X DCT
Specs:
Noise level: Average 86 dB
Engine: 745 cc, liquid-cooled, four-stroke, 55° parallel-twin
Max power: 57 horsepower
Max torque: 69 Nm
MSRP: $9,399
Honda's NC750X is a unique and versatile motorcycle, and with an average of 86 dB, it is pretty quiet too.
The bike is fitted with Honda's automatic DCT (dual-clutch transmission), which means you can choose between manually shifting using paddles on the handlebars and letting the bike do all the shifting for you.
There's a huge storage space where the fuel tank would normally be. It's waterproof, lockable, and big enough for a full face helmet and then some.
The bike has been designed to cater to all types of riders and scenarios. It is at home on the street doing a city commute, but it is competent on dirt roads, too, thanks to an adventure-style suspension.
---
BMW K 1600 B
Specs:
Noise level: Very quiet
Engine: 1,649 cc, inline six-cylinder, oil/water cooled
Max power: 160 horsepower
Max torque: 178 Nm
MSRP: $22,545
Despite its size, the BMW K 1600 B is a really quiet motorcycle, even at speed. It has the kind of engine that once your helmet is on, you will struggle to know whether it's even on.
The bike is a touring bagger that powers along on a powerful six-cylinder engine. It devours miles in luxury, combining performance and comfort in equal measure. It comes with all the bells and whistles expected of a BMW today: riding modes, TFT large display, adaptive headlights, optional shift assist, floorboards, and an audio system.
In my opinion, it's one of the best-looking baggers on the market and one of the more practical options for touring purposes.
---
Honda Gold Wing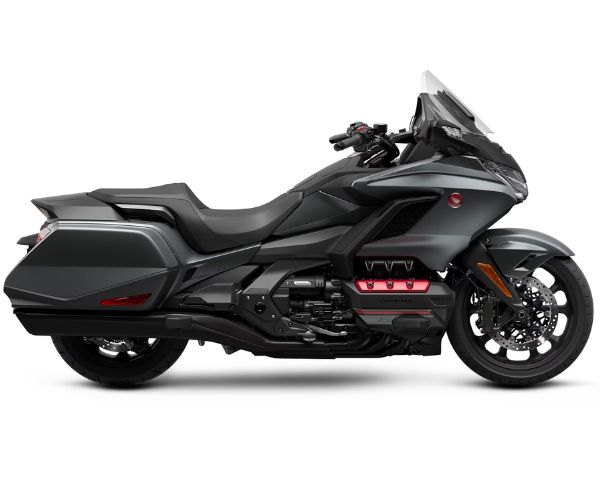 Specs:
Noise level: Under 80 dB, even at highway speeds
Engine: 1,833 cc, liquid-cooled, horizontally opposed, six-cylinder four-stroke
Max power: 124 horsepower
Max torque: 70 Nm
MSRP: $25,600
Another huge motorcycle like the K 1600 B is the Honda Gold Wing, often referred to as a La-Z-Boy chair on wheels. The Gold Wing, despite its size and monster engine, is a quiet bike that buzzes along without roaring.
If you want to travel across the country or several countries in absolute comfort with more than you could ever need, the Gold Wing is the bike you want.
You can now choose between a standard manual six-speed transmission or the DCT seven-speed, which gives you the luxury of going automatic if you wish.
There are four different trims to choose from, including the Tour Airbag Automatic DCT, which features a pioneering airbag for an added level of rider protection. Like the BMW GS and K series, you get a wide range of tech, including hill start, smart key, reverse gear, and an electronic windscreen.
---
Indian Scout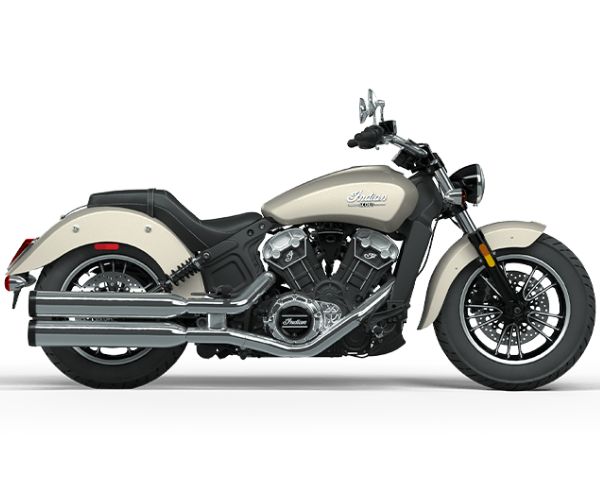 Specs:
Noise level: Average 82 dB
Engine: Liquid-cooled, 999 cc, V-twin
Max power: 100 horsepower
Max torque: 97.7 Nm
MSRP: $13,249
Cruisers aren't known to be quiet, especially big American V-twins, but the Indian Scout range debunks this theory.
The classic dual exhaust looks the business and complements the engine stylistically but doesn't make the loud rumble you would expect. So, if you want the cruiser aesthetic with less of the racket, then the Scout range could be for you.
Personally, the Indian Scout is my favorite motorcycle and that is no easy feat. The Maroon Metallic paint scheme with the tan leather seat is by far the classiest option and the most authentic, true to the original Scouts of the 1920s.
While some of the newer Indian models are more modern in their styling, the Scout line has stayed true to Indian's heritage, which is also what makes the range unique from other cruisers in the class.
Check it out on Indian Motorcycles
---
Honda CB500F
Specs:
Noise level: Around 80 dB at 3,000 rpm and rises to just 85 dB
Engine: 471 cc, liquid-cooled, parallel-twin four-stroke
Max power: 47 horsepower
Max torque: 43 Nm
MSRP: $6,799
You can easily spot the pattern here as another quiet Honda motorcycle enters the fray with the CB500F.
The CB500F takes after the 350 twins from a generation ago. They were lightweight, fun, affordable, and just really good motorcycles. Honda aims to revive that with the CB500F and other 500 cc bikes in the lineup.
The CB500F is a naked, upright street bike with an aggressive stance but mild manners. It is easy to ride, affordable, appropriate for new and younger riders, and bags of fun for experienced riders.
Linear-power delivery ensures nothing scary happens when you twist the throttle, but you do smoothly get moving and work your way through the gears.
Ergonomically, the CB500X is built to be extremely comfortable, with a neutral riding stance that will help you keep going for longer.
Despite being attractively priced, Honda hasn't skimped on the important things, like Showa suspension, ABS as standard, and dual front disc brakes with four-piston calipers. The fit and finish of everything is also very high quality.
---
Zero Motorcycle SR/S
Specs:
Noise level: N/A
Engine: Z-Force 75 10 Motor
Max power: 110 horsepower
Max torque: 190 Nm
MSRP: $19,995
For those that want or need the ultimate quiet motorcycle, then electric bikes are the only way to go. Zero Motorcycles produce some of the best electric motorcycles on the market and seem to be leading the charge in terms of quality and performance.
The SR/S is Zero's sports bike. It has a top speed of 124 mph, a city range of 187 miles, and a huge 190 Nm of torque, which is really rather impressive.
In terms of styling, the SR/S is similar to the Honda CBR500R. It is sporty, with neutral ergonomics, for a more comfortable and versatile riding experience.
Check it out on Zero Motorcycles
---
Energica Experia
Specs:
Noise level: N/A
Engine: Permanent-magnet assisted synchronous reluctance motor (PMASynRM); liquid-cooled 3-phase with adaptive control inverter
Max power: 101 horsepower
Max torque: 115 Nm
MSRP: $23,750
The Energica Experia is a purpose-built adventure bike for touring in an environmentally friendly manner. The electric motor produces little to no noise, with the exception of some whirring as you speed up.
The Experia has the largest battery capacity of any electric motorcycle, so it has a city range of 261 miles or, combined with highway, an average of 160 miles range.
Heated grips, an adjustable windscreen, hard side luggage, and a top box are included to optimize the bike for adventure touring, even if you are with a passenger!
Want to keep noise pollution down and go green with emissions? Then the Energica Experia is the bike that will keep your motorcycle adventures going.
---