It's only natural to compare products and brands when planning any purchase. When it comes to buying a new motorcycle helmet, though, people tend to be even more careful and selective with their choices.
One of the biggest comparisons that comes up for debate is which brand is better, Shoei or Arai? The problem is that this comparison is like asking which is better, Coca-Cola or Pepsi? (Psst: It's Coca-Cola.)
Shoei and Arai are both giants in the motorcycle helmet industry. They're considered aspirational and premium brands that deliver quality products, and, to be honest, there's no clear winner.
Instead of trying to decide which one is better, I have got all the information you need to decide which is better for you.
Of course, I have my favorite, but you'll have to wait for the end of the article.
Company Background
---
Shoei

Shoei made its very first motorcycle helmet back in 1959. It was constructed by hand, a tradition that continues to this day. Back then, it was the Kamata Polyester Company, founded by Eitaro Kamata in 1954, but the business soon shifted to motorcycle helmet production in 1959.
Shoei first focused on producing helmets for motorcycle racing rather than everyday personal use. Arguably its biggest early achievement was in 1965 when Honda adopted a Shoei as its official race helmet.
Throughout the 1970s, fiberglass was the material of choice for helmet construction. But in 1976, Shoei unleashed their latest project, the GR-Z, which was built of carbon fiber and Kevlar.
This move was revolutionary for motorcycle helmet manufacturers. Carbon fiber and Kevlar were lighter, stronger, and safer than fiberglass.
Shoei is also credited as the first manufacturer to produce a coverless face-shield system, which debuted in 1990 with the X-8. Since then, nearly every other helmet manufacturer has followed suit.
Arai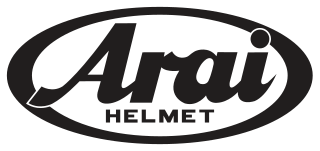 Arai's story starts a little earlier, back in 1937. The company was founded by Hirotake Arai, originally producing hats. Later on, in the 1940s, production shifted to safety construction helmets, and in 1952, its first motorcycle helmets entered the market.
There are two stories explaining why Arai shifted into motorcycle helmet production. First, at the time, it was really hard to import quality helmets into Japan, so there was a gap in the market. Second, it is said that Mr. Arai himself decided to build a safe helmet for his own motorcycle use. Like most things, the truth probably lies somewhere in the middle.
Arai began production using a fiber-reinforced shell and, in 1958, instead of cork for the inner liner, switched to expanded polystyrene. This is the foundation of helmet construction that remains in place today.
The American company Bell was the first manufacturer to release a full-face helmet in 1963, but Arai soon followed, releasing its first full-face helmet in 1967 in Japan.
Safety
---
Safety is at the core of both companies' philosophies, and the standards that each company sets are very high. However, there are a few key differences, and each company adds its own priorities when it comes to helmet construction.
Shoei
Shoei takes safety very seriously in its helmet design. It's known to apply the helmet standards set by various agencies around the world, including DOT and SNELL in the US, and ECE standards with SHARP ratings in Europe and the UK.
"Shoei helmets are the result of countless hours of conceptualization and R&D, but equally as important is the time spent testing with the most hardcore critics of them all—our professional Racing Team." – Shoei

Shoei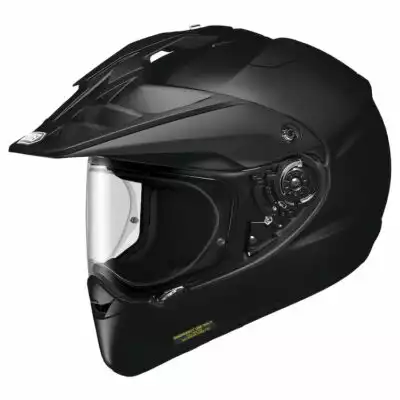 The big difference between Shoei and Arai when it comes to safety is that Shoei adds a core principle of "comfort" as part of the safety package.
Shoei implements "active safety" into its construction, so it utilizes features such as ventilation, coverless face shields, drop-down sun visors, etc. The company believes that if a rider is comfortable wearing a helmet, it will reduce fatigue and improve concentration.
This rider comfort principle has led to some of Shoei's helmets forgoing a SNELL rating, such as in the case of the GT Air II, which has a drop-down face shield and the Neotec II, which is a modular design.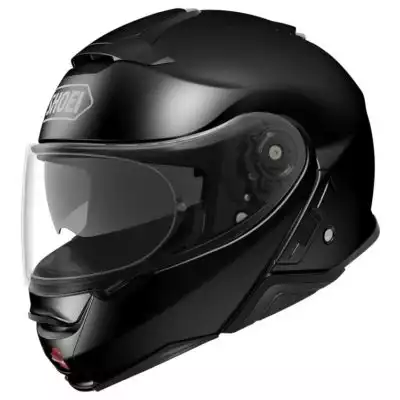 Arai
Arai approaches safety matters differently. It's not willing to compromise in any way if something conflicts with its safety standards.
So, while many manufacturers have adopted a coverless face-shield system, Arai continues to use their pod system to secure the face shield.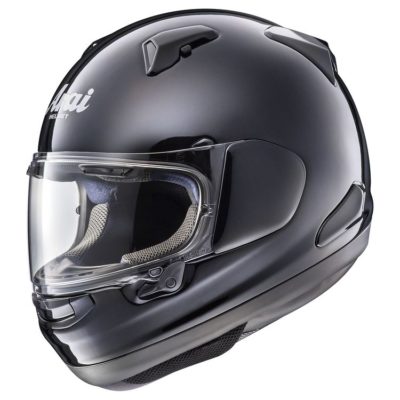 Arai also refuses to fit an internal sun visor, which it claims would compromise the integrity of the shell. Instead, Arai uses a Pro Shade system on some of its helmets, which is essentially a sun visor fitted externally to the face shield.
As with Shoei, Arai's helmets use the guidelines set out by DOT and SNELL, as well as other standards around the world, but Arai prioritizes its own safety ethos first.
Fit
---
Shoei
Shoei provides a range of internals for individuals to get the perfect fit, with varying thicknesses of cheek pads and liners.
Shoei helmets are mostly shaped to fit an intermediate-oval head shape. For the American audience, this shape will suit the majority of riders.
European helmets are shaped differently. As a general rule, though, for individuals whose head shape is extremely round or long oval, a Shoei helmet may not be the best option. 
Arai
You'll find more shape and fit options from Arai than from Shoei. Arai helmets are produced using three main shapes: long oval, round oval and intermediate oval, and the shape varies by helmet model. Therefore, though one Arai model may fit perfectly, it is not guaranteed another will.
As with Shoei, riders can make adjustments to the internals for a perfect fit. Liners and cheek pads come in various thicknesses, and there are further options for adjustments with micro-fit pads or even swapping liners between helmet models.
This attention to detail falls in line with Arai's constant push for perfection and optimal safety points. After all, the way a helmet fits is crucial to how well it will protect you in an accident.
Construction
---
Shoei
Advanced Integrated Matrix, also known as AIM and AIM+, is the name Shoei gives to its helmet shells.
AIM and AIM+ shells consist of five or six layers (for the AIM+ shell). These layers are built starting from an inner layer of fiberglass, special fibers, 3D organic fibers, and organic fibers, then an outer layer of fiberglass. The AIM+ shell gets an additional layer of high-performance organic layers.
According to Shoei, this layering process allows it to build strong shells that remain lightweight. The layering process creates an elastic shell for great impact absorption.
With rider comfort again in mind, Shoei tests its shells in its own wind tunnel to form a shape that reduces wind resistance as much as possible. Wind reduction reduces rider fatigue, and Shoei also uses the research from the wind tunnel to reduce wind noise for a quieter helmet.
When it comes to the inner protective liner or EPS liner, Shoei uses a dual-density, multilayer design. It consists of a softer density foam, which is there for immediate impact absorption, and then a second layer of medium-density foam for higher-speed impacts.
Depending on the model, Shoei does utilize further layers of foam for maximum protection.
Arai
Arai's approach to the construction of its helmets is quite different from Shoei's.
It has been built around the "R75 shape," a continuous curve of at least 75 mm. Arai claims that this leads to a better dispersion of kinetic energy and a reduced risk of getting caught on rough material, which could lead to dangerous rotational forces.
Arai calls its construction process "Complex Laminate Construction" as a nod to the complex layering and weaving process of various materials to form the shell. As part of this laminating design, Arai uses Peripheral Belt Technology, derived from F1 racing, in which mesh belts weave across the shell in between layers.
The EPS liner in an Arai helmet is a one-piece liner built with up to five different foam densities. Higher-density foam is used in places of harder impacts and softer foam in areas where high impacts are less likely, but immediate absorption is necessary.
Despite different processes, both Shoei and Arai are very specific about their helmet construction, and there is very little to split between them in terms of quality and performance.
Features
---
For the safety reasons laid out above, Arai has very few features compared to Shoei's line of helmets.
For example, some Shoei helmets have internal sun visors, coverless face shields, built-in communication system pockets, and a modular design, Arai has opted to omit these features.
Arai does use an external sun visor system on some models but refuses to install an internal drop-down shield.
You can fit a communication system to an Arai helmet and there are speaker recesses cut into the EPS liner to accommodate this, but the comms system will have to fit the outside of the shell.
In terms of ventilation, both manufacturers have developed a good system using a complex construction of vents and channels throughout the EPS liner.
Shoei helmets are generally considered quieter than Arai's, which largely comes down to its focus on wind resistance reduction and the ethos of rider comfort.
Price
---
Both manufacturers produce premium helmets. The research, development, and production processes are all valid reasons why both Shoei and Arai are priced at the top end of motorcycle helmets.
For a comparison, Shoei's cheapest full-face helmet currently on Revzilla is the RF-SR, priced at $479.99. Arai's cheapest full-face helmet is currently the Arai Defiant-X, priced at $577.96.
Not including any special edition helmets, which can exceed $1,000, Shoei's most expensive helmet is the GT Air II MM93 at $829.99, and Arai's is the Contour-X at $889.95.
As you can see, there really isn't that much difference in price between the two manufacturers at both the lower end of their ranges or the top end.
Conclusion
Personally, for riding sports bikes, I love an Arai helmet. I think they are exceptionally comfortable and have a smaller profile. You can just feel the quality of craftsmanship in an Arai helmet.
However, I also have a Shoei Neotec II in my arsenal for longer rides and touring. There is no question that the internal visor, modular design, and built-in comms make for the perfect long-distance helmet for both comfort and convenience.
In my opinion, neither Shoei nor Arai is better than the other. They are both fantastic helmet manufacturers and provide helmets for all riders with all sorts of needs. If you're looking for a new helmet, you can't go wrong with either.