It wouldn't be summer without long, carefree cruises with the wind on my face. The only problem is all the places that don't feel the wind… and turn into a sweaty swamp as a result.
To fix this, I look for motorcycle pants designed for summer riding, ones that still protect my legs but maximize airflow to keep me cool. After reviewing the options available, these are the five best summer motorcycle pants.
Best Overall
Klim Baja S4 Pants
The Klim Baja S4s have everything you need for safe but comfortable summer riding, including extensive mesh, heat reflection, and even goat-skin liners to protect against the heat of the motorcycle.
Best Budget Pants
RICHA Cool Summer Pants
With knee armor and mesh lining, the RICHA Cool Summer Pants combine protection and airflow for comfortable hot-weather riding at a low cost.
Reviews of the Best Summer Motorcycle Pants
---
Klim Baja S4 Pants
The Klim Baja S4s are super cool. Figuratively and literally. Klim specifically made them for desert riding, but the result is an outstanding piece of gear for hot weather anywhere.
My favorite feature is the goat leather lining on the inner leg. This protects the leg from the hot metal of your motorcycle. Though this is a bigger issue in the summer, this is actually a stand-out feature year-round.
Another cool hot-weather feature is the SCOTCHLITE C790 carbon black reflective material. Basically, this lets solar radiation and heat bounce off the pants instead of getting absorbed.
That said, the main reason the Baja S4s are so cool in the summer is all the mesh. It's everywhere.
There's an entire mesh lining plus additional Klimatek cooling mesh on the knee armor pockets where heat can build up. There's air-permeable Superfabric at the knees as well, which resists abrasion while simultaneously allowing airflow.
Klim didn't overlook safety to make these pants cool, either. In addition to adjustable armor at the hips and knees, the overall construction is abrasion resistant, and the pockets, cuffs and waist consist of tough 750D Cordura.
Pros:
Goat-leather inner leg lining
Black reflective material
Extensive mesh design
Adjustable hip and knee armor
Abrasion-resistant material
750D Cordura reinforcements
Cons:
---
RICHA Cool Summer Pants
If your hot-weather riding is limited, consider these summer-specific pants from RICHA. They're a quarter of the price of the Klim Baja S4s, though they admittedly lack some of the features.
They make for good summer riding primarily thanks to the extensive mesh paneling. This improves airflow and uses your motorcycle's movement to cool you off. You easily combine them with the RICHA Cool Summer Jacket for a comfortable overall ride.
For protection, you get adjustable knee armor. Unfortunately, the pants lack hip armor but do at least come with foam hip protectors. The fabric is 600D polyester, as well, a material that resists abrasion in case you slide along the pavement.
Pros:
Budget price
Full-mesh panels
Mesh lining
Zipper connection for jacket
Abrasion-resistant polyester
Adjustable knee armor
Cons:
No hip armor
Limited sizing
Small pockets
---
REV'IT! Airwave 3 Pants
My favorite thing about the Airwave 3s is how adjustable they are. The knee and hip protection is adjustable, but that's just the start. There are also straps at the waist and ankles, plus elastic at the waist. They're great pants if you often have trouble finding ones that fit or need something stable but loose and comfortable for touring.
Of course, they wouldn't be on this list if they didn't also keep you cool in the summer. There are numerous mesh ventilation panels that do a good job of maximizing airflow.
Finally, protection is extensive even beyond the hip and knee armor. There are reflective accents for visibility, as well as a grip panel in the seat so you don't slide around. The entire outer shell uses 600D polyester that resists abrasion.
Pros:
Adjustable hip and knee armor
Adjustable straps
Elastic waist
Mesh ventilation panels
Grip panel at seat
600D polyester fabric
Cons:
Short ankle zippers
Ankle straps that can get in the way
---
REAX Alta Mesh Pants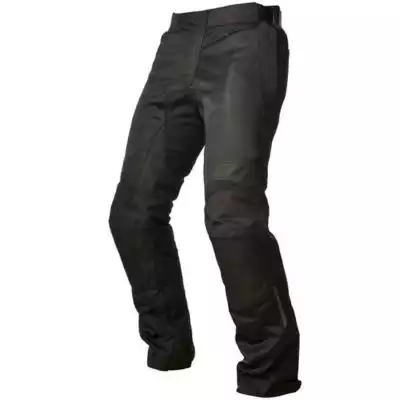 The REAX Alta Mesh Pants are a tad less cooling than other pants on this list, but I still had to include them because they're some of the more protective summer pants on the market. The knee armor is CE Level 2, and while they don't include hip armor, you can add it in separately.
The material itself is very protective, with reinforcements at the knees and seat, in addition to an overall construction of 600D polyester and, in important areas, up to 980D ballistic polyester.
These pants do provide a decent amount of airflow as well. They have a moisture-wicking mesh lining, and they're lightweight, too, to prevent too much heat buildup.
One unique feature is the removable waterproof liner. If you live in an area where summer and thunderstorms go hand in hand — ahem, Florida — these are a good option.
Pros:
CE Level 2 knee armor
Reinforced knees and seat
980D ballistic polyester
Moisture-wicking mesh lining
Lightweight
Removable waterproof liner
Cons:
Hip armor sold separately
No mesh panels
Minimal armor adjustability
---
Sedici Alexi 2 Mesh Pants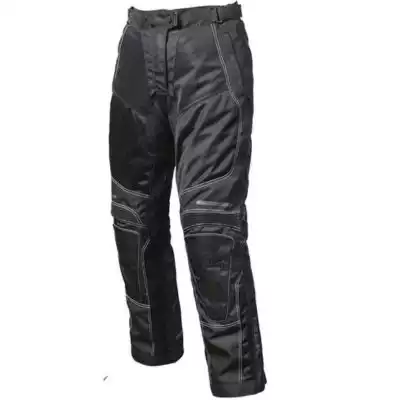 The Alexi 2s are another good budget option, though I should mention that you have to buy hip armor separately, which decreases the value a bit. The reinforcement is some of the best, though, since it uses 1200D fabric.
Airflow is provided by a full-mesh design. This flow is especially nice at the seat, which is where many other hot-weather pants are lacking. However, I found all the other liners a bit confusing. There's a rain liner and a thermal liner, but you have to adjust all of these depending on the weather and your preferences.
As a budget pair, the Alexi 2s have a weaker construction than other pants. I do like how adjustable they are, though, including a fully adjustable waist that only requires one hand to manipulate. The armor pockets are adjustable too.
Pros:
1200D fabric reinforcement
Full-mesh design
Good airflow in seat
Extra liners
Highly adjustable
Cons:
Liners require difficult adjustment
Not very durable
Narrow ankles
---
Buyer's Guide
---
Airflow for Summer Comfort
The most important thing for summer motorcycle pants is airflow. Motorcycle pants have to be thick, padded, and armored to protect you in case of the crash, and without any additional features, this can cause heat to build up fast.
Manufacturers have to balance this with the ability to let air pass through the pants and over the skin to wick away sweat and cool you down.
The main way manufacturers increase airflow is with mesh liners or paneling. If made correctly, these let air pass through the pants without sacrificing abrasion resistance.
Advanced Summer Features
Airflow, usually provided by mesh panels, is the most important factor when it comes to summer motorcycle pants. However, manufacturers can include a few advanced features to make their pants even more comfortable:
Reflective material: Not to be confused with reflective accents for safety, reflective material in the pants reflects light and other radiation from the sun to prevent heat from building up inside the pants.
Lightweight materials: Manufacturers can also use advanced materials to minimize the weight of the pants while keeping them protective. The lighter the pants, the better air moves through them to cool you off.
Moisture wicking: The whole reason airflow cools you off is that it wicks sweat off the skin. The sweat carries heat out of your body and disperses it into your hair. Moisture-wicking technology in the fabric of the pants serves the same purpose, removing heat-filled sweat from the skin.
Adjustability: If you can adjust your pants, you can position them for maximum airflow and comfort. The most important place for adjustability is the waist, usually provided by a strap. You may also find straps and zippers at the ankles.
Safety Features
Of course, you could just ride around in shorts in the summer, but that wouldn't be very safe. You're getting summer motorcycle pants so you can stay cool while still protecting your legs in case of an accident.
The main thing to check for is integrated armor. Ideally, you want armor at the knees and hips, though some pants only have it at the knees.
Read more about motorcycle pants with armor.
Since these body parts are what usually hit the ground first in a crash, the armor absorbs the impact. You also want the armor to be adjustable so you can position it right over the vulnerable body parts.
On top of armor, you want tough material that resists abrasion. The polyester and synthetic fabrics used in motorcycle pants are rated for toughness using the Denier unit, which you'll see abbreviated with a D. The higher the number, the tougher the fabric, and you should look for at least 600D. Many pants have reinforced areas of up to 1200D.
Final Thoughts
In the summer, you need to maximize cool airflow and comfort while still keeping your legs safe and protected. This requires a good pair of summer motorcycle pants like the Klim Baja S4 Pants. Alternatively, if you're really short on funds this year, consider my budget pick, the RICHA Cool Summer Pants.