The sun is shining, wind in your face, nothing but the sound of your engine and the road, but what happens when it comes to winter when it's cold and wet?
Honestly, nothing needs to change, you just need the right gear to ride with, and then you will have that same feeling we all love all year round.
When riding, there are few things worse than cold and wet feet; a good pair of winter boots will solve that problem.
We have done the hard work and gathered the best of the best along with a short guide, so you know what to look out for.
Here are our top winter motorcycle boots.
Best Premium
Daytona Road Star GTX Boots
Exceptional Quality, Comfortable, Durable and Waterproof
Quality touring boots ready to take on the road in all weathers, guaranteed to keep you dry and comfortable.
Best Short Boots
Klim Transition GTX Boots
Built for Winter, Tough, Gore-Tex
Short riding boots suitable for cold and wet weather, perfect for a casual look even in the winter.
The Best Winter Motorcycle Boots Reviewed
---
Daytona Road Star GTX Boots
Daytona produces some of the best motorcycle boots on the market without question.
The Road Star GTX are all-weather touring boots made from Hydrophobic cowhide that is durable and long-lasting.
Protection comes from ankle protection on both sides, padded interior, shinbone padding, reinforced inner sole with a steel inlay, and a non-slip rubber sport sole.
In terms of winter weather protection, the boots are equipped with a Gore-Tex liner to keep you dry, and the thick leather combined with lots of padding will allow your feet to breathe but still keep you warm.
A non-slip rubber sport sole will ensure you have a good grip on any surface, essential when riding in wet weather.
My favorite thing about the Daytonas is how comfortable they are straight out of the box, with adjustability for different calf sizes, a PU foam insole, and a gel layer that helps reduce any vibrations.
Pros:
Gore-Tex membrane
Protective
Anatomically formed footbed for comfort
Well padded for both protection and warmth
Cons:
---
Klim Transition GTX Boots
The Klim Transition boots allow you to rock a casual style even through the winter.
So if you have a short commute into town and want to be able to wear the same boots to work that you wear on the bike, these could be for you.
The short-mid length boots are Gore-Tex lined, so you are ensured to keep dry, and they are well-padded and insulated for warmth,
There is a micro-adjustable BOA closure system, Nestfit cradle system for your feet, and an Ortholite insole, all of which are features to ensure you are comfortable.
The boots look like a good pair of walking boots, so you can easily get away with wearing them at work or around town.
The thick rubber sole is built for excellent grip, so you will have stability in all conditions and surfaces.
Pros:
Short casual style
Gore-Tex membrane
Comfortable and customizable fit
Cons:
Not as protective as long boots
---
Sidi Canyon Gore-Tex Boots
Sidi is known for its quality boots and has a great way of building boots for specific purposes; the Canyon Gore-Tex boots are made to keep you dry on your commute or long-range touring through all weather.
Protective features include:
Rigid Nylon insole
Internal heel protection
Ankle protection
Toe protection
Nylon plate and padded shin plate
Non-slip lug type sole
In terms of weather protection, the Canyon boots have a Gore-Tex membrane and a full-length inner gaiter.
The Canyon boots are more an Adventure style boot but could easily cross over to touring bikes and street bikes.
They have a micro-adjustable strap system below the ankle and a velcro closure system above the ankle, allowing for some adjustability.
Sidi goes out of their way to make their boots comfortable, and they have succeeded with these Canyon boots.
Pros:
Sturdy
Gore-Tex
Protective
Lug sole
Cons:
Heavy
Not suited to sports bikes
---
Gaerne Balance Oiled Boots
These riding boots look the absolute business. They are classically styled and ready for anything; an Adventure style boot but wouldn't look out of place on a street bike.
Durability runs through the construction of the Gaerne Balance boots.
They are made of tough full-grain oiled leather that will give over time for comfort but still withhold its strength when needed.
A fully waterproof membrane runs the entirety of the boot; however, it is not Gore-Tex but Gaerne's own branded Drytech membrane.
A thick gum rubber sole gives the rider great feel for maximum bike control but is also grippy for on-road and off-road surfaces in all weather.
Pros:
Classic styling
Durable
Waterproof
Quality construction with good materials for comfort and protection
Cons:
Expensive
Not Gore-Tex lined
---
Sidi Adventure 2 Gore-Tex Boots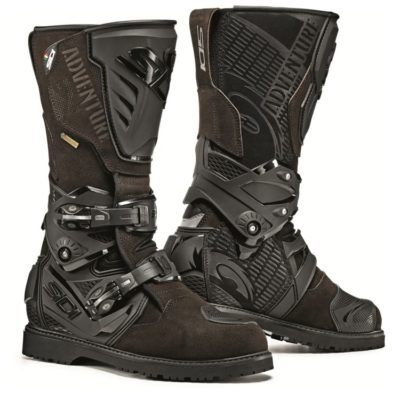 The Adventure 2 boots from Sidi are an excellent choice for the all-year rider who will face harsh winter conditions.
Sidi has lined the boots with a 14-inch inner Gore-Tex gaiter to combat the wet weather and offer the maximum protection possible.
They are also extremely well-padded and will aid in keeping your feet warm regardless of the conditions.
In terms of protection, the Adventure 2's are fitted with the following:
Panels to protect the Achilles tendon
Bonded non-slip lug sole
Nylon inner sole
Rigid anatomically shaped heel with hyper extension block
Shock-resistant sole to minimize vibrations
The boots have comfort in mind with plenty of adjustability for the perfect fit.
They are also easy to get on and off, a massive bonus in the winter, especially as you can slip them off quickly when you get home and get into the warm.
Pros:
Gore-Tex membrane
Protective
Durable
All-weather, all-terrain
Cons:
Pricey
Won't suit all types of motorcycle
---
Buyers Guide
---
Riding in the cold and wet is for only the toughest riders, the brave and the slightly daft, but we can minimize the effects of the cold weather by choosing the right pair of boots.
Protective with good grip, warm and waterproof are the key things you want to look for.
With a pair of boots that tick those boxes, your feet at least will be set to face the cold and wet.
Here is what you need to think about when buying winter motorcycle boots:
Protection
A good pair of motorcycle boots will always offer a decent level of protection, but you need to turn things up a notch when riding in the winter.
Riding in the cold and wet can mean additional risk on the road, as visibility can be reduced and the road surfaces slippery.
Armor
You should be looking for ankle protection, foot (toe) protection, abrasion resistance, torsional rigidity, penetration resistance, and a tough sole in terms of armor.
Some boots will also have calf and shin protection.
If your bike slides on a patch of ice or wet puddle, you will be grateful for a solid boot that protects your foot and lower leg from the slide on the tarmac but also the weight of the bike.
Grip
A good winter boot should have a sturdy sole with an excellent grip. Road surfaces that would be perfectly stable in the summer can be slippery in the winter, so a grippy sole will keep you steady when you put your foot down at stops.
Waterproofing
Another critical feature of winter boots is to make sure they are waterproof.
The gold standard for waterproofing is Gore-Tex, boots lined with Gore-Tex will keep you dry, but the membrane is also breathable.
Some manufacturers have produced their own waterproof liners, such as Alpinestars, which use their Drystar membrane.
Depending on whether you plan on riding in the wet a lot, you will want to consider how waterproof your boots are and how long you need them to last.
A Gore-Tex lined boot will be your best bet for durability if you ride every day throughout the colder months.
Warmth
One of the most obvious things you want out of your winter boots is for them to help keep you warm.
Avoiding boots with vents/mesh panels will be the best thing you can do as these are more suited to the summer months.
Waterproof boots tend to be warmer, too, as the liner keeps some of the warmth in, and a boot with lots of padding will be warmer than others.
Adventure-style boots generally come higher up the leg than other boots offering more wind protection; they usually have a little more room to allow for thicker socks to be worn.
Final Thoughts
There you have 5 of our favorite winter boots and the key things to look out for to ensure you get the right pair.
When riding in the winter, I need my hands and feet to stay warm and dry; I can deal with anything else.
Therefore, I take my gear very seriously, so I would happily invest in a pair of Daytona's to do the task.
They are suitable for colder weather, but they are an investment that will serve me over many riding miles and years; plus, they are beyond comfortable.
The Klim Transition boots offer a super cool casual option that would be perfect for a short commute or short trips; they are winter-proof and won't scream "I'm a motorcyclist" when walking around town.
Related
Also, see our guide to cold weather motorcycle gear and our guide to budget motorcycle boots.